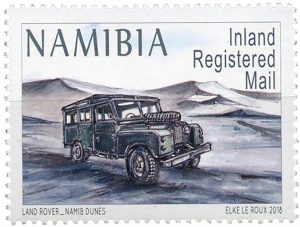 Summertime and the livin' ain't easy when you're the Sightings editor. Terabytes are filled (and mail sacks overflowing) with images, videos and links to Land Rover references filling the movies, catalogues and social media of our contemporary world. While you're lounging on vacation, the Sightings team scrambles to sift through the many entries.
As always, it's useful to novice Sighters and veterans to review the rules of the contest:
Rule # 1 – All Sightings receive recognition and our appreciation, but not necessarily a mug. We reward only those Sightings that capture the unique qualities of Land Rovers and display them in a distinctive way.
Rule #2 – If your Sighting doesn't really surprise you, it won't surprise us, either — thus we can't award you a mug. We're delighted, but not surprised, that Land Rovers appear in British television programmes, British publications, films with British themes and shows about African safaris. You shouldn't be surprised, either, and should consider looking for other ways to get a coffee mug.
Rule #3 – At an ever-changing date before publication, we close off the Sightings; for this issue it was June 30, 2018. If we've mentioned the Sighting in an earlier issue, we might not mention it again. If you're new to the family of Land Rover enthusiasts, you may not have seen your Sighting in an earlier issue.
Rule #4 – We're not outfitting your kitchen. If you qualify, one mug per Sighting per issue.
Rule #5 – Sightings that are Land Rover references in books go to our Literary Land Rover editor for mention, but only when space permits.
Rule #6 – Psst… email submissions — remember we can't send a mug by email. Send us your real name and shipping address, too.
Rule #7 – Grudgingly, very grudgingly, the Editor admits he might have made an error. Let us know if you think you've been jobbed, but all decisions of the Editor are final.
Land Rover imagery has taken over social media. Stephen Sparkes, New York, NY, rejoiced when he saw the Defender 110 on the Instagram feed of Gallantry. Allen Rohrer, Frederick, MD, enjoyed seeing a Defender in an ad for an expandable French trailer. Lesa Anderson [See Rule #6] forwarded a social media post for Otterbox with a Defender 90 commercial featured prominently. Robert and Annette Mathews, Kennesaw, GA, liked that Banana Republic urged viewers to "dump your map" and explore in a Defender 90. Brandon Loktis, Wilmington, NC, found "the Land Rover behind the bikini" in an O'Neill online ad. Charles Joerss, Larchmont, NY, enjoyed seeing the reggae star Protoje standing in front of a Defender on an album cover.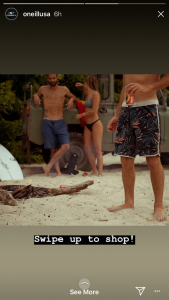 Television and movies have always had a love affair with the Land Rover. P T Schram, Churobusco, IN, Jason Delgado, Westport, MA and Colin Spencer, Kodiak, AK, saw the roofline of a Discovery I in a Pacifica beer commercial. Keith Barrett, Plainfield, ON, watched the 1976 film Killer Force and watched Land Rovers in combat action. Derek Leath, Frontenac, MO, noted that action movies often feature Land Rovers — and they appear in the latest Mission Impossible. Harvey Allard, Dudley, MA, watched an episode of American Pickers and noticed that the photographer involved had a Series II-A in his barn. Game of Thrones fans enjoyed the Defender in the wedding of stars Kit Harington and Rose Leslie. Scot Just, Berkley, MI and Matthew Flanagan, Fair Haven, NJ, watched the aformentioned wedding. Gretchen Lane, Saco, ME, age 5, had her father, Brent, send in a Sighting from Tough Rides Brazil; a Defender serves as a support vehicle to the motorcyclists. Keith Barrett, Plainfield, ON, noted Land Rovers present in the Australian film Occupation. Ben Boerum, Washington, DC, noted the topless Series III in Mama Mia 2. P T Schram, Churubusco, IN, watched an episode of Death in Paradise set in the Caribbean, with a beat-up Defender 110.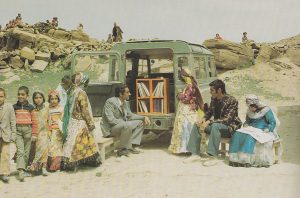 Magazine editors know that Land Rovers keep eyeballs focused on the page. Stuart Moore, Midlothian, VA, enjoyed the Range Rover Classic article in the May issue of Popular Mechanics.  John Bufton, Galveston, TX, applauded the decision of that same magazine to award the Discovery 5 "SUV of the Year." ("This field is crowded with vehicles that are adapted from either pickup trucks or sedans. This is neither. It's simply the Discovery, and it's the real deal.") Greg Akin, Abilene, TX, couldn't miss the Defender 110 soft top in a Southern Marsh ad in Southern Living. John [see Rule #6] noted the article on adventuring featuring a Defender 110 in The Magnolia Journal. Maurice Patrykus, Ventura, CA, Durk Tyson, Grimesland, NC and Andy Estep, Dupont, WA, enjoyed seeing Josh Brolin in a Series III in Men's Journal. Alden Strealy, Lake Oswego, OR, noticed a Red Cross Defender 110 at work in his kid's Scholastic Magazine. Tom Proctor, Frenchtown, NJ, noted that a Marshall Ambulance graces the cover of the British magazine Single Track. Savannah McGuire, Covington, GA, enjoyed seeing the handsome NAS Defender 90 SW in a Country Living article.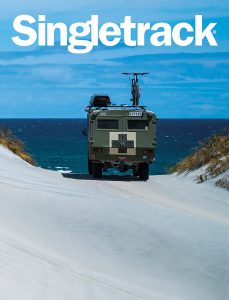 Advertisers of most everything want Land Rovers to draw attention to their products or services. Greg Akin, Abilene, TX, Peter Hope, Colorado Springs, CO, Daniel Smith, East Greenwich, RI, Chris Russell, Belgrade, MT and Bill Johnson, Macomb, IL, noted that Courtyard by Marriott pulled you into their commercial for a motel room by opening with a Defender 110 in South America. Mike Thomas, Westport, MA, enjoyed seeing the Defender t-shirts in the United by Blue catalogue and website. Paul Kennington [see Rule #6] noted the Discovery II in the Alpha Shovel ad in Outside magazine. Neill Thornton, Jamul, CA, watched an IBM Cloud commercial during the Stanley Cup playoffs that featured Defenders helping the bad guys in Africa. Heath McGuire, Covington, GA, couldn't miss the Land Rover 110 on the cover of the latest Gear Patrol catalogue. Jeremy Vimislik, Panama City, FL, caught the Land Rovers throughout the Bertucci watches catalogue and social media sites. John Lane, N. Yarmouth, ME, spotted the blue Series III in a women's clothing ad in Maine magazine. As beer lovers, it strikes us as a travesty, but James Chang, Round Rock, TX, and Greg Akin, Abilene, TX, spotted a Defender 90 at the beginning of a Coors Light ad. Alan Phillips, Plano, TX, enjoyed seeing the poster of a Series II-A at the children's clothing store Jack and Jill in Los Angeles. Brandon Lotkis, Wilmington, NC, noted the interior shot of Discovery II on the Trayvax website.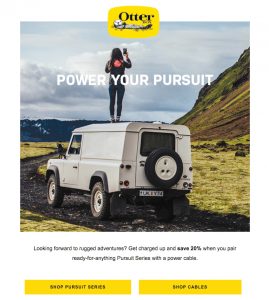 In the Unusual Sightings category, thanks to Bruce McBrien, Eaton, NH, we enjoyed seeing again the old Bookmobile photo, taken somewhere in the Middle East, which featured a 109". Dixon Kenner, Ottawa, ON, believes he has seen 160 international stamps featuring Land Rovers. The latest came out from Namibia in March and includes a 107". Ryan Lowe, Ellington, CT, watched an online video of dirt bike fails from Dirt magazine and enjoyed seeing a Defender 90 at play. It was hard not to miss the Land Rovers in the vast coverage of the Royal Wedding; Chris Sand [see Rule #6] didn't miss them. Jane Barrett, Plainfield, ON, noticed that the last James Bond film spawned an interactive exhibit in Austria, where much of the movie was shot. Jane also captured a Lidl promotion for clothing that featured an 86" Series I. The Calvetti family of Mt. Lebanon, PA, enjoyed seeing the outline of a Defender on the bag of the British tea company TeaPigs.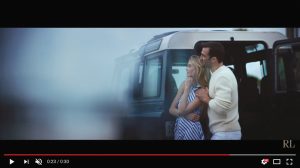 We've mentioned these before, but we want to credit Sighters for their hard work. Joshua Fischer, Sunnyvale, CA, Matthew Spetz, Forestville, CA and Jonathan Sayer, Austin, TX, reminded us of the Land Rover that appears on the Valero fuel pump. Durk Tyson, Grimesland, NC, Jonathan Greene, Pikeville, NC and Tyler Lucks, New Albany, OH, liked that a Land Rover graced the cover of a Yeti catalogue. Garrick Olsen, Hastings, MN, spotted the red late Series II-A used in the Charles Tyrwhitt ad. William Hutchings, Wilmington, NC, noted the "bitsa" Land Rover pickup in the Roark catalogue. Jane Barrett, Plainfield, ON, caught the 50 Kwacha note from Malawi with a Defender 110 on the currency. Alan Rohrer, Frederick, MD, also enjoyed seeing the Land Rovers in the Agents of S.H.I.E.L.D. and Red 2 movies. Earl Powers, Arnold, MD, reminded us of the Land Rovers present at the 1969 Woodstock music festival. Ozair Faruqi, Bend, OR, enjoyed purchasing the Gap Kids' t-shirts with Land Rovers on them. Dave Smith, Scottsdale, AZ, noted that BF Goodrich continues to use Land Rovers in their ads for off-road tires.
Many readers noted that Huckberry returns with another Land Rover in prominent positions [see The Welly on page 3], including Brendon Mahoney, San Mateo, CA, Bryan Karchut, Fort Collins, CO, Chris Hopek, Tucson, AZ, Clay Ayers, Potomac Falls, VA, Ted Woodward, Falmouth, ME, Dan Krebs, San Francisco, CA, Brandon Lokits, Wilmington, NC and Gregory Rodocker [see Rule #6]. Jason Delgado, Westport, MA, celebrated the return of Land Rovers to Ralph Lauren Polo marketing. Matthew Spetz, Forestville, CA, enjoyed watching the Comedians in Cars Getting Coffee episode featuring Jerry Seinfeld and a Defender 90.
Winners:
Chris Russell Belgrade, MT
Savannah McGuire Covington, GA
Alan Phillips Plano, TX
Charles Joerss Larchmont, NY
Daniel Smith East Greenwich, RI
James Chang Round Rock, TX
Peter Hope Colorado Springs, CO
Bill Johnson Macomb, IL
John Lane North Yarmouth, ME
Jeremy VimislikPanama City, FL
Heath McGuire Covington, GA
Mike Thomas Westfield MA
Brandon Lokits Wilmington, NC
Stephen Sparkes New York, NY
Greg Akin Abilene, TX
Robert & Annette Mathews Kennesaw, GA
Ryan Lowe Ellington, CT
Jane Barrett Plainfield, Ontario