Short days, cold nights, snow shoveling, heating bills — oh, right, it's winter in New England. The many Sightings received demonstrate whether thawing out frozen pipes or basking in the warmth, enthusiasts nationally and from Canada still search out Land Rovers in advertisements, commercials, movies, and online sites. We're thankful for their effort and energy.
Rule # 1 – All Sightings receive recognition and our appreciation, but not necessarily a mug. We reward only those Sightings that capture the unique qualities of Land Rovers and their owners and display them in a distinctive way.
Rule #2 – If your Sighting doesn't really surprise you, it won't surprise us, either — thus we can't award you a mug. We're delighted, but not surprised, that Land Rovers appear in British television programs, British publications, films with British themes and media covering African safaris. You shouldn't be surprised, either, and should consider another way to get a coffee mug.
Rule #3 – At an ever-changing date before publication, we close off the Sightings; for this issue, it was January 30, 2020. If we've mentioned the Sighting in an earlier issue, we might not mention it again. If you're new to the family of Land Rover enthusiasts, you may not have seen your Sighting in an earlier issue.
Rule #4 – We're not outfitting your kitchen. If you qualify, one mug per Sighting per issue.
Rule #5 – Sightings that are Land Rover references in books go to our Literary Land Rover editor for a mention, but only when space permits.
Rule #6 – Psst… email submissions — remember we can't send a mug by email. Send us your real name and shipping address, too. (To assure your privacy the magazine does not have access to Rovers North customer information.)
Rule #7 – Grudgingly, very grudgingly, the Editor admits he might have made an error. Let us know if you think you've been jobbed, but all decisions of the Editor are final.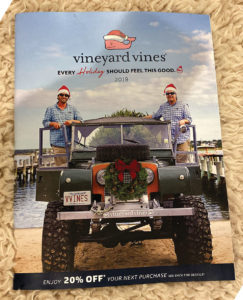 Articles, whether in print or online, benefit greatly from the presence of a Land Rover. Karen Sindir, Santa Rosa, CA, noted that a Vogue article on wine country tours highlighted the "vintage Land Rover Defender" that will transport you around the Newton Vineyard. Jason Sheehy, Mt. Sterling, OH, spotted a "very small" Defender 110 in an Allegiant Airlines Sunseeker magazine article on Tampa/St. Petersburg. PT Schram, Churubusco, IN, saw what looked to be a 2020 Defender in an article in the UK's Daily Mail. Jane Barrett, Plainfield, ON, reported that two articles in the Daily Telegraph feature the Range Rover. Kathy Tyson, Grimesland, NC, enjoyed seeing "Land Rovers everywhere" in an issue of The English Home. Chris Sand, Lebanon, NJ, noted the Land Rover in a Hemisphere magazine (United Airlines) article on Australian wines.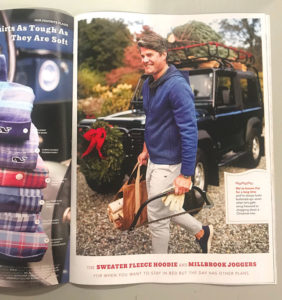 Advertisers adore Land Rover as they draw eyeballs and click-throughs. Brian Liang, Pasadena, CA, spotted the Defender Station Wagon on the Garrett Leight website. Jane Barrett, Plainfield, ON, noted the affectionate poster of a young girl on the bonnet of a topless Series at a Bottega Guisti store in Westchester, NY. James Purdey, the British shotgun company, features Land Rovers in their recent ads, noted Jason Sheehy, Mt. Sterling, OH. State Farm put a new Range Rover on its Instagram feed, noted Adam Setliff, Flower Mound, TX. Michael Burwell, Dade City, FL, saw a photo of a Defender 110 in Antarctica in Outside magazine. Theodore Casareo, Jersey City, NJ, couldn't miss the Defender 110 on his HelloNomad social media feed. Chris Shane, Manhattan Beach, CA, found a stunning Defender 90 SW drawing his attention to his Bluegrass Fairway feed. James Howard, Tucson, AZ, recognized the undercarriage of a Series Land Rover in a Facebook Thermarest ad.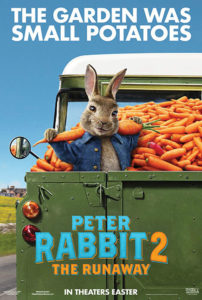 Movies, TV and videos feature Land Rovers often. Jane Barrett, Plainfield, ON, spotted a Series I in a Tom Waits video of his song, "Earth Dies Screaming". She noted that the new James Bond film, No Time to Die, includes new Defenders; the trailer for Peter Rabbit shows a RHD Land Rover pickup. Loic Fabro, Herndon, VA, saw the Samsung feed with shots from the same film. Kimberly Bufton, Galveston, TX, Rob Wollschlager, Omaha, NE, and Brent Lane, Saco, ME, spotted the Land Rover prints adorning a wall in an Urban Oasis giveaway on HGTV. Jason Sheehy, Mt. Sterling, OH, loved the movie The Informant, especially because of the Range Rover Classic LWB in it. Jeremy Vimislik, Seattle, WA, enjoyed seeing the Defender 110 in an episode of Kings of Pain on the History Channel. Christopher Snow, South Plymouth, NY, enjoyed seeing a Discovery I like the one he used to own on a National Geographic program.
Scott Just, Berkley, MI, shared photos of a Series Rover used as a viewing platform at the Detroit Zoo. Jane Barrett, Plainfield, ON, saw an ad for ZeLus Beer, whose bottle label features a Series III with a bicycle mounted on the roof. Andy Estep, Dupont, WA, enjoyed receiving the British magazine, Commando, with stunning drawings of Series I and Series II's in the story panels. Mark Hollahan, Jacksonville, NC, enjoyed seeing the Defender fording a swollen river in a Boy Scout training module. John Dillingham [See Rule #6] noted that when Bing wanted to draw attention to "All the five cylinder engines," they chose to use a photo of a Defender.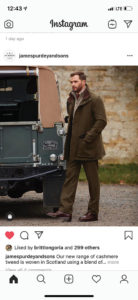 We've mentioned these before, but we want to credit Sighters with their hard work. Laura Moore, Windham, NH, saw the Series pickup on the cover of Country Living magazine and noted it appeared on their Instagram, too. Bill Schimikowski, Westborough, MA, saw the same photo on the Country Living facebook page. Bill Charleton, Plantsville, CT, spotted the Free Fly ad with the Series III displayed prominently. Richard Worthington, Manhattan Beach, CA, Ted Casareo, Jersey City, NJ, Raj Malhotra, Midlothian, VA, Danny Finnegan, Wyndmoor, PA, Mike Howell, Seattle, WA, and John Curelli, Oak Bluffs, MA, enjoyed anticipating Christmas with another Vineyard Vines catalogue featuring a Land Rover on the cover. Brian Jones, Raleigh, NC and Steve Stricker, Oxford, MS, spotted the Zaxby's ad with a Defender. Eric Doxey, St. James, NY, noted that AMEX has returned to Land Rover-dotted imagery. Adam Setliff, Flower Mound, TX spotted Gear for Life still using Defenders for their promotions. Maria Raithby, Chester, MD, received a mailer from a Ralph Lauren store with a Series III on it to entice her to return to the store. Jane Barrett, Plainfield, ON, enjoyed seeing the Malawi currency bill with a Land Rover on it. Wayne Pacheco [See Rule #6] spotted the Defender on a screen at his local Best Buy. Bo Prillaman, Vero Beach, FL, cited a Land Rover in a Dana Farber advertisement. Paul Kennington, Pendleton, OR, noted the 80s Land Rover 90 in a Toyo Tires ad.
Winners:
Kraig Mackett Perrysburg, OH
PT Schram
 
Churubusco, IN
Matthew Clark Seattle, WA
Chris Shane Manhattan Beach, CA
Theodore Casareo Jersey City, NJ
Mark Hollahan
 Jacksonville, NC
Scott Just
 Berkley, MI
Rob Wollschlager Omaha, NE
Jane Barrett Plainfield, ON
Brian Liang Pasadena, CA
Karen Sindir Santa Rosa, CA
Kimberly Bufton Galveston, TX
Brent Lane Saco, ME