On a web post, a Congolese described the four levels of road in the Democratic Republic of Congo:
"A Good road is one that will take you from A to B without getting out of the vehicle. A Normal one requires occasional stops to get out and plot a course around a bad spot. A Poor one involves shovels, winches and chainsaws. A Bad one has you plotting how to get past bad spots while you see goats also trying to figure out how to make it—and they're worried that they won't!"
In 2013, travelers Mike Martin, his then-fiancee Chloe Baker and his childhood friend Charlie Hatch-Barnwell found "roads" to be more virtual than real when circumstances forced them to cross the DRC in a very-used '86 Land Rover 90. They chronicled the trek in their book, Crossing the Congo: Over Land and Water in a Hard Place, which has now become available in the US.
Online sleuthing helped me find and interview them by Skype, and then I read their book. I came away with an immense appreciation of their accomplishments, physical and emotional, as well as a new comprehension of the deep complexity of the nation.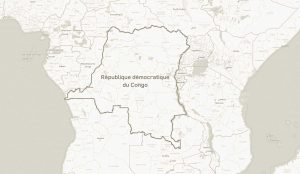 First off, the trio accomplished far more than just a physical adventure. Collectively, they provide insight into a culture that challenged their capacities to understand and adapt, as much as the adventure challenged them to comprehend themselves. In print, photograph and interview they peel back the translucent layers of the Congolese they meet as effectively as they peel back their individual layers. Their internal landscapes proved as challenging as their external environment. These are Land Rover people you want to listen to through their writing, see through their photographs and spend time with in person.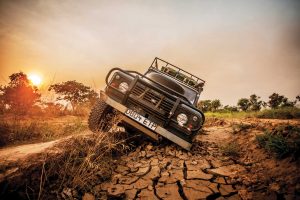 Their earliest years gave no hint that a trek to the Congo lay in their future. Mike Martin would befriend Charlie Hatch-Barnwell at age 7, and they would wind up traveling through South America and Southeast Asia together. Chloe Baker and Mike shared space in the same hospital nursery in 1986, a factoid they learned when they became engaged in their 20s.
Chloe would follow her passion by becoming a physician, made more difficult by a life-threatening accident while she rode her bike to a clinic. Mike majored in Biological Sciences at Oxford, served as an officer in the British Army in Afghanistan, earned his PhD from Kings College in War Studies and became a published author. Charlie would graduate from Central St. Martins in London with a degree in graphic arts and then launched himself as a documentary photographer. Nothing directly prepared them for their journey or life with their Land Rover.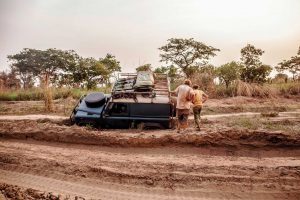 Mike Martin found their '86 Land Rover 90 advertised online in late 2012, and bought it sight unseen. As it rolled off a flatbed into Chloe's mother's driveway (it would not be allowed in London), he realized he had been duped; in British terms, it was "as bent as nine bob note." Thus, it gained the name of 9Bob. With a Haynes Manual in one hand and fingers crossed in the other, Mike learned how to work on a Land Rover. He had just finished his PhD dissertation and Chloe had been granted a leave from her medical training. As an engaged couple they sought to travel from Europe through West Africa beginning in February 2013.
Mike had wanted to travel through the Congo, but it became essential when warfare in parts of West Africa, and between Sudan and South Sudan, made the Democratic Republic of Congo the only available route. He reflected on why he chose that route. "This was emotional, not rational. We would be doing something that people just don't do. Most our lives are quite structured. If you don't put yourself out there, who knows what you will actually do?"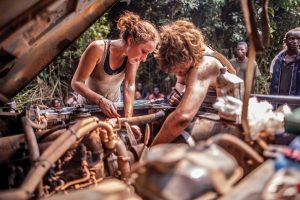 Chloe remembered, "I had no desire to go to the Congo. It was Mike's dream to go there and I thought it would be impossible. Isn't that the inspiration for adventure? What would it be like in the middle of the Congo? They have an amazing record of refusing people visas, and when granted, refusing entry! Mike and the Congo called my bluff; for the most part, travel through the county proved reasonable in terms of the authorities." She remembered, too, that "even the guide books encouraging travel had gruesome titles: Blood River, The Terrifying Journey Through the World's Most Dangerous Country, Facing the Congo, A Modern-Day Journey Into the Heart of Darkness."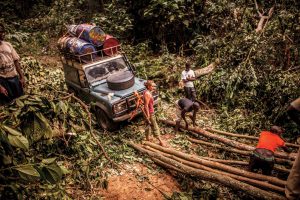 "Once there, lots of things that happened weren't fair, but I found those troubles became more of an itch to scratch—and that's the best way to motivate me." As a further complication, Mike and Chloe broke apart their engagement during the trek; yet as a team with defined roles, neither could permit their emotions to interfere with their responsibilities. Chloe learned to become a skilled off-road driver and negotiator with authorities. Mike honed his mechanical skills and knowledge while finding solutions within his studies of complex tribal relations in Afghanistan. Charlie had to navigate the breakup between two friends, learn bridge and raft-building skills, despite having no previous knowledge or experience, and provide invaluable physical and emotional strength.
The trip started inauspiciously as 9Bob broke down in the Pyrenees of Spain. Four hours of repairs in a car park meant they had to drive 24 hours straight to catch the ferry to Morocco. When they finally arrived in West Africa, Mike decided that Charlie Hatch-Barnwell should join them. "I dared him to do this, told him it would be too much for him—that got him to come," Mike remembered. "He arrived with vitally needed spare parts, including gasket sets and a fuel tank. He also arrived totally unprepared, in white chinos, blue suede shoes and Brylcreem for his hair. But he also provided muscle, morale, stability, humor; he was the vital third wheel, our chaperone. I've never met someone who enjoyed our stupidity so much!"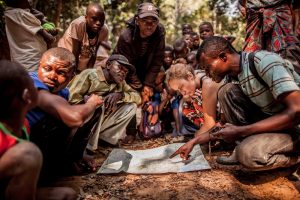 Chloe, in charge of the medical side of the trip, remembered, "Charlie would not take ant-malarial drugs. 'They don't suit me,' he said, 'It's more adventuresome without them.' Before we even left Kinshasa, the first Congolese city we entered, he lost his passport and had to buy it back from the thief. Yet when a medical emergency occurred, no one was braver or more stoic, despite epic pain."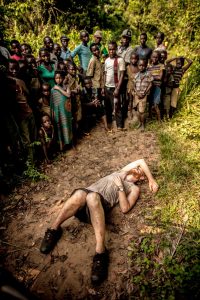 The Democratic Republic of Congo rarely appears in Western news sources, despite having a strong commodities export presence and its recent battles over whether President Joseph Kabila would extend his term in office. However, Chloe noted, "When you look at music, culture and the vibrancy that we associate with Africa, it comes out of the Congo. They very much represent the concept of Africa. They are also a people who have been betrayed by the UN as well as their own government. They are phenomenally suspicious. They don't believe in talking about 'intention,' what we say we'll do—as through their history, the professed 'intentions' have rarely come about. When we speak of 'truth,' they speak of magic and faith. It's an entirely different way of thinking."
The Congolese have a different view of "tourists" than do Westerners. That pleasant term for a vacationer as used here comes across as a euphemism for "exploiter." Centuries of visitors calling themselves "tourists," but behaving otherwise, have left a set of cultural assumptions with the Congolese. It wasn't until the trek had nearly been completed that the trio came to understand this linguistic problem.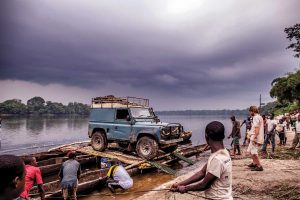 The cultural complexities of the vast nation (it spans a distance from Louisiana to Michigan, west to Oklahoma), its multiple languages (French, the "official language," is not spoken everywhere), and its absence of maintained roads and bridges brought new, often unanticipated challenges at every turn. The fact that three of them lived out of and relied on a 27-year-old, stock Land Rover 90 Hardtop made it all more amazing. Mike Martin applauded how "it was able to get over rockslides, mud bowls and sand drifts. I had experience with them in the Army; it was the natural choice for us. Even more remarkable, we had to carry 1.5 tons of kit in it and atop it. To cross rivers we often had to unload the gear so the Land Rover could climb up and down the incredibly steep banks. The torque of the 2.5L engine was remarkable."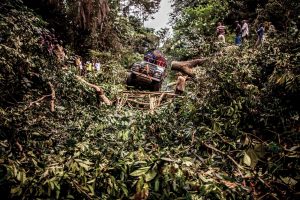 The descriptions of the physical toll it took on them are unsparing. For safety they vowed never to travel at night; still, their days demanded long hours, calling upon untested strength and perseverance. Photojournalist and explorer Lou Sapienza spent 23 days covering 1,200 miles during the 1996 Kalimantan (Borneo) Camel Trophy. He admits, "I absolutely love what other people call misery"—the 18-hour days of physical toil, endless heat, mud, leeches and venomous creatures—but he said that the Congo crossing exceeded the difficulty of that year's Camel Trophy.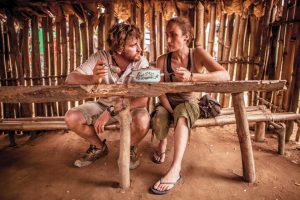 Lou Sapienza stated, "If anyone is so inclined to live that kind of adventure, I could not encourage anybody more to do it. It is self-defining, it tells you who you are and what you are. Surviving is totally in your head. It's a mental challenge that nothing will defeat you, that there's something to be gained by this. You can't even think about quitting."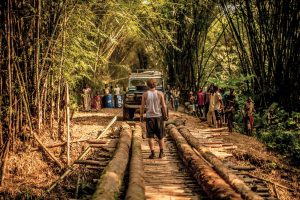 My longest consecutive off-road was an unintentional 16-hour winter trek through the woods of Maine; that puts me only 59 days behind the Congo team. I was last in a convoy of other Land Rovers. Oh, and when I was done at 3:00 am, I bought a sandwich and a beer at a convenience store before heading to a motel. Not quite a "self-defining" moment.
You can drive the 2,789 miles from New York to Los Angeles by car in 41 hours. This trio spent 60 days traversing 2,713 miles, averaging 45 miles per day. Some days they covered one mile, and only once more than 200 miles. Chloe Baker noted that their book came out two years after their trek and "it still feels raw, like an experience that will never dull, and we're still bewildered by all that we learned." Nibbling at her consciousness is the question,"Where will we go next?"
By Jeffrey Aronson
Photography Charlie Hatch-Barnwell