Jay Bird grew up just like the family in We Bought a Zoo. His mother founded the Arcadia Wildlife Preserve, which housed black bears, lemurs, zebras and a giraffe named Stilts, among other exotic animals. She also used a Kaiser weapons carrier to gather up stones on the property to erect walls and build a stone house—a first, which she completed in 90 days.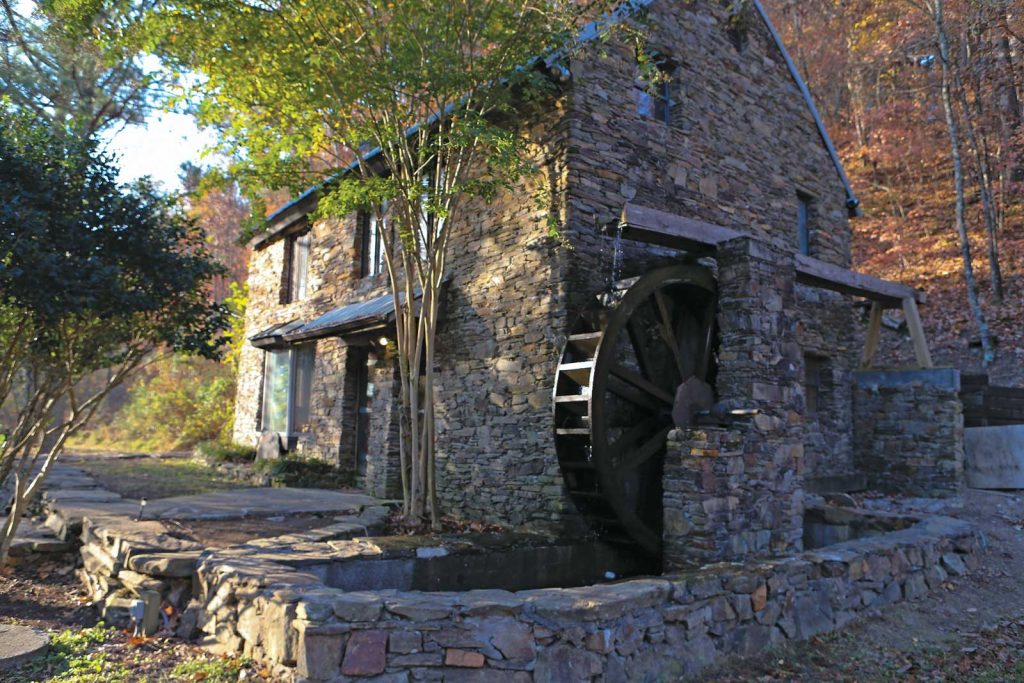 The family's Stone Mill property became the site of the 2016 SOLAROS (Southern Land Rover Society) Southern Appalachian Expedition, held last November 11-13 near Jasper, GA. The 500 acres of north Georgia foothills, combined with blue skies, autumn air and fallen leaves, provided 125 attendees in 65 Land Rovers all they needed for a special event. Two large fields for camping and plenty of beautiful mountain trails allowed the guests, their families and dogs the ample space required to enjoy the weekend. I met a good number of enthusiasts as I learned more about this long-standing group.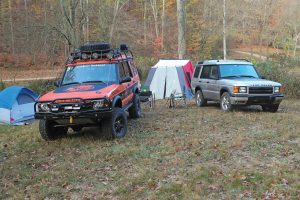 Back in 1994, Jack Walter worked as a Lockheed engineer while serving as the Southeast Regional Coordinator of the former Land Rover Owners Association. Jack decided that Land Rover should have a bigger presence at an annual charity event called British Motor Car Day. Once he'd started a list of invitees he moved to start SOLAROS, by combining his twin passions for Land Rovers and the actor Steve McQueen. The name arose from the concept of a southern Land Rover society merged with McQueen's production company, Solar Productions, hence SOLAROS.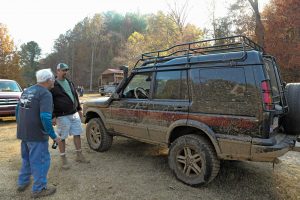 Another founding member, David Porter, Alpharetta, GA, then invited Land Rover owners in the Atlanta area to do a trail ride in Dawsonville on his property. As with many good ideas, SOLAROS grew out of a discussion in a bar, in this case, the Dawsonville Pool Hall. Porter's first new Land Rover was a '95 Defender 90, which he promptly took to Moab and passed a week wheeling in the desert. He and his wife spent their engagement rebuilding a Defender 110, which became their wedding carriage.
David "Moose" Russell, the club's chairman and a member since its creation, is a big, warm, friendly man who's always been the biggest guy in class since the sixth grade—hence, his nickname. He cut his teeth in the Land Rover world on a '71 Series II-A, buying it off a friend who had abandoned it in a garage. He collected spare parts for a rebuild, using sources he met as the parts manager for European car dealerships; eight years later, he picked it up. David still owns the Land Rover and vows he will never get rid of it.  Oh, and his daily driver is an '88 Range Rover Classic.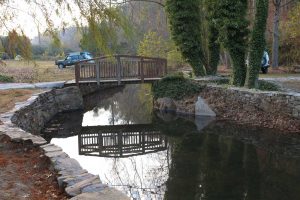 SOLAROS president Luke Miles, Norcross, GA, a bright-eyed man with a broad smile, has served for four years and has been a club member for over a decade. Luke brought his '99 Discovery II, which came into his possession upon the death of his father, 12 years ago [see sidebar, p ___]. Bone stock when he received it, Luke kitted it out for serious off-roading with heavy duty GBR axles and drive shafts, 3-inch lift sitting on 35 inch tires, reinforced bumpers, altered rear-end gear ratio and Detroit True Trac lockers, among other things. Luke and his Discovery have traveled to Moab as well as other Land Rover events on the east coast.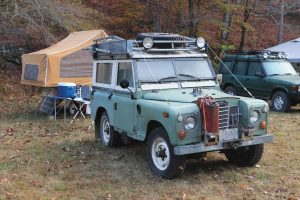 Roger Hunter, Alpharetta, GA, came with his 1998 Discovery, purchased new from the dealership in Atlanta. "These things are built to last," Roger said, noting that he's replaced only the alternator, serpentine belt and a few brake parts in the past 18 years. A club member for the last 16 years, Roger claimed his Land Rover experience gets better all the time. "There is nothing I'd rather be doing than be out here in the woods of North Georgia exploring and riding the trails and camping."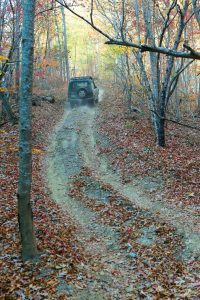 "Come on baby, turn!" yelled David Frankel as we navigated a trail of rocky creek beds together. The Atlanta-native came with an original '03 Discovery Trek Edition used in the United States Trek event. He found it on eBay out of Miami and learned that it came through Land Rover Buckhead, the Atlanta dealership; its unique paint scheme and decals (including a windshield roundel with the number 5) remained intact. His off-road kit included longer springs, front and rear lockers and Ashcroft 4.12 gearing—together with his driving skills, they made the trail feel like child's play.
The enthusiasm the SOLAROS club offers focuses on family, camping, and giving back—everyone was extremely friendly and sharing. With its roots in charitable giving, combined with the beautiful location and comfort of fall camping, you have an event not to be missed. If camping in the southern Appalachian Mountain range on a crisp fall day with your Land Rover sounds like it's for you, then mark your calendar for next year and make the trip down the winding dirt roads of Pickens County. For over 20 years, the SOLAROS club has held an event every fall, and from everything that I saw it will be here for another 20 years.
Land Rover Buckhead
Todd Miller celebrates his 20th year as a sales guide at Land Rover Buckhead in Atlanta, GA. There he gets to gaze at a '93 Defender 110 with the plaque, LRNA1, affixed to the rear. Nice view!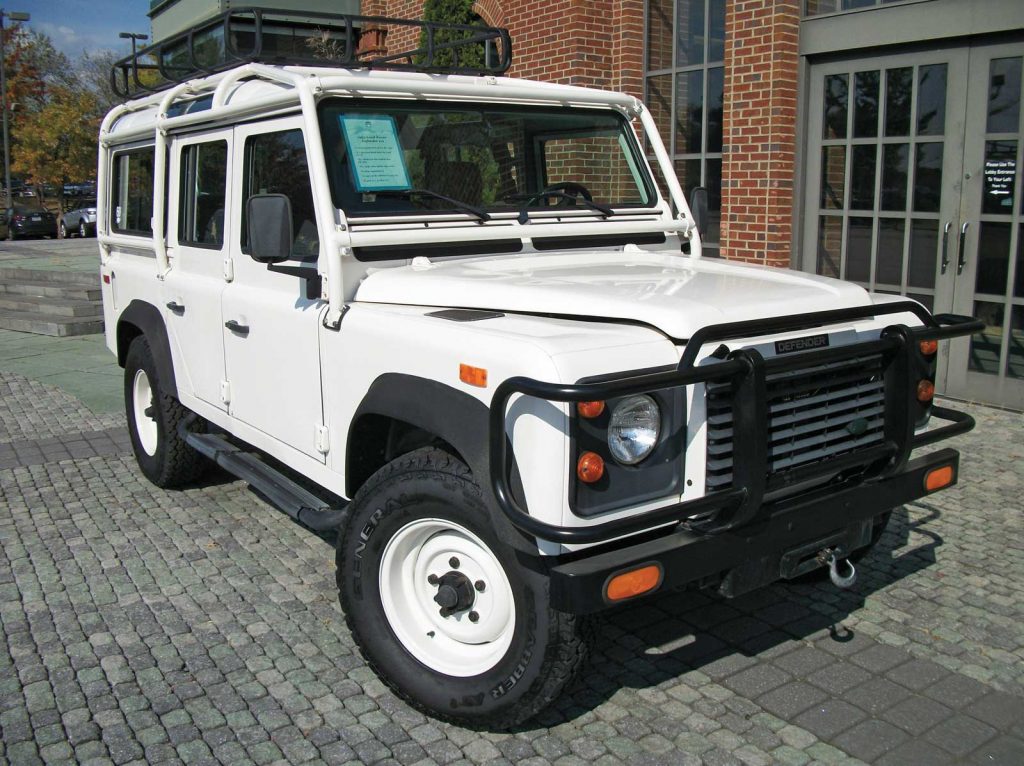 When Range Rover North America established its dealer network in 1987, Mark Hennessy of the Hennessy Group received one of the first franchises for this Atlanta suburb. The group expanded its reach into Gwinnett and Northpoint—and the latter became the first Land Rover Centre.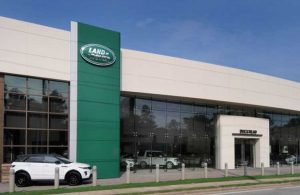 Land Rover Buckhead is the center of Hennessy Land Rover Group. Todd Miller notes, "Mark Hennessy is a marque enthusiast. He helped bring the Land Rover into Georgia and has been a promoter of the brand since then."
The Hennessy Group has backed SOLAROS for over 15 years. Miller pointed out that the dealership knows, "You need to keep a connection with enthusiasts, new and old. The dealership supports the charitable natures of the SOLAROS events. We enjoy promoting the enthusiasm for older Land Rovers, too, no matter where they're purchased."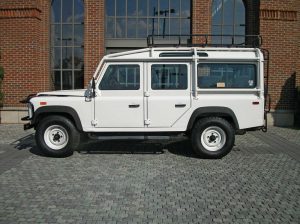 Miller is no slouch as an enthusiast himself. The Georgia native bought his first Land Rover, an '87 Range Rover, after a deal for a military 109" fell through. He would trade it for Series III 88" and it's been succeeded by a Discovery I, a Discovery II, another Range Rover Classic, an NAS Defender, and a RHD Land Rover 110 with a 200 Tdi. His wife, Elizabeth, drives an LR4 and his daughter Chloe has an LR3; oh, yes, his parents have an LR3 and a Range Rover Classic.
SOLAROS makes contributions every time they hold their annual SAE event, and Land Rover Buckhead helps make their contributions possible. It's wonderful to see mutual contributions like these at work.
Habitat for Humanity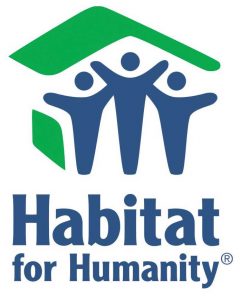 For the last seven years, SOLAROS has been working with Bryan Thomas, Executive Director of Habitat for Humanity in Towns and Union counties in northeast Georgia. Funds raised at the SAE events go to this worthwhile organization, which builds houses for families in need, as well as provides maintenance services necessary to help families remain in their homes. Thomas' group built its first house in 1999, and now has completed 17, with donations from SOLAROS events now totaling over $80,000. Thomas noted that these donations ($10,000 from the 2016 event) help leverage funding for future projects. In a phone interview he said, "We consider ourselves to be very fortunate to be affiliated with SOLAROS. The money they donate is a huge deal to us and they are one of our most generous benefactors. They are helping us eradicate poverty-level housing in an area that needs the help."
The Shop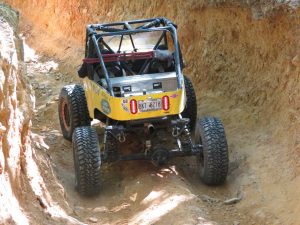 Luke Miles, Chamblee, GA, remembers when a then-girlfriend had a '95 Discovery 1. He'd never off-roaded before, but when he spotted a guy in a lifted Jeep tackling a power line trail, he drove up to ask if he could tag along in the Discovery. "The guy looked at me cross-eyed. I had a bone stock Discovery with street tires. But I followed him everywhere, which impressed both him and me with the Discovery!"
"I'd been into crotch rockets and sports cars, but this experience made me insist that we get aggressive tires and a 2" lift kit for her Discovery. Once she saw the attention it grabbed, she was hooked! When my Dad retired I bought him a Discovery II; when he passed away, I inherited it and it became my Land Rover."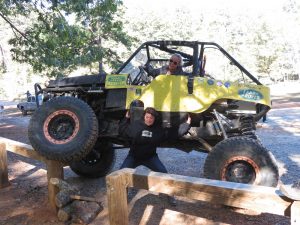 After a tour of submarine duty in the Navy and seven years in the corporate world as a project manager, Luke took a position with a Porsche racecar shop. "When I found out they wouldn't work on Land Rovers, I took over the lease on a shop in Duluth, GA, hired a friend who was a long time mechanic, and opened British Truck Repair, which I call simply, "The Shop".
SOLAROS members started to bring their vehicles to Luke for maintenance and upgrades and he became a Land Rover specialist almost three years ago. He now has locations in Norcross and Chamblee, and soon will open a third shop in Marietta.
We salute Land Rover specialists and thank Luke for helping Georgia enthusiasts!
[Contact any branch of The Shop at www.Britishtruckrepair.com.]
By Abraham Brereton
Photography: Jack Walter