[Born and raised in Alaska, Frank von Hippel, Flagstaff, NM, earned a BA from Dartmouth and a PhD at Berkeley in 1996. After 17 years as a professor at the University of Alaska, he's now on the faculty of Northern Arizona University. His son, Max, is a junior of he University of Arizona, majoring in mathematics and computer science. Passionate about pure mathematics and computer security, he also enjoys bare-bow curve archery, photography and, of course, Land Rovers The father-son team of the Frank and Max Von Hippel let their Defender take them from Alaska to Arizona, and reflect on their journey in this article -ed.]
Frank von Hippel:
"Ruby", my 1995 Defender 90, lived on Kodiak Island until I bought her in 2004. She replaced "Annabelle", a 1988 Toyota Land Cruiser FJ62 that I bought new and drove for 230,000 miles. I had fallen in love with Defenders while working in Kenya in 1992; for me, a Defender was one of only a few suitable replacements for Annabelle.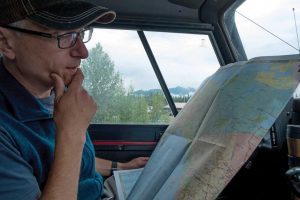 Upon purchase, Ruby came with 61,139 miles. I replaced her fiberglass top with a Land Rover [Tickford – ed.] soft top. This proved to be a mistake. The top leaked so Land Rover provided a replacement top. While waterproof this replacement had a one-inch gap behind the doors. Winter in Anchorage can last eight months a year. Snow and ice whistled through the gaps and onto my face, and the heater could not compensate for the heat loss in below zero weather. Additionally, vandals sliced open the windows.
Other modifications proved more successful. I bought the Rovers North stainless steel roof rack, front and rear lamp guards, wing top and hood protector plates, and a skid plate. I replaced the cassette stereo and installed Tuffy speaker and storage lock boxes on the wheel wells. When the rear part of the frame, including the integrated bumper, disintegrated into rust, I had new parts welded in. A custom boat shop crafted a replica rear bumper, but in aluminum, and we attached it to the new frame section. I mounted a Hi-Lift jack to a replacement galvanized steel front bumper. I mounted BF Goodrich All-Terrain T/A LT285/75R16 tires, which required the addition of wheel spacers to maintain the full turning radius. After years of freezing, I removed the soft top and replaced it with the original fiberglass top.
Alaska's economy crashed in response to low oil prices and reduced oil production, and I received an excellent job offer in Flagstaff, AZ, and we moved in the summer of 2016. Preparing Ruby for our two-week journey, I bought a Cascadia Vehicle Tent, cleverly installed by Green Tree Fabrication in Anchorage. We also installed limb risers so that overhanging branches would not crack the windshield, and a jerry can holder on the spare tire.
On July 1, we rolled north from Anchorage on Highway 1 for 317 miles to the town of Tok, itself 92 miles from the border between Alaska and the Yukon Territory. My memories of the town include an 8-year-old me listening to two drunks argue at a restaurant; 40 years later Tok remains much the same.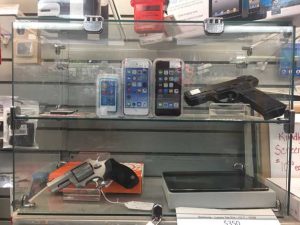 Max von Hippel:
Tok is a charming town with a little over 1,000 people. As in other Alaskan towns, The Everything Shop in Tok carried toilet paper, cereal, the latest iPhones and iPods, Taurus Tracker stainless steel .44 magnum revolvers, an entire aisle of different caliber, style, and material clips for ARs, Kindle screen protectors, and various Mexican salsas along a spectrum of spiciness. We refueled on snacks and gas and proceeded on our route. Each time we hit a frost heave on the two-lane highway, the wheelwell flares rubbed on Ruby's tires.
Frank:
The original springs and shocks on the Defender were worn out, and with our gear, roof-top tent and weight of fuel in the jerry cans, the clearance was insufficient, especially on the right side because of the weight of the gas in the jerry can. The gas was essential because one stretch of our planned route on the Cassiar Highway in Canada was a longer service-free corridor than Ruby's range. Theoretically, a five-gallon jerry can would bridge the gap.
Max:
We stopped at a National Park office on the Alaskan side of the border, next to a small, unnamed town. The park employee asked about Dad's work; when he explained he was a biology professor moving to Flagstaff, she encouraged him to remain there as they needed a schoolteacher for their one room schoolhouse. Dad declined the job offer and we crossed the border into the Yukon.
I couldn't help but note the differences between Alaska and its neighbor, Canada. In Canada we noticed designated campsites, free parking for tourists, and most striking of all, a lack of firearms. Every grocery and convenience store on the Alaskan side of the border sells an arsenal of firearms, but not in Canada. They do share common traits, like the Korean-owned Chinese restaurant is most every town.
Frank: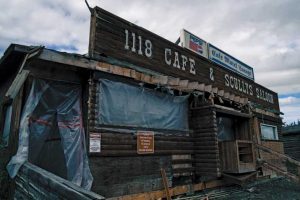 Construction season in the Arctic is limited to the short snow-free summer. Upon entering the Yukon Territory, we quickly encountered the inevitable line of idling cars waiting for the pilot car. While motorists endured a long wait, the fellow managing traffic abandoned his post to pepper us with questions about Ruby. He had been looking for a Defender or Series in Canada for years with no success. He knew the details of the handful that were for sale throughout the country, all out of his price range, and he gazed upon Ruby with wistful eyes.
Max: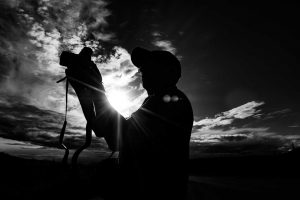 Our most frequent wildlife encounters occurred in the Yukon Territory. In a single day, we encountered six black bears, a wolf, a fox, and several moose along the side of the two-lane road. We stopped Ruby to watch a pair of juvenile black bears. One approached Ruby, and smacked her front tire with its paw. The bear seemed surprised by the feeling of the tire and jumped back, then lumbered away, while the other circled behind the vehicle.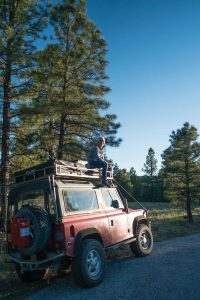 We re-entered Alaska on a dead-end highway that passes from Carcross to Skagway through one of the most spectacular stretches of road in North America. Skagway sits atop Alaska's Panhandle, and brims with unique sites from the Alaska Gold Rush: brothels, bars, casinos, hotels, and restaurants. Yet, walk ten minutes up a steep trail into the temperate rainforest, and you bask in the tranquility. We drove Ruby down a one-lane dirt road skirting the coast to an inlet outside of town, and had Southeast Alaska to ourselves for the night. Then we re-entered the Yukon Territory and continued east along the Alcan to the Cassiar Highway.
Frank:
As expected, a long stretch on the Cassiar without a gas station proved to be too much for Ruby. We ran out of fuel at night near the crest of a mountain pass — had we made it a bit further, we could have coasted into the next town. Not as expected, the jerry can was half-empty. It had been leaking for some time, and the remaining fuel was just enough to crest the mountain then coast and putter to our refueling stop. That experience led us to replace the jerry can with a leak-proof NATO style can.
In British Columbia, perhaps a thousand miles from where we entered the Yukon Territory, we ate sandwiches at a deli/grocery store/gas station. A man in an orange vest approached us and asked, "Are you the guys with the Defender and rooftop tent who crossed the border from Alaska a few days ago? I heard about you on the work site."
Max: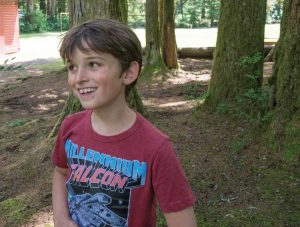 When we embarked on our journey, Mom said, "You guys can take as long as you want, and do whatever you want. I only have one request: you must pick up Sam from camp on time!" Sam is my nine-year-old brother and he was attending two sessions of Hidden Valley Camp in Washington. We were in Carcross when it occurred to us that we had to cover about 1,500 miles in under three days if we were to achieve our only mandate.
Frank:
We used the break between camp sessions to visit our friends Lara and Patrick at their cabin in Eastern Washington. They bought a beautiful place surrounded by forest and rock outcroppings almost for a dime. When the previous owner, an imperious Seattle business executive, cut down trees and annoyed his [local] neighbor, his abutter's responses included the death of the executive's dog, a dead deer and excrement placed in the living room. The cabin came up for sale rapidly and for a low price.
After visiting our friends for a couple of days, it was time to return Sam to his camp. We left our friend's cabin with plenty of time to spare, descended the mountain dirt road to its base, and found ourselves at a locked gate. We tried to get around it in a gully, but we lacked the necessary bridging ladders. The result was that we got Sam back to camp late by four hours, the same number that we had been late to pick him up, which meant that his break between sessions was exactly the number of hours it was supposed to be.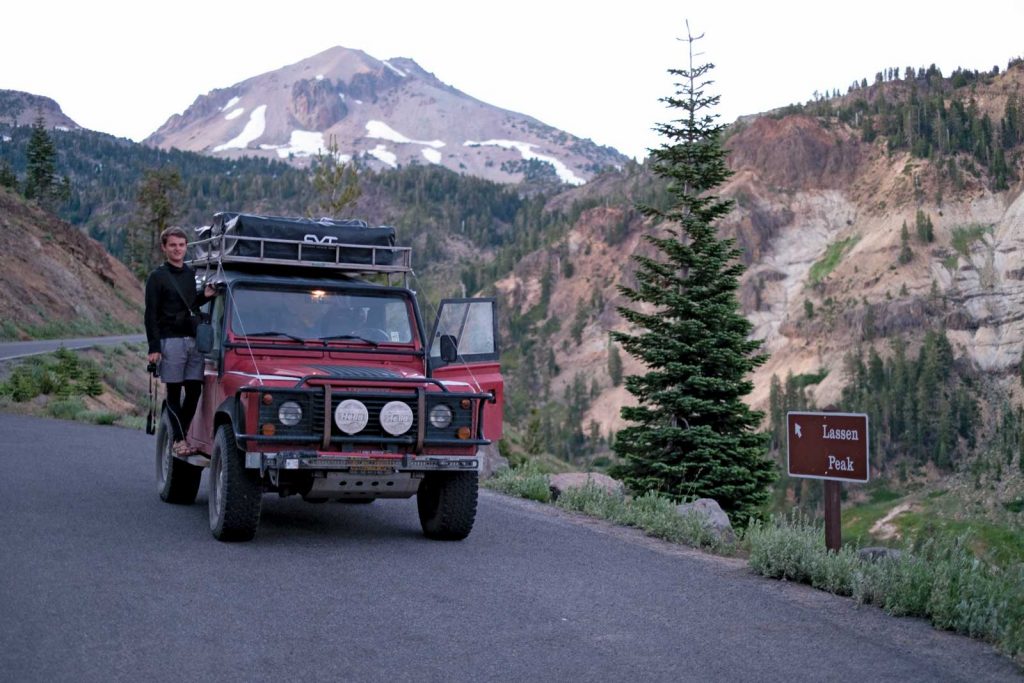 Max: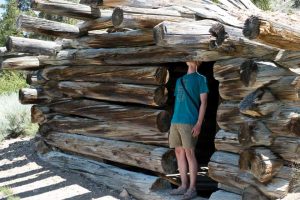 The 1980 eruption of Mt. St. Helens left the volcano circumscribed with a satanically arranged pattern of dry trees laid out like match sticks. Now fairly regrown, the park is an exciting and shifting scene, full of strange geometric patterns of trees and ash from the blast, new growth and resurgence along the corridors of minerals unveiled by the volcano, and beautiful fields of multicolored flowers. We visited several volcanic parks, including Crater Lake, Lava Beds National Monument, and Lassen Volcanic National Park.
As we descended the Sierra in eastern California into Nevada, the temperature climbed to above 100ºF. It felt like sitting in a hot yoga session while getting shot with burning arrows. The scorched earth continued as we crawled along to visit my dad's friend Sudeep at a field station in western Nevada. Ruby was overheating, so for two days we drove 35 mph with the heater on full blast to draw heat from the engine compartment. We climbed back into the Sierra to 11,000 feet to visit the Ancient Bristlecone Pine Forest and the oldest organisms on Earth (some about 5,000 years old). Even at that altitude, the temperature hovered around 100º and Ruby had to proceed slowly. We slept at Mono Lake, then descended back into triple digit temperatures as we crossed southern Nevada. We passed through the towns of Coaldale, Goldfield, and Mercury. We drank liters of hot water.

Frank:
We arrived at Hoover Dam a few minutes before closing, then continued our slow, heater-blasting crawl to Flagstaff. We arrived sometime during the night and collapsed in our new home. Hiccups during our drive let us know what Ruby needed for her next journey. Ruby got new coil springs and Bilstein rear shocks. We bought Maxtrax at the Overland Expo in Flagstaff, which will get us out of mud and sand and serve in a pinch as short bridging ladders. I replaced the passenger door lock, which broke somewhere in Canada. The radiator problem proved more vexing; it turned out that the fan clutch was not engaging and so my mechanic Tino replaced the viscous coupling. Ruby can now drive 65 mph through the desert heat with the needle hovering just below red. Rattling along our journey, the fiberglass rear wall broke free from its top, leaving a gaping hole next to the rear door. One more repair and it will be time to break out the atlas again!