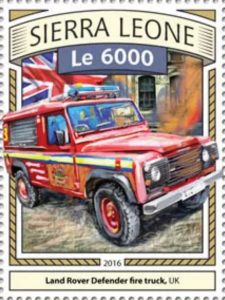 Bitter cold, lots of snow, high winds —oh, right, it's winter. The many Sightings received demonstrate that in between thawing out frozen pipes, many enthusiasts still search out Land Rovers in advertisements, commercials, movies and online sites. We're thankful for their effort and energy.
It's always helpful for veteran and novice Sighters alike to review the rules that govern when we award a Coveted Mug:
Rule # 1 – All Sightings receive recognition and our appreciation, but not necessarily a mug. We reward only those Sightings that capture the unique qualities of Land Rovers and their owners and display them in a distinctive way.
Rule #2 – If your Sighting doesn't really surprise you, it won't surprise us, either — thus we can't award you a mug. We're delighted, but not surprised, that Land Rovers appear in British television programmes, British publications, films with British themes and media covering African safaris. You shouldn't be surprised, either, and should consider another way to get a coffee mug.
Rule #3 – At an ever-changing date before publication, we close off the Sightings; for this issue, it was December 8, 2017. If we've mentioned the Sighting in an earlier issue, we might not mention it again. If you're new to the family of Land Rover enthusiasts, you may not have seen your Sighting in an earlier issue.
Rule #4 – We're not outfitting your kitchen. If you qualify, one mug per Sighting per issue.
Rule #5 – Sightings that are Land Rover references in books go to our Literary Land Rover editor for the mention, but only when space permits.
Rule #6 – Psst… email submissions — remember we can't send a mug by email. Send us your real name and shipping address, too. (To assure your privacy, the magazine does not have access to Rovers North customer information.)
Rule #7 – Grudgingly, very grudgingly, the Editor admits he might have made an error. Let us know if you think you've been jobbed, but all decisions of the Editor are final.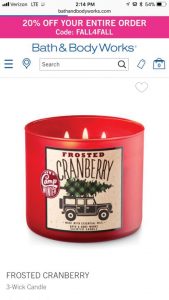 Magazines know that the presence of a Land Rover can enliven every story. Ken Eiler, Harker's Island, NC, spotted the Defender in Outside magazine's full-page photo of hiking in western Georgia — the country, not the state. Chris Isenhardt, Jacksonville, NC, noticed a photo of a young woman lying atop a RoW Defender 90 in WSJ. Magazine. Simon Green, Simsbury, CT, spotted the Land Rover in a Daniel Island travel ad in Garden and Gun.
Movie producers have always recognized the power of Land Rovers to enhance any movie. Kevin King [see Rule #6] and Brent Lane, Saco, ME, spotted a soft top Series II-A in the trailer for the movie Walking Out. Brian Jones, Raleigh, NC, found a brief scene with a Land Rover in the trailer for It Came from the Desert. Gary Anderson, Cleveland, TN, noted the Series III that plays an important role in I Can Only Imagine.
Television loves Land Rovers, too. Rob Modica, Tucson, AZ, enjoyed seeing the Matchbox Land Rover 109" in the opening scene of Young Sheldon. Ken Burns' documentaries on PBS need little help, but it's no surprise that William Ellis, Gainesville, FL, spotted Series Land Rovers at work in one episode of Vietnam. Scott Just, Berkley, MI, found a Series III in the Science Channel's "Mysteries of the Abandoned" episode on Project HARP. Joel Mercer, Clayton, NC, enjoyed seeing a Discovery II in a body shop in an episode of Curb Your Enthusiasm. Will and Katie Skidmore, Neptune, NJ, enjoyed seeing an RoW Defender 110 in an episode of Blacklist. While working in his shop, Jeff Bang, Staunton, VA, watched an episode of the 1970s tv show, Emergency, with a Series III 88" in full view. In a more modern context, Jeff watched a Defender 110 Double Cab during a CBS Sunday Morning episode on Princess Diana's family.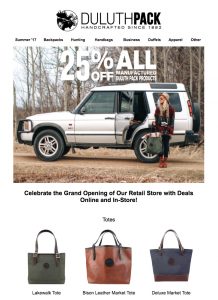 Webmasters know that Land Rovers drive click-throughs. Michael Carnell [see Rule #6] noted the rear of a Defender 110 in a Wix website ad. Duluth Pack featured a Discovery II in their email blast, notes Scott Just, Berkley, MI and Shawn Davis, Owosso, MI. James Howard, Tucson, AZ, notes that his daughter received a mailing from Boot Barn featuring a Land Rover. Gene Lytle, Boulder Creek, CA, noted that Skysoft Video Converter software's promotional page features a Defender 110 in a stunning outdoor scene. Kevin Assari, Alpharetta, GA, spotted several Land Rovers in an online video promoting Abu Dhabi. Andy Estep, Dupont, WA, spotted the Land Rover on the web page of Bath and Body Works.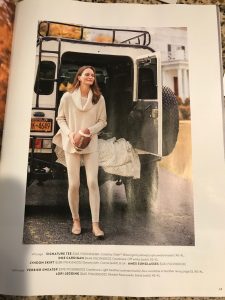 Every product looks more appealing with a Land Rover attached to it. Hannah Ford, Lexington, KY, Rick Prudhomme, Hendersonville, NC, John Eraklis, Flagler Beach, FL, Jeremy Vilisnik, Panama Beach, FL, Josh Harris, Jamul, CA and William Stewart, McMinnville, OR, found candles and bags with pictures of Land Rovers on them at Bed, Bath and Beyond. Jeremy also found that American Eagle has socks with Land Rover images, "Which I totally bought!" Kevin Kelly, El Macero, CA and Hillary Atkinson, Williamstown, NJ, came across a J McLaughlin catalog featuring a Defender 110. Dixon Kenner, Ottawa, ON, sent in a mention of a British McDonald's ad that features a Series I. David Russell, Snellville, GA, found a Defender Quad Cab in the latest Onward Reserve catalog. When Ikea wants you to buy a kitchen item that likely has more screws than a Series III floorboard, they entice you by showing — what else — a Series III, reports Owen Mesdog, Seattle, WA.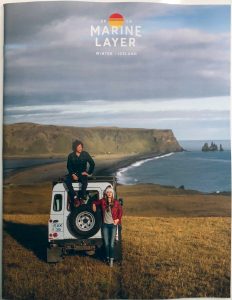 Quinn Lynch, Apex, NC, found a Young & Rubicam promotional ad touting their role in creative work for Land Rover. Toby Oddy, Ridgefield, NJ, and Nathan Tucker, Oregon City, OR, spotted Defenders in Iceland in the latest Marine Layer catalog — although their website features only a Bay Window VW Bus. Aubrey Taylor, Raleigh, NC, spotted the Range Rover P38 on the Primus Camping website. Adam Setliff, Flower Mound, TX, noted the Academy Sports offers a sports shirt filled with Defenders; Clay Ayers, Potomac Falls, VA, found a similar shirt at American Eagle. Tom Sennett, Chatham, NJ, spotted a buggy Defender in a Toronto toy store. Ron Dade, Washington, DC, noted that clothier Core 72 uses a Defender 90 in its full-page ad in The Scout Guide. Tom Sennett, Chatham, NJ, and Brandon Lokits, Wilmington, NC, noted the side of a Defender 110 on the SteepandCheap website.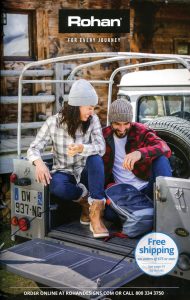 We've mentioned these before, but want to commend Sighters for their efforts. Erik Oren, Albuquerque, NM, spotted the Collete Vacations Defender on safari duty. Dr. Ed Kollar, Natchitoches, LA, Philip Perkinson, Raleigh, NC, Keith Boldridge, Leavenworth, KS, Rob Modica, Tucson, AZ, Scott Just, Berkley, MI and Kevin Eyres [see Rule #6] enjoyed seeing the Series Rover in a Jim Beam Black ad. Kurt Krauss, Boonton Township, NJ, Paul Skold, Arvada, CO, Howard Morrison, Savannah, GA, Ron Dade, Washington, DC, Jackie Pippen, Westfield, MA and Walt Brown, Burlington, NC, noticed that Orvis continues to feature Land Rovers in their catalogs. Dana Leslie, North Bend, WA, and Howard Morrison, Savannah, GA, spotted the Series hoop set in the latest Rohan catalog — they know a good thing when they see one! Eric Allen, Burtchville, MI, enjoy seeing the Land Rover in the Schott catalog. Derek Leith, Frontenac, MO, Doug Gable, Cooperstown, NY and Steve Stricker, Oxford, MS, noted that Alex and Ani Jewelry continues to use a Land Rover in its commercials.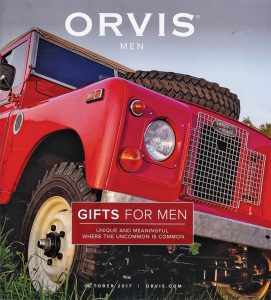 John Vanderwall, Vancouver, BC, James Wollschlager, Groton, CT, Doug Gable, Cooperstown, NY, Keith Comess [see Rule #6], John Karlsson, Hope Valley, RI, and Rick Ward, Pasadena, CA spotted the famous VW urban safari ad. Henry Gazaro, Fairfield, PA, sent in a copy of the Mizzen + Main promotion that featured at Defender 90. Ken Eiler, Harker's Island, NC, also spotted the Free Fly Apparel ad with the Series III. Erik DePetris, Middleburg, FL, Patrick McGrew, New Orleans, LA, William Hutchings, Wilmington, NC, Tyler Lucks, New Albany, OH, Buzz Dozier, Jacksonville, FL, P T Schram, Churubusco, IN and Lola Raithby, Chester, MD, noted the Land Rover in the Huckberry catalogue. Tom Sennett, Chatham, NJ, spotted the Defender in the movie Troll Hunter. Mike Thomas, Westfield, MA, reminded us of the Defender on the Uncrate website. William Hutchings, Wilmington, NC, noted the Land Rover on the Toad and Company site.
The January mudslides in California caused significant losses of life and property. Thompson Smith, this magazine's Creative Director and a SoCal ex-pat, spotted a Range Rover amongst them. We send our best wishes for everyone's safety during a winter of severe storms nationwide.
Winners:
Clay Ayers Potomac Falls, VA
Josh Harris Jamul, CA
Ron Dade Washington, DC
Adam Setliff Flower Mound, TX
Simon Green Simsbury, CT
Aubrey B. Taylor, III Raleigh, NC
Jeremy Vimislik Panama City, FL
John Eraklis Flagler Beach, FL
Owen Mesdag Seattle, WA
Andy Estep DuPont. WA
Gary Anderson Cleveland, TN
Rick Prudhomme Hendersonville, NC
Kevin F. Assari Alpharetta, GA
Rob Modica Tucson AZ
Gene Lytle Boulder Creek, CA
David M Russell Snellville, GA
Brent Lane Saco, ME
Hillary Atkinson Williamstown, NJ
Kevin Kelly El Macero, CA
William Stewart McMinnville OR
James Howard Tucson, AZ
Shawn Davis Owosso, MI
Hannah Ford Lexington, KY
Corey Anderson Penn Yan, NY
Ken Eiler Harker's Island, NC
Scott Just Berkley, MI