A traditionalist would find the combination of a heritage Land Rover, a Barbour jacket, Orvis fly fishing kit and a faithful canine companion irresistible. For example, when you visit Rovers North, you pull into a gravel parking lot filled with Land Rovers and once inside, navigate through a pack of office dogs who accompany their owners to work each day.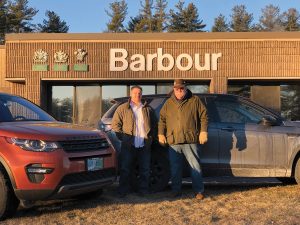 So it's delightful to see that Orvis, Barbour and the Petfinder Foundation would link up to create the opportunity to adopt a dog — and if you're really lucky, to win a customized Barbour Defender or specialty items from Orvis and Barbour.
Orvis, the fishing and hunting outfitter, has a long and personal connection with Land Rovers. Their catalogues seem to always feature a Land Rover on their pages; indeed, Scott McEnaney, the manager of Orvis Adventures, grew up in Series Land Rovers and has one to this day. Similarly, Barbour has its own connection with Land Rover UK and its famed clothing, beginning with its waxed cotton jackets, appears often on Land Rover owners. Lastly, what's a Land Rover without a dog?
The Vermont-based retailer Orvis is also the largest outlet for Barbour in the USA, so it's not surprising that they would collaborate to create the Orvis Barbour Defender, a delightful rendition of a classic NAS Defender. As in 2017-2018, beginning last fall and ending this spring, you could win the customized Defender by entering their joint sweepstakes.
Tom Hooven, Nashua, NH, works as General Manager of Barbour in the USA from his office in Milford, NH. He's also a Land Rover enthusiast who pronounced himself very pleased with the 2017 Discovery Sport, purchased from nearby Land Rover Bedford.
2019 marks Tom's 30th year with Barbour. He cited "the history and heritage of Barbour." "It's still family-owned in its 125th anniversary year and run by five different generations of the Barbour family. The brand speaks for itself and it's great to partner with other strong, quality brands such as Orvis and Land Rover. We have a good relationship with Land Rover enthusiasts in the US. The vehicles are very visible in the equestrian and fly fishing communities. We believe that it all ties together with a similar heritage and a similar quest for quality."
The idea of creating a Barbour Defender morphed from Barbour's own practice of sustainability. The company has a major service center that provides re-waxing services for refurbishing their signature coats. Tom noted, "We've offered that service for years, and what better way to spread the word than through the Land Rover Defender, the sustainable vehicle that you can use and enjoy for years."
While Barbour has ten stores and four outlet properties in the US, Orvis remains Barbour's largest source of US sales, so it made sense to have the Defender make the rounds to Orvis locations. Starting last October in New York and New England, the Defender headed to Orvis stores in the South.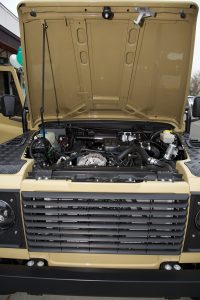 In Tennessee, Scott Preston, of Hendersonville, drove to his nearest Orvis store in Greenhills and examined the Defender. "Arriving there early with my friend, Kelly Graham, I received a fine commemorative t-shirt. We both got a chuckle when we noticed that the exploded diagram on the shirt was actually a Series III. My overall impression was good. They have taken a good Defender 90 base and mixed and matched parts (a Defender strength) to create a fun solid offering. The custom Barbour interior was beautifully done — certainly, I wouldn't mind having it in my garage! I happily filled out the entry form and will start dreaming up my acceptance speech."
Scott's research started with the VIN, which showed this Defender began life as a '95 NAS Defender soft-top in AA Yellow, with the standard 3.9L V8 and LT77 5-speed gearbox. The refurbishment and custom work was undertaken ECD Auto Design, Kissimmee, FL.
In a phone interview, founder Tom Humble said, "Tom Hooven of Barbour approached us two years ago, asking about our work and capabilities. Barbour sent us lots of fabric samples and door pulls to work with. Richard Filpo, our designer, worked with their team on the exterior styling and the tartan interiors. This year's Defender became available when a Philadelphia client wanted a Defender 110, so he traded us this Defender 90. It took 8-9 months on the first one [in 2017], but we had only five months lead time with this second example."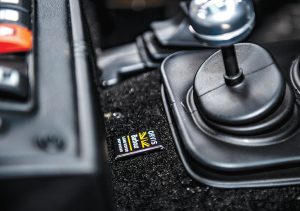 If you visit one of the Orvis locations and spot the Barbour Defender, you can't miss the stuffed animal dog seated inside. Yes, Orvis carries a wide range of accessories for your dog, but for this sweepstakes, Barbour and Orvis have partnered with the Petfinder Foundation. Emily Fromm works with the Tucson, AZ-based non-profit that promotes pet adoption from shelters nationwide.
Emily noted, "For the past seven years, Orvis has promoted our organization and matched donations made by customers. That's brought our efforts in front of a whole new audience and truly demonstrated their deep commitment for dog adoptions. As the Barbour Orvis Defender travels from store to store, we reach out to shelters along the route and encourage them to have pets available at the event. I attended the kickoff event in New York City and between the Defender and the dogs, there was an unbelievable response from participants. We have heard from our shelters that they really enjoy partnering with the local Orvis store to promote adoption."
Land Rover promises the new Defender in 2020. Barbour has plans to introduce a limited-edition line of Barbour jackets taken from their original patterns; you will likely find them at your nearest Orvis store. Proper Land Rovers, proper dogs, proper hunting and fishing gear, proper clothing — to quote the A-Team, "I love it when a plan comes together."
ECD Automotive Design
Tom Humble decided to leave his family's business of restoring British cars near Birmingham, England, and trade in the drizzle and chill for life in sunny Kissimmee, FL, in 2013. "I was surrounded by Land Rovers at an early age. Our home area was quite rural with Defenders around us everywhere." The popularity of the Defender here, coupled with his extensive knowledge of the vehicle, made this a logical decision.

Formerly known as East Coast Defender, the company will either restore or customize your choice of a Defender 90, 110 or 130, Range Rover Classic, or Series Land Rover. Its 30 full-time employees work out of a 21,000-sq. ft. facility, immodestly named "The Rover Dome." In late 2017, the company opened a West Coast design and sales center on the Pacific Coast Highway in Malibu, CA.
Tom is particularly pleased with their Project Malibu Defender, which features the 6.2 L, 430 hp LS V-8 and 4-speed automatic. "The LS conversions allow a person who wouldn't consider to one to have one and use it daily. The new motor calms the reluctant potential owner."
Recently, Tom said, "I'm very pleased that two previous clients have sent us their Series IIA's for refurbishment. There's nothing in the classic Land Rover world that we would not want to work on here."
[For more information, contact ECD Automotive Design at www.ecdautodesign.com, for both the Florida and California locations.]