Political events in Europe in 2018 had pundits reflecting on the political upheavals of 1968. Hidden from view amidst the waves of worldwide protests were transportation laws in the Netherlands and the USA. Suddenly, safety bureaucrats in those countries mandated a minimum distance between the headlights, a distance that Land Rover could not meet with its existing Series IIA's headlights recessed into the grill. The logic of that placement, which harkened back to the first Land Rovers of 1948, made sense. If you hit an obstacle with a fender, you would not take out your headlights as they sat back, protected by the front bumper.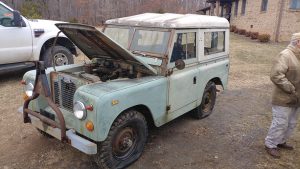 The lighting requirements joined nascent emissions and safety regulations for all vehicles sold in the US, and by proxy, Canada. They became effective on January 1, 1969. For Land Rover, it meant that they had to quickly come up with a solution for Series IIA sold in this market. Their short-term answer was to retain the recessed grill and radiator location, but drill a big hole in the front fenders through which the headlights would protrude. While not as striking sight as the first "Bugeye" Austin-Healy Sprites, their awkward placement garnered the model the same nickname — "Bugeye." Those same regulations also required different diameter parking lights and taillights, which looked odd against the much smaller front and rear directional lamps. At $3,295, steep for 1969, a new Land Rover would be a demanding purchase for its owner.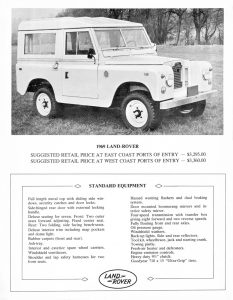 The slapdash design effort did not last long. Philip Bashall's Dunsfold Trust in the UK noted, "Production figures are not known, but probably no more than a few hundred were made," before the more stylish headlight frames appeared in the fenders of the "late" Series IIA's. That same styling would continue right through the last Series III's of 1984.
During that period, a young Mike McCaig worked at a hotel in Virginia Beach, clearly flattering summer visitors as he amassed a fine stash of tips. With his earnings, he bought a Jaguar XK-E for $900, rebuilt its engine and then flipped it. Now, feeling even wealthier and lured by a then-girlfriend to look for a "sensible car," he wound up at a Jeep dealership without the scratch for her desired Wagoneer. However, there sat a poorly-repainted, '71 Series IIA, with a flat tire. "Come back in an hour," the salesman said, which Mike admits, "Should have been my first clue. Instead. I took it to be a sign." Mike not only bought that IIA, but he still has it to this day.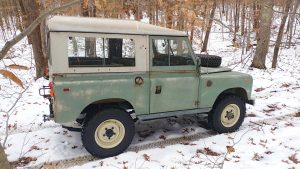 His love affair with Land Rovers led him to open his Penlan Farm in Arvonia, VA, to the then Rover Owners of Richmond's first Mid-Atlantic Rally in 1975. The club would quickly expand to become the Rover Owners of Virginia with the MAR as its signature event. David Short, ROAV's current president, said, "Mike and Nancy McCaig were instrumental in the early days of ROAV as a club and institutionalizing MAR as an event. Their land provided the incubator for the event, and that strengthened the club. Back then, many of the Series Land Rovers participating were almost new!" Former president Bob Steele, Richmond, VA, bluntly asserted, "Without Mike and Nancy's efforts and generosity those early years, there would not be a statewide club or a Mid-Atlantic Rally!"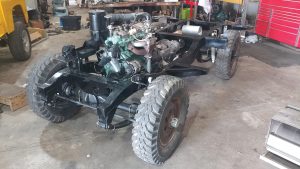 Jump ahead 50 years when, in March, Mike learned of a Series Land Rover in a barn only 15 miles away. The owner had inherited it from his father, a military man, who brought it to Virginia from California. His father drove it daily and stored it in a barn, where it had sat for 10 years.
When a friend told Mike of the Land Rover, he said "I wasn't interested at first, as I had too many projects as is. But when I learned it was a Bugeye, well, as rare as they are, I thought I should at least look at it. When I saw it, with the exception of the radio, it was absolutely stock. I felt it should be rescued."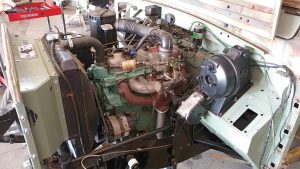 Chassis number 24435584F saw its completion on January 3, 1969 [build sheet label 236], and was shipped to Leyland Los Angeles on February 14th. Mike would become only its third owner. Overlooking its many-shades-of-blue patina, Mike found straight body panels and more importantly, a relatively rust free chassis.
"My plan was to do a mechanical and chassis restoration," Mike said, "and tackle the body at a later date, once the vehicle was road-worthy. The rear cross member had some rust, so I replaced it. The original chassis was then sandblasted, galvanized, etch primed and painted with black urethane chassis paint."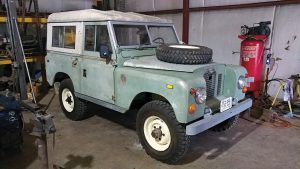 "I rebuilt the front and rear axles with new seals and all new brake parts, including new brake lines following the original layout. I decided to use a rebuilt, high-compression Series III engine and Series III transmission (which have synchromesh in all gears) and overdrive for contemporary drivability. I stored the original engine and transmission, just in case."
"With the bulkhead repainted, I checked out the wiring harness and found it to be in great shape. I did change out the clutch and brake master cylinders and installed a new brake servo unit. Even the heater blower motor worked fine, so I gave it a fresh paint job and reused it."
He's named it "Bugsy," which begs the question as to why he's never named his first and current '68 IIA. "It's very close to my heart, but I've just never given it a name." Hmm… I wonder if Dr. Phil would take this on?