Like all of you, we have anxiously consumed all of the camouflaged Defender press release photos, the artist best guess renderings, highway and Nürburgring test shots, grainy gas station instrument cluster photos, certain movie set spy shots, and possibly even un-named magazine proof leaks over the last 12 months. And finally, today is the day we get to share a quick break down of everything about the Defender we know our readers will care about and a collection of beautiful photos and videos from JLR.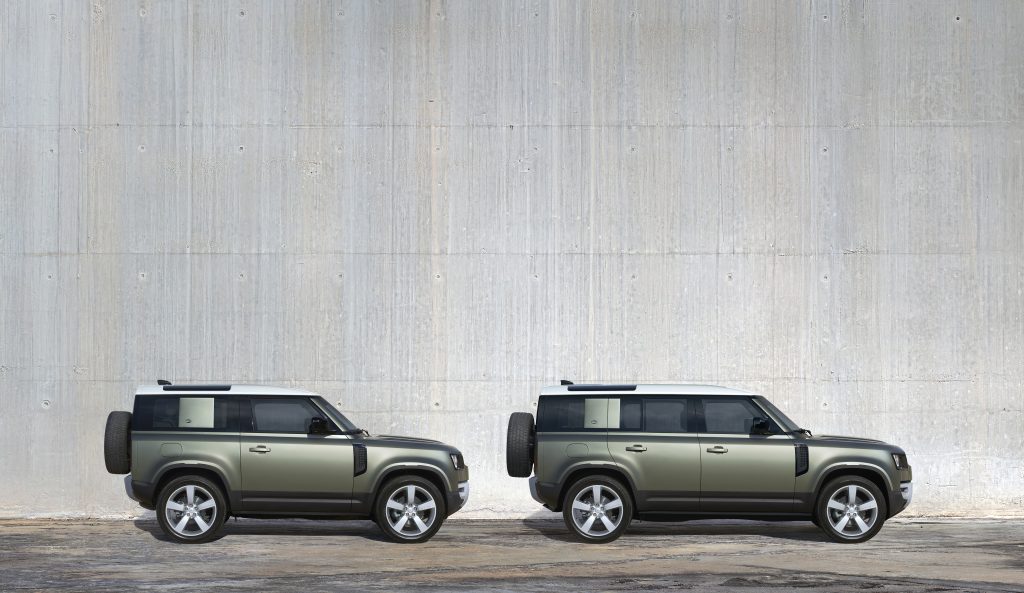 The Defender will launch in North America in the Spring of 2020 with just the 110 body-style and follow with the 90 body-style later in the year. The Defender 110 will start at $49,900 and if you're anything like us you'll want to know exactly how much the 110 of your dreams will set you back. If you're curious, you can visit  www.LandRoverUSA.com/Defender to configure your's today.
"The new Defender is respectful of its past but is not harnessed by it," said Gerry McGovern, Chief Design Officer, Land Rover."This is a new Defender for a New Age. Its unique personality is accentuated by its distinctive silhouette and optimum proportions, which make it both highly desirable and seriously capable –a visually compelling 4×4 that wears its design and engineering integrity with uncompromised commitment."
As you can see from the photos and video above, the Defender maintains the short front and rear overhangs from the previous versions to keep the same approach and departure angles when off-roading.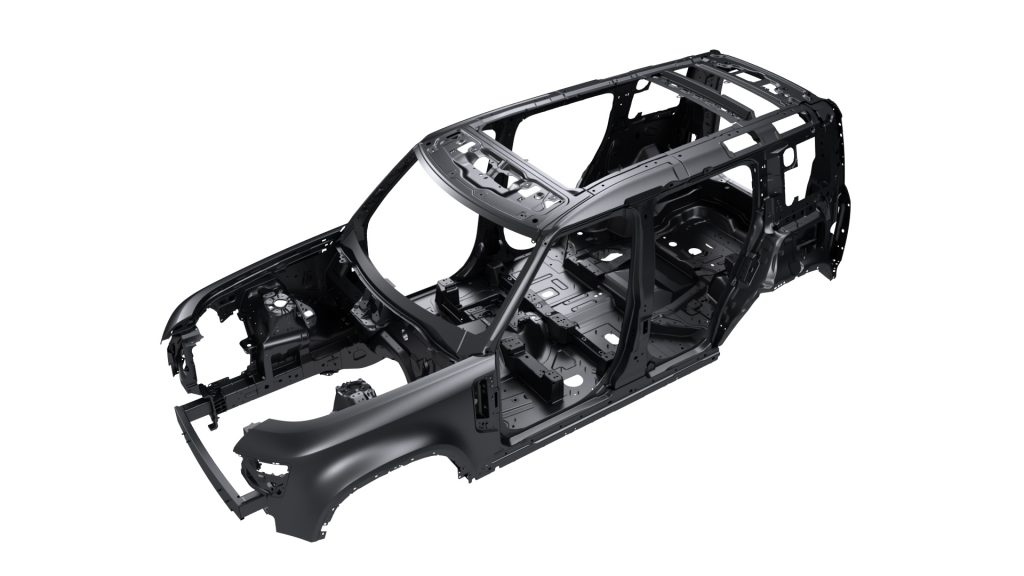 To achieve this Land Rover developed the new all-aluminum D7x platform which can accommodate both the 90 and 100 platforms and a range of powertrains. The new platform doesn't share a single body-in-white panel with another Land Rover or Range Rover model. The 110's actual 119-inch wheelbase is longer than the new Discovery, has 11.5 inches of ground clearance thanks to independent suspension, and has a 38-degree approach and 40-degree departure angles. The all-aluminum D7x platform is three times more rigid than traditional body-on-frame designs.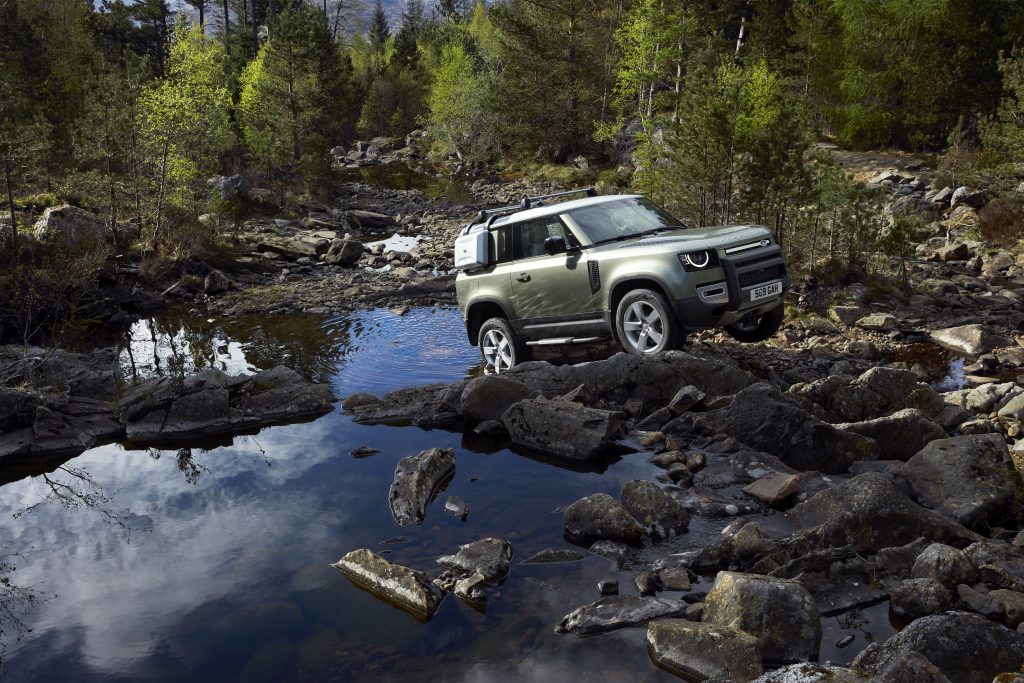 Both the Defender 90 body style and the 110 body style will come in 6 different trim levels (lowest to highest MSRP); Defender, Defender S, Defender SE, Defender HSE, Defender First Edition, and Defender X.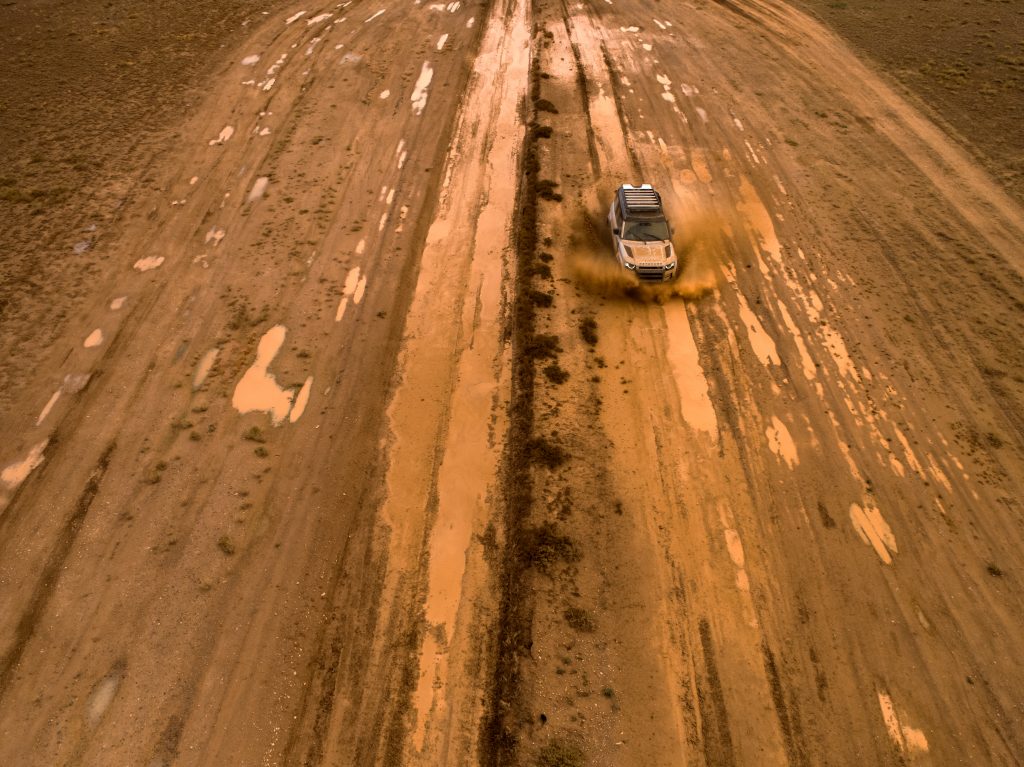 U.S. customers will be able to choose between a turbocharged four-cylinder engine (P300) and a six-cylinder Mild-Hybrid (P400).
The P300 powertrain produces 296hp using an advanced twin-scroll turbocharger for smooth performance and efficient power delivery, accelerating from 0-60mph in 7.7 seconds(17)(0-100km/h in 8.1 seconds).
The P400 powertrain produces 395hp and 406-lb ft using Mild-Hybrid technology and advanced twin-scroll turbocharger to accelerate from 0-60mph in 5.8 seconds.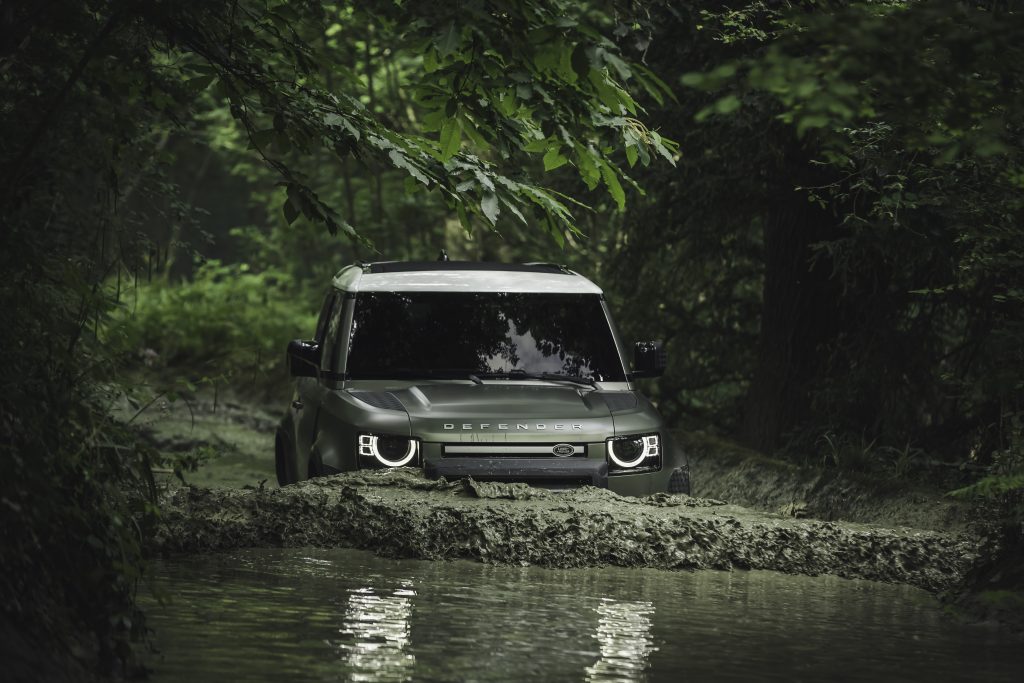 All trim level Defenders will be fitted with Land Rover's Terrain Response 2 technology with the all-new Wade Sensing feature. The new setting is designed to automatically soften throttle response, set the heating and ventilation to recirculate cabin air, locks the driveline and adjusts the ride height to its off-road setting while activating the Wade Sensing screen on the infotainment system. This allows drivers to observe the depth of water under the vehicle and is designed to provide knowledge when fording deep water –allowing drivers to take full advantage of the new Defender model's maximum wading depth of 35.4-in. The Defender is programmed to automatically drag the brakes, momentarily, to clean and dry the discs and assist with braking performance when back on dry ground.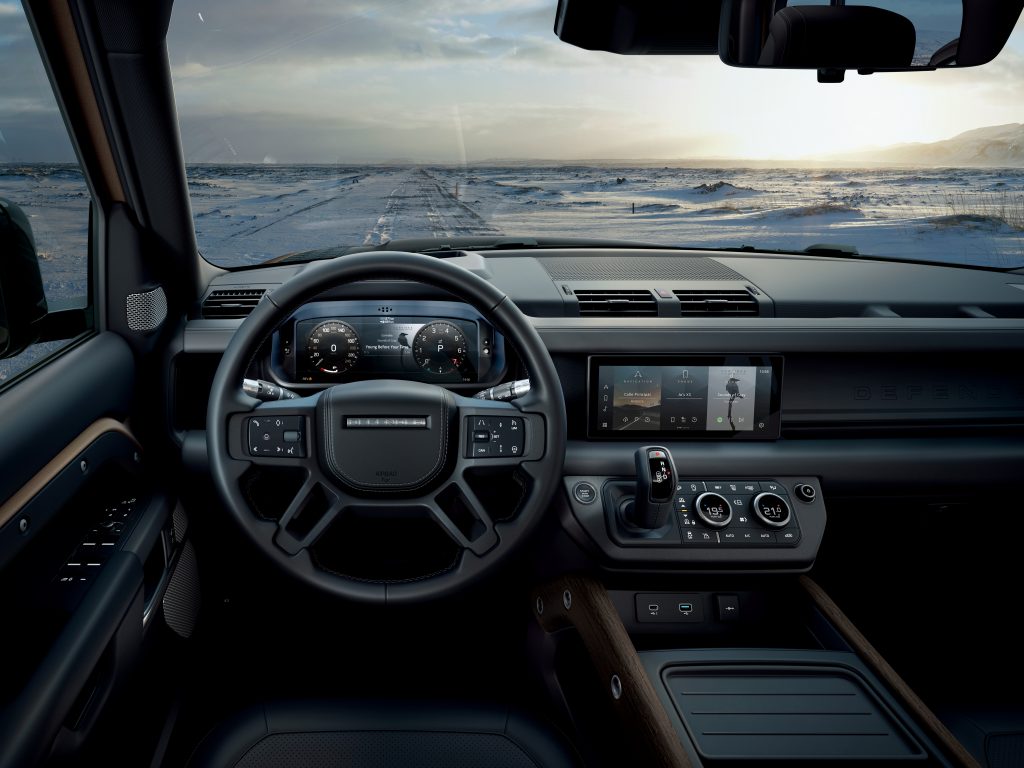 In the original Defender, drivers could lock the central differential manually using the high-to-low range gear selector. In the new Defender, drivers can prevent cross-axle slip using the Center Slip Limited and Center and Rear Slip Limited options on the central touchscreen controller. In addition, there is a choice of three settings for the throttle and gearbox response, steering and traction control, allowing experienced off-roaders and all-terrain novices to tailor the vehicle set-up to suit their requirements.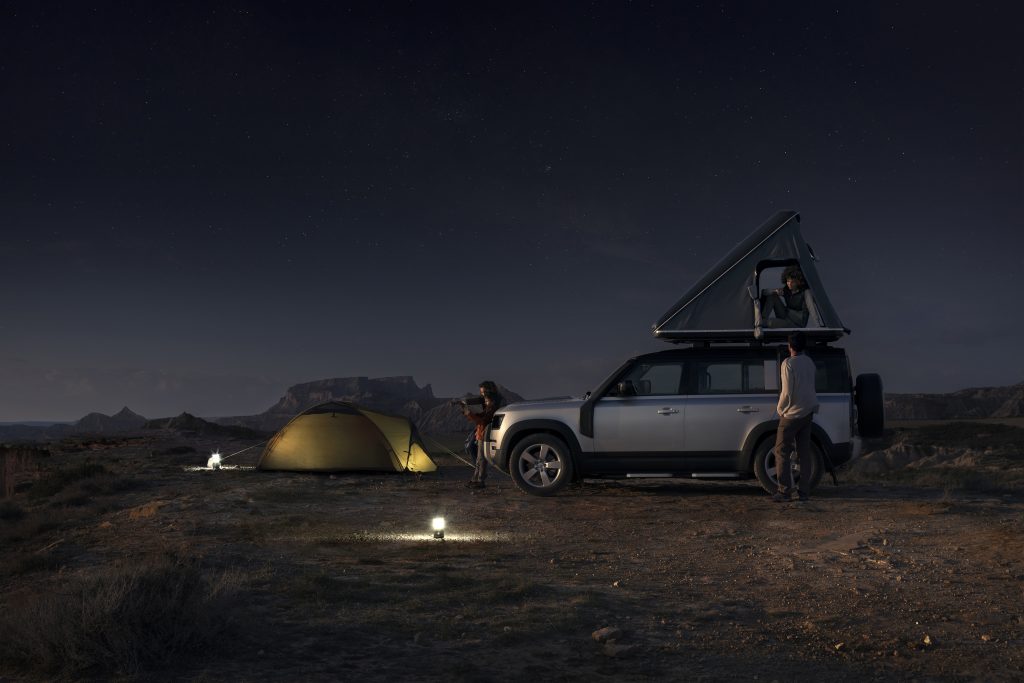 Customers can also select from the widest range of accessories ever produced by the Land Rover brand, including a choice of four Accessory Packs: Explorer, Adventure, Country and Urban.
EXPLORER PACK: The Explorer Pack is designed to allow owners to conquer unmapped extremes with a Raised Air Intake, lightweight 57-lbs Expedition Roof Rack and an Exterior Side-mounted Gear Carrier. Front and Rear Classic Mud Flaps, Wheel Arch Protection and a Spare Wheel Cover provide extra ruggedness while a Matte Black hood decal, featuring '90'or '110'cut-out detailing, completes the Explorer Pack's head-turning appearance. Customers can also upgrade the Explorer Pack with Fixed Side Steps and a Deployable Roof Ladder, while the Front Expedition Protection System adds a Front Undershield and 'A'-Frame Protection Bar with raised corners to improve the front approach angle.
ADVENTURE PACK: A Portable Rinse System with a 1.7-gallon pressurized water reservoir, trunk-mounted Integrated Air Compressor, and Exterior Side-mounted Gear Carrier are featured in the Adventure Pack and equip the new Defender for time spent outdoors. Protection is enhanced by Front and Rear Mud Flaps, a Spare Wheel Cover and a Bright Rear Scuff Plate to guard the rear bumper against scrapes and scratches when loading and unloading, while a practical 6.3 gallon Seat Backpack, which you can take with you when you leave the vehicle, completes the interior.
COUNTRY PACK: Designed for time spent off the beaten track, the Country Pack features rugged Wheel Arch Protection, a Bright Rear Scuff Plate to protect the top of the rear bumper and Front and Rear Classic Mud Flaps. A Portable Rinse System and Full-Height Loadspace Partition equip the interior for everyday adventures.
URBAN PACK: To stand out in the concrete jungle, the Urban Pack adds a Bright Rear Scuff Plate, Spare Wheel Cover, and Front Undershield, while Bright Metal Pedals add to the rugged interior. Customers can then opt for a range of alloy wheel upgrades including a distinctive 22-inch five-spoke design.
On top of the six different trim levels, and four different accessory packs, customers will be able to fit their new Defender with many Land Rover accessories:
Optional Factory Accessories:
Side Tubes both Fixed or Deployable Side Steps
Lockable Security Box – the heavy-duty steel box secures to the loadspace rails and is big enough to hold laptops, tablets and other valuables.
Exterior Side-mounted Gear Carrier – The lockable storage pod has been aerodynamically tested to minimize wind noise, withstand extreme conditions, and its 6.3-gallon capacity can support up to 37.5-lbs
Deployable Roof Ladder, which folds down from its locked position to allow easy access to items being carried on the roof.
Roof carries including the Aqua Sports Carrier, Roof Rails and Roof Racks.
Remote Control Electric Winch. Packaged neatly within the front bumper, its integrated design generates a maximum force of 10,000-lb, holds 131-ft of synthetic rope and can be wirelessly operated up to 147-ft away.
The Defender is available with a close-fitting semi-integrated designed Raised Air Intake that fits neatly onto the side-mounted engine air intake in the front fender, to preserve performance in dusty environments.
Additional Photos: