What could go wrong? I just had to get myself from my home outside of Denver to Copper Mountain to cover the Land Rover U.S. Grand Prix.
It's only a short drive from where I live in Westminster, Colorado, to Copper Mountain where I would be headed to check out the event. I almost always look at the weather report, as Colorado is known to fluctuate wildly, and this day was no different.
There was a good 5-9" in the forecast for the mountains, but I didn't think much of it, as first off, I've lived in Colorado most of my life and pride myself on driving in snow and secondly, as I'm sure most readers can relate to, I was driving a Land Rover.
As I headed up I-70 on the way to Copper Mountain, snowflakes began to cover the road, as well as my Discovery II. I didn't think much about it, except for the fact that I don't have a windshield washer reservoir, as the D2 has an off-road front bumper and I have yet to get around to moving the tank. My Rovers are continuous projects. Fun and necessary, however, visibility was getting a bit spotty.
Further up the mountain pass it actually became a serious snowstorm and I had to laugh at my previous laissez faire attitude. There were cars off the side of the highway everywhere. The East bound side of I-70 was closed by the time I got to the Eisenhower Tunnel, instead of Loveland Pass. The reason for this became obvious when I saw multiple semi-trucks completely stuck, as well as a bus that was being pushed by a cop car! It was starting to get ridiculous. This is when I had to contact Tom Horrocks from the U.S. Ski team and say that I wasn't sure I was going to make it. My D2 was trucking on, but the roads were turning into a disaster! And this is coming from a Coloradoan that grew up in tiny towns such as Crested Butte.
I finally pulled into Copper Mountain, usually about an hour and a half drive from Denver, about four hours later. I had also resorted to using a water bottle in the car to spray down my windshield every so often — I would have loved to know what passing cars thought!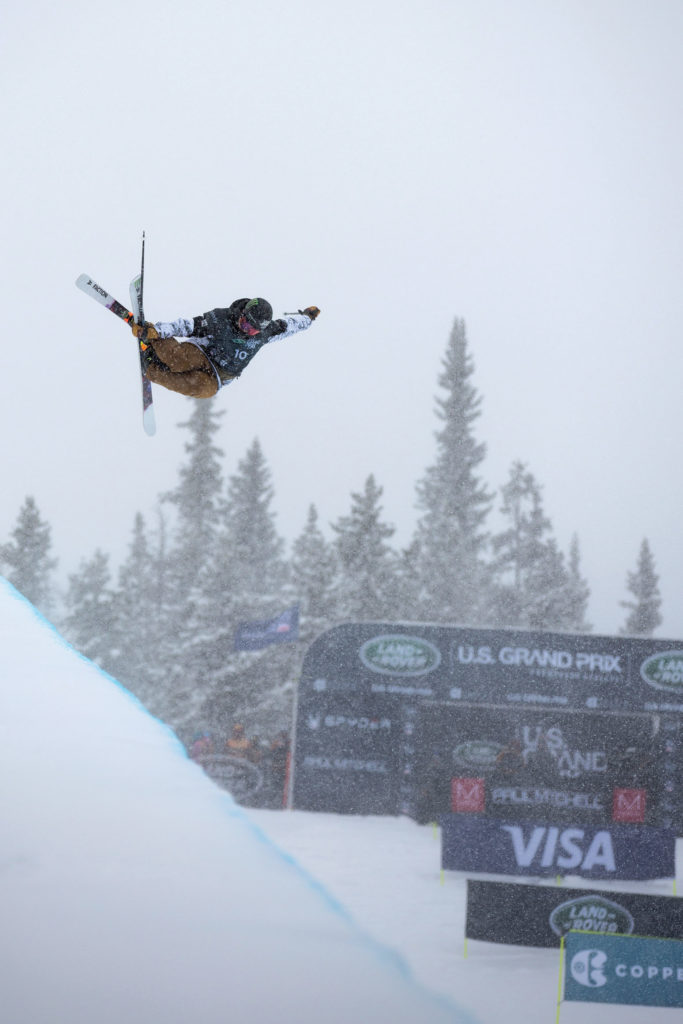 The snow saga continued as I got my pass for the Land Rover Grand Prix and trudged up to the half pipe. It was snowing quite hard in Copper, which also was the case the last time the U.S. Ski team was there in 2017, and not entirely unexpected.
This was the closest I'd been to watch a half-pipe competition and I had a great time watching these professionals come flying down towards the spectators and media that cheered them on at the bottom. I caught grumblings from the team that the large amount of powder accumulation in the base of the half-pipe was making many tricks hard, and they had to stick to pulling off some of the more basic ones.
I spoke with David Wise, a Land Rover sponsored athlete, after his second run. He was recently back from an eight-month hiatus because of an injury and didn't mind the playing field being leveled a bit with the snow. Wise said he used all his energy on the first trick, "knowing the rest of the pipe would be powder."
I, of course, had to ask Wise about the Range Rover that JLR had given him to drive for the year. I think my enthusiasm might have been greater than his when asking how it handled in the snow. Wise's response was that it was a great SUV and he truly appreciated it.
As I said my farewells to Horrocks and a few team members, they wished me safe travels back to the Denver area. I mentioned to Hollocks that I was in my Discovery. His response was the reason I'm so loyal to my trucks. "Oh, you'll be fine then!"