An island friend owns a 2016 Range Rover Sport. He's a speed demon, not an off-roader, but he definitely appreciated the fact that when driving through Dallas, TX after a major rainstorm, his Sport entered an underpass and waded through a couple of feet of water, without incident or any water intrusion.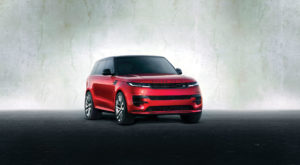 The Range Rover Sport established the benchmark for a new class of SUVs. From its launch in 2005 and its second generation in 2013, the Range Rover Sport remains "the ultimate performance SUV." One out of every three Range Rover Sports sold worldwide winds up in the US; out of the 300,000 sold here, the metropolitan areas of New York, Los Angeles, and Miami remain the biggest markets.
In April, I joined a group of journalists invited to view – but not record – the 2023 Range Rover Sport at a Reveal Event held in a secret location in New York City. JLR staff locked away cellphones, laptops, tablets, and iPads before we could enter the venue. Before we sat two Range Rover Sports hidden under car covers whisked off the cars just prior to the presentations.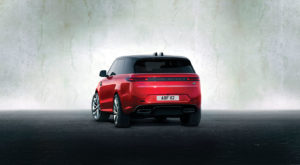 Joe Eberhardt, the CEO of JLR North America, stated that we were the first journalists in the world to see the third-generation Range Rover Sport. (By press time, JLR will have held similar presentations in Los Angeles, Dubai, and London.) He noted that in addition to being the sales leader here in the US, the Sport's demographic skews younger than the Range Rover's, an important boost to the marque's future.
Canadian auto journalist Coleman Molnar [see sidebar -ed.] shared my enthusiasm for the sharpened and tightened design of the new Sport. Designer David Eburah highlighted how the vehicle retains the classic elements of any Range Rover: the descending roofline, the continuous waistline, and the upswept rear line. Together with the short front overhang, retractable door handles, flush window glazing, and new lighting, the Sport retains the distinctive and compelling styling that has made it so popular. Equally impressive is the .29 cD, a 12% improvement over the second generation Sport.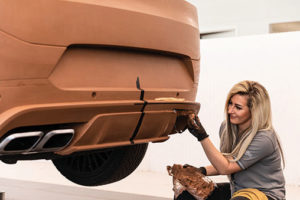 Built to perform, the drivetrain options [see chart ___ -ed] range from a 3L Ingenium 6 with 355 hp/369 lb-ft torque to a 4.4L twin-turbo V8 producing 523 hp/553/lb-ft torque. Yes, the 2022 Range Rover Sport offered a 5.0L Supercharged V8 (518 hp/461 lb-ft), but the new 4.4 V8, sourced from BMW but modified by JLR, produces far higher torque. If you're so inclined, an all-electric model will arrive in 2024.
In an interview, Rory O'Murcho, JLR's Vehicle Line Director for the Range Rover Sport, said that this generation had been five years in the making. "Dynamics were the core in the design," he noted. The modular architecture is 35% stiffer than the previous Sport, which improves the handling substantially. The addition of a Dynamic Air Suspension intelligent system continuously reads the road and senses movement some 500 times per second to adjust the multi-valve Bilstein shock absorbers and other suspension controls to further reduce lateral roll on turns and enhance sharp handling. An "eHorizon" feature will use navigation data to anticipate upcoming road twists and turns.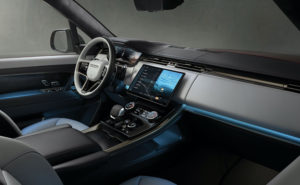 Every Range Rover Sport includes rear-wheel steering up to 7.3 degrees at low speeds and adaptive steering at higher speeds. There's torque vectoring through braking and an electronic active differential. This will help when off-roading too, as do the familiar Terrain Response 2 system, the new Adaptive Cruise Control which works with the off-road settings, Wade Sensing, and Clear View camera screens.
The ultimate model of the new Sport will be the "Stormer Handling Pack, unique to the First Edition. [The Stormer name harkens back to the Range Rover Sport concept model -ed.]. In addition to the standard First Edition features, this model enables drivers to create their own Configurable Programs based on their preferred driving modes.
The 2023 Range Rover Sport represents a significant elevation of the model from design to pricing. Time to pull out the string-back gloves while I await the first media drive.
Trim Level Powertrain Specifications
| | | |
| --- | --- | --- |
| P360 SE | 3.0L Turbocharged MHEV | 355 hp/ 369 lb-ft torque |
| P400 SE Dynamic | 3.0L Turbocharged MHEV | 395 hp/ 406 lb-ft torque |
| P400e Autobiography | 3.0L Turbocharged PHEV | 434 hp/619 lb-ft torque |
| P530 First Edition | 4.4L Twin Turbo V8 | 523 hp/553 lb-ft torque |
First Impression: The 2023 Range Rover Sport
Land Rover has always done well to lead as well as mirror the style of the times. The brand's vehicles play off modern trends using modern materials and technology while tapping into the illustrious, old-world vibe that permeates the marque.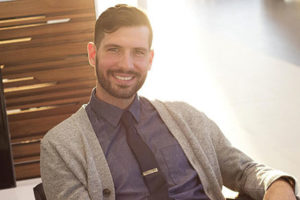 When Land Rover traces a new shape, it becomes one of the standards through which the rest of the industry stuffs its segment-competitive vehicles. With the 2023 Range Rover Sport, Land Rover has made yet another beautiful machine worthy of emulation.
Last month, I joined a select group of journalists at the Range Rover Sport Reveal in New York City. Once uncovered, we could see and touch, but not drive, the pair of production models.
From every angle, the new Range Rover Sport evokes its predecessors while looking strikingly new. In fact, Senior Exterior Designer David Eburah believes it is the most easily identifiable Range Rover Sport ever, especially from behind the vehicle, with the new inward- and downward-sloping lines, new taillights, and optional quad pipe. 
There are many other elements that signify major change with this third-generation of Land Rover's most popular North American nameplate – and that's without even touching on performance. The Sport's face has gone under the proverbial knife as well, with a new and unmistakable triple-decker grille available on some trims.
The terms "sophisticated" and "decluttered" were used multiple times during the presentation. Inside, you can reach out and physically feel what they might mean – a new technical fabric covering the side speakers, a repositioned door handle for ease of egress, an absence of wires due to the upgrade of wireless charging, for example. There's also an updated cabin filtration system that can now allegedly kill the Covid-19 virus.
All this to say, without having driven it – or even heard the engine turn over – I can confirm that the 2023 Range Rover Sport is a vehicle I'd like to spend more time with. And I think all enthusiasts will, too.
[Coleman Molnar is a British Columbia-based automotive and lifestyle journalist -ed]
Land Rover Tampa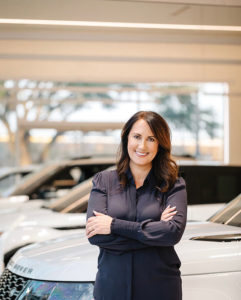 Defender enthusiast Tarek Armoush purchased his Defender 110 30th Edition [one of 500 -ed] from Land Rover Tampa as soon as it was announced. He was delighted to find that they had exactly one.
Land Rover Tampa opened to the public 25 years ago as a Land Rover Centre. The dealership opened a new, multi-story facility in 2021, including showroom space for 50 vehicles and 20 service bays. It's one of the few Land Rover-only dealerships and a multiple Pinnacle Award recipients [They even kept the off-road demonstration track! -ed]
Peter Sweetser, past president of the UK-based Camel Trophy Owners Club, described Jennifer Stals, Land Rover Tampa's General Manager, as "steeped in Green." Jennifer joined the dealership in 2001 after a stint at Land Rover Louisville. When she arrived, she told her staff, "I bleed Green. I would not work for any other brand." They were skeptical at first, but she lets her personalized license plates do the talking: one reads "HUE 166" and the other "RVRGIRL" – they're attached to a '97 Discovery I and a '13 LR4. Jennifer's family has also enjoyed time with the new Defender 90 and 110.
Javier Gerena, now the Sales Manager, joined the dealership in 2005. "Land Rover customers love the history of the brand and what it stands for. Land Rovers and Range Rovers have always been exceptional; they have a soul. I love that, too." Javier's favorite Land Rover is the Defender 110 V8.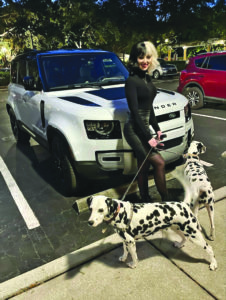 Felicia Hudgins, a Sales Guide, worked with Land Rover Tampa's corporate owner for 10 years and came over to Land Rover nearly two years ago. "Honestly, I was a diehard BMW fan before working here," she admits. "I had multiple BMWs, but I have a Defender 110 now and will never go back. This area gets flooded during hurricanes, and BMWs don't do well in the water!" Felicia's Defender 110 S is white with a black top, an homage to her beloved Dalmatians. "I show Dalmatians in area competitions, so I wanted the Defender to match their colors."
We applaud the marque enthusiasm of the Land Rover Tampa team. It's clearly infectious!