If you're a Series Land Rover owner, you can't help but find Land Rover's engineering captivating. You may not be the sort of person who wants—or can—dive into the innards of your Rover. If you lived along the mid-coast of Maine, you often called upon Clark Edwin "Ted" Howard.
For decades, Ted worked out of family barn in Warren (after milking cows at sunrise) on a wide range of Land Rovers and Rover cars—with another soft spot for wooden boats and Volvos of a certain age. Before online forums, you needed places like Ted's to satiate your lust for "imported cars." His customers were often seasonal residents who would leave their vehicles with him after closing up their houses for the season, and he'd be certain to have them ready for the following year.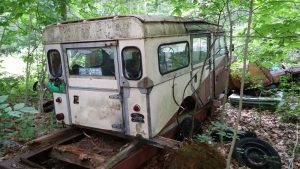 If you visited his shop in the off-season, you'd find a few Rovers P3-P6's, along with a fleet of Series Land Rovers; my first sighting of a Series I 107" came at Ted's. Winter work with Ted never started that early; with only wood heat the barn could take a while to warm up, and Ted let me know that he was "long past working in that cold." Ted certainly helped me keep my Land Rover going in the early 1990s and taught me a lot just by letting me work with him.
Like any Series Land Rover specialist, Ted had collected quite a few rusted-frame Series Rovers to serve as parts or "project" trucks. When he died in December 2014, many enthusiasts wondered what fate might befall his parts trucks. Fortunately, his family arranged for most of them to go to Maine Series diehards Mike Capozza, Portland, John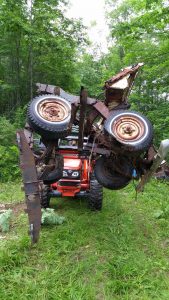 Vallerand, Greene, and John's brother-in-law Patrick Thibodeau, Auburn. It took several trailer loads to move Ted's stock to new quarters, but it's a relief to know that his parts will live on in Series Rovers.
I once joked with Ted that every Land Rover should come with a "Parts Donor Card". Should anything cripple that Land Rover and prevent its repair or restoration, its part could be implanted into another Land Rover so it could live on. Ted thought that was a "corker" of an idea; it's wonderful to see his vision carried on for future enthusiasts.
---
We can't think of a better start for newlyweds than a Land Rover as a wedding car. Sarah Biggers, Fairfield, CT, arrived at her wedding to George Smith on Martha's Vineyard in a '73 Series III that has visited Rovers North, too. Adam Check, Bolton, MA, married Rebecca Hart in Bedford, MA, and swept her away in his Range Rover L322; he's building a Series-Defender hybrid.
Additional Images: