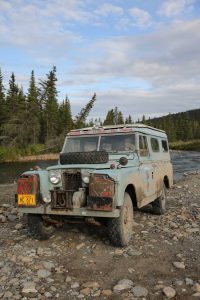 If you had pitched this story as a movie script, Hollywood producers would have yelled, "Get outta here!"
In 1960, four British university graduates—Martin Hugh-Jones, Andrew Bacon, Michael Andrews and Ben Macworth-Praed—shipped a Land Rover to Argentina to start the "Cambridge Trans-American Expedition" from the Tierra del Fuego to the Arctic Circle. Fourty-three thousand miles in, they succumb to fatigue, weather and finances, and sell the Land Rover in Fairbanks to fund their airline tickets home. Fifty-five years later, and a group of determined enthusiasts, led by Ed Angel and photojournalist Michael Rudd, would work together to bring three of the surviving adventurers back to Alaska to complete the trip in their 1960 refurbished Series II.
No way that tale would make it onto the screen—but that's just what happened last summer. Interviews with many of the participants tell an amazing story, one that speaks volumes about Land Rover enthusiasts. I'll let them narrate the story:
Martin Hugh-Jones
[Born in Oxford, England, Dr. Martin Hugh-Jones took a position with Louisiana State Univer- sity's Department of En- vironmental Sciences and their School of Veterinary Medicine. He's now a Professor Emeritus at LSU.]
"I was on holiday in 1958, aboard the Atlantic Ferry to Italy. A mate, Andy Bacon, wondered about organizing an expedition. He knew of the one to Singapore and the one to Capetown, and he thought of one from Alaska to Tierra del Fuego in Argentina. I said, 'Let's start in Argentina and go north; it's more logical.' We started out in 1960."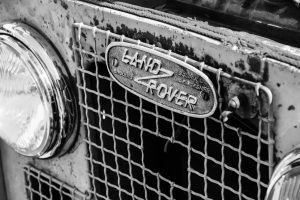 "We wanted two Land Rovers but had only enough money for one, so we sourced a trailer for the extra gear. Andy and I did the organizing and fundraising. When we asked for volunteers, we found Mike and Ben. Mike took a one-week field repair course at Solihull, which we put to use often; it seemed like we replaced halfshafts like carrots!"
"A mentor helped open doors in other countries through our Ministry of Agriculture. We saw places we would never have seen otherwise. We had all sorts of fun—and less fun—experiences. In Peru, we visited Cuzco and drank some water from a waterfall. Andy had to go home with jaundice. I met my wife, Deborah, in Quito, Ecuador, where she worked at the American Embassy. They threw a party for us and 50 years later, we're still married."
"When we got to the Darien Gap in Panama, there was no road, so we shipped the Land Rover around it and Ben, Mike and I crossed the Gap. It was the end of the rainy season and if it moved, I ate it. The smugglers in Darien looked after us, telling us where to camp, who not to talk to. On our way we stopped at a house and the old man saw my hammock I bought in Medellin. He swapped me for a jaguar skin. It came in handy when later, driving down a gulch, the ground beneath the Land Rover gave way and dumped me into 20 feet of water. That pelt acted like a life preserver. I still own it, mounted on a wall!"
"We ran out of steam in Fairbanks. The available road was only
a summertime track, not something to tackle in the winter. We turned south to Anchorage, sold the Land Rover to fund our airline tickets and returned to England."
Ted Pederson
[Ted Pederson grew up in Minnesota, but has lived in Anchorage since the early 1980s. An aviation mechanic for Lynden Air Cargo, he also works on his four Series Land Rovers.]
In 2010, I was driving my '63 109" when a couple of guys in a pickup frantically called out, 'Pull over!' They had a Land Rover for sale, but they'd never been able to get it running properly. I drove out to Wasilla where it had been sitting for 10 years. The head was off the engine and the body was quite rough, but it had the genuine hydraulic Land Rover winch, so I bought it. A faded-out expedition logo was visible on one door. I tried researching it through some old National Geographics, but discovered nothing until I read an article in Land Rover Owner International; that's when realized that I owned the very Land Rover used in the Cambridge Trans-America Expedition! I found Ben Mackworth-Praed online first, and then followed with Martin and Michael Andrews. I found their story very interesting, but I had to balance my Land Rover life, so I basically did a trade with Ed Angel for my current '67 NADA 109. Ed then took over the expedition Land Rover."
"Even though I've been all over the world, this was one of the most memorable events of
my life."
Ed Angel
[Ed works on Land Rovers as Steadfast Offroad in Peters Creek, AK. He moved to Alaska in 1989, from Humboldt County, CA, when his family moved north where his father worked as an engineer on a fishing boat. He lives with Kathryn Stone, his partner.]
"I've never owned anything stock; I love creating fabrications and modifications, but I want them to look like they were born there. Now on this Land Rover, I didn't want to change anything. And despite lots of requests, I also didn't want to sell it. So it sat at my shop until I told my friend Michael Rudd about it."
"Mike had written articles on me in Four Wheeler when I did winching competitions. He got very excited about the story behind this Land Rover and he wanted me to restore it. But I wanted to leave the bumps and bruises, leave the bodywork alone. It had a rust free bulkhead and chassis. I didn't want shiny new parts so it would look like it was dragged out of the woods. It even had the original Lucas headlights with the replaceable bulbs. I left the awful trailer hitch because it was there to start. I even found a missing roof light, too. It also had an entire rear tub side made from steel. Turns out they had been hit by lorry in Guatemala, which destroyed the side of the truck. Craftsmen there, using hammers and wooden bucks, fabricated the side over a few days to form the panel. It fit perfectly! The door had been repainted on that side, and the logo was missing. What I did was to find a hot rod pinstripe guy to replicate it and make it look as old as the original on the other door."
"Last July, I received word from Michael Rudd that three of the British expeditioners would return in August to complete their trek. Pulling it into the shop, I was overwhelmed as to where to start. I inventoried its needs and contacted Rovers North, which agreed to become a sponsor and supplied us with these essential parts. The 2.25 motor that was in it was not the original—it had overheated. The head was bad, so I put an 8:1 rebuilt head. The rings and pistons looked good with shiny walls and just a small lip at top. The rod bearings were good to go. I drove it around the yard without brakes and the tranny and transfer case were ok. But the rear axle housing was so bent that I needed a slide hammer to remove the left axle shaft—no wonder they went through halfshafts! Now it has the later Salisbury axle. I checked the lash at the differentials (the front differential had been brazed at one point) and went through the swivel balls, replaced bushings, u-joints and other wear items. Kathryn does the wiring and she created clean grounds. And that original hydraulic winch pulled like nobody's business."
Cambridge Trans-American Expedition
We asked organizer Michael Rudd and producer Mike Andrews for their reflections on this journey:
Mike Andrews
[The Bristol, UK, native retired as an executive producer for the BBC's Natural History Unit. He wrote about the original trip in Land Rover Owner International (March 2010); a follow-up article will appear in an upcoming issue.]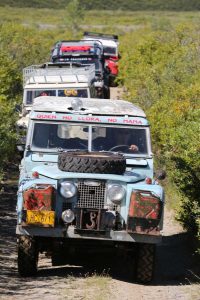 "My Great Aunt Marjorie Andrews visited Alaska in the Gold Rush days, on the way back from China where she had nearly died of cholera, and had to be carried down a mountain on a palanquin. A cousin has a mountain in the Canadian Rockies named after her in honor of her climb. My father and mother sailed a wooden, 37-foot yacht round the world, so I grew up with a sense of adventure, which I have been lucky enough to follow whilst working for the BBC."
"It is very likely that we were the first vehicle ever to make it from Tierra del Fuego (Ushuaia) to Deadhorse Camp, and are certainly the first to make it to Endicott Island, another 26 miles beyond and out into the Beaufort Sea (Arctic Ocean). We were the first private vehicle in 15 years to do that leg. All of us ancient expeditioners are extremely grateful for the support and efforts of the Alaskan team and Michael Rudd who looked after us extremely well. We had a great trip and I have much admiration for Eddie and his skill in preparing what he calls 'The Blue Beast' (Cambridge Blue, by the way). Kathryn Stone is not to be underestimated either; far more than a hander of spanners, she rewired the lighting. She also drove the round-trip from Anchorage to Deadhorse in Eddie's souped-up Defender."
Michael Rudd
[Based out of Pagosa Springs, CO, Mike has traveled the world as a photojournalist since 1990. His article on this expedition appears in the Winter 2016 issue of Overland Journal.]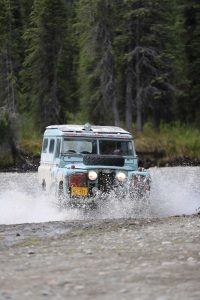 "Ed Angel told me that he had acquired the Cambridge Trans-American Land Rover. In May 2015, we formulated the plan to drive it all the way to the shore of the Arctic Ocean. If we pulled it off, the Expedition would have completed the entire length of the Pan-American Highway, from Ushuaia to Prudhoe Bay. Not in my wildest dreams would I have imagined Martin, Mike Andrews and Ben would actually accompany us on our adventure from Fairbanks to the Beaufort Sea."
"Ed and I left from the Anchorage Airport on August 3rd, along with an entourage of seven Land Rovers. Mike, Martin and Ben joined us in Fairbanks on August 6th, and we drove the Dalton Highway to Prudhoe Bay. Initially, BP and Shell Oil rejected our requests to enter their oil lease land for access. But then, Hilcorp Alaska got word of our expedition and granted us permission to drive the old Land Rover through the private oil lease. On August 11th, with Ed Angel at the wheel, they drove the historic Cambridge Land Rover to the Arctic Ocean. Mike, Martin, Ben, Kathryn Stone and I followed in a van driven by a Hilcorp employee. Ed and I felt triumphant as we drove the Land Rover on the shore of the Beaufort Sea. The three Englishman stood on the shore and opened a bottle of celebratory champagne in sportsmanlike style. They were overjoyed by the experience and said that they never thought they'd see the vehicle again, much less stand next to it on the shore of the Beaufort Sea."
[For a contemporary account of the original trip, search out a copy of Ben Mackworth-Praed and Mike Andrews' Year of Three Summers (London, 1964)]
Andrew Rexford
[Andrew Rexford was born and raised in Anchorage. He is a student at the University of Alaska majoring in Geometrics. He lives in Anchorage with his wife, Lindsay, and their dog, Baxter.]
"Ed and I have been friends since high school days, so I was there when we towed it out of Ted's back yard. Ed got my help by buying me tacos at the local truck. We used my Defender 110 at the time as the tow vehicle."
"When Ed rolled it into the shop I helped as much as I could, especially at night. Four days before the scheduled departure, Ed called saying, "I need your help; I don't think I can make the deadline!" I saw why—there was no engine or fenders on the truck. I knew I was going to be living at the shop as we put in 20-hour days, slamming it all together. While we had new clutch hydraulics from Rovers North, we had pressure plate problems, which sent me outdoors cannibalizing parts from Land Rovers for a clutch assembly. And we found the rebuilt head had a problem so we had to scavenge another one. It came together and amazingly the engine ran better as the trip went on."
"Based on its back story and history, it's the most important Land Rover on this continent and one of
the coolest ones I've ever stood next to."
Justin and Alex Green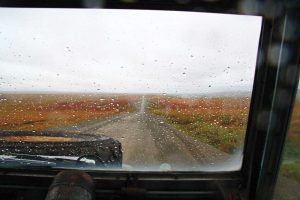 [Although born in Anchorage, Justin grew up in England and still owns the series diesel bought by his father. A self-employed demolition contractor, Justin lives in Anchorage with his wife Pinja and sons Alex, "6 1⁄2" and Anton, 10 months.]
Justin: "I've been friends with Ed, Ted and Andrew for a long time. Ed told me of the trip and I knew he was wrapped up in prepping the Land Rover. I offered to help with coordinating the logistics: breakfasts, teas, cots, a 15-foot square canopy for camping, and when the weather turned miserable at Prudhoe Bay, a restaurant meal and motel rooms for the night, even a bottle of champagne for celebration at the Arctic Circle."
"Martin, Ben and Mike offered up a flood of memories once they saw 'their' Land Rover. They had a story for every part and remembered every repair. You kind of latched onto them and just listened. It was an opportunity and an honor. At the famous Dalton Highway sign, we stopped to pose for photos when a Swiss Defender 110 expedition rig showed up like it was planned. We all called him "Switzerland" and he joined us on the drive to the Arctic Circle."
Alex: "It was awesome! Martin showed me where all the animals were hiding, and showed me how to feed birds from my hand. I slept in the tent on the roof of our Range Rover. I saw two Grizzly bears and did not catch a fish in the Fish River! We stayed at Cold Foot where we hiked to a gigantic waterfall. We were able to stop and fish, and even try searching for gold. Since we got back, Martin has been sending me books on snakes and other animals; when I finish one, I send it back to him and he sends me another one.
James and Angus Methven
[James Methven was born on a fishing boat in southeast Alaska and has fished, worked for the National Weather Service and now is an aircraft mechanic. With his wife Marilynn, a fiber artist, they live with their son Angus, 14, and several Land Rovers on an 18-acre alpaca farm.]
James: "Back in the '60s, when I was their age, I had just joined the US Air Force. It was really nice to hear about their perspectives over campfire chats. A common thing is that we romanticize the Series Land Rovers. The driver fatigue was enormous, especially when traveling in low range. And as for ending their first trip in Fairbanks, well, the only way they could have finished the trip back then was to disassemble the Rover and carry it to the Arctic Circle! There were just vast areas of swamp and mountains without any roads."
"I can't imagine doing their trek in today's world landscape of terrorism, closed political boundaries and sponsorship challenges. The world was a much different place back then."
Angus: "It was really cool to go on this trip with everyone. I really liked listening to their stories around the campfire. The three British men rode with Eddie in the original truck, or split the rest of their time with Wallace and Justin in their Land Rovers."
Wallace Butler
[Wallace Butler, Butte, AK, operates Far North Auto in Anchorage. He owns four Discoverys and a Range Rover P38-A. His wife, Bridget, "Won't drive anything else."]
"Ed Angel and I have known each other for many years. I'm always stopping in at his shop; that's how I found out about it. It was a once in a lifetime experience for me. The three gentlemen I met were unlike [other] college students in the '60s. They didn't sit back on their laurels and good fortune.
"I took my 2000 Discovery with 234,000 miles on it and met the group in Fairbanks. I was in awe of them—they'd done something you only dream about—but by the end of the trip, I realized they were very normal people, with no pretentions. All three of them rode with me at different times. They were very straightforward at first, but talking with them I realized how much they had accomplished in their lives. I look at my generation and the current one—would we have had that world knowledge and experience? I had to spend a week in a truck with liberals and I thoroughly enjoyed it. I gave up my caribou hunt for this adventure—it was well worth it!"
Jason Beard
[Jason Beard works as a Land Rover mechanic with Ed Angel. A St. Louis native, he moved to Alaska in 2006 and lives in Wasilla with his wife, Heather, a teacher, and daughters Jennah and Kylee. He appeared as a competitor in Alaska Off-Road Warriors.]
"At first we were just going to drive the vehicle up [to the Arctic Circle]. The more it was discussed, the more we wanted to have to original participants with us. Initially, just one, and then all three. It was not a done deal until a week before we left. No one thought it would really happen."
"Our convoy started just outside of Anchorage and used it as a shakedown time. We worked out the glitches over the four-day drive to Fairbanks. It was the complete opposite of the 'drama' of the Alaska Road Warrior episodes. The Brits were terrific, the vehicles were running great and I knew this was going to be a fantastic trip.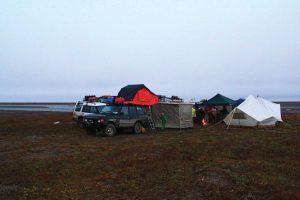 The last 500 miles were incredible. It took us two days from Fairbanks to Coldfoot, where we camped, and then another day to Deadhorse. It was rainy and miserable. We set up camp in the mud, huddled together. On our final day, we split into two groups to Deadhorse. The road was very muddy for 50 miles—gravel, but with some washouts that kept it in poor shape. It turned into a soupy gravel. We were in four-wheel drive, foot to the floor, barely doing 50 mph. It crossed my mind as to whether all these vehicles would make it. Everyone made it—no breakdowns at all."
"It showed that you can have an adventure without the gadgets and gizmos. You don't need to be celebrity; you can do something extraordinary in an old Land Rover. To go on a real, legit expedition— for me that was fantastic. I did the wild and crazy stuff on Alaska Off-road Warriors. We had to rely on each other, work with each other in remote areas. The Brits were elated and thrilled to reach the Arctic Circle. We got to listen to them talk about their experiences. We also were able to share our own emotions. I'm so happy I got to do this. We had no outside support—we paid for our own fuel and supplies. We were the stewards for the Brits on this trip."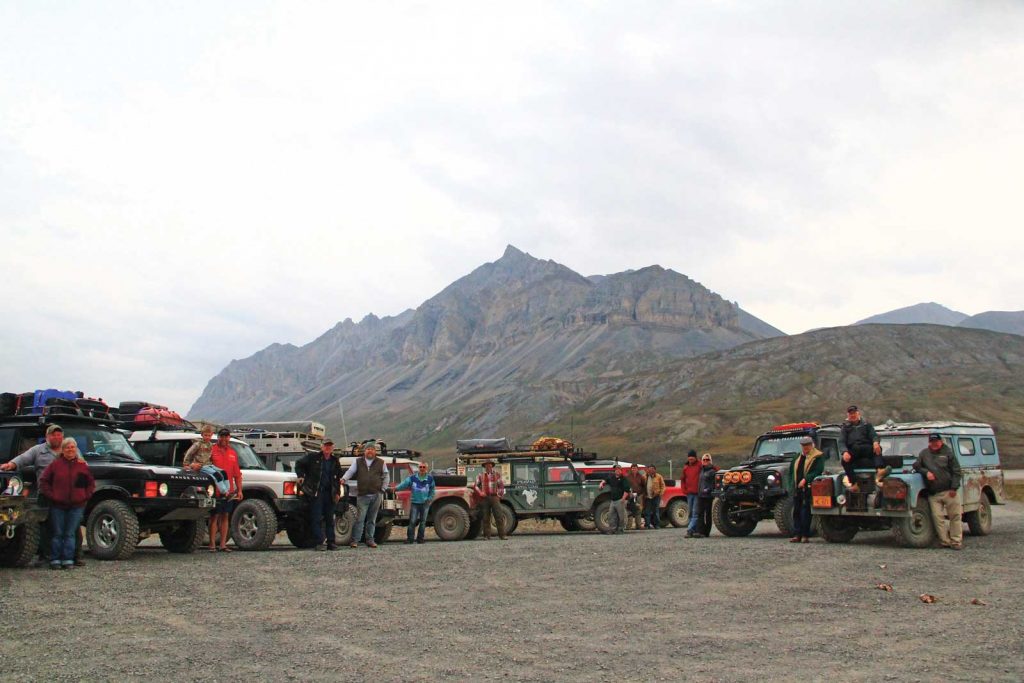 By Jeffrey Aronson
Photos: Ed Angel, Ted Pederson, Michael Rudd, Andrew Rexford, Justin Green, Dunsfold Collection
Additional Images: