Back in September, I met up with Series II-A enthusiast John Vallerand of Greene, ME. "I might go to the Mid-Atlantic Rally this year," he said. "That's great," I said, "I'll see you there." Only John owns a Series II-A and lives 867 miles northeast of the Wheatland Farm in Pembroke, VA, the home of the 2015 MAR. Sure enough, John and his son Vince, who's stationed at Ft. Bragg, joined over 100 enthusiasts during the first weekend of October.
This 22nd Mid Atlantic Rally makes it one of the longest-running events in the US. Wheatland Farm, the event site, encompasses over 700 acres of hillside pasture, woods, streams and fields, surrounding a working farm. Organized by the Rover Owners of Virginia (ROAV), the MAR has occurred on the same weekend for decades. Unfortunately, that coincides with hurricane season on the East Coast. Last year's event saw dry, chilly weather. This year the rains returned, but did not dampen the spirit or the fun of the attendees.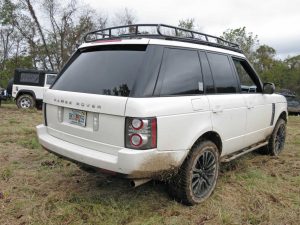 Just prior to the event on October 2-5, NOAA issued an alert for Hurricane Joaquin. Governor Terry McAuliffe had the state's Emergency Management Agency mobilize county and local groups, just in case. That's how I found myself at a Giles County EMA meet- ing in nearby Pearisburg. The hilly countryside empties a lot of water into the New River and its tributaries. The scenic region has numerous camp- grounds and riverfront properties that might require evacuation. And, Chris McKlarney, the county administrator, knew that many Land Rover enthusiasts would be in the area; when called upon, I assured the area firefighters, EMS and police that MAR attendees would be honored to be at beck and call if necessary. All of this turned out to be for naught; the storm brought only normal rainfall to Giles County and turned its wrath towards South Carolina instead.
Unless you're involved with organizing an off-road event, you can't really appreciate the amount of volunteer work required to make one happen. First you need a venue, a location with lots of off-road opportunities for all levels of off-road skills, and enough trail mileage so enthusiasts don't spend too much time waiting in a convoy of Land Rovers. You want the venue to be so stunning that enthusiasts want to make the trip annually, even if their trip requires many hours and hundreds of miles. Oh, and since most enthusiasts prefer camp- ing, there should be easily accessible, appealing campsites at the event. For those who desire dry, heated rooms with nearby restaurants—well, as they say, "it takes a village." You'll need portable toilets, a very large tent for communal meals and meetings, and some fun things to do when your attendees are at the end of the trail rides. Don't forget something to keep youngsters happy, too.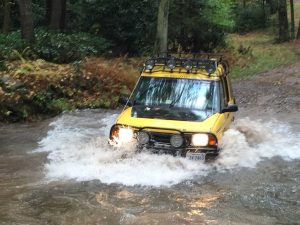 The weather predictions did not make anything easier. A tent company said that its insurance would not permit the company to meet its commitment to ROAV, but the wonderful citizens of nearby Newport, VA, opened their community center to us. When the scheduled food truck also balked because of the weather, a local restaurant pulled out all the stops and provided over 100 home cooked meals. Bravo to the ROAV organizers and the hospitable folks of Giles County for making this happen so seamlessly.
Enthusiasts arrived from all over the southeast, mid-Atlantic and New England states, in about as wide a variety of Land Rovers imaginable—from Series through Land Rover 90/110's and Defenders, to Range Rover Classics and the L322, to Discovery I's and II's galore. Their enthusiast owners and families represented a range of interests and professions. It's one of the unheralded features of attending a Land Rover event; you get to meet and enjoy the intriguing population of the Land Rover community. Most of them camped on the ridge of a scenic overlook with only fields and forests as their neighbors. Down below you could see Rte. 460, the local two-lane road; across the valley you saw only farms, woods and the thin outlines of some of the trials that ROAV volunteers had carved out for you.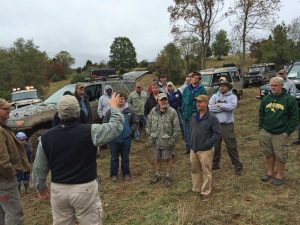 Recent years' MAR has proved that the Wheatland Farm locale offers ideal off-roading at all levels. There were green lane gravel trails for those who wanted a leisurely trek up the hillsides to fabulous vistas, as well as narrow, off camber cuts through the woods and rock-strewn descents for those not concerned with a possible dent or "Virginia pin- stripes." Sam Moore, the enthusiast owner of Wheatland Farm, encouraged ROAV to carve new trails to create new adventures, and the volunteer crews including Michael T. Boggs, Jack Doherty and Bob Steele, did a brilliant job. MAR always has trail leaders willing to give of their time and expertise to make certain that everyone gets the most out of their weekend experience; they deserved our collective credit for their efforts. Kudos, too, to rafflemeister David Short for his entertaining banter at the Saturday night dinner and raffle, and the labors of registrar Mike McCaig. Rovers North had promised that it would provide an off-road trials course—always one of the highlights of a MAR—and the task fell to me. Bob Steele, the president of ROAV, pointed out a mogul-filled field near the entrance to the campsite as the best location for the course. Not only did it offer plenty of technical challenges, but it sat close to the local highway.
If you've never run one, a trails course mimics a slalom run or gymkhana, only much slower. You drive between a series of numbered gates. Each gate has a number from 1-12 on it; touch the gate with your vehicle and you earn that numbered as a score for that section. Also, you can't stop or reverse on the section. You tally up your scores for each section on a card and the lowest total wins the event. Trials courses provide a terrific way for you to learn how to wend your way over and around off-road obstacles, so you learn a lot about your off- road driving skills and your knowledge of your vehicle. Since they can be created most anywhere in relatively small areas, they're popular in the UK with its limited off-roading opportunities.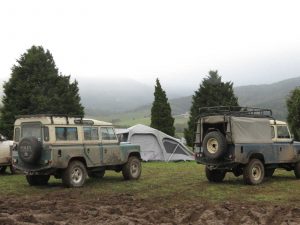 Although fully aware that the two-day drive in a Series II-A was to enjoy the trails, I shamelessly conned John and Vince Vallerand to help me lay out the course. Stuart Moore (whose family owns Wheatland Farms), David Short and Bob Steele helped, too. It took most of a drizzly afternoon to lay it out, drive each section in short and long wheelbase Land Rovers, and pound in the numbered stakes. Given the topography, we could create a course that twisted and turned over flat or corrugated terrain, the more off camber, axle twisting, the better. Two sections of these fields let us create sideslope, ascent and descent runs, too. The runs took place on Saturday afternoon and nearly 40 vehicles tackled the course. With MAR volunteers joining the Vallerands and me as judges, nearly 40 teams competed, drawing a big crowd in the field and along the adjacent highway. The steady drizzle and vehicle churn assured that the sections became ever more difficult, so we gave long wheelbase Land Rovers a free stop and backup on each section. The scores ranged from 0-39. A tie for first meant two Rovers North prizes went to novice Anne Merrit with navigator Michael T. Boggs, and previous winner Dave Bobeck with Sean Marks.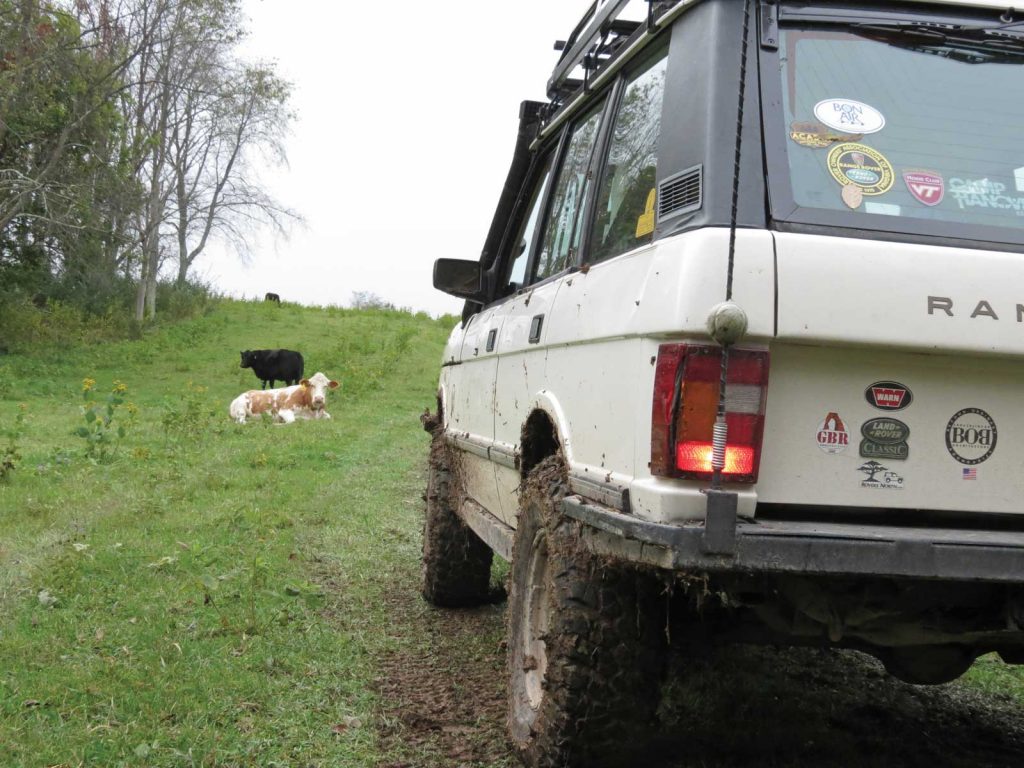 Whether camping or enjoying nearby motels and restaurants, this region of Virginia proved ideal for this long-running event. If you're a hard core off-roader, you'll find the right mix of challenging conditions; if it's your first time in a new Land Rover, you'll enjoy the kinds of trails that demonstrate just what your Land Rover can do. Either way, be sure to mark off the first weekend of October 2016 for the next MAR.
By Jeffrey Aronson
Photos: David Short, Jeffrey Aronson