ROAV has found an ideal site for their long-running Mid-Atlantic Rally in rural Giles County. About 230 miles west of Richmond, Giles County is the home of Virginia Tech, as well as 63 miles of the Appalachian Trail and 30 miles of fishing, canoeing or floating down the New River. The George Washington and Jefferson National Forests protect one-third of the county's 360 square miles. Its natural beauty is enhanced by the charm of its five distinct towns.
I learned all this in an enlightening meeting with County Administrator Chris McKlarney and Executive Assistant Jenny Cray McCloy. Chris graduated from Virginia Tech and has worked with his home county for 20 years; Jenny, also a native, has held her post for 10 years. Together, they're helping the region transform itself from a dependence on major employers like Celanese to a focus on agriculture, tourism, outdoor recreation and innovaive businesses, catering to residents and visitors who love the outdoors.
There's a lot to like, too. Hiking trails such as the War Spur and Wind Rock Trails offer spectacular vistas. The Angels Rest Overlook trail will challenge you with a self-described, "steep, arduous hike, but the views at the top are well worth it." Chris McKlarney went mum when asked about his favorite fishing spots, but the New River Outdoor Company will take you on guided fishing tours, from smallmouth to muskellunge, over a 100-mile stretch of pristine rivers and streams.
Just as Land Rover events become special because of Land Rover enthusiasts, so, too, does Giles County stand out because of its rightfully-proud residents. Who knew that the small town of Perisburg would have La Barranca, a really great Mexican restaurant, or Family and Friends, a terrific breakfast spot? An interview with Heidi Stone, the general manager of the famous Mountain Lake Lodge, demonstrated her commitment to making the impressive edifice a welcoming and moderately-priced resort. A large group of MAR participants enjoyed a wonderful meal there, and despite our muddy, damp clothing, no one blanched at our appearance.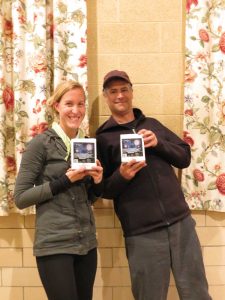 In fact, when the soggy conditions soaked through all our clothing, John and Vince Vallerand joined me in the Discovery Sport for a stop at Tangent Outfitters, a remarkable store offering everything from food and fuel to fishing/canoe/kayak trips down the New River. A true outdoorsman's general store, the owners rummaged through their storeroom to find us the right sized, rugged pants and shirts—at very reasonable prices.
Whether driving to Giles County from any direction, or traveling within the county, you're going to enjoy the scenery, the nature and the folks who make it happen. Relaxing at the Mountain Lake Lodge or simply camping along a stream, this part of Virginia will appeal to every Land Rover enthusiast. Here's hoping the ROAV continues to hold the MAR at Wheatland Farm again this year.
By Jeffrey Aronson