I didn't ask for a birthday present, but Rovers North gave me one when it sent me to Uwharrie 12 in North Carolina in mid-October. By the time I would have driven the 1,000 miles from Maine to Troy, NC, I would have aged another year, so I flew to Charlotte, NC, instead. There I found additional birthday surprises. First came the overwhelming warmth, in terms of temperature and local temperament—no wonder people spend vacations here. Then I swooned under the hospitality of Land Rover Charlotte, which generously loaned me a new Range Rover Evoque for the weekend. My route through the city demonstrated this is a corporate town; I passed the Bank of America Stadium of the Carolina Panthers, the Time Warner Cable Arena of the Charlotte Hornets and the Bojangles Arena of the Charlotte Checkers. Heading east, it took little time to pass through nearby suburbs and then quickly enter the rural towns east of the city.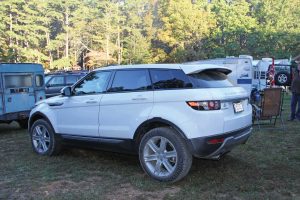 You crossed the Pee Dee River and headed north on Rte. 109 to get to the Uwharrie National Forest. You could set up camp, hike along the hilly ridges and woods, enjoy riding your horse on special trails, play on 4-wheelers or enjoy the terrific off-roading trails. Like a good ski area, trail maps signaled the level of difficulty on each trail. With 50,000 acres within its 80 square miles, Uwharrie is big enough to absorb it all. This proved fortunate when it became clear that other off-road events would share the forest that weekend.
The Old North State Club organized the weekend's activities without making you feel like you were under the thumb of a maniacal social director. This 12th edition benefited from the hard work of Dan Ratcliffe, Steven Ratajczyk, Charles Allen, Scott Goforth and Corey Rice—their efforts paid off wonderfully. Just reserving the group campsite required them to call the US Forest Service on New Year's Day of 2015. Many attendees, such as Jon Slater, Arica Key, Karen Best and Jay Bayer, stepped in during the event to help. A special shout out should go to the trail leaders and marshals who lent their talents and patience off-road.
Land Rover enthusiasts tend to be high-spirited individuals who don't always take direction well; that made the volunteer's superb efforts all the more impressive. Over 110 Land Rovers and nearly 300 enthusiasts—from toddlers to grandparents—filled the group campground at the park. Just finding room for everyone was challenging, but campers squeezed into spaces on a field or in the trimmed-back woods.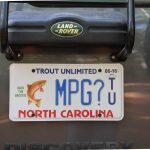 Most drove their Land Rovers to the event—I saw only a handful of trailers—and license plates indicated enthusiasts had come from as far as Florida and Pennsylvania. For Marshall Grant of Blue Ridge Expeditions, attending Uwharrie involved a three-hour drive for a "busman's holiday." As his business includes off-road trainings and corporate events, Uwharrie gave him a chance "to hang out and just ride the trails."
You saw nearly every Land Rover model (and a few interlopers) owned by every type of enthusiast; I mean, when did you last see a Freelander off-road? Brian Kandefer, the founder of LRC in Raleigh, NC, brought a recently-purchased Series I 107" that had spent part of its life in Maine. He trailered it, along with his trail-ready Discovery, to the event, because the 107"'s brake lines had ceased functioning. It fired right up on the key and the 1.8L engine sounded terrific. It's Brian's first Series I and he enjoyed every minute in and around it.
For kicks, I demonstrated how to crank start it; we had so much fun that we each took a turn. Parked beside my Evoque loaner, you had a 60-year study of Land Rover engineering and design—the Series I drew most of the eyeballs over the weekend.
Brad Bokkean, Banner Elk, NC, spent 30 years in the Air Force, working often with the 75th Ranger Battalion and their military Defenders. "I knew I had to have one," he told me, "so I arranged for this 110 with a 300 Tdi before I left Germany." His 110 had all the off-road kit necessary for any type of terrain; riding is his vehicle was a genuine treat. An avid horologist, he now administers the Watchuseek website.
Craig Jones, Southport, NC, moved from Australia and now works for a major airline. He followed up his trek at the MAR two weeks earlier with this return to Uwharrie. His Defender 110 proved a comfortable and capable ride despite the tight, narrow trails. Craig's obvious enjoyment of the event was infectious—he had enhanced his Defender's capabilities with carefully selected off-road kit such as lockers, which worked wonders when the tight, narrow trails left little room for gaining momentum on climbs. Hidden from view, but equally effective, were the LT 77 gearbox, a Discovery II transfer case, and the 200 Tdi under the bonnet. Australians Shayne and Sandie Young, and Matilda the dog, arrived in their Defender 130, kitted-out for expeditions.
George Gonsalves and Karen Best, Raleigh, NC, left behind their work as a business development manager and Cisco food representative, respectively, and brought their '01 Discovery II for some off-roading. Patrick Greene, Cornelius, NC, proved himself the greatest Dad ever by stuffing his topless, '61 Series II with his children Nicholas, Chloe, Christian and McKenna, for a 110-mile round trip and subsequent trail rides.
I enjoyed those trails in several different vehicles, including the '99 Discovery II of Steven Ratajczyk, Cleveland, TN, a freelance illustrator/photographer and a club officer. He bought his zebra-striped Discovery at 22,000 miles and has enjoyed moving it up to 174,000. With the right lift kit, snorkel, bull bar, winch, lighting and skilled driver, it's no surprise that Steven served as a trail leader. Ominously, Scott Goforth's passenger in his topless Series II-A was a skeleton, but Corey Rice's skilled marshaling comforted the novices in our group. Enthusiasts proved their mettle when the oddest maladies struck a Defender 90 [a frozen alternator pulley—really?] and a few similar issues. We also confronted the National Forest reality that no one group controls the trails; courtesy ruled as off-road convoys traveling in opposite directions made room for each other.
The Uwharrie Forest has an extensive trail system of rock climbs, clay soil ravines, forest treks and gravel-surface green lanes. With many slow-speed steep climbs and resulting steep descents, the long convoys wended their way over a few hours of delightful off-roading. Fortunately, the trails remained mostly dry—they'd have been a bear when slick from mud! You learned a lot just by watching the different Land Rover models on the trails; while "as slow as possible, as fast as necessary" still held sway, you could see that Series Land Rovers required a peculiar set of driving techniques compared to an NAS Defender. You could hear the jaws drop as a bone-stock LR4 with a novice driver walked its way up a rock incline under the skilled guidance of Corey Rice.
Strange things happened in the woods on Saturday night; ex-Marine Dan Ratcliffe donned a kilt while running the post-Bojangles chicken banquet raffle and auction, as hundreds of enthusiasts gawked at the auctioneer while shooting glances at their ticket numbers. By Sunday morning, the lines at the Eldorado Outpost store at the Uwharrie entrance were as long as the smiles were wide. Asked to sum up the weekend, Steven Ratajczyk suggested, "Everyone seemed to have a good time." Now that's a typical British understatement, delivered with
a Southern drawl.
Land Rover Charlotte
Back in 1987, then "Range Rover North America" selected Land Rover Charlotte as one of its inaugural dealerships for the newly introduced Range Rover. Their enthusiasm for the marque has not lessened over those 29 years.
Technician Steven Brody brought his Discovery I to run the trails at Uwharrie and took along a congratulatory banner that hung at the event. Sales Manager Ken Fray recounted his family's trip through the western US in their Discovery for a British Land Rover magazine.
General Manager Jeff Johnson entered the automotive world in 1999, with this dealership. "After growing up in Dunstable, MA, and graduating from Lynchburg College, I moved to Colorado to teach skiing and snowboarding. I met my wife Ashley at Keystone. When we decided to move back east, we chose Charlotte and I became a sales guide."
"It's been quite a ride, going from the days when we sold only Range Rovers and Discoverys, then adding the Defender, Freelander and LR2, Range Rover Sport and Evoque. The Discovery Sport has exceptional capability. We've gotten a good response and traffic. I was skeptical about the third row seat option, but it really works! Along with the Evoque and the Range Rover Sport, I'm very excited about the future of the marque."
Land Rover Charlotte is owned by the Hendrick Group, founded by Rick Hendrick, the founder of Hendrick Motorsports and the father of the late NASCAR driver Ricky Hendrick. The Hendrick Motor Group also founded the Hendrick Marrow Program and the Hendrick Children's Program.
Jeff Johnson notes with pride, "We have a really tenured team. Our staff and their efforts combine to give us a real advantage—we aim to consult with and inform the customer, rather than push a product."
Everyone I met at the dealership clearly had a soft spot for Land Rovers. Usually, Finance Managers like Constantine Panayotidis know better than to waste time with economically-challenged journalists like me, but he and receptionist Mahogany Harris couldn't have been more enthusiastic about Land Rovers. Their comments just added to my smile as I took off in a new Range Rover Evoque for Uwharrie.
Jeff Johnson acknowledged the role that enthusiasts play in the dealership's success. "I'm grateful for en- thusiasts; they may not like the newer designs, but we welcome them to show us their Land Rovers anyime. Land Rover is an impactful but small company in a huge automotive marketplace. If it weren't for enthusiasts who keep the older models in the forefront, we'd be less successful. We welcome them to the dealership anytime."
When daughters Rudy, 12, and Emma, 10, reach auto ownership age, it's reassuring that they'll be full-fledged Land Rover enthusiasts, too. Who knows—maybe they'll bring a Land Rover to Uwharrie '16 and '18?
By Jeffrey Aronson
Photography: Jeffrey Aronson, Jason Lavender, Karen Best