The Western National Land Rover Rally grew out of the desire of several clubs, including Arizona Land Rover Owners, Southern California Land Rover Club, Northern California Land Rover Club, Great Basin Land Rover Club, High Desert Rovers, and a dealer, Land Rover Las Vegas, for a regional event that would bring enthusiasts from all over the Southwest. I certainly wanted to attend this first-ever collaboration. It's 2,500 miles from Burlington, VT to Sedona, AZ, a long drive in my Discovery, so I decided to split the difference and fly into Dallas, TX, to join enthusiasts from the Texas Rovers for their 1,000- mile drive to the event.
The airport in Burlington, VT, added the word "International" to its name because of flights to two cities in Canada, but really, it's a bit of puffery. A 10 am flight out of Burlington means you need to be there roughly six minutes early to walk through security. For this trip, I decided to arrive slightly earlier than that, after a not-so-ideal de- parture on my previous flight to Texas (losing your ID in the airport does not help you get through security). After a rather uneventful day of flights, I was greeted by a temperature nearly double that of Burlington's. Gavin and Leona Kwait would provide transportation in their '04 Discovery II, effectively modified for extended overland travel. We loaded up the vehicle to rendezvous with Michael Neil and Rob Fleming.
After indulging in some WHAT-A-BURGER at Mike's house, Rob pulled up in his Disco 1 that required the installation of a second fridge. When planning to be off the grid for several days at a time, you need to safely store food and beverages. After sorting out both Discoverys, we hit the road towards Amarillo. I rode with Gavin and Leona in their Discovery while Mike sat shotgun in Robert's vehicle. While fading in and out of consciousness counting white lines on the highway, we got the call.
"We need to pull over, ASAP!" Mike shouted over the radio—the first indication that this might not prove the hoped for flawless trip. Upon arriving at the first vehicle pull-off, we spotted Rob under the truck. We stared at a failing u-joint in the front driveshaft. The late hour meant our only choice was to remove the driveshaft and continue on in rear wheel drive. After a few minutes work, we headed out again at 12:30 am.
After another three hours, we were at "camp," which consisted of finding a less traveled road to pull off and set up the hammocks. Despite the brisk temperature, our sleeping bags provided enough warmth until we awoke four and a half hours later. The sounds of passing vehicles were a soothing reminder that we had driven seven hours from Dallas, yet were still not away from the world. After some coffee and photos we hit the road towards Amarillo, now less than 30 miles away.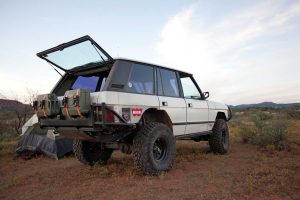 Roughly eight miles from our camp, we get another call on the radio, "Pull over now." Immediately worried, Gavin brings the vehicle to a stop. We radio back for clarification, and it's reaffirmed by Mike's response, "We lost the rear one, too." Both driveshafts had failed, as evidenced by a smoking hot driveshaft lying on the highway 500 feet behind Rob's vehicle.
Twenty miles to Amarillo and Rob had lost any ability to propel the vehicle forward. Time to get creative—I pulled out my phone to look up driveline shops while Gavin and Rob rigged up the tow strap that would become Rob's new power source. Luckily, I found we could tow it to Allied Driveline in the heart of Amarillo. The guys there agreed to build a full custom rear shaft, as well as rebuild the front double cardon unit Rob had added to his vehicle. But the vibration did not relent; it stuck with him until he removed the front shaft again. After removal it seemed to disappear until we got back on the highway, when detonation seemed imminent. We approached the vehicle at a fuel station off the road, trying to diagnose the issues in the rain. We decided the wheel bearings required tightening, so that became our first priority. We took the front ones apart, repacked them, and headed out again.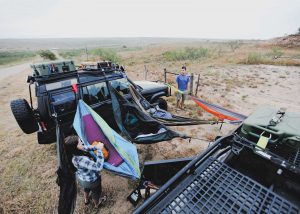 By 4:30, we crushed pavement on the way to Flagstaff. We arrived at our campsite in the rural area of town, at the home of Gavin's relatives, and set up camp around 1:30 am under a full array of stars. We left in the early hours Friday, choosing the most scenic route possible towards Sedona. After a few hours of highway driving, we hit the dirt. Schnebly Hill is a local hotspot, combining amazing views with rocky trails. Unfortunately, the rockiness proved a bit too much for Gavin's new suspension kit. We ended up with a broken shock mount (the Prius that passed us did not seem to have that issue). Not having the proper tools to fix it on the trail, we continued on. Schnebly Hill Road is the last high spot before you get into Sedona, where the sun baked everything in sight.
It took a few hours to remove the front suspension, but we found a small ATV shop with a welder. Rob had the shock mount welded back so we could complete the final 30-minute drive to the event site. Upon arrival we were instantly impressed; a very unique sign welcomed you to a massive spread of 120 Land Rover vehicles, tents and campsites. We spotted a familiar Range Rover Classic with "BB4WA" across the back—yes, former Camel Trophy competitor and famed instructor Bill Burke attended the rally, as did Camel Trophy veteran Jim West and Bob Burns of Land Rover North America. I found out that the attendees represented Canada as well as 14 US states— even the Commonwealth of Puerto Rico. How nice, too, to spot a Camel Trophy Discovery, the Great Divide Range Rover Classic, and of course, the Rally's raffle prize, a freshly refurbished Discovery I.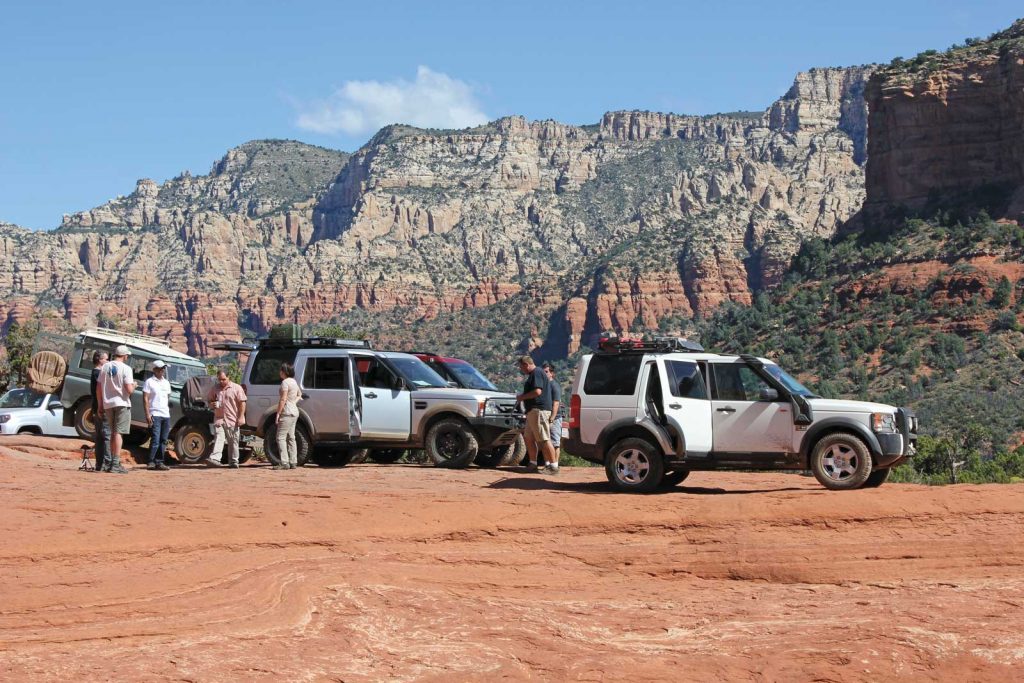 We met up with Doug Lawyer, the event Director, who introduced us to Chad Manz of the Arizona Land Rover Owners, and key volun- teers Carlos Franco, Bob Kolander, Pierre LeBlanc, John Edelmann and Dennis Magers. We received our goody bags, generously filled with very creative gifts, such as the commemorative plaque for the event made by Steel Press. We made camp near the back of the camping area, meeting up with Joey and Jordyn Pitts of Texas Rovers. We all settled down and then made for the main tent for Vendor's Night. We particularly enjoyed listening to Will Hedrick's, "The Defender of Defenders" presentation. The superb weather matched everyone's good spirits.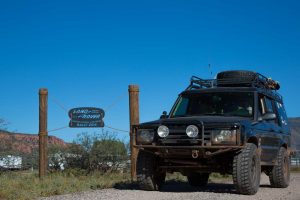 Saturday we awoke to a beautiful sunrise over the nearby plateau. The cool temperatures provided a welcome change from the previous day's. Many of the attendees opted for the Challenge Day, a Camel Trophy-style set of tests. Gavin noticed ATF leaking from his truck so we added a bit—as we had just arrived we wanted to sam- ple the local trails. We pulled in behind Frank Rafka and his group for the Broken Arrow trail. Frank has an exceptionally built Discovery 2, but unfortunately a wrist injury left him riding along in his friend Mike's Defender 110 Station Wagon. The trail was challenging, but what really captured my attention were the amazing views and di- versity of landscape. They differed dramatically from my Vermont trails, often covered with mud and loose rocks.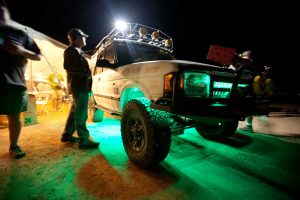 Saturday night we arrived back at camp ready for the raffle night. Our dinner came from a local Cajun-style food truck; the food tasted so good that it made the long wait well worth my time. The raffle offered an exceptional display of assorted products and prizes. We eagerly awaited the announcement of the Grand Prize, a Discovery I rebuilt from the donation of sponsors, such as Rovers North.
The lucky winner, Chris Black, became the object of envy from every participant.
You have to appreciate the amount of volunteer work that goes into organizing events like these, and you have to give credit where it's due. Doug Lawyer and his team spent months setting up this event and nailed it. This Western National Land Rover Rally inaugurated the event very successfully. All I can say is that we hope to be out there again next year, wherever it is.
Kevin Healy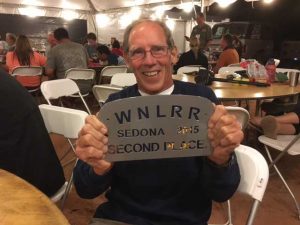 [Kevin Healy, Massapequa Park, NY, enjoyed the 2014 Arizona Land Rover Club's Gila Challenge so much that he returned for the 2015 Western National Land Rover Rally. Here's his commentary —ed.]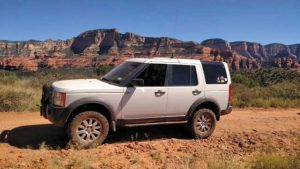 At the Gila Challenge, Bill Johnston's '05 LR3 impressed me so much on the trails that I returned this year, ready and willing to buy it from him. We struck a deal and Bill met me at the Phoenix Airport; while I admired his LR4, he handed me the keys to my "new" LR3. After a night of his hospitality, I drove it to Sedona.
The site for the WNLRR was beautiful, and it was great to both catch up with old friends and meet new ones. Each day we would also pick a trail to run, rated from "easy" to "difficult." As Bill had assured me of the LR3's capabilities, I chose "difficult." The first trail was, indeed, quite challenging for me, but not for the LR3—well, except for the punctured sidewall on the trail. Bill had advised me not to air down on the sharp rocks, but, of course, I aired down. The moment I drove onto a level spot, one guy began jacking up my LR3, a second removed the spare from the rear, while a fourth re- moved the damaged wheel. In no time—and without much effort on my part—I was on the way again.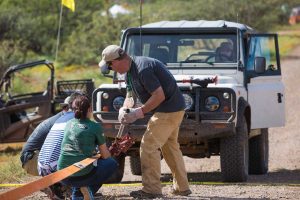 One day the entire group broke up into teams for a Camel Trophy-style challenge, with tasks similar to those in the famous event. We winched a Land Rover using a high-lift jack, chains and recovery straps. Working with enthusiasts you barely know does help strengthen camaraderie, teamwork and friendship. Indeed, our team came in second!
After four days of basking in the perfect high desert weather, it was time for me to head back to New York. I was a little anxious the first half-day as I drove the 350 miles from Sedona to Albuquerque, NM. Day two saw me bang out 800 miles to Springfield, MO. I added another 630 miles on the way to Columbus, OH, and then the final 580 miles to the New York City area.
My new-to-me LR3 drove flawlessly, and thanks to enthusiasts Doug Lawyer, Billy Johnston, Pierre Leblanc, Chas Manz, Jim West of the Land Rover Experience, Rob Wood- ward—and many more—I'm already looking forward to my next trip to this rally!
By Zack Griswold
Photography: Zack Griswold, Doug Lawyer, Jordyn Pitts
Additional Images: