[Charles and Linda Frick, with their children Chas and Liz, split their time between Tumalo, OR, and Chadd's Ford, PA. They've been working between the two coasts since 1993, and the center of their good fortune is their 1963 Series II-A. Here's their story —ed.]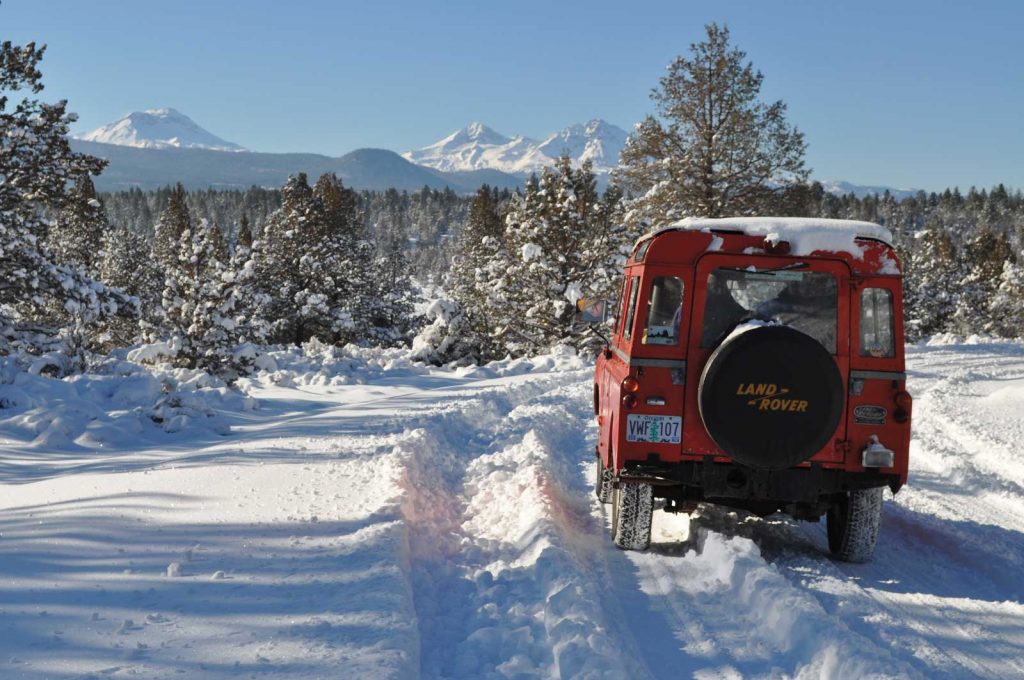 Our Land Rover entered our family in 1985, after I spotted it in a junkyard in Philadelphia. The owner didn't want much for it, perhaps because its rear tub, filled with spares, included the cylinder head from the engine. I had an NADA 109" and wanted a parts car. The junkyard owner demonstrated his savvy by removing all the spares (but leaving me the cylinder head)—I bought it anyway. After all, the odometer read only 35,000 miles. Although busy at the time with a house move, I installed a spare engine in it, replaced the hydraulics and gave it a quick paint job.
When my job determined that I would become bi-coastal, I had a friend in PA drive it to Oregon. He made the trip one December, while towing a Subaru on a tow bar behind the Land Rover. The II-A has remained in Oregon since then. Although I enjoyed the NADA 109", especially on a trip from Philadelphia to Chicago, the red 88" won my heart and I sold the 109" to someone in the Northeast (If you're reading this article, I'd love to hear from you!).
Over the years I've installed another engine I rebuilt and added an overdrive. For many years it served as my everyday vehicle and it's now accumulated over 150,000 miles. It shares our affection with a Mini-Moke, a Mini pickup, a Mini Traveler and a Triumph Herald.
Tumalo lies in central Oregon, at the base of the eastern slope of the Cascades. Indeed the view from our house features seven mountains, most at 10,000 ft. elevation or higher. It's a volcanic area with an average elevation of about 4,000 ft., which makes our climate similar to that of the high desert. The local flora is largely sagebrush and juniper; the air has low humidity. While summer days can get warm, temperatures drop quickly at night. We've often enjoyed July 4th fireworks
from the comfort of our sleeping bags.
Our town's history of agriculture on the High Desert has provided us with a local landmark, its failed reservoir. Bordering on the Deschutes National Forest, this lowland was originally intended to hold water to irrigate nearly 22,000 acres of surrounding land. Speculators promoted the area nationally around 1900, offering farmers nearly unlimited water. However, upon completion of the dam the captured water quickly drained into the underlying volcanic rock. Numerous dynamite charges and tons of fill failed to seal the reservoir. The real estate promotion went bust, but the diminished reservoir currently serves close to 9,000 acres. Currently, our farming and grazing runs towards specialty crops and a surprising number of llama farms.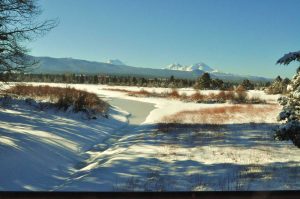 Set at the base of the Three Sisters and bordering national forest land, I consider this region a Land Rover heaven. After a recent 10" snowfall during Thanksgiving break, my wife Linda, daughter Liz, friend Trevor and I set out in my Series IIA 88" for a tour of the snowy sights. We motored across the top of the spillway (82' above the valley) and through a rock cut beyond. One can see the remnants of the old control tower beside the roadway. We made our way past cross country skiers to the bridge over Bull Creek, which fills only a tiny portion of this area to only 11' depth. In the distance we saw Broken Top to the left, and the South, Middle and North Sisters keeping watch over their 10,000 ft. elevation. In the 1920s, folks from nearby Bend would set up a wireless and use one of the indigenous Juniper trees as an antenna mast to catch a radio signal from San Francisco while ice skating. On this particular day we watched a sled dog team harnessing up for a run across Bull Flat. A dog sled team is pretty efficient for crossing snowy ground, but I'll stick with my 88"—the heat is a bit better!
We couldn't be more fortunate—stunning landscapes surrounds our two hometowns, giving our family warm and comforting places to live, and decades of good times with our Land Rover. We hope you're enjoying yours as much.
By Charles Frick
Photos: Charles and Linda Frick
Additional Images: