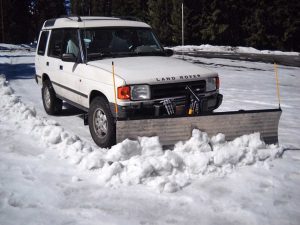 Dear Rovers North,
I thought you might like photos of my former '95 Discovery SE7 5-speed that I recently sold to a friend, James Richardson, Yakima, WA. He has converted it into a full-time snow plow and reports that it moved the snow quite impressively on its first parking lot test in early March. Not until afterwards did he discover that he'd neglected to engage the Diff Lock! It runs a bit hot because the plow impedes airflow through the radiator, so he's working on a homemade spoiler for it. Since he's had to replace the power steering pump, fan clutch and starter, as well as deal with alpine window seal leaks, he's well on his way to identifying himself as a true Land Rover enthusiast.
Mike Roediger
Yakima, WA
[Thank you for the photos, Mike, and congratulations to James for sharing this "new" model of the Discovery! -ed.]
---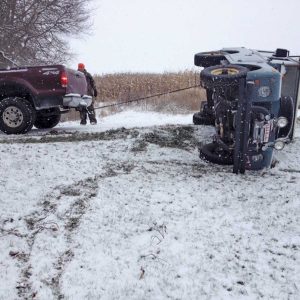 Dear Rovers North,
It's going to be fine. Thanks for the parts.
Kris Reigler
Freeport, MI
[The only heritage Land Rovers you can't rebuild are those that are burnt up or stolen from you. Send us photos when it's upright -ed.]
---
Dear Rovers North,
Thank you for supplying such wonderful door prizes to the Rover Landers of British Columbia. I attended their big event up in British Columbia and really enjoyed it.
Victor Gerwin
Duncan, BC, Canada
[Land Rover events are spectacular opportunities to meet the fascinating enthusiasts within the Land Rover community. We're glad you enjoyed it, and we share your thanks to the club members who made it possible -ed.]
---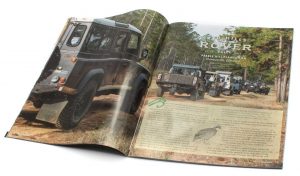 Dear Rovers North,
Thanks to Rebekah Gleaves Sanderlin for telling the story of the Red Hills Rover Rally in the Winter 2017 issue. It has made the rounds around our small town. Thanks for telling the story so eloquently and capturing the day in all of its dusty glory. It made us excited about starting work on next year's rally.
Callie Sewell
Thomasville, FA
[Thanks for inviting Rovers Magazine to join so many enthusiasts in such a historic location -ed.]
---
Dear Rovers North,
After reading the article on SCARR, I hope to join them one day. My semi-modified Discovery I had some setbacks, but I look forward to meeting everyone at the event. I met some Texas Rovers members at a repair stop in Ruidoso, NM. Nice people and nice Land Rovers!
Zack White
Somewhere in New Mexico
[We hope you can make it to SCARR, too, Zack. It's one of our favorite events. We hope to meet you there! – ed.]
---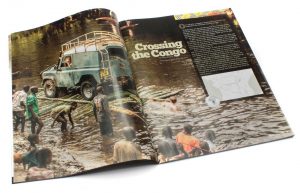 Dear Rovers North,
Thanks to Thompson Smith, Creative Director, and Jeffrey Aronson, Editor, for setting up the fantastic feature story on Crossing the Congo!
Alison Alexian
Hurst Publishers
London, England
[Everyone at Rovers North admired what the authors accomplished on their journey and in writing the book -ed.]
---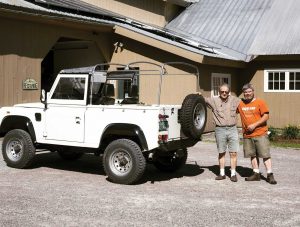 Dear Rovers North,
I like this photo—two old farts and a Rover!

Noel Bishop
Fletcher, VT
[Les Parker (L) wants to know who the second "old fart" is -ed.]
---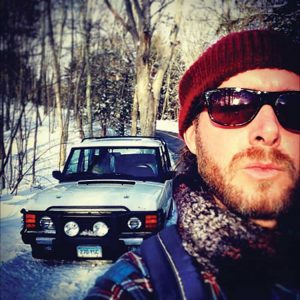 Dear Rovers North,
My '95 Range Rover Classic with 154,000 miles, and me, enjoying this winter.
Luke Moore
Somewhere in Northwest CT