In every cheesy ocean line disaster movie, there's a guy in the engine room furiously shoveling coal as the captain of the doomed ship calls for more power. The laborer, bathed in sweat, knows that his efforts will go to waste, that the sea will win every time.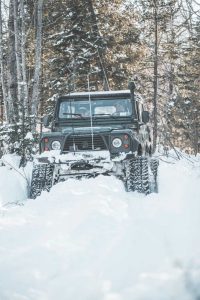 I thought of this as I knelt to dig out yet another Land Rover buried in snow at the Maine Winter Romp last February. The hugely popular event came on the heels of two massive snowstorms; an absent-minded Mother Nature had forgotten about snow for much of the winter and chose Romp week to make up for it. Her decision left the Land Rovers in attendance to combat an additional 24-36 inches of snow. With few exceptions, the enthusiasts lost the battle.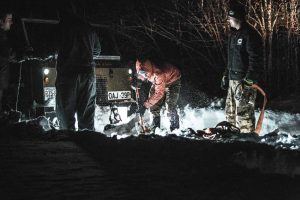 Before the blizzards, volunteers had worked to clear the first trails of brush and downed trees, but given the proximity of the snowfall to the event, not much plowing could take place. Bruce Fowler credited Peter Vollers and his Vermont volunteers, and Matt Browne and his Maine crew, who did their best to clear and prepare trails before the major snowstorms. Kim Anderson saw to the commemorative t-shirts, which reminded everyone that despite conditions, "No Whining."
Although in its 21st year, the Maine Winter Romp still resembles a kegger for Land Rover enthusiasts. The event dates always coincide with the President's Day holiday weekend. People who rarely see snow, like Craig Jones, an Aussie from Southport, NC, or people who see too much winter, like Canadians Dixon Kenner, François Kirouac, Bill Nickson and Thomas Buijs, travel great distances to witness the party.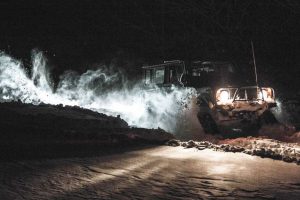 The event's popularity remained undiminished with over 117 Land Rovers and hundreds more enthusiasts from all the New England, Mid-Atlantic and several southeastern states. Bill Fishel continued his attendance streak by driving a Series Land Rover all the way from Ohio. Trevor Griffiths drove up from Hershey, PA. Informally, service tech Steve Allender and family represented Land Rover Scarborough (ME), and techs Ram and Fernando represented Land Rover Manhattan.
Like a college "darty", you're just encouraged to just show up in Waterville, ME, the "host city," where you stay at the flamboyantly-named "Waterville Grand Hotel" and hope that the trails, largely in the nearby municipalities of Unity, Unity Plantation and Benton, might be open and passable. The annual prediction is that the trails will be, well, unpredictable, and it held true again. This became another year to consider the value of chains, winches, locking differentials and lift kits. Your Land Rover could tackle most any condition provided that its tires could grip the snowpack. Despite the relatively warm temperatures, however, the dry snow turned into a concoction with a consistency more like tapioca than hard-pack snow. That meant that most of the Land Rovers sunk to their frames or chassis. At that point, all you can really do is signal a mate for a recovery, whether by winch cable, kinetic rope or tow strap.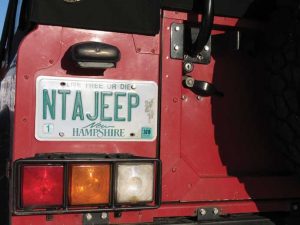 Once they arrived from far-flung places, the "Eat your Rover for Lunch" conditions didn't stop dozens of enthusiasts from plowing headfirst into the snow. Organizer Bruce Fowler has spent decades cultivating friendships with other landowners, snowmobile clubs, loggers and his town government such that he seems to have access to logging roads, forests, fields, swamps and hillsides. That enables Land Rover enthusiasts to share the land harmoniously with other off-roaders. How Bruce accomplishes all this and keeps the event free (you pay only for your room and board) remains a mystery. (Here's a hint: when he spotted some landowners having breakfast a Big G's, the "official breakfast restaurant," he sent me over to thank them.)
And what Land Rovers they were, too. Jonathan Cody, New Canaan, CT, and Chris Viola, who runs Rovertek in West Hempstead, NY, brought their very handsome Land Rover 130s. Jonathan and Ethan Weiss, Southwest Harbor, ME, enjoyed the weekend in their NAS Defender 110, as did Erik, Ann and the rest of the Zipkins, from Middlebury, CT, in their 110. His Honor, Mayor Ben Smith, Reddington, NJ, Christine and their kids made an official visit in their Series I. Derek Chace, Charlotte, VT, entertained enthusiasts with his ex-MoD Marshall Ambulance. Richard and Debbie Chase, Gray, ME, brought the only Range Rover Classic with a snowplow hitch; Sandy and Kari Cameron, Lincolnville, ME, represented the P-38s on the trails.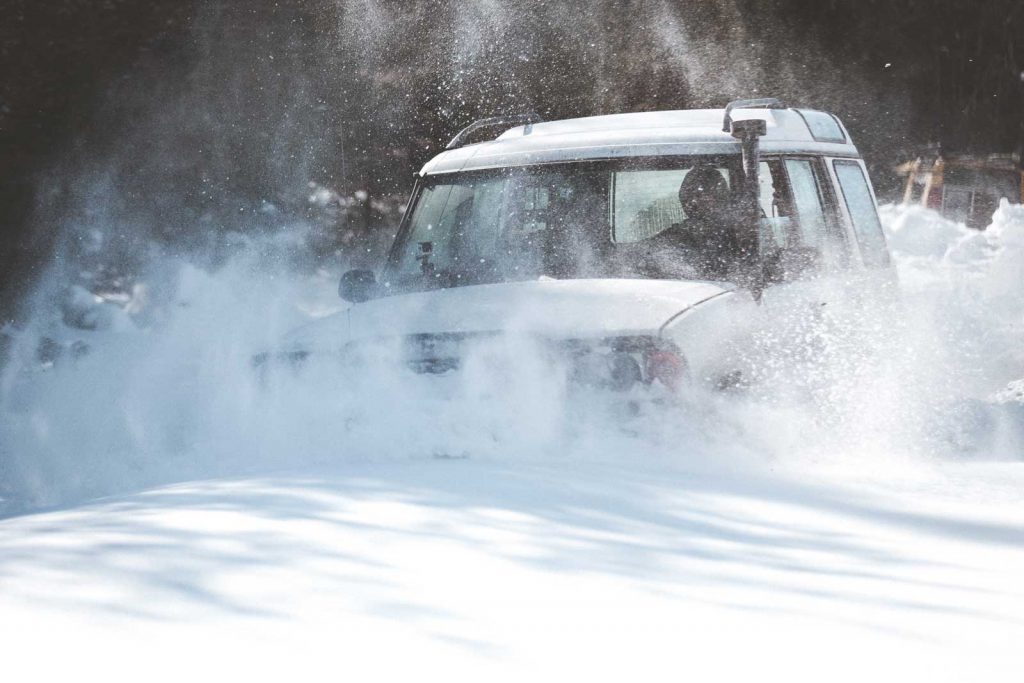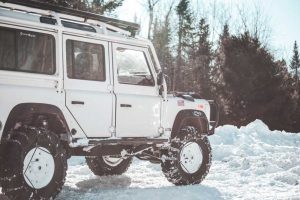 Brian Rossini, Holliston, MA, tackled the trails with his FC 101 built up by his shop. BDR Automotive. Rob Courtney, Saratoga Springs, NY, trailered over the right vehicle, a tracked NAS Defender, which proved essential for breaking trails. John Eraklis splits his time between Florida, Maine and California, but his GM-powered, 107" pickup hybrid proved its winter merit as it beat through the deep snow. Jeff Porch, Cumberland, ME, also lent his pickup with 40-inch wheels to the arduous quest of pounding through the tons of snow.
While Rovers North's Zack Griswold and Dillon Bonk broke trails with the big rigs, I rode with Bob Vail, Cumberland, ME, in his lifted Discovery, anticipating a full day of trail riding. We traveled only a short distance before the first drifts blocked the long convoy lineup. With skillful driving, Bob kept us from having to call for recovery, but we quickly came upon traffic jams as the narrow trails prevented other convoys from turning around to head back. This necessitated a lot of shoveling and some heavy lifting by the fully kitted-out Land Rovers. The clear skies and bright sun kept the day comfortable, so the requisite resting, chatting, watching, and assisting were never too onerous.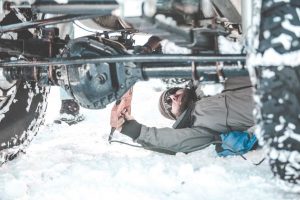 "No Rover Left Behind" became this year's motto as those undertaking the greatest challenges fell victim to the massive amounts of snow. Peter Janney, Westborough, MA, outfitted his ex-MoD Land Rover 90 quite well, but even his kit and driving skill could not avoid a mechanical breakdown; this being Winter Romp, someone had the part he needed so he could affect a repair. John Eraklis sheared off a front pinion on his right wheel, surely a first! Chip Perkins, Buxton, ME, and Amory Baker, Peak's Island, ME, blew apart the transfer case on a Series II-A.
If the conditions defeated some of the Land Rovers, they didn't diminish the highly entertaining spirit of the Romp. Dan and Anandi Cullaty brought their '83 Land Rover 90 soft-top from Wellesley, MA, and summed it up perfectly. "We had a terrific time. We also got to experience every kind of recovery over the weekend!" I'm looking forward to Winter Romp 2018. Party On!
Dillon Bonk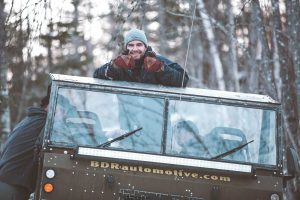 Dillon attended his first-ever Winter Romp and said, "It was a very good time. Even though I've grown up in Vermont, I still hate winter!"
"I was amazed at how much snow there was! As I drove with Zack Griswold off I-95, we could not even see over the height of the snowbanks—even in his lifted Discovery! In many ways there was too much snow. It didn't seem to matter as to whether you aired down tires or ran chains—you got stuck because the deep, soft snow just didn't offer much traction."
He considers Rovers North to be his "second family" as his mother, Stacey, has worked there for 30 years. She confirmed that after kindergarten, she brought him back to work with her and placed a nap mat on the floor. Dillon recalls, "I remember taking naps there as a kid." He behaved so well that now he works at Rovers North as a photographer and with the social media team. [You've seen his '03 Discovery II in Rovers Magazine and on the Rovers North Instagram page –ed.]
"It was wonderful to meet so many people that I knew only as names from our social media sites. I really had a terrific time!"
Zack Griswold
Dillon Bonk and I left Rovers North at noon on Thursday in a convoy with Charles Galpin, Washington, DC, Craig Jones, Southport, NC and Jason Lavender, Alexandria, VA.
After shuttling them around to purchase rare, craft brew Vermont beers, we arrived at the Waterville Grand Hotel around 7:00 pm. At the bar we discovered a large group of Rover people, and we renewed friendships and made our plans for the next day.
The following morning, we met at Big G's, the restaurant that's the home of platter-sized breakfasts and gargantuan sandwiches. By event standards we were early, so we made our way to Bruce Fowler's, meeting up with 20 other early risers. We aired down and made our way to the trail. Upon arrival, we met up with John Eracklis and Jeff Porch, who were using their beast trucks to break trail to the Powerline Hill. We all gave it a shot, and we all needed to be recovered by kinetic rope.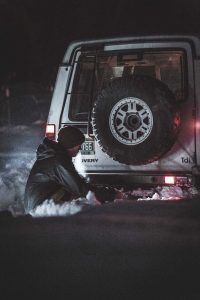 We then hopped in Brian Rossini's FC 101 and followed Brian Kandefer's 110 and Rob Courtney's tracked Defender 90. Rob and Brian split off onto a trail that would connect to a ridgeline trail. It took four hours for Rob's Defender to tow us to the top of the Power Line Hill. There, we dug out the Defender multiple times, broke a kinetic rope, tore off a rear NAS bumper and disabled another Land Rover by dislodging a fuse when the kinetic rope snapped against the bulkhead. We eventually made it back to my Discovery at the bottom of the hill. I avoided starvation thanks to a cold, Big G's BLT sitting in my Land Rover, but for full satisfaction I joined everyone at "You Know Whose Pub" for more food and needed drinks.
Saturday featured similar conditions. We pounded through the snow behind the crew from OEX, who ascended the Power Line Hill after hours of winching. The successful climbers were Adam Check, Jake Lipton, Ron Harrington, Lazz McKenzie, Greg McKenzie and Barry Jones. Actually moving from the bottom of the hill to the cleared trail required a 7-truck kinetic pull, which took hours. The same pub was even more appreciated that night!
Yes, there was too much snow this year, but the real fun of the event is always catching up with enthusiasts who I don't see often enough. Thanks to everyone who showed up, and to Bruce Fowler for organizing it again.
By Jeffrey Aronson
Photography: Dillon Bonk, Zack Griswold, Jeffrey Aronson