It's not always about the Land Rover itself, but the moments in a life that the Land Rover makes possible. Let me explain.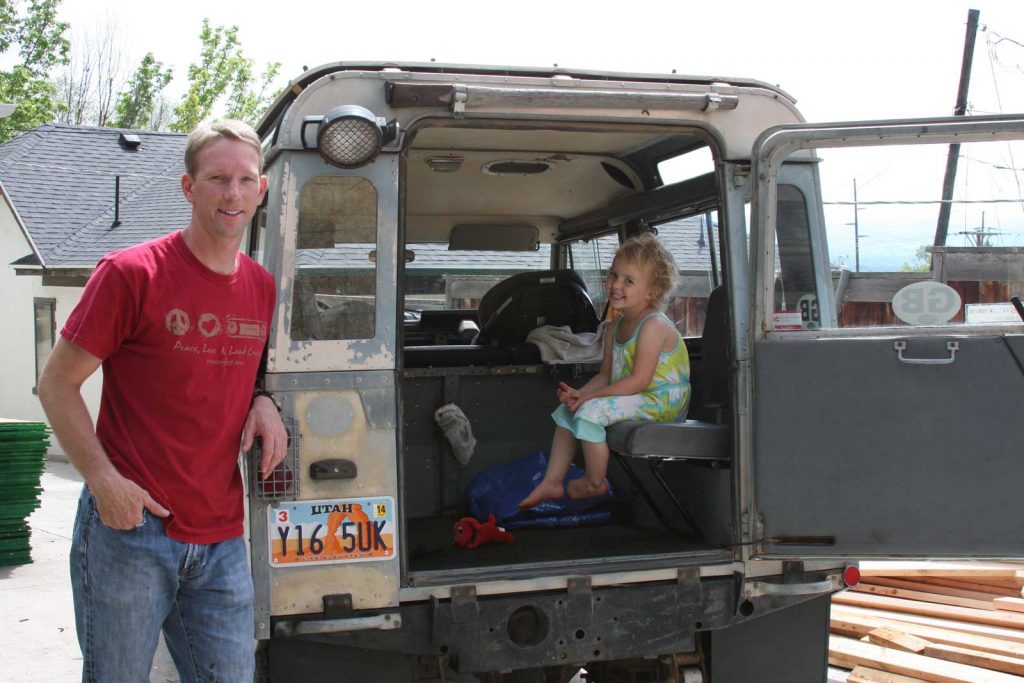 Over a decade ago I read a Rovers Magazine article by Alex Lapidus, who wrote about buying a new-to-him Defender 90 with his father, who had been diagnosed with cancer. They returned to the Pacific Northwest via the Alaska Highway, spending quality time together absent to many of us. The powerful story moved me; I wanted a Land Rover to enter my life and make something similarly significant happen.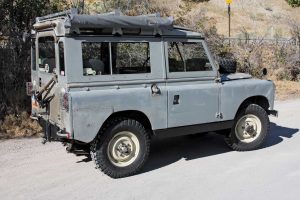 I'd resigned myself to the likelihood that my Rover story would not be the inspired tale of a barn find or former expedition vehicle, with African decals and hand painted dates demonstrating a history and legacy far beyond the sum of its rivets. The right Land Rover comes with much more than bragging rights over beer with friends. Indeed, my "right" Land Rover came with the shared sadness of an end to a previous journey, and the duty to carry forward a tradition built on the history of its previous owner—Kerry Oldham.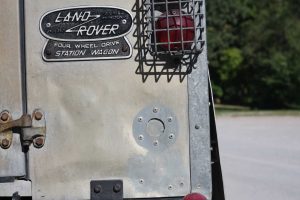 Kerry was an instrumental figure in the Utah Land Rover scene, having co-founded the Great Basin Land Rover Club in 1985, with Bill Davis. Together they started the first Land Rover National Rally back in 1989. After many years of membership in the Great Basin Land Rover Club, I found it easy to call Kerry a friend. Over many years, I coveted his '66 Series II-A 88" and peppered him with millions of questions, all of which he appeared more than happy to answer to prepare me for possible Series ownership. Although he also ran a Defender 90, he was one of the few people who didn't diminish Series Land Rovers by saying, "You want a Defender, not a Series Land Rover. Don't you know how awful they are to drive?"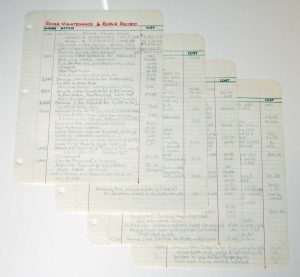 His Land Rover came to me by way of a gracious offer from the Oldham family after his tragic and untimely death in 2013. Kerry had been the third owner of his II-A, having purchased it from an estate in March 1995. The day in March when I met his widow, Tammy, to purchase the vehicle, I knew my ownership would become something greater than the transfer of a heritage Land Rover. As our families chatted in the parking lot and I handed over the vintage 1966 Utah license plate for Tammy as a keepsake, I realized that I was being entrusted to care for a family friend and a collection of cherished memories.
I've learned that my—I mean, Kerry's—Series II-A Deluxe Station Wagon came through British Motor Sales, San Diego, CA, and became the property of a Mr. Harley Swink on July 20, 1966. He checked off virtually every option box available back then, including the 2.25 L diesel engine and a rare Land Rover hydraulic PTO driven winch. The average price of a new car in 1966 stood at $2,650; this II-A came in at a princely $4,614.69, including sales tax.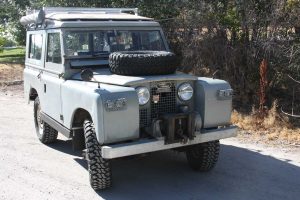 Beyond the factory options, Mr. Swink then added expedition gear including Jerrycans, "custom equipment side bags", a compass, rear spot light, fire extinguisher, a custom rear wheel bracket, and a Globe Traveler communication radio. He custom fabricated a right rear quarter panel radio equipment box, similar in spirit to the seatbox cubbies. His log shows his first trip took him north to San Francisco, and then he promptly headed cross country to New York, a resourceful trip even when new in 1966.
The Land Rover came with a detailed service history maintained by Mr. Swink. Along the way he experienced service issues such as replacing the speedometer within the first year, the starter at 11K miles, and tracking down a difficult electrical fault (shocking!) around 15K miles. I was greatly amused to read an entry from Mr. Swink on March 1, 1968, after a frustrating visit to Martin Motors:
"Hood bent, starter handle lost, boot ripped, [diesel] tank filled with gasoline, oil-air filter left off and ridiculous charges for above services = self work from now on!"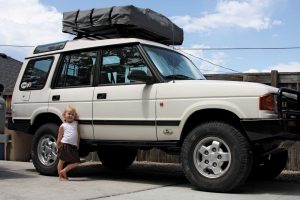 Misery loves company, and I can relate to the spotty shop service I'd received on my '96 Discovery I. Good thing my daughter Maia is well versed in critical Series maintenance items including "the rule of nines."
The II-A went through two engine swaps over the years, first converted to a 2.25 petrol engine, then back to a proper diesel, and currently a 2.5L NA diesel from an early Land Rover 90. Kerry added a Salisbury rear axle during his ownership, and other than that it has remained rather stock with a lovely patina that compliments it well.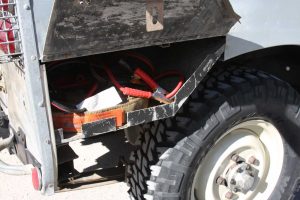 Our beloved II-A remains timeless, while everything around it has changed. It has travelled just over 48,400 miles in its 51 years of service, and those miles have undoubtedly been, and continue to be, quality miles. While many of its current miles are around town, we've driven it to Moab where Kerry Oldham and Bill Davis started the National Rally. I can honestly say I've never enjoyed driving another vehicle as much as I enjoy driving this one. I know the previous owners had smiles as big as mine as they built their memories in this amazing 88". I hope the Oldham family feels that I have respectfully cared for and enjoyed their priceless piece of Rover history.
[For more information, visit: www.aemf.org, www.giftedmusicschool.org, and the Great Basin Land Rover Club on Facebook -ed.]

By Matt Rigby
Photography: Matt Rigby