Photos don't lie. No "alternative facts" here; I'll own up to it. I'm having an affair with a 20-something.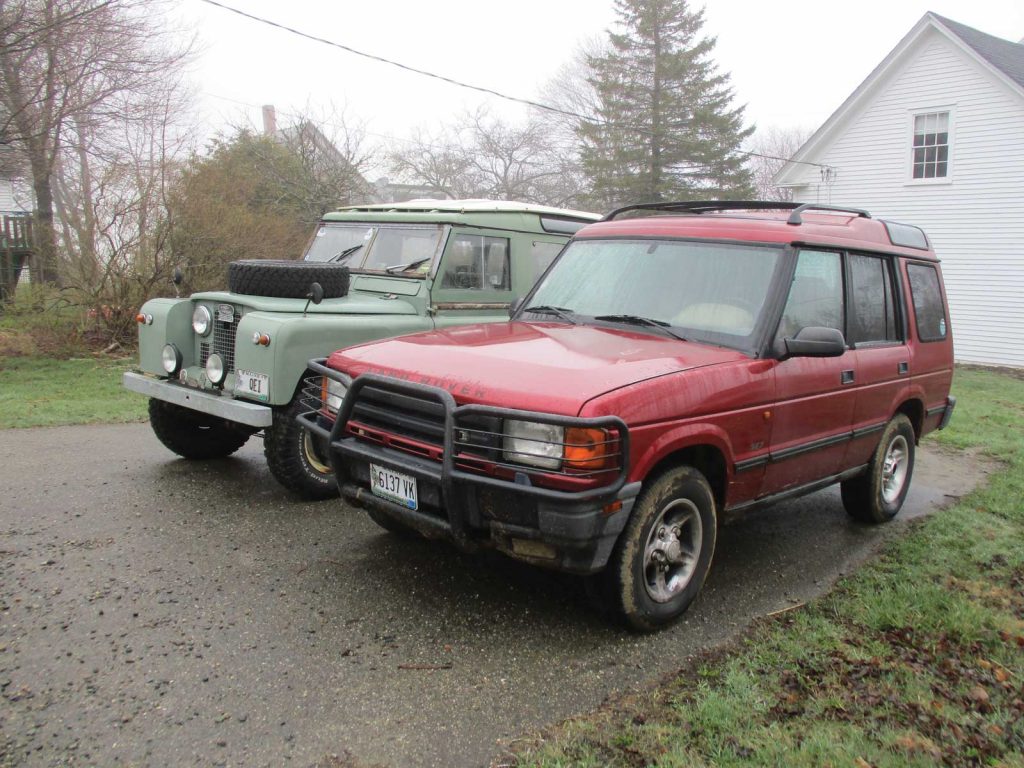 The QE I, my 51-year old Series II-A, and I met 26 years ago. Head over heels, I threw away every bit of advice on buying a Land Rover. One should be gimlet-eyed when examining a very-used Land Rover, one owned by an enthusiast known in off-road circles as "The Terminator." Instead, I yearned for it with puppy-wide eyes the moment I saw its faded green patina. I might have well been coshed over the head for all attention I paid to the sage advice from Rovers North.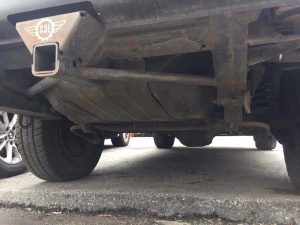 My "frame integrity test" consisted of doing a few push ups when looking underneath it. My "engine check" involved opening up the hood, staring at the whirling fan and listening to the pushrods' clacking. I could see that the Rover came shod with bias ply retreads, but it never occurred to me that all four had different tread patterns. I could tell from the "test drive" that it had no synchromesh between first and second gear (I learned later that the engineers at Solihull considered this a frivolity in 1966.) Since the Land Rover had no license plates, I had to drive it only on grassy fields, over which I ran a less-than-demanding 15 mph.
Based on the quarter-hour driving test and examination, I purchased it. The next day rainy, gloomy weather demonstrated the amount of corrosion on the two fuses, one of which controlled the windshield wipers. A drive home at 45 mph on tarmac exposed the folly of running four mismatched retreads. 26 years and 400,000 miles later, I'm still smitten. However, my vetting remained a textbook example of how not to buy a Land Rover.
Given my experiences with my Series II-A, you might think I showed more critical thinking during my search for a Range Rover Classic or Discovery I last Spring — but no. As outlined in the previous issue's column an example of each model, critically within my very-modest price range, came under scrutiny. I did muster up the common sense to have two knowledgeable enthusiasts, Carey Knause, Union, ME, and David Short, Sterling, VA, look at the example in their respective region. Each offered significant caution about buying either one; perhaps the Discovery I presented the greatest impediment to an inspection as it needed both a starter and a fuel pump. In response, David kept sending me links to 21st-century L322's offered for cheap money.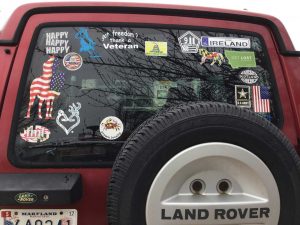 The mother-daughter team of Amy-Catherine and CeCe McEwan of Frederick, MD, had owned the '97 Discovery SE-7 for 4 years and 45,000 miles. It had taken them on distant vacation trips and upon graduation from high school, became CeCe's daily driver. The strands of hay, mud, and stable muck on the Mossy Oak floor mats and rear carpet signaled her passion for the equestrian world while she studied to become a paramedic. With a new job in South Dakota looming (and the realization that the state had no Land Rover dealership) the 20-year old Land Rover with 119,000 miles on the odometer did not seem like the perfect steed on which to head west. The fact it needed both a starter and a fuel pump cemented its placement online as "For Sale."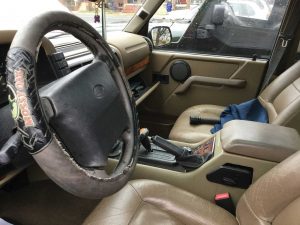 The online exchange began on March 15. Amy-Catherine told me "I would much rather that 'Monty' live on to fight again instead of becoming a parts car. I wish I could keep him. I have a very sentimental attachment" — as proven by a painting of it that she shared with me. Local repair shops provided printed copies of service records which demonstrated careful maintenance (although one mechanic admitted he didn't like working on it.) A work trip took me to the Washington, DC area, where I mooched a room and a ride to look over the Discovery. The SE-7 appeared stock, straight and unmolested. With its twin sunroofs, jump seats and leather interior, it oozed '90s luxury. Most importantly, the Discovery's frame and inner wheel arches looked to be in great shape. I left an offer for their consideration and a short while later, received their acceptance.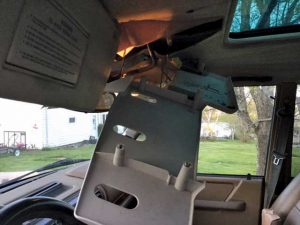 Now I owned a non-running Discovery. A call to Rovers North produced a starter, and thanks to their precision, the correct fuel pump for its VIN number. I had both parts shipped to the repair shop for their installation as a "thank you" for their many weeks of it taking up valuable space. They assured me it "ran great," so I packed up from the New York Auto Show [with no tools!] and took the train to Washington, DC. On Friday, April 14, I checked fluids and started up the Discovery for my first time — greeted by a "Check Engine" light. The radio was stuck on the "Tape" setting. The rear door would only open with a key. The cruise control didn't work. It was a short honeymoon.
Google Maps guided me through city streets and scenic two-lane roads 175 miles from Frederick, MD, to David Short's residence in Sterling, VA, and then onto the ROAV Wintergreen event [see coverage of p. __]. I kept my eyes riveted to the temperature gauge and it reassured me by sitting on the halfway mark. I chanced ruin by opening the windows and the sunroof (all opened and closed on command). At Wintergreen, I secured the guidance of Ralf Sarek, Richmond, VA, of Sarek Motorworks in shifting the transfer case from high to low range for its first time in many years. I then joined trail leader David Short in enjoying off-roading across the river and through the woods.
Two days later, as I departed for the 800-mile drive home, the engine's sound and tachometer signaled the Discovery remained in low range. I did not relish following the Skyline Drive and the Interstate system in low range, so I moved the lever in the "wrong" direction, and voila, high range. I cruised the highways at 70 mph and 19 mpg, adjusting seats, opening and closing sunroofs, learning what all the buttons do. It certainly became a quieter, more comfortable drive than in my Series II-A.
In Portland, ME, 80 miles from my ferry terminal, I stopped briefly under the portico of a motel. When I went to restart it, the starter churned very slowly and then ground to a halt. The multimeter read 12.5 volts, and without tools or coveralls I could not crawl underneath. So the AAA jump start expert and I fiddled with different jump packs and leads for 20 minutes until, suddenly, it fired right up. I left it running, even when fueling up and aboard the ferry, until I got it home. Of course, it started right up – for the most part.
A required state inspection demonstrated that the brake lights and rear directionals had failed somewhere in New England. I ordered the Discovery Workshop Manual, taillight sockets and bulbs from Rovers North. Several phone calls to Rovers North and many hours passed as I tracked grounds and wiring with a test light. A used passenger's side taillight took care of the broken circuitry on that side. A slew of new bulbs and a side marker light sockets filled in the missing [and required] lights. Most importantly, the local mechanic confirmed that the frame was intact and steering, suspension and braking systems earned themselves an inspection sticker.
Ah, but it's a 20-year old Discovery, so the adventure continued into May. Occasionally the starter turns very slowly — and in one instance, emitted smoke. One morning it would not shift of out Park, which Erik Brennan at Rovers North correctly diagnosed as a failed brake light switch. When I whined about it online, Wallace Butler of Far North Auto Rover and Auto Repair, Anchorage, Alaska, called me with a very clever workaround, At the rear door, you remove the connector to the rear defroster as well as the one for the third brake light. Place a jumper wire between them and place the connectors over the jumper. Then, start the Discovery and push the button for the rear defroster. That sent power to the brake light, and now the Park solenoid released the gear lever. Turn off the defroster and you're on your way. It worked until the new brake light switched arrived.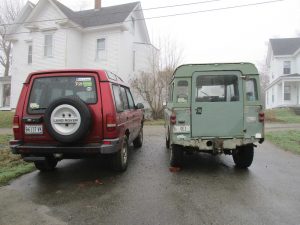 I also fell for its creature comforts, so when the front sunroof started misbehaving, I worked cleaning the guides and kept using it until it got stuck two inches from closing. That required removing screws that held the plastic map pocket (which let the headliner sag more) to expose the NLA motor. A lot of winding with an Allen wrench, as per the Workshop Manual, closed the sunroof. Rovers North again came to the rescue with a parts lead that brought me a motor and an ECU. Plugging the used motor in did the trick and 'm tempting fate once again on nice days.
I've spent a lot of time cleaning grounds as well as cleaning the interior of its accumulated stable finds. It has received its first power wash and been pressed into duty as an occasional work truck. It's shining moment came during a rainy stretch in June when a septic tank vacuum truck became mired in the muddy lawn of a caretaking client. The driver found his front end sliding towards a ditch instead of making a turn. He looked at the Discovery ("That's got four-wheel drive, right?") and threw me a chain to wrap around the trailer hitch. Low range, center differential locked, and on dirt, the Discovery started the pull and the 20,000-pound truck eased its way around the bend — much to the driver's relief.
The QE I has accepted the interloper in stride and remains the go-to, way cool, work truck. Now, if I could only come up with a name for the Discovery. Ideas, anyone?
By Jeffrey Aronson