Off-road instructors urge you to drive off-road, "as slow as possible, as fast as necessary." That mantra worked well on the Land Rover Driving Course, but not for the 68 competitors and their steeds at the 40th "Rolex Land Rover Three Day Event Presented by Land Rover" last April.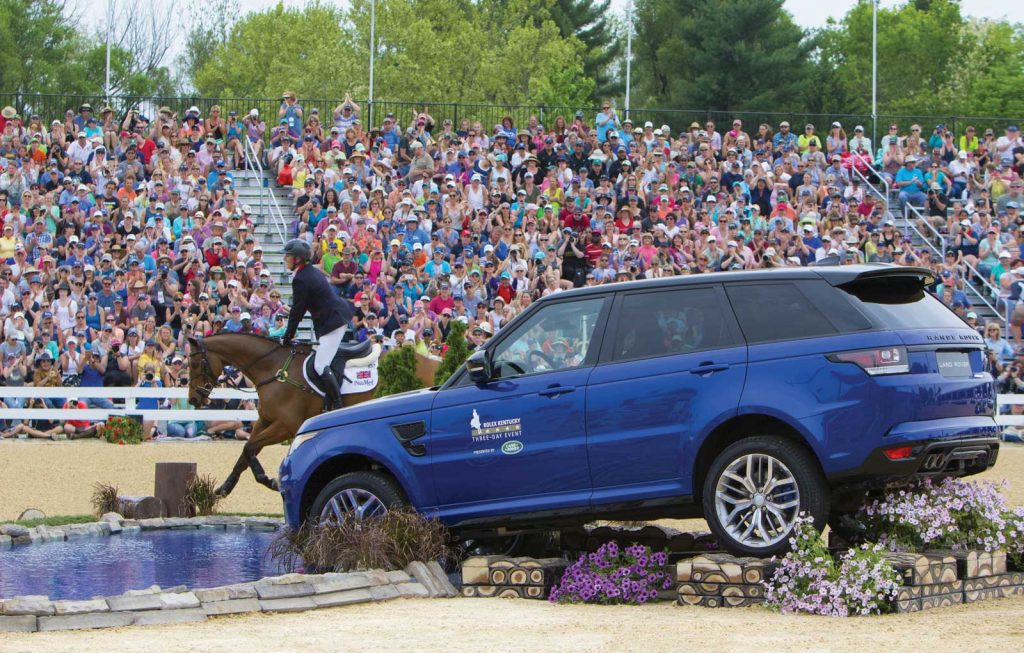 Despite its unwieldy title, the event stands as a significant one in the equestrian world. It's one of only six, four-star competitions in the world and serves as a US selection trial for the 2018 World Equestrian Games. Land Rover supports the Olympic Sport of Eventing in the UK, as well as the US Eventing Team. Land Rover sent an invitation to join them at this year's event, and as in 2015, the spectacle of athletic skills thrilled the 82,100 spectators.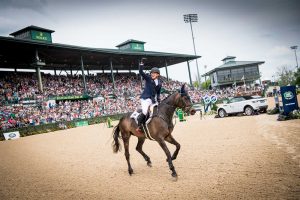 Sixty-eight teams of rider and horse competed from the US, Canada, Great Britain, Ireland, France, and Germany at the Kentucky Horse Park in Lexington. Its 1,200 acres encompasses an outdoor arena for show jumping and dressage competitions, a 4-mile cross country course, horse barns, pastures, a museum, related support buildings and parking. Its manicured fields and gentle hills present a compelling landscape.
To Jim Wolf, the Executive Director of the US Equestrian Federation, this competition, "Is the largest equestrian spectator event in the county, and the largest one televised by NBC. Its special significance is that it's in our back yard. We appreciate Land Rover's enthusiasm for Eventing and their 8-years of support as the Official Vehicle of the Federation."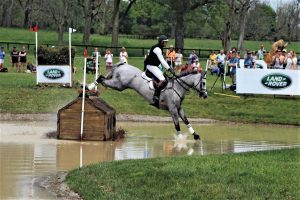 Eventing grew out of military needs for horses to have the discipline to remain focused to commands in battle, whether small movements or gallops across fields and obstacles. It now includes the balletic movements of dressage, in which judges the rigors of a timed 4-mile, 28-jump obstacle course, and the obedience required for jumping.
If you're a marathoner, you know that to qualify for elite events like the Boston Marathon, you must achieve a certain time in smaller official marathons [I know this because I've never completed a marathon fast enough -ed.] As a runner, I stand in envy of triathletes, who, at a minimum, must not only complete a 6.2 mile run, but also a 1-mile swim and a 25-mile bike course.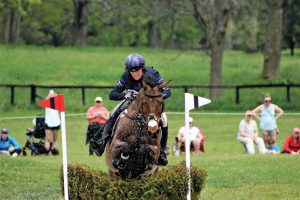 For eventers, a four-star event requires that you qualify through official two or three-star events around the world. Training in any sport requires tremendous skill and dedication, but the demands of Eventing magnify the challenge. You're not only in daily training of yourself, but also your four-legged teammate. British Olympian Zara Tindall told me that she purchased her horse, High Kingdom, when it was 5 years old, competed in the Olympics when it turned 10, and now at this even, at age 16 — 11 years of daily training. Both horse and rider must be superb athletes; when riders aren't training, they're working side jobs while raising funds from sponsors.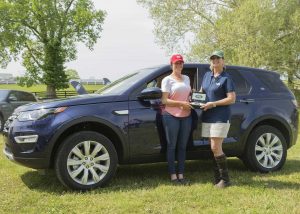 To further complicate matters, the competition includes dressage, in which the horse and rider demonstrate their ability to present near-balletic motions in a rectangular ring involving 25 different judging criteria. After that, the teams compete over a 4-mile cross country run requiring 28 jumps at 21 mph— all aimed at attempting to match the optimum time of 11 minutes, 14 seconds while not incurring penalties. Last comes a 13-obstacle show jumping competition with plenty of fiendish opportunities to accumulate penalty points. Oh, and it's all done regardless of the weather conditions.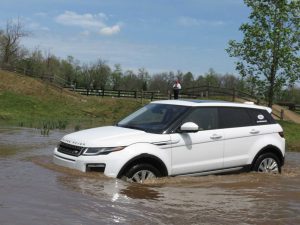 Land Rover added its expected clever flourishes to the weekend event. Most impressively, it offered a two-year lease of a Discovery Sport to the winner of the cross country event. This year, the recipient was 31-year-old Erin Sylvester, Cochranville, PA, who hit the exact time riding Mettraise. "It was so exciting," Erin said, "I had a lot of faith in 'Missy'; it was her moment to shine. I'm thrilled to win the Discovery Sport as I'd love to travel cross country."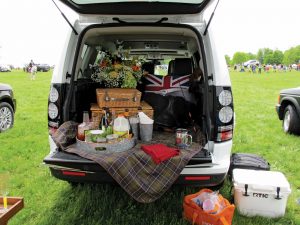 Erin joined nearly 1,000 spectators who lined up for the Land Rover off-road demonstration drives offered throughout the event. Land Rover off-road driving instructors [including some former Camel Trophy team members] Jim West, Don Floyd, Tim Scully, Chris Tefke, and Dave Rees, among others, patiently explained the off-road features of the latest Range Rover, Range Rover Sport, Discovery and Discovery Sport and Evoques. Taryn Gallaher and Ali Rowley, Ft. Collins, CO, remarked that the Range Rover Diesel "didn't sound like a diesel and didn't feel big to drive." Eduardo Rodriguez, Dunlop, IL, and Hans Vik, Morton, IL, felt, "Our Range Rover was saying to us, 'I got this!'" Meisha Micklewright, Devon, UK, drove with her friend, Tasmin Long of Newmarket. Both are students of veterinary medicine at London's Royal Veterinary College. "The technology is very cool, especially the Hill Descent which works with a horse box, a brilliant addition," noted Meisha. "With our narrow lanes, the dimensions of the Discovery are perfect."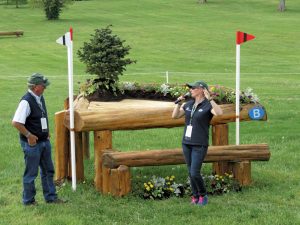 The 18th jump on the cross country course is "The Land Rover Landing," happily located near a viewing pavilion with plenty of room for a tailgating competition. Land Rover Cincinnati and Land Rover Louisville held drawings for the coveted spaces, and the results were deliciously entertaining. James Ritter, Cincinnati, OH, brought his rare 2002 P38a "Rhino Pack" (one of only 125 made). Adrian and Michaela Mansergh-Wallace, Midway, KY, both work with Coolmore America, the home of Triple Crown winner American Pharaoh. "We love our 2015 Range Rover Sport, and hopefully, we'll drive nothing else!" John Whitty, Louisville, KY, bought his Range Rover because "I had a Range Rover Classic and regretted letting it go. I had to have another one." Land Rover North America Vice President Kim McCullough and USEF's Vicki Lowell judged the competition and awarded the coveted ribbon to Samantha Will Baccari, Lexington, KY.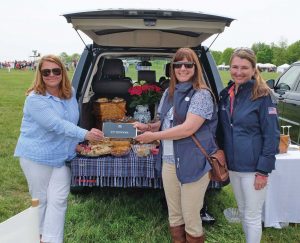 Land Rover arranged for Captain Mark Phillips, Zara Tindall [3rd Place overall], and Bobby Costello to explain the intricacies of the cross country and stadium jump course designs; while international guidelines set parameters, every course will differ and offer new challenges to horse and rider. As the event winner Michael Jung of Germany told us, "You make a plan, but given the weather and conditions, in the end, both the horse and rider must trust each other." That's quite similar to off-roading, when you just have to trust in your Land Rover, too.
Riding for Hope
Each year EEI, the operator of the Rolex Land Rover Three Day Event, selects a non-profit as a beneficiary; this year the recipient was Central Kentucky Riding for Hope in Lexington, KY. Pat Kline, the Executive Director, spoke with Rovers Magazine about the organization.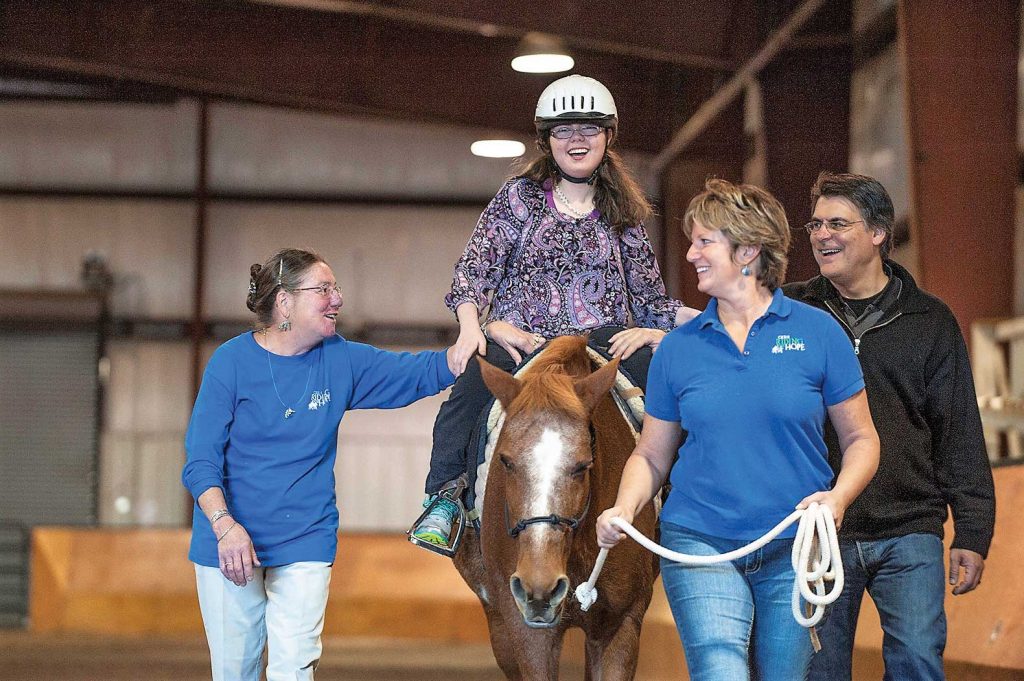 "Riding for Hope provides equine-assisted activities to those with special needs through hippotherapy, using the connection between horse and rider as the basis for treatment. Last year we provide services to nearly 900 people in 2,900 individual sessions, to ages spanning pre-school to the elderly. We have only a staff of seven, but we benefit from the 10,700 hours of donated time. Nearly 180 riding volunteers give their talent and time to run our therapeutic programs."
"Growing up I was an avid jumper, and every year at Christmas I asked my parents to move to Kentucky! I graduated from Elizabethtown College with a master's degree in counseling, I started with Riding for Hope in 2003, to help with a fund-raising event, and never left.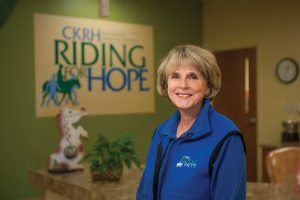 "A few years ago, a capital campaign allowed the organization to create a 26-acre facility with a year-round indoor arena, which let us expand our program offerings. Among them is a middle and high school program called 'The Stable'. We have 66 students attending from area schools whose teachers find equine instruction invaluable to their students' progress. Our partnership with St. James Place, a veteran's homeless shelter, has brought us new clients, as does our local National Guard unit."
"We've received 28 horses and 5 ponies donated for our use; we need a diverse herd because of the range of our services. Our agreement with donors is that the horses can be returned to them upon retirement, and we've had no problem finding loving homes for these horses at the end of their service."
All told, Riding for Hope received nearly $20,000 from being named as the official charity of this event. "We are very grateful to EEI, the USEF, Rolex and Land Rover for their support of our riding programs."
[Learn more about Riding for Hope at www.ckrh.org].
By Jeff Aronson