Before he became President, Ronald Reagan gained national fame as the host of the television series Death Valley Days. During his time in office I attended California Polytechnic University in San Luis Obispo to study marine biology, and wound up possessing three Series Land Rovers at the same time — but no girlfriend.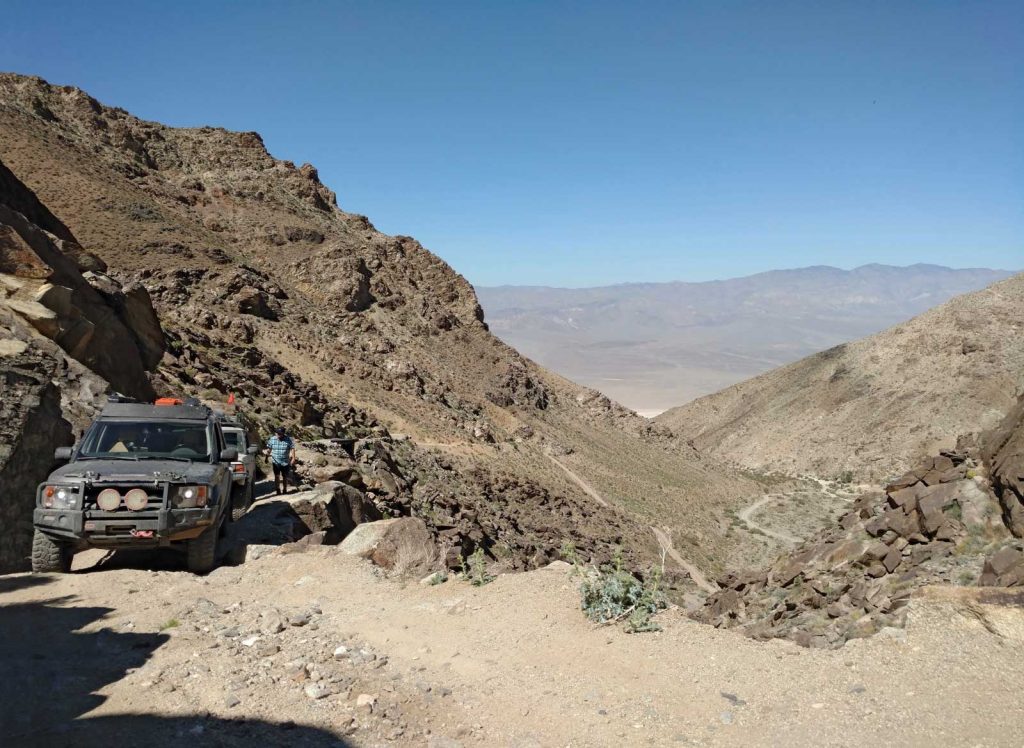 I reflected on these connections when I joined two groups of Northern California LRC members on a trek through parts of the Death Valley National Park last April. We started in the former mining town of Gold Point, NV. Once a bustling town of 800, the population has dwindled to 26, and the town is now the private property of a casino winner and his business partner who hold court at the town bar.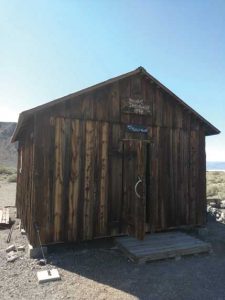 Trail leader Chuck Mobraten has been all over Death Valley, logging nearly yearly forays, often with wife Linda, daughter Marla and son Tyler. This year, Chuck selected a diverse route that featured a little bit of everything, from easy rolling trails through desert scrub, to dry lake beds, to low-range rock crawling. That is the allure of the western edge of Death Valley: plenty of altitude and scenery change, unique places to camp, with abandoned mines and cabins to add to the landscape.
Chuck and family led the way in their burly Discovery II (3" lift, HD axles, lockers) as we set off towards the Southeast with the goal of reaching a natural hot-spring campsite by nightfall. First came a gravity-fed fuel stop a block away from the town bar.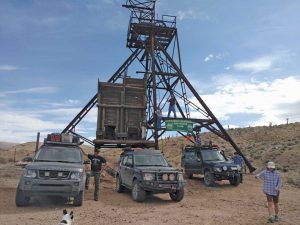 A nice, rolling narrow track guided us to the first of many mining cabins where one can park their rig and find shelter. You'll find these types of accommodations scattered freely over Western Nevada, and for those in the know, you may never even need to pack a tent as you work your way through the myriad of hidey-holes that pop up in this part of the West.
After an hour of trail and track overlanding, we officially entered the Death Valley National Park. We descended westward to Eureka Dunes, where we enjoyed lunch while gazing up at the 680-foot tall heap of sand. From there, we ambled south towards the approach to Steele Pass. Here we began a series of slow and careful passages, with some spotting needed, to get ourselves safely through narrow sections.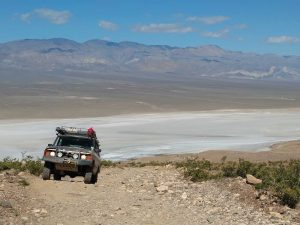 After topping Steele Pass, we drove a descending track to a desert oasis campground, surrounded by wind-whipped palms. Here we met-up with two other rigs: Nathan Harrison, wife Corinne, and 7-year-old son Gryphon, in their '95, 25th Anniversary Edition Classic (powered by a built 4.6 Rover engine, and newly raised with a 6" lift and an emergency TC swap to an LT-230) and Arthur Varga, with his wife Barbara and 17-year-old son Dominique, in their nearly stock '93 RRC. Together, we endured a windy evening, but found the warm, fresh-water baths quite refreshing.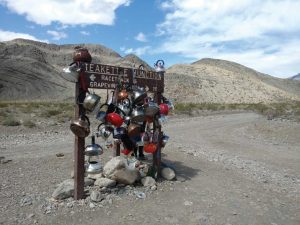 The next day, we ventured west, then south, along the margin of a dry lake bed. We took a short side-trip to view the remnants of a long-lost salt harvesting operation, then more high-speed washboard runs to the east and an about turn for the trail to Lippincott Grade.
So began a serious climb. Here we low-ranged our way up, up and up to the summit at Lippincott Pass. Along the way, the radio crackled with a report that the U-joints on Nathan's RRC were not very happy. Trail leader Chuck responded that he had packed a ready-to-go spare driveshaft with brand new U-joints that he would be happy to loan out. Such is the way with NCLR club membership. We summited Lippincott Pass and took group photo as a light rain began to fall on our dusty rigs. From there, an eastward run of about two miles brought us the site of the famous "Racetrack," where in National Geographic fame, large rocks seem to travel mysteriously, leaving marked traces behind them.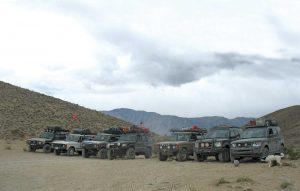 Time was ticking, so we fired up the V8s and after rounding Teakettle Junction, worked our way southwest to Panamint Springs, California, where we hunkered down in a private campground, conveniently located near the main source of petrol in the tiny town. The next day, fueled and ready, we sped south along paved two-lane roads until a left turn took us off-pavement. The drivers soon kneeled down by their tires as we aired down, knowing that the next 50 miles would require good contact.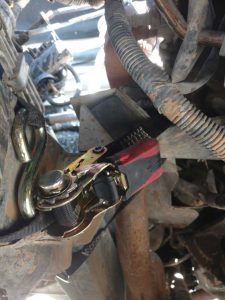 The unmarked turn to the night's camp began with a moderate rise in altitude. Then things got a little more serious. A trail dichotomy loomed: for those with traction and attitude, you went straight up the pitch. There was a softer option, which I took as a matter of solace. Arthur, on the other hand, thought nothing of it, casually pointing his 1993 LWB with just-about-stock everything up a very steep pitch indeed — in high range — at least for the first half of it. When he noticed that his 4.2 was turning only 800 RPM, he glanced down and realized that he had neglected to select low range. So he STOPPED his truck on that pucker-factor incline, cranked it in low range, and proceeded upward with wife and son aboard, all smiles. Witnessing this, I was sure that the spirit of Charles Spencer King hovered above us, gleaming with pride and pleasure!
The day's climb featured challenging narrow passages, carefully-placed tire-on-rock sequences, and plenty of chattering from my LWBs traction control system. She performed admirably though, with nary a misstep over a variety of terrain: boulder steps, sharp loose rock, sandy washes and gravelly slides. Even though I had mounted differential and steering guards (thanks, Rovers North!), my mind was pressed to calculate and re-calculate where my tires, differentials and roof rack (with tent!) were in relation to the minefield of tall rocks and close terrain that lay in our path.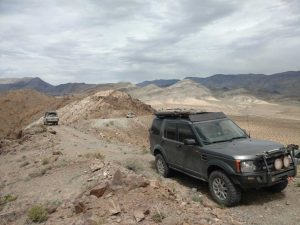 That night's camp lay in a box-canyon, high up the range, where we found an empty cabin equipped with toilets, cooking facilities, a horseshoe pit, and plenty of room for our rigs to settle for the night. In lieu of rent, the rough trail took a payment from one of us: Andrew Wood's Discovery had a motor mount let go. Club heavyweight Don Happel sprung into action, and from his bag of spares and tools that he keeps in the back of his sweet 2007 LR3, he affected a repair using a heavy-duty ratchet strap.
Thursday, my final day with the group, would be the most challenging. The plan called for us to venture eastward, over and between a shaky narrow pass locally known as "Chicken Rock." This section of trail has rig-and-life-ending consequences should you make a grave mistake. Fortunately for us, we had the benefit of trail leader Chuck and experienced spotter and "been here before" spotter Nathan to keep us clear of danger. All cleared the section without mishap and we made our way to a high plain to check out another abandoned mine, of which there are many in West Death Valley.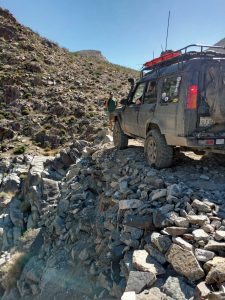 A few minutes later, a Jeep Cherokee comes roaring up to us, claiming to have "rescued" a High-Lift jack found on the trail. Seems Andrew, in his Zombie-mobile, peeled the jack off his roof rack while we pinched our way through a willow-lined waterway. The item in question had left its mount without a notable clunk and lay in the mud until the Jeepsters found it. They queried: would the Land Rover owners pay a few beers to them as a reward? We could offer but a singular energy drink.
It was time for me and founding NCLR president Will Selden to focus on a passage back to our real lives. So we said our goodbyes to the group and descended back to the west, reaching the valley floor after a 10-mile descent. We aired-up there and took to the asphalt, leaving the fun to the rest of the NCLR group. Ronald Reagan would have been proud of me.
By Paul Dunn
Photography: Paul Dunn, Don Happel