At 6:00 am I woke up in the parking lot of an Amarillo gas station. I sat frozen in the front seat, AC on, head against the window. Zack lay snoring on some luggage with his iPhone dangling from his unconscious hand, Instagram still open from the night before. The sun peered out from behind the Shell station that loomed like a welcomed oasis after several hours in the abyss of darkness. It was officially our 2nd day on our long journey to get to the Texas Rovers' SCARR (South Central Area Rover Rally). Zack and I climbed stiffly out of the truck and headed into the convenience store to get the only thing that could fuel us for the last few hours of our journey: healthy, warm, delicious Cinnabons.
With food in hand we stared at our ride, a fully-loaded 1993 Defender 110 TD5. We really, really did not want to climb back into the cramped Defender, packed to the gills with camping gear and bags, rough riding and ill-suited for a 16-hour drive. Reconsidering every life choice we'd made so far that brought us to this dingy service stop, we got back into the Defender knowing that in a few more hours, we'd arrive at SCARR.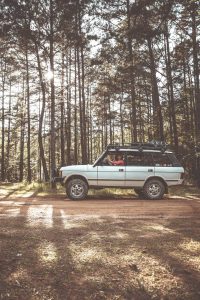 Over its history, SCARR has grown into one of North America's largest Land Rover rallies; it's one of the events we fight over attending at Rovers North. Once again it took place within the 1,850 acres of the Barnwell Mountain Recreation Area in Gilmer, TX. After 10 months of a dark, cold New England winter, mid-April in warm Texas sounded very tempting.
Our journey began with a 12-hour flight from Burlington, VT, to Albuquerque, NM, where we had decided to hitch a ride with enthusiast Martin Orr. He met us at the airport in his 2003 Discovery II TreK, one of his four Land Rovers. To Discovery II owner Dillon, Martin's revealed just how pleasant a fully-functional Discovery II could be. At Martin's home in Albuquerque we made the switch to his Defender 110. We jammed our luggage and camera gear between the camping gear, coolers and recovery gear. At that point we realized that the 16-hour drive would be cozy at best.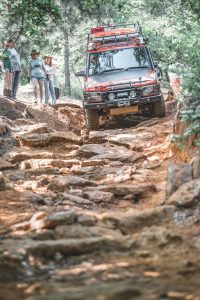 You would think that a Defender 110 Td5 would prove the perfect Land Rover for both a road trip and some overlanding, and you'd be right on one level. The Td5 is the one of Land Rover's more powerful engines. That said, with three adults in it, 2,000 lbs of assorted gear, a roll cage, bumpers, sliders, and mud terrain tires, it will not thrill you with speed. What it will thrill you with is its fuel economy, reliability, and comparative quiet on-road, as well as torque at low rpms off-road.
In Texas, we stopped in Dallas and discovered that Apple hadn't updated their GPS mapping to account for Dallas road construction. Hours later we arrived at Barnwell Mountain, greeted at the gate by a nice gentleman wearing the Rovers North hat he had received at last year's event.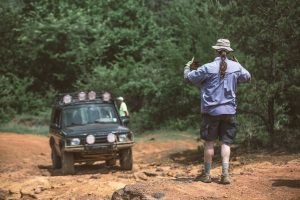 Texas' enormous distances as well as low fuel prices mean that enthusiasts often trailer their trail rigs to their events. Dillon noted that he's not seen that many trail-prepped Land Rovers in one place, nor that many trails just waiting for off-roading. We were beyond eager to get onto the trails and meet the other attendees, so we hastily set up our tent and unloaded all our camera gear. As typically naive Northerners, we moronically placed our tent on top of the world's largest, angriest, red anthill. After being stung several times, we caught on, relocated the tent, and went about meeting everyone else around our campsite. Barnwell Mountain calls it "Old Camp", but amongst the Texas Rovers, it's storied as "The Fun Zone". (If peace and quiet is your thing, avoid The Fun Zone and choose one of the many other campsites.)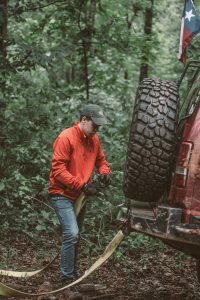 Enthusiasts filtered in throughout the Wednesday afternoon and when enough arrived we hit the trails. There we saw a wide variety of Land Rovers: Defenders, Series, even an LS-swapped Discovery. Dillon offered to trade the owner both his Discovery II and a 12-pack, but to his great surprise, the offer came up a bit short. We jumped in with a group making its way up the challenging Solihull Hill Trail, named, of course, for the birthplace of our favorite marque. We may have only been passengers, but it was exciting to see the vast difference between the trails in Vermont and the ones in the Texas Hill Country.
Back on the way to Old Camp we met up with enthusiasts John and Kimberlee Bufton, Galveston, TX, and their pair of Rovers, a '75, 101 Forward Control and an even-older Series I. We then spent the remainder of the night walking around the camp talking to a lot of the attendees and checking out their trucks. In what seemed like no time, we realized we had spent the whole night just talking to everyone and it was time to head to bed. Normally that would consist of setting the hammocks, however the weather had a different plan for us. We lucked out and found a motel room for the night, not 10 minutes from the event.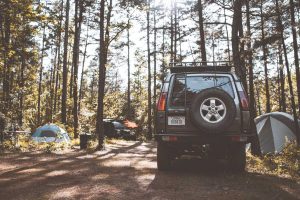 Seeing as this was my first time in Texas and I wasn't sure the next time I would be returning, we decided to start every morning of our trip there at the local Whataburger. Once filled up with a proper Texas breakfast, we hit the trails in different Land Rovers each day. We rode along with a lot of great people that we'd only known through phone calls to Rovers North or online interactions. It's always great to put a face to a name!
Friday morning, our second full day at SCARR, opened with the second-annual Barbara Toy Tribute Run, sponsored again by Rovers North. Trail leader Sarah Caldwell, who also organized the run, recruited former Camel Trophy participant and renowned instructor Bill Burke to assist her as a trail guide. This year, over 20 women drivers took their Land Rovers through some of Barnwell Mountain's most challenging trails.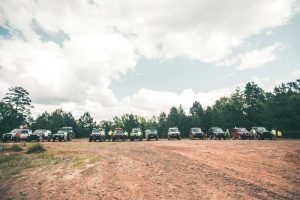 Saturday was another action-packed day at SCARR. We rode that day with Trail Leader Joey Pitts, Bridgeport, TX, in his fully kitted-out Discovery I, and Randy Williams, Lancaster, PA, in his Discovery II. The "ride" consisted of being thrown around the cabin of Land Rovers as their driver navigated rocky and clay covered trails. At a group lunch, we checked the weather forecast, which called for clear skies all afternoon. Not long after the lightning appeared in the distance and rain followed soon afterwards.
We returned to the trails for one last hurrah with some other hardy off-roaders, but soon had to face the reality of having to pack for our trip home.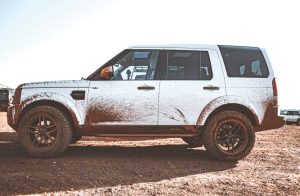 Finally, it was time for one last group dinner, raffle and the awards ceremony before parting ways. There we were treated to a traditional Texas BBQ dinner; we were famished after a long day of riding, photographing, and winching. When it came time to announce the awards and raffle winners, our names were sadly unmentioned. Martin, our driver from Albuquerque, smiled broadly as his name was called many times to claim his prizes [which he would need to find room for in his fully-laden 110]. From there, most headed to a campfire or bed, but some diehards who needed more off-roading over the previous four days headed back out on the trails for their final night trail rides.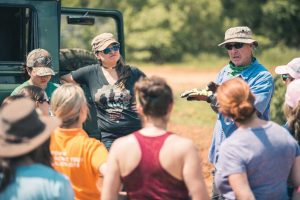 We spent great days in Texas, meeting many enthusiasts on some of the most exciting trails we've experienced in a long time. Whether you're a brand-new Land Rover owner, wanting to finally start off-roading, or a seasoned veteran of many rallies, you should plan on attending SCARR. We know once you do, you'll join us in counting down the days until SCARR 2018.
[Enjoy more photos from our event at instagram.com/roversnorth, instagram.com/zgriswold and instagram.com/dillonbonk.]
Barbara Toy Tribute Run
The Barbara Toy Tribute Run was named in honor of the famed Land Rover explorer who between 1952 – 1990, drove her Series I across North Africa and twice circumnavigated the globe. Sarah Caldwell organized the event with the trail assistance of off-road instructor Bill Burke. Once again, Rovers North sponsored this women-only driving event.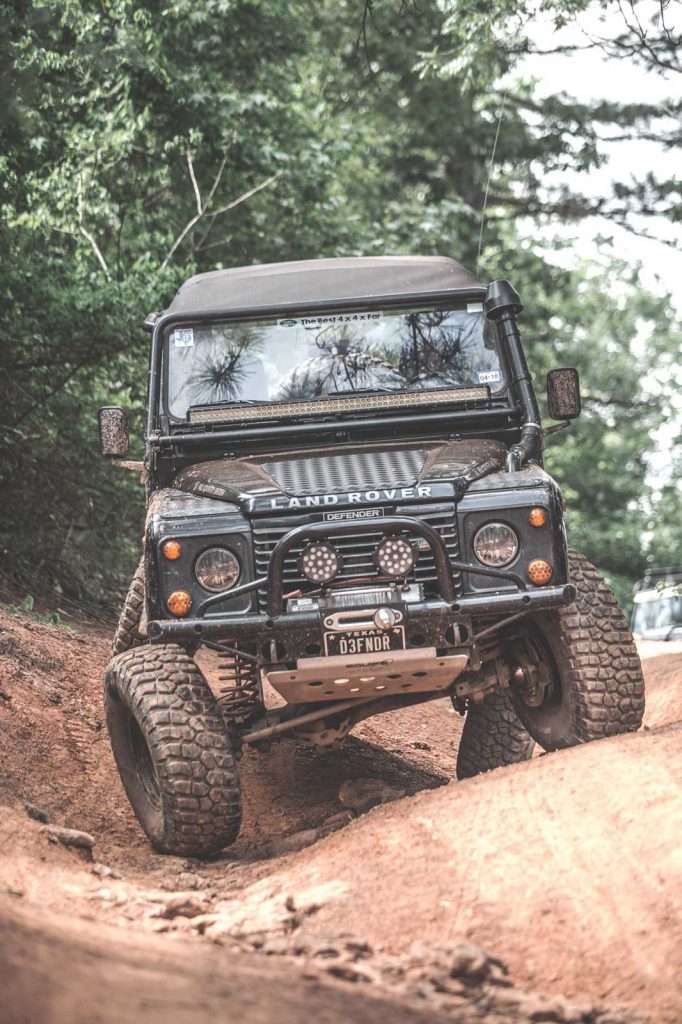 Organizer and Trail Leader Sarah Caldwell lined up 19 Land Rovers for the 2017 run, preceded by a "Lunch and Learn." Drivers learned about the attributes of Land Rovers, working with spotters, selecting lines, overcoming fear and coping with adrenaline. Skill levels varied from green novices to experienced off-roaders.
After lunch, the ladies participated in vehicle inspections and then hit the trails. A quick run up a rock- shelf incline set the tone for the rest of the afternoon, and after a quick discussion of different types of four-wheel drive, differentials and lockers, the ladies spent the rest of the afternoon negotiating the muddy trails.
Here's what some participants had to say: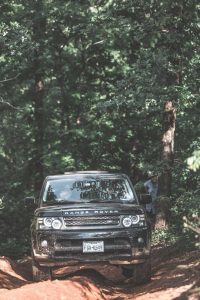 Jennifer McNeel: "Knowing that my husband signed me up for the Barbara Toy Run, I was excited and nervous. After the orientation, my nerves ceased and I became even more excited at the prospect of out 4×4-ing my husband — kinda). The instructors were super, thorough. I started out second in line and with Bill Burke as my passenger — talk about intimidating, but really, he was very helpful. By the time Bill got out of my vehicle, I felt like a pro! I was asked a few times if I needed help through rough spots, but I didn't. I'm sure all the times I rode as a passenger with my husband, Drew, helped a lot. My three daughters came out for the day, just to ride along with me. It was slow going, as we had a rather large group, but it was still enjoyable. What I took from the experience is that I'm pretty badass and I won't break my husband's Rover!"
Becky Tarr: "Driving my Defender off-road for the first time, I'm not going to lie, I was very unsure of myself. But I stepped outside of my comfort zone and did it. I've already told my husband Terry, I don't want to be just a passenger anymore, sometimes I may want to be in the driver's seat."
Jennifer Nichols: "My third SCARR was my first time to participate in the Barbara Toy Tribute Run. I had only driven trails myself twice previously. It was a fun experience. Granted I was nervous initially, especially without my husband riding along to guide and acquiring some passengers I was responsible for as well. However, Sarah picked good trails for beginners, giving us just a hint of challenge, and the spotters did their jobs admirably, too. You've created a monster. Since our return to Arkansas we've been to Hot Springs Off-Road Park so I can drive more, and we'll be going again in the next few weeks. I will sign up for the next annual Barbara Toy tribute, and thanks for having us Arkansans along for the ride."
Story and Photography by Dillon Bonk and Zack Griswold