Eric Stockmann, Montecito, CA, has found his '68 Series IIA, the perfect complement to his professional life and lifestyle preferences. As he wrote to Rovers Magazine, "I've been a huge Land Rover enthusiast for as long as I can remember. For me, Land Rover's vintage quality isn't simply based on aesthetics. It's about an idea having sound purposes: being useful, and constructed of lasting quality. I've always appreciated this philosophy, and appreciate it even more today when I see it echoed elsewhere."
"I was born and raised in Michigan where this philosophy is revered. College brought me out west, and to the Brooks Institute of Photography near Montecito, CA. I was instantly taken by its casual luxury, a mix of its relaxed, rooted and confident characteristics. I continued my film production career in Southern California for several years with commercial automotive photographers on brands such as Jeep, Mercedes, Land Rover, and Harley Davidson. We created productions which saw many parts of the country, off-roading for brands which were integral to their personalities, and showcasing lifestyle personas for others. After several years of the non-stop production train, I moved back to Michigan for a change of pace. Yet, for much as I love Michigan (my family, childhood memories), I made my way back and decided to put down roots in Montecito. The area has stayed true to itself because of its good bones, just like the ways Land Rover maintains its brand.
Working as a realtor with Coldwell Banker Global Luxury has only reinforced my views on this 'functional and substantive' concept. I recently worked with photographer David Guettler and film director Geoff Franklin to create images and video for an estate. We had ongoing discussions about communities and today's ever-evolving lifestyles. Seeing the IIA parked in the driveway, we spontaneously decided to include it in the shots that help define the spirit of a home in Montecito.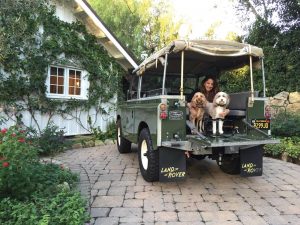 Our 'town' is actually part of Santa Barbara; a big part of its charm lies with its refreshing informality. It nods to old-school basics and has an old-world atmosphere, all while embracing modern-day conveniences and amenities for living comfortably. My clients who seek to make this area their next home recognize this, and the lifestyle to "just be" is more than welcoming. Anything superfluous is exactly that — unnecessary.
The icing on the cake is how my IIA fits in seamlessly. My jaunts around town and to the beach with our dogs further prove its abilities and features are what must've been in the minds of the Rover Car Company's engineers and stylists: everything you need and would want in a no-frills, resourceful, and timeless vehicle.
As with houses. I appreciate something having 'good bones.' When the foundation is solid and born from well-considered choices, its longevity will likely and confidently stand the test of time. I find this to be case-in-point for the LR Series IIA."
By Jeff Aronson