Dear Rovers North,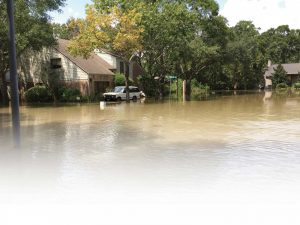 I spotted this Range Rover today while wading through flood waters in Houston.  It's one block off Buffalo Bayou.  I believe the water did not get up to the doors so I expect it will start right up!
Our house made it by 8 inches, but we were stranded by the water for 8 days before we decided to get out, and all's fine now. Our Discovery II with its 2-inch lift was in our driveway, just above the high-water line, and the nearby Range Rover survived, too.
Mark Rummell
Houston, TX
[Mark, thank you for the update. All of us at Rovers North send our best wishes to everyone affected by the hurricane and its attendant flooding -ed]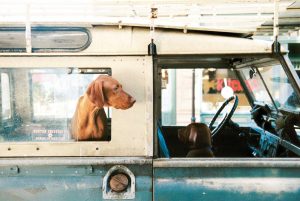 Dear Rovers North,
Steven Hyatt, a photographer here in Charleston, SC shot this photo on the street just because…well, because he has a great eye and it is an excellent picture. He then posted it all on Facebook to try to find out more about the Land Rover and its owner.  "I parked downtown in Charleston to walk around and take some pictures, and when I rounded the corner, this old Land Rover was sitting parked on King Street. The two Vizslas inside were eagerly running from window to window, soaking up all the attention they were getting as people passed by."
Michael Carnell
Charleston, SC
[Michael, great shot indeed! Thanks for sharing it with us -ed]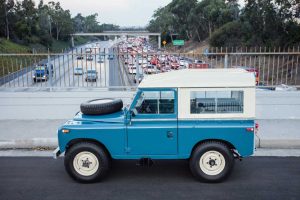 Dear Rovers North,
There is a "magic hour" in Los Angeles traffic, usually between 9:15 – 10:15 am, when everyone drives 35 – 50 mph, or Series Land Rover speed. I actually overtake people in my Series III.
Pawel Litwinski
Los Angeles, CA
[Thompson Smith, Rovers North's Creative Director and a SoCal ex-pat said, "Now I remember why I left! -ed]
Dear Rovers North,
I was dragging a snowplow behind my Series II to "straighten out" my driveway last Spring.  Oops!  Thank you for a great magazine and good parts, too.
Doug Fowle
Boothbay, ME
[Doug, we can all attest that springtime in New England is fraught with problems -ed.]
Dear Rovers North,
Mr. Winnie, our faithful '66 Series 11-A is still alive and kicking on our farm. If it is not out and about by May, people say. "Hey, where is 'Mr. Winnie' this year?" Rovers North has supplied bits and pieces for many years to keep him up and running.
Walter Cartwright
Williamstown, ON
[Walter, we're delighted to be a part of your Land Rover experience with Mr. Winnie. We wish him many more years of farm work -ed.]
Dear Rovers North,
Having just read your most recent publication on a beautiful Indiana day, I'm prompted to write. Firstly, I always enjoy seeing the magazine in the mail, and usually drop everything to do a quick read. Keep up the good work. Also, prior to my trusty D90 "Nigel" with 374K miles (multiple trips throughout Central, Meso and North America) going in for a chassis-up renovation in December, I wanted to swing thru the Maritime Provinces to visit some archaeological sites and get as far Northeast on the continent as possible.  Also, I am planning on stopping by Rovers North for a "tour" and check out the Puma chassis, and find out where all my money has been going since 1994.
Jon R. Haskell
Carmel, IN
[Jon, thanks for the compliments and please accept our admiration for your life with your Defender 90! We hope you can stop by Rovers North -ed.]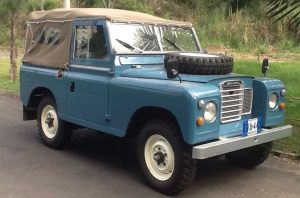 Dear Rovers North,
Greetings from Columbia! Here's our 1970 Series II-A.
Miguel Morales
Club Clasicos
Cali, Columbia
[That's a lovely Land Rover with a very happy boy on the bonnet! -ed]