Fall foliage bursts through for a few weeks and then — no matter what the calendar claims — winter comes storming in. What warms our hearts amidst seasonal holidays and the onset of cold weather (well, here in Vermont at least) is that Sighters still fill our inboxes with their exciting discoveries. We commend our readers for searching out a Land Rover presence in advertisements, commercials, movies and online sites.
It's always helpful for veteran and novice Sighters alike to review the rules that govern the awarding of a Coveted Mug:
Rule # 1 – All Sightings receive recognition and our appreciation, but not necessarily a mug. We reward only those Sightings that capture the unique qualities of Land Rovers and their owners, and display them in a distinctive way.
Rule #2 – If your Sighting doesn't really surprise you, it won't surprise us, either — thus, we can't award you a mug. We're delighted, but not surprised, that Land Rovers appear in British television programmes, British publications, films with British themes and shows about African safaris. You shouldn't be surprised, either, and should consider looking for other ways to get a coffee mug.
Rule #3 – At an ever-changing date before publication, we close off the Sightings; for this issue, it was September 10, 2017. If we've mentioned the Sighting in an earlier issue, we might not mention it again. (If you're new to the family of Land Rover enthusiasts, you may not have seen your Sighting in an earlier issue.)
Rule #4 – We're not outfitting your kitchen. If you qualify, one mug per Sighting per issue.
Rule #5 – Sightings that are Land Rover references in books go to our Literary Land Rover editor for mention, but only when space permits.
Rule #6 – Psst… email submissions – remember we can't send a mug by email. To be considered for a coveted mug, send us your real name and shipping address, too.
Rule #7 – Grudgingly, very grudgingly, the Editor admits he might have made an error. Let us know if you think you've been jobbed, but all decisions of the Editor are final.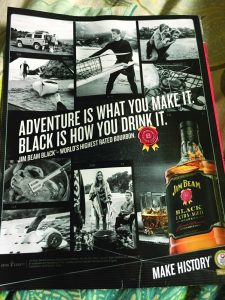 Magazines have long adored plastering Land Rovers into their graphics. When Travel + Leisure dedicated its "Travel Issue", John Crouse, Arvada, CO, noted the cover shot over the bonnet of a Defender. Adam Setliff [see Rule #6], James Reed, Halfway, OR and Chuck Thompson, Fayette, MO, enjoyed seeing the Series Land Rover in the Jim Beam ad on the back cover of Esquire. Michael Clifford, Woodland, CA, enjoyed seeing a Defender 110 at work in disaster relief in Make magazine. Steven Bartley, Arlington, VA, noted the lead shot of a Defender 90 at work in Portugal in a Wine Spectator story. Howard Morrison, Savannah, GA, reported that Defender 110s appear in a recent issue of Maxim.
David Russ, Lyme, NH and Jeff Bang, Staunton, VA, noted that VW's latest ad for its SUV includes a Series 109" —brilliant! Bill Johnson, Macomb, IL, William Costello, Kodiak, AK, Jim Barnes, Elizabethton, TN and Eileen Doyle, Hartford, CT, spotted a Defender as the center of an article in Popular Mechanics [see this issue's Fabulously British -ed.] Keith Comess, Portland, OR, noted the quad cab Defender pickup, surrounded by a flock of Wallace and Grommets, in a fashion ad in Town and Country. Fiona Dixon, Reston, VA, noted the Defender in a Maxim article about Icelandic cuisine.
Dick Stevens, West Linn, OR, enjoyed seeing photos of a Defender featured in a WSJ. Magazine article on Scottish fashion. Lewis Knapp [see Rule #6] spotted a Defender in a snowbound Iceland scene promoting Cintemani outdoor wear in WOW's airline magazine. Jeff Bang, Staunton, VA, noted the brief article on Arkonik-build Defenders in 4-Wheel & Off-Road. Liz Frank [see Rule #6] sent in an article entitled "Dispatches from the Field" that featured a photo of a Defender from Outside Magazine ["In the hope that I can gloat over my husband who has never received a coveted mug."] Joe O'Brien, Emerald Isle, NC, found an article on a German wooden boat craftsman in Wooden Boat, featuring a Range Rover pulling a long, heavy boat and trailer; "My Rover should have little trouble pulling my boat, then." Thomas Slaughter, Maywood, NJ, noted that designer Tory Burch, the subject of an article in a Conde Nast publication, chose one photo taken with her in her Defender 90.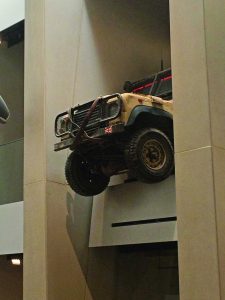 If you're a cinema buff, you're used to seeing Land Rovers in movies. A promo on Twitter from Tom Cruise pumps his new Mission Impossible film with a Defender 110 behind him, noted Brian Jones [see Rule #6].
Television loves Land Rovers to perk up shows and commercials. Bo Prillaman, Richmond, VA, spotted a Defender 110 in a Traveler's Insurance commercial set in Africa. Jason Sheehy, Mt. Sterling, OH, watched Home for the Holidays on the Hallmark Channel last July and caught a street scene with an LR4. Bo Prillaman also sadly noted the presence of a brown Defender 110 during Fox News coverage of a bombing in Paris.
Online and in stores, Land Rovers are everywhere. PT Schram, Churubusco, IN, noted a side shot of a Defender 110 in a Huckberry online ad. Adam Setliff [see Rule #6] claims, "My father-in-law keeps stealing my mugs" and sent in an Academy Sports t-shirt with a Defender 110 hauling a kayak. Dan Easley, Friday Harbor, WA, noted the Defender 90 highlighting the MSN page "10 States to Visit." It's weird, but what appears to be the same couple, this time in a RHD Defender, star in a Marriott's Rewards, reports James Cheney [see Rule #6]. Brian Jones, Raleigh, NC, and Rob Lynch, Apex, NC, spotted the Defender 90 in a Gear Patrol Oakley sunglasses ad — odd that the driver is wearing sunglasses in the shade. When Fish Hippie wants to sell an otherwise ordinary t-shirt, they put the outline of a Defender on the front, notes Earl Powers, Arnold, MD. Simply Southern does the same with their t-shirts, pointed out Leslie Bright, Kingsport, TN. Lyn Nolan, Boise ID, confessed, "It's been a while since I sent in a Sighting," but the FreeFly apparel ad with a Series III moved him so much that he went outdoors to give his Land Rover a hug. Scott Copeland, Summerville, GA, saw a photo on MSN featuring supermodel Bella Hadid in the foreground, but he focused on the Defender in the background.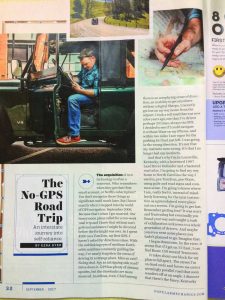 In the "More Unusual Sightings" category, Danielle Clapp [see Rule #6] spotted a Series III 109" converted into a food truck at the Dallas Zoo. Jon D'Andrea, San Antonio, TX, spotted a $399 cooler shaped like a Defender at a Home Goods department store. David Powers, Manassas, VA, enjoyed seeing camouflaged Land Rovers at the London War Museum. Dixon Kenner, Ottawa, ON, is an avid philatelist and noted that Sierra Leone offers a stamp with a Defender Fire Engine on its face.
We've mentioned this before, but Keith Comess, Portland, OR, reminded us of the Malden International photo frame's use of a Series II-A in their stock photo insert. Dan Krebs, San Francisco, CA, noted that Bexar is once again promoting its products through its RND Defender 110, this time on a road trip to Moab.
Winners:
David Russ Lyme, NH
Jeff Bang Staunton, VA
Leslie Bright Kingsport, TN
William Costello Kodiak, AK
Larry Jenkins Gallatin, TN
James Reed Halfway, OR
Jim Barnes Elizabethton, TN
Bill Johnson Macomb, IL
Eileen Doyle West Hartford, CT
Lyndon Nolan Boise, ID
Earl Powers Arnold, MD
Chuck Thompson Fayette MO
Steven Bartley Arlington, VA
Jon D'Andrea San Antonio, TX
John P. Crouse Arvada, CO
Michael Clifford Woodland, CA
PT Schram Churubusco, IN
Dan Easley Friday Harbor, WA
Brian Jones Raleigh, NC
Robert Lynch Apex, NC