They're restaurant chain executives, regional vice-presidents, tech operations directors, friends since childhood or through the local PTA. They share a love of adventure and challenge. They're Rebelles.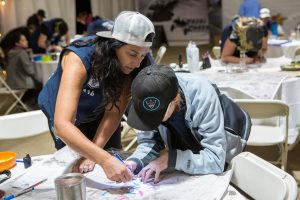 Emily Miller, a professional rally driver, determined that life-altering experience of international Rallye des Gazelles in Morocco should happen in the USA, and founded the women-only Rebelle Rally in 2016. This 7-day event combines off-roading with competitive orienteering, using only maps and compasses [no GPS or cellphones allowed]. Thirty-six driver/navigator teams from 12 states and 5 countries participated last October 2017, in stock or lightly kitted out 4×4's or crossovers. The week-long challenge rewards a well-maintained vehicle, skilled off-road driving and precise navigation.
Four teams ran Land Rovers, all LR4s. We sought out participants to share their experiences.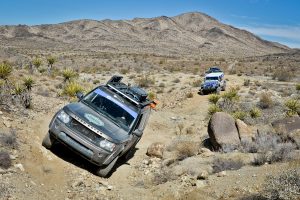 Team Omada Adventure paired Deborah Najm and Amy Martinez, both of Orange, CA. Deborah owns Off The Grid Rentals with her husband, Nizar. "He bought a Jeep Rubicon on a whim and after we thought about it logically, I bought a 2012 LR4. We both know that I have the better vehicle!" As do their children: Sara (14), Jonah (13) and Maxen (10). Deborah ran her second Rebelle in her 50,000-mile LR4. "The bone-stock LR4 had no difficulties with the 1,200 miles of washboard surfaces, rock climbing and sand dunes. One stretch was so bouncy that my helmet flew off and smashed the clock! I wound up bending a steel wheel and shearing off a valve from my air suspension system, but those weren't the Rover's fault."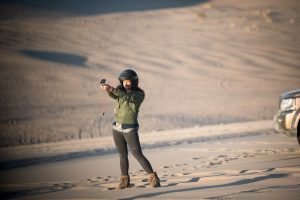 Deborah discovered the Rebelle Rally through social media, after attending the Western National Rally in Arizona. "Once I heard about it I had to do it. I wanted to encourage other women to do things like this. I didn't realize how difficult it would be over the 7 days. I've done Ironman events — they're over in one day."
"I was really excited at the beginning. I felt confident and we had a steady energy throughout the 7 days. The vehicle was great, neither one of us were injured, and everything about the event was unique. The extreme off-road driving was an expected joy. Time management was a challenge. Thinking ahead is essential. On the start of Day 4 we missed a note to competitors as to where to get gas [competitors must purchase fuel only at specific locations or receive penalty points -ed.] I did not have enough fuel to complete the day's run, so my choices were to wait for a rescue truck or backtrack to get gas. I turned around, we lost time and gained penalty points."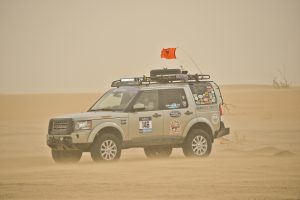 Richard Lloyd, a service foreman at Land Rover Anaheim Hills (a team sponsor), said "Deborah is true to the brand, one of our core customers. She still gets it, what Land Rover is all about. She's a kindred spirit. That's her everyday vehicle that she's used twice in the Rebelle. The first year was very punishing — I saw the battle scars. The fact that it does so well is a testament to her driving skills as well as the marque."
Amy Martinez is a former personal trainer and now Regional Vice President for Arbonne. Amy and her husband, Hernan, and children Matthew (10) and Maya (8), live near Deborah. "I'm not an off-road enthusiast exactly, but I'm an outdoor enthusiast. The further away I am from the tons of people, the better. I've worked with Deborah on our school PTA and I saw her posts from last year's Rebelle."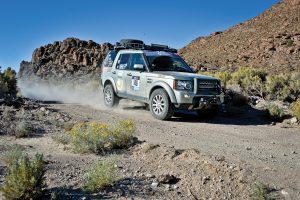 "I'm very competitive as a mountain biker. I wanted us to do well so I was anxious but I told myself, 'This is your first time, do your best and enjoy it.' After my first training meeting with Emily Miller, I knew this would be epic. The event itself was a 7-day adrenaline rush. As navigator I felt the mental drain after 11 hours in the Land Rover each day. On the other hand, when you have to dig yourself out of sand dunes — 5 times on the last day — you need the physical strength. The bouncing around in the LR4 took a toll, too! Right afterwards, I had to spend time with relatives and I was so exhausted that I just wanted to retreat into a nutshell!"
Deborah said, "We're lucky to have the Rebelle Rally on the West Coast. The start was in the Lake Tahoe area, only 8 hours away, and a region that I love. I can't wait to see what Emily Miller dreams up for Year 3!" Amy echoed those sentiments. "I would absolutely hope to do another Rebelle Rally! And in a Land Rover — the LR4 is a badass!"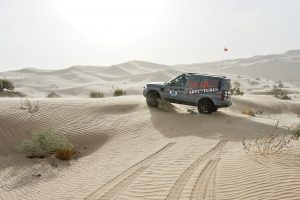 Team Disco Dolls used Erin Williams' daily driver, a 2012 LR4 of 62,000 miles. Erin, Santa Clara, CA, competed with her partner, Alyson Hamilton, San Jose, CA. Erin's LR4 came off the lot of Land Rover San Jose. "We had two Land Rovers at the time, my husband Jared's Range Rover Classic and another Range Rover, and I wanted a Land Rover of my own. He wouldn't sell either of his Rovers so I had to sell my Volvo C70 hardtop/convertible. I've installed a Warn winch and a Baja rack. It's named "Captain Jack" [as in Jack Sparrow], so that when something goes wrong, I can just blame the rum!"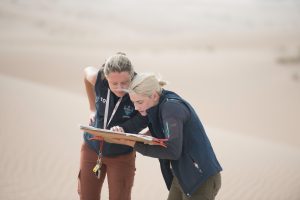 An operations director of a tech company, Erin met Alyson in their joint roles as leadership team members of the Northern California Land Rover Club. Alyson works as a personal assistant and estate manager in the Bay area, and has a 2003 Discovery II that she's accessorized it with off road kit. "I don't want it to look like a rock climber. I love it — it's an amazing vehicle!"
Erin called herself "a Facebook stalker. I read about the first Rallye on a Ladies Off Road Network page. I was determined that I had to do this event, and signed up for the 2017 run on the first day entries opened. Alyson and I have a great friendship. We respect and trust each other no matter what, and we have confidence in our recovery and off-road experience."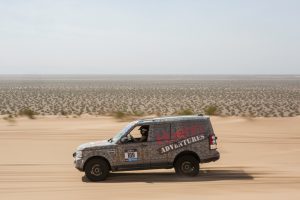 That respect took hold right from the beginning. Erin remembered, "We initially thought we would switch off driving and navigating, but Alyson is a way better navigator than me, so I drove except when we got to the sand dunes. She had more experience in sand driving." Alyson said, "Even though the Rebelle is technically not a race, every second in valuable." Finding their balance was critical to their success — as were the service work from British European in Campbell, CA, and the off-road training from Brenton Corns of 4XFar Adventures.
Erin proclaimed the Rebelle Rally, "One of the greatest things I've ever done in my life. These are some of the toughest and most amazing women I ever met. It's humbling to realize that we had the skill set to compete with those women." Alyson promises, "We will be happy to enter in 2018 if Land Rover would loan us a Discovery 5 with a coil spring suspension!"
Hoehn Adventures, part of the family business that owns Land Rover Carlsbad, CA, fielded two teams.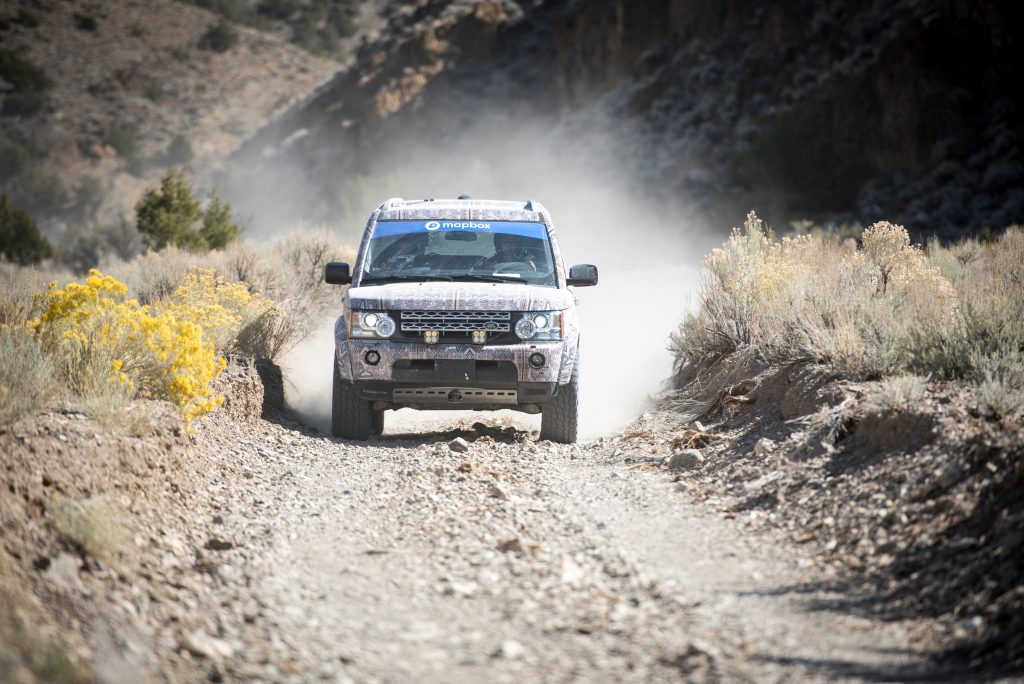 One featured driver Jo Hannah Hoehn and navigator Susie Sexton, Encinitas, CA. Their middle school friendship continues to this day. Jo Hannah works as the General Manager of Land Rover Carlsbad and Susie serves as the Board Chair of TS Restaurants, owners of the Duke's restaurants in Hawaii and California.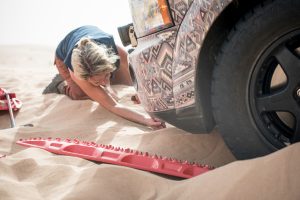 Jo Hannah has run the Rallye des Gazelles in Morocco [see Spring 2015 and Spring 2016 issues -ed.] as well as both years of the Rebelle Rally. Each time her vehicle has been the same, a 2012 LR4. Comparing the two years of the Rebelle, Jo Hannah noted improvements such as the course and scoring changes. "There was a lot of strategy involved to choose which checkpoints to find — you were encouraged to tackle more challenging checkpoints rather than play it safe."
"Land Rover is such a cool brand and it's fun to live its spirit in this exciting way. The engineers in the UK have taken a real interest in our efforts. Since media coverage focuses on what happens at the checkpoints, they miss the crazy, exciting stuff that goes on in the open. By day 3 and 4, you are mentally and physically exhausted. We were among the top scores on 3 of the day, but we ran poorly on two and that dropped us."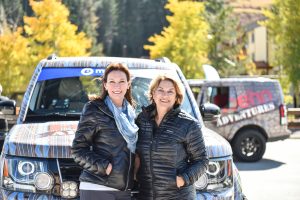 Navigator Susie Saxten, Encinitas, CA. works as the Board Chair of her family restaurant chain. She cites Jo Hannah as her motivation for the Rebelle Rally. "Jo Hannah told me I'd love the puzzle of navigation. I really like running and outdoor adventures. I wasn't rested when it was over, but it was so refreshing to be outside of normal life for 10 days."
"I had a lot of nervous energy at the start. Every day and every checkpoint really matter when you're trying to win, which we were. At the end, there's a sense of accomplishment. I pushed my brain really hard. I had to accept when things went wrong. I was definitely happy to be in my own bed, but within a week, I was missing the outdoors."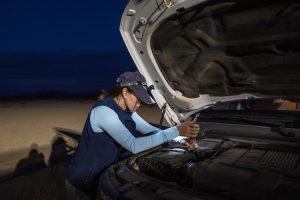 The second Hoehn Adventures team consisted of Karen Hoehn, Del Mar, CA (Rallye des Gazelles, Rebelle Rally) and Dana Saxten, Encinitas, CA —the mothers of Jo Hannah and Susie. They used the same 2014 LR4 V-6 Supercharged for both of their Rebelles. Dana has worked in the restaurant industry for 40 years. "Our daughters brought us together when they were in middle school. Karen and I got to do something with them, but not in their faces. It was a real common bond." Dana has two LR's — a 2011 LR4, bought 6 years ago, and a newer 2016 LR4 when I heard they were going out of production. I took the older one to our place in Flat Head, MT, just below Glacier National Park, where it now resides. But I miss it — I may have to go get it!"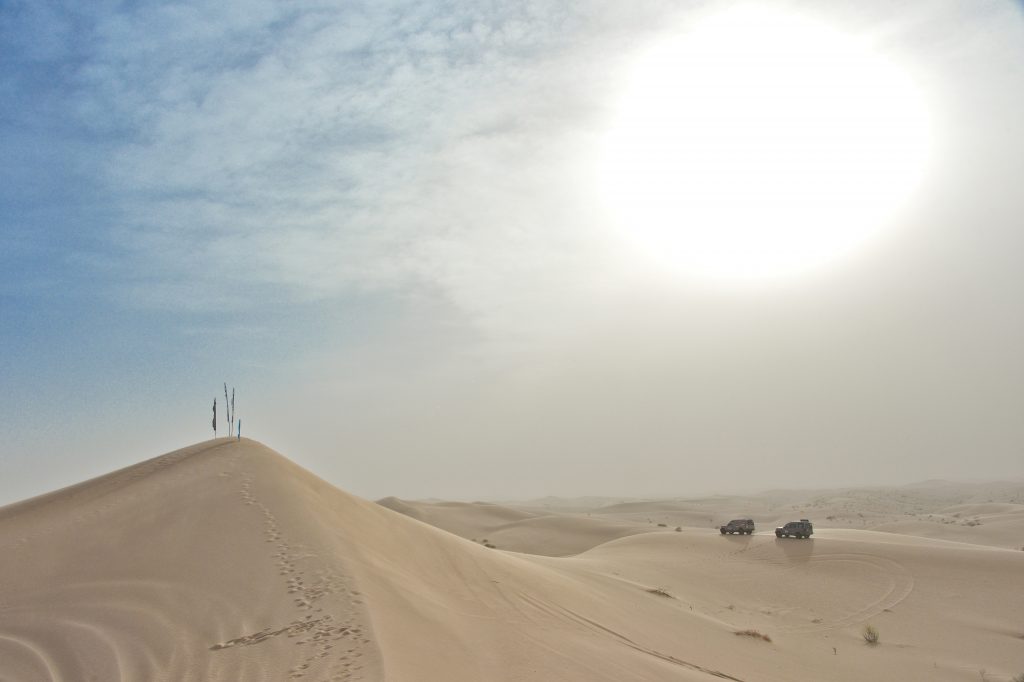 Karen noted, "This year the driving course was more difficult. We expected that as 'veterans' we'd see some of the same conditions as last year, but Emily Miller challenged us and took us through the most beautiful parts of California and Nevada that you'd never see unless you were on the Rally. There's a lot of crazy things out there — some of it looked like a set from a science fiction movie. This year's event had more of an endurance challenge aspect. We were tired at the end of each day, but it was so much fun, you don't mind being dirty, not showering."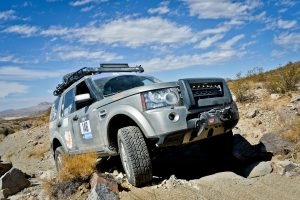 Dana noted that "I entered thinking I might have been the oldest Rebelle contestant but at registration, I discovered an even-older competitor! Karen and I laughed when we got in the LR4 every day, not expecting to win, but we wanted to do well. It's a workout and tiring but we kept laughing throughout the day. I think my sons were impressed by their mom — no one asked, 'What the heck are you doing?"
Karen Hoehn said that "Dana and I will certainly sign up for next year." If you're interested in joining them, registration has opened for the 2018 Rebelle Rally this October.