I'm on an adventure in "Winston", a 1960 Series II 109", with my partner, Sara Vosloos. I stepped outside of our motel room in Texas to find a pool of oil beneath the oil filter canister. Maybe a cross-country trip in a 58-year-old vehicle wasn't such a great idea.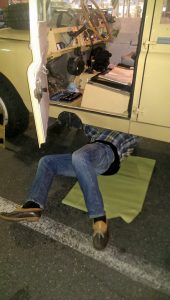 It's not like we're new to classic vehicles. We spend part of our year on Isleford, off the Maine coast, where we once owned a 1947 Willys CJ-2A. Sara named it "Grandpa". I learned to wrench on it, swapping out a carburetor on a town wharf parking lot, the starter in our dooryard, and eventually rebuilding the flathead motor and installing a new transmission. Both Sara and I now felt ready for a new "island car."
With Sara in Seattle at the time, I searched Craigslist for a suitable replacement and found Winston ready for sale in Eugene, OR. If we bought the Land Rover, we could enjoy a cross-country drive along the southern route, and take our time on back roads. The current owner operated his own shop and had intended to use the 109" to get to his mountain cabin. It had benefited from brake work and new axle seals, and the installation of a Turner 2.5 L rebuilt engine.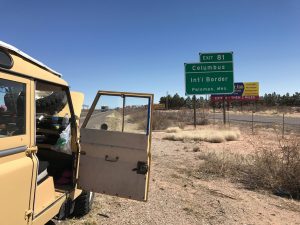 I knew little about vintage Land Rovers other than I swooned over them, so I contacted Charles Kellogg of Dare Britannia for advice. Charles contacted the previous owners and determined we should see the Land Rover for ourselves, sending us a five-page check list. We made the five-hour drive from Seattle to Eugene, ran through the checklist, drove it, bought it and had it shipped to Charles in Olympia for Charles', Mike's and Steve's ministrations.
The 70 repair items required for a cross-country trip ranged from wiper motors to new springs. A month later, we picked up our "new" Land Rover and drove it back to Seattle as a shakedown cruise. We had charted a fairly ambitious route for the three-week trip, heading down the west coast, east along the southern boarder until the Georgia coast, and then north to Maine.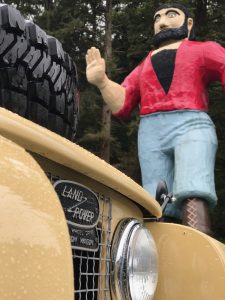 In Long Beach, WA, we woke up to our first puddle of oil that appeared underneath the oil filter canister. Proving that a yoga mat has multiple uses, I slid it underneath me and tightened the center bolt. Underway to get breakfast, we checked out the world's largest frying pan, located across the street from world's largest chopsticks. I kept a close eye on the oil pressure and searched for oil leaks at every stop. By the end of the first day we had purchased a few memory foam seat cushions, so it wouldn't feel as though we were sitting on plywood all day. Sara had also procured a roll of painter's tape to help seal off drafts on her side of the Land Rover.
The following morning, I found a few inches of snow, and after warming up the Rover, a sheen in the slush that indicated another oil leak. Tightening the center bolt further accomplished nothing, so after breakfast we asked a garage for help. They removed the canister and reset the o-ring to stop the leak. Now it was time to tackle the leaks inside the Rover. Once the snow and slush on the car melted, water cascaded in around the top of the windscreen and door tops. Strategic stuffing and frequent changes of shop towels held the water at bay. Our defroster would keep a 12-inch swath of the windscreen clear, aided by our squeegee.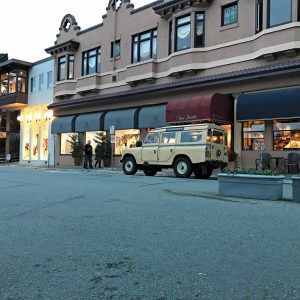 The rain let up at the California line. Near Mendocino, we took in the stature of Paul Bunyan and Babe the Blue Ox. A landslide had closed off the the northern end of the Pacific Coast Highways and we wound up taking what appeared to be a goat path until we could join the famous road. The drive to Sausalito, running between the redwood forest and the Pacific's waters, took its toll on my shoulders — "Steering by Armstrong," indeed.
From Sausalito, we crossed the Golden Gate, said goodbye to the Pacific Ocean and headed down to Big Bear to spend the night with friends. As we made it into Big Bear, snow forced me to use low ranger to make it up the steep hill to our friend's house. The next morning, the Landy started backfiring and then stalling out. Carburetor issues caused by altitude? Nope, just out of gas. Turns out the gas gauge died, so time to keep an eye on the odometer. This was to be repeated in Texas until we finally learned our lesson and picked up a five-gallon Jerry can.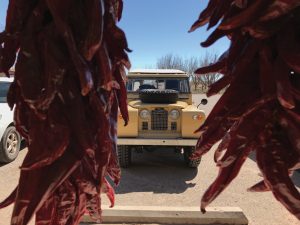 Under curtains of heavy rain, we drove through the Yucca Valley to the Salton Sea and Arizona. Warm temperatures and bright sun greeted us in Tombstone. We watched a gunslinger show and imbibed a few cocktails at Big Nose Kate's. That night's lodging was at the Shady Dell in Bisbee, a vintage trailer park offering accommodations in classic campers. We stayed in the "Tiki Bus," a Polynesian-themed 1950s bus, complete with Hawaiian vinyl and a vintage record player!
Breakfast at the El Chef in Douglas, AZ, added another recommendation to our long list. In Deming, NM, we picked up a wicked five pounds of dried chillies — all this on our way to the storied artsy town of Marfa, TX. After finding a garage for an oil and overdrive fluid change, we sought out a laundromat for our own maintenance needs. There, we found a film crew seeking people doing laundry, thus assuring us of our 15 minutes of fame.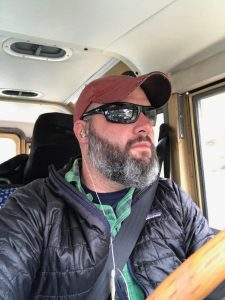 While basking in the glow of my cinematic premier, I noticed fluid on the front tire, which proved to be a leaky Dualmatic locking hub. Charles Kellogg had his crew refurbish one and overnight it to us. Gil Lujan's TIOS Garage helped me install it on the Rover. We treated ourselves to cocktails at the Hotel Paisano, a 1930s-building used as a base of operations for the movie Giant, followed by the evening light show, the Marfa Mystery Lights.
Winston continued to demonstrate his eccentricities. The new locking hub didn't leak, but it felt hot to the touch. One recommendation was to find an embankment alongside the road — plenty of them in Texas — to force more gear oil onto the hub. So, we had to drive on the side of the road for a while. The odometer decided to act up, adding 10-100 miles at irregular moments. Without a working gas gauge, we turned to our GPS to calculate mileage. Our calculations proved inadequate as, sure enough, we ran out of gas again. When you're in a Series Land Rover, everybody stops along the side of the road to check in on you. Two ranch hands in the last truck refused to leave until we could prove we were ok. We trundled along past El Paso and eventually into Louisiana. By the time we crossed the Mississippi, Winston started running rough and would stall with low rpm's. We settled into Natchez and looked for a garage. I found Fred's Automotive Repair in Vidalia, LA, across the river from Natchez. Fred and his helpers checked the fuel but found no spark. That's when he taught me how to replace points; he even provided me with a feeler gauge set. That, and the hand crank, would come in handy later when we had to reset the points one more time.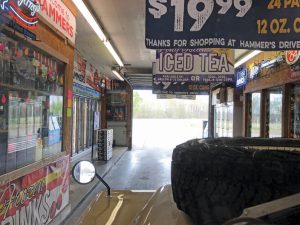 After a quick stop at Hammers, a drive-thru liquor store in Vidalia, we started up the Natchez Trace Parkway towards Nashville. This 444-mile, National Park Service road offers scenic views and 50 mph speeds, perfect for a Series Land Rover. It ends in Tupelo, MS, Elvis' home town!
The last stretch of truly scenic drives would include the heart of Appalachia. Google Maps had enabled us to avoid the interstates and enjoy the mountain byways. One road in West Virginia featured such steep grapes, I had to use engine braking in order to make certain that Winston would stop safely.
At this point, we realized that we had just run out of time to take back roads the entire distance. With winter storms predicted for the northeast, we joined the Interstate system in Morgantown, WV. Winston came with the original Smith's heater, the infamous "fug-stirrer," which could barely cope with the ever-decreasing temperatures. By the time we reached New England, we had donned our most severe-weather coats.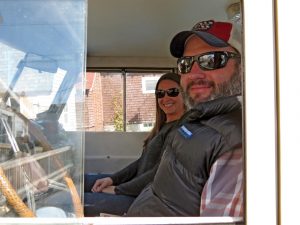 By the time we reached our Maine home, we'd been on the road in Winston for 19 days and 6,500 meandering miles. He rested for the winter. My Spring service check revealed a loose intermediate gear and metal shavings in the transfer case — never a good sign — which required a replacement. A neighboring lobsterman, Paul, assisted me in the outdoor repair in between going out to haul. How typical of a Land Rover to make an epic journey, get you home safely, and then require attention.
You can make a cross-country trip much faster that we did, but traveling in Winston made it epic. No one who saw him failed to commend and compliment him; watching heads swivel on the open road was always entertaining. He's receiving some basic service, new seals and TLC at a shop in Maine this winter and will join us at our island home this summer.