About 40 years ago, at age 25, John "Ozzie" Oswald, Livingston, NJ, spotted a red, 1959 Series II Land Rover for sale at a used car lot. "I'd seen them in movies and TV shows, and thought they were really cool. 'How much do you want for it,' I asked. The dealer said $1,000, but the transmission was shot. Well, I thought it would be easy to find a Land Rover transmission — was I ever wrong! I knew nothing about Land Rovers, but following the instructions in a manual, I rebuilt it myself in my shop. I kept it when I married my wife, Penny, but then, kids came along. I sold it and sort of forgot about it. "
With his marriage to Penny came their joint ownership of The Landmark, a famous bar and restaurant in Livingston, housed in an 1882 building. John held down the bar while Penny undertook much of the overall management. Over time, the Landmark accumulated many awards: "Best Hamburger in NJ," "Best Pizza in NJ," even appearing in an episode of The Sopranos. Ozzie claims to know of hundreds of people who met there and got married as a result. He would know — that's where he met Penny.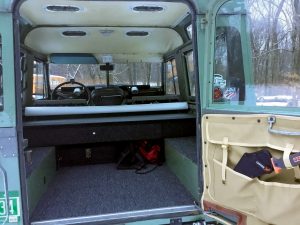 Upon her death in 2014, Ozzie decided to exit the restaurant business and re-enter the Land Rover world. He contacted Lanny Clark in Colchester, VT, to help source one for him. Ozzie wanted a Series II, produced only between 1958 – 1961, just like his former Land Rover. Lanny found one with about 40,000 original miles that he had shipped in from Wyoming. Lanny remembered the Series II. "It was quite rust-free, and needed only routine mechanical servicing and a bit of panel work. I installed a new wiring harness, refurbished the brake system, installed new springs and exhaust, and made certain it would run reliably as a daily driver." Lanny called Ozzie, "Quite a character and a very active guy. He'd go skiing at Killington and then come up to see me. He's a genuine enthusiast."
Once back in New Jersey, Ozzie installed extra lighting, removed the center seat to make room for a radio and speaker system, and installed new seating from Rovers North. In the rear, he constructed custom gun cabinets. The Series II gets driven regularly around town and on trips to Tom's River, along the Jersey Shore. "I stay in the far right lane," Ozzie said. "It's amazing how many people lean out the window to take photos."
The Series II is a tribute to Penny's importance in his life. It runs a license plate PIO 1228, which represents Penny's initials and birthday. And if you find yourself in Livingston, NJ, stop in at the Landmark. Jerry Leone, the current manager, promises to "welcome all Land Rover enthusiasts." Penny's mother, Natalie, age 85, still works there!