[Geri Vladeva, Sofia, Bulgaria, authors the blog, When Women Travel, and when she does so, it's in her Land Rover. When she first came across an extraordinary Range Rover Classic, she had to share it with Rovers Magazine.]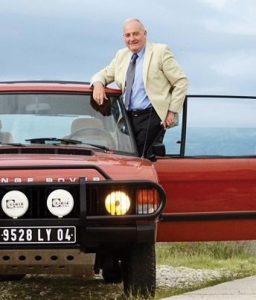 Enthusiasts have swooned over David Bache's styling of the Range Rover Classic since its inception in 1970. Although North America saw a handful of grey-market imports, the two-door Classic remains a rare icon. Ah, but if you're lucky enough to be in Europe, you find aficionados can still enjoy the visual beauty and tactile driving experiences of the original.
Range Rover number SALLHABV8AA141861 left Solihull and became the property of a well-known restauranteur in Cavalaire-sur-Mere, France, in 1984. The 3-door Range Rover came with the twin-carburetor, 3.5 L V-8, the then-new LT-77 5 speed gearbox; options included a sliding sunroof. It left the comfortable life in the Cote d-Azur in 1992, when a surgeon in Marseille purchased it for ski trips to the French Alps village of Megeve. On October 2, 1995, Michel Silve became its third and current owner.
Michel's passion for and knowledge of Land Rovers began in 1976, with a Range Rover purchased while he worked in Nigeria on the 120 km Kari-Bauchi highway. A civil engineer by profession, he's worked and lived outside of France —in places that require off road capability — most of his life. Unusually, the Range Rover was offered at a very inexpensive price because no one could make it run well. Michel found that once he had the correct firing order for the spark plugs, it ran like the proverbial Swiss watch.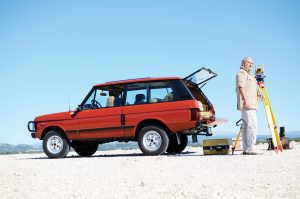 His travels in Nigeria took him from Bacuhi and Gombe to the disputed northeast region between Nigeria and Cameroon. Michel would later work and travel in the nations of Guinea, Gabon, Mozambique, Somaliland and Ethiopia, all undertaken in his personal Range Rover, or a Series III 109" and a Defender 110 Td5 owned by different client companies. With access to other Land Rovers, Michel sought to protect his Range Rover by shipping it back to France and storing it in his garage.
In 2013, his beloved Range Rover accompanied him on a four-year project in Ljubuski, Bosnia and Herzegovina. Michel met up with the local craftsmen and restoration experts who have created a regional industry of refurbishing and restoring classic cars. High levels of skill and relatively lower wages have made this region a valuable resource to European enthusiasts.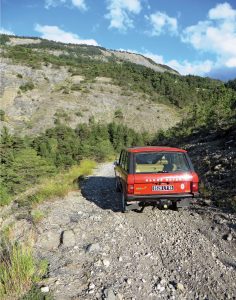 Corrosion had started to eat away at the front fenders, the top tailgate at the rear and the door skin attachment points. He had the original wheels sand-blasted and painted in their original color. The seats and carpets were cleaned and refurbished by the interior craftsmen. Under the bonnet, the V-8 engine had all the belts and coolant hoses replaced; new spark plugs and wires, a rebuild of the Stromberg carbs and a fresh exhaust kept the Range Rover running smooth and quiet.
Fresh from the refurbishment in 2014, Michel entered it into its first auto show in Niksic, Montenegro, where it earned a well-deserved award. A year later, he loaded up the Range Rover with his personal possessions and turned to France via Croatia, Slovenia and Italy. To his delight — but no surprise — he found himself receiving appreciative headlight flashes throughout his drive home.
The Range Rover, named "The Red Lord", is still very much loved by its adventurous owner. The odometer now reads 135.000km (83,800 miles). As one of the few two-door Range Rover Classics that you see on the road, it's a refreshing sight when seen amongst the many modern and more compact vehicles on the roads in the French Alps.