The Grinch put on his Grinchiest face
How could MAR be such a disgrace?
To come without rain, without puddles or mud
To come without clay, "Look Ma, no crud!"
No pressure wash would be needed this year
No need for Wellies nor clammy rain gear
No sliding up a slippery slope
Surely we all had fun, I hope!

[With apologies to Dr. Seuss]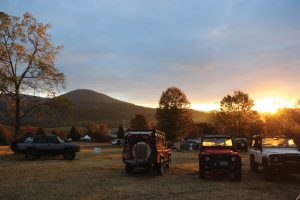 The Rover Owners of Virginia's Mid Atlantic Rally holds dear to its traditions. It always takes place the first weekend of October. The trails will either comfort or frighten you, the camping will entice you, the auction and raffle will entertain you, and the inevitable rain will soak you and enrich local car washes.
At MAR 2017, one tradition fell by the wayside when — cue the eerie music — the rains never came. For the first time in recent memory, the organizers had to search Giles County for a water truck to dampen the dusty trails at the campsites!
Once again, Series Rover enthusiast Sam Moore of Wheatland Farm, Pembroke, VA, shared his 700-acre hillside spread — populated by very large cattle — with folks who attended from all over the east coast. This highly-scenic region in the southwestern corner of the state genuinely seemed to enjoy having 106 Land Rovers and nearly 200 visitors. Giles County Administrator Chris McKlarney said, "All of the MAR participants have been wonderful guests, even going so far as to clean up debris and trash [not theirs] on roads before the event. They have been very good stewards of this beautiful place and in turn, we believe they've found it a unique and rewarding location."
You could have chosen to drive up the permanent fire roads for a panoramic view of the West Virginia hills, or if you felt adventurous, you could select any of the dozens of trails carved into the woods. To make this happen, volunteers from all over Virginia had spent countless weekends prior, cutting back overgrown trails and creating new challenges under the leadership of Michael T. Boggs. The new trails don't appear by magic, so here's a shout out — in no particular order: Ralf Sarek, Seth, Judah and Levi Turner, Ben Shelton, Matt Olson, Kevin Smith, Larry and Logan Michelon, David Short, Bob Steele, Stuart Moore, Catherine, Aaron, Thomas and Carter Manis, Michael T. Boggs, Anne Merritt and Ayda Boggs.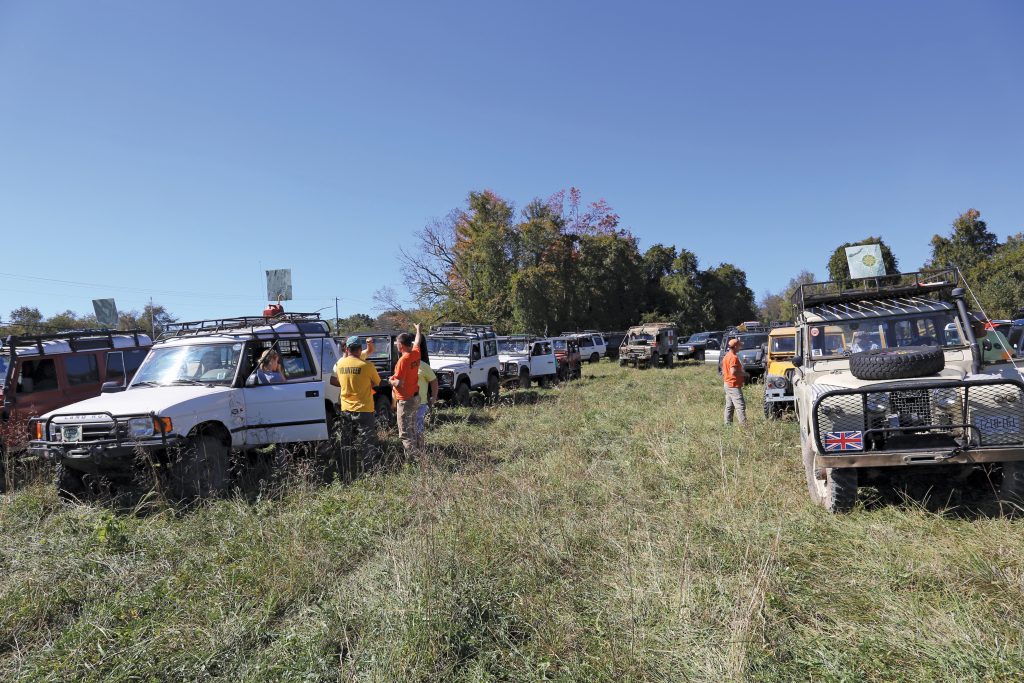 The hillside campsites benefited from a spectacular view as well as a competition created by enthusiast Mark Wilmore, Tuckerton, NJ. Alongside his Range Rover and Discovery II, Mark and his family have always created a shrine to Land Rover at their campsite, and Mark offered a cash prize to those who chose to do the same. The winners: the entertaining tie-died and Series Rovers' campsite of the "Dirty Old Hippies," led by George Parrot of Louisa, VA.
Rovers North sponsored the Trials Course and joined other supporters by supplying raffle prizes at the catered (and quite tasty) Saturday night dinner. Underneath an impressively large tent, enthusiasts of all ages ate and drank, mightily entertained by Rafflemaster David Short.
Mild to very challenging off-roading, great campsite camaraderie, stunning vistas and welcoming locals — the long-running MAR epitomizes all the reasons to attend a Land Rover event. See if you can't make the time in early October.
The Trials of Virginia
A trials course packs a week's worth of off-road driving experiences into an hour's excitement. It forces you to learn about your vehicle's capabilities and your driving skills. It's not only a challenge to drive one, but to set one up as well. The Trials Course at MAR was no exception.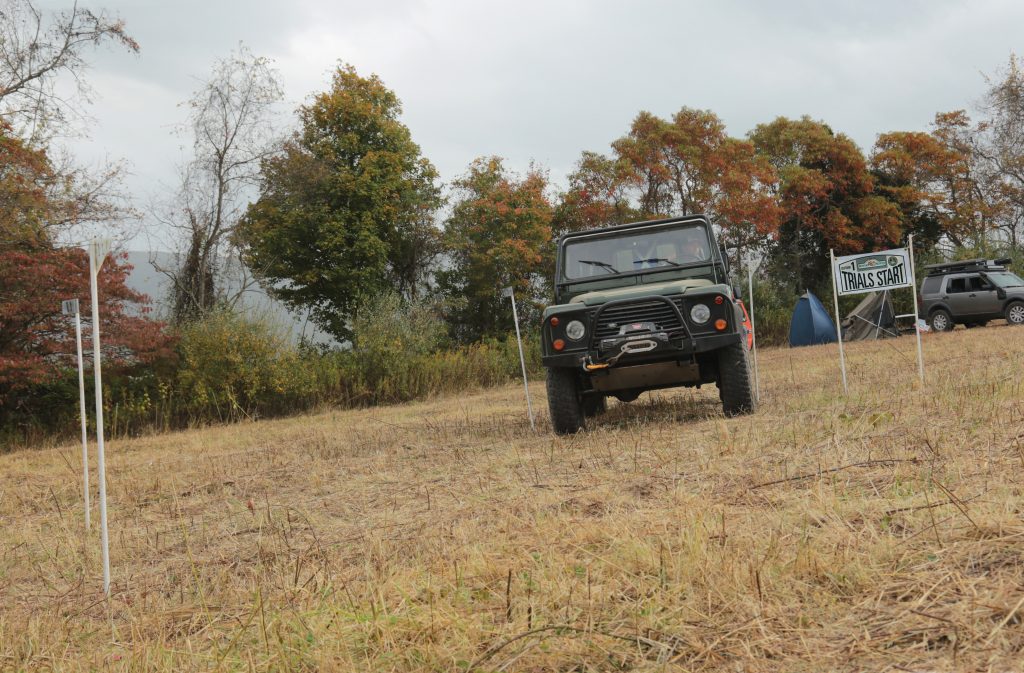 While the exact rules can vary, the concept of an RTV [Road Taxed Vehicle] trials course calls upon a driver to steer a Land Rover through a series of consecutively numbered gates without touching any of them. Touch a gate and you will have that number of penalty points assessed against you. To add to the challenge, once you start a section you cannot stop or back up (exceptions are sometimes made for long wheelbase Land Rovers); if you do, you will be assessed penalty point based on the last gate's number. The Land Rover with the lowest overall score wins the event.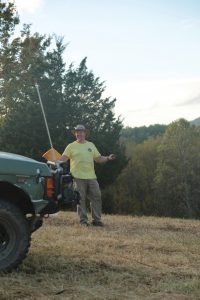 Naturally, an evil fiend who creates a course keeps the traveled lanes very narrow, the turns tight and the ground obstacles abundant. While you're allowed to walk the course prior to starting, you can't have a practice drive. A driver [and maybe a navigator] must plan the best approach to each of the 12 gates per section on the go. Except to your ego, trials courses are non-damaging.
Rovers North has sponsored and created a trials course at MAR for many years; for the past few, I've been tasked with designing and laying out the course. This year MAR's David Short and Bob Steele decided that the course should be visible from the hillside campsite; that required finding and layout out yet another course. I walked the many acres of hillside fields thinking about the best way to challenge drivers, while taking advantage of the natural side slopes, ascents and descents, moguls, large dips in the ground, logs and stands of trees. With the dry ground, slippery muddy conditions could not be my friend. The course would prove too easy unless I adopted a bonkers approach in creating it.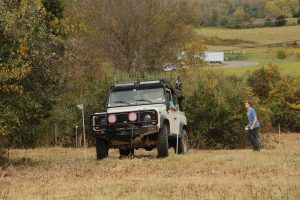 The five-section course would never have come together without an impromptu group of volunteers to help seek out obstacles and pound 120 stakes into the dry, hard ground. Bob Steele loaned me his '06 Range Rover Westminster for the weekend, so I immediately sullied it by tossing many dirt-encrusted items in the back; Bob also hacked away at brush that might puncture a sidewall. Stuart Moore and his Series II-A also undertook much of the hard work under a hot sun. John Burt agreed to have his Discovery II G4 used as the test vehicle; after he drove each section, we made whatever revisions were necessary to accommodate the differing turning circles between an 80" Series I and a Defender 130.
If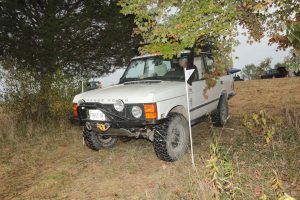 you watched The Sopranos, you know what evil lurks in the minds of Garden State residents. Paula and George Miniotis, Carl Kofler, Greg Fitzgerald and Will Skidmore demonstrated their New Jersey chops by delightedly tightening turns, narrowing driving lanes, discovering obstacles to increase the level of difficulty, and giving up much of their day on behalf of the course (apologies to anyone missed). It took many hours of hard work to lay out and stake the course, set up staging and exit areas, test drive and then fine tune the course.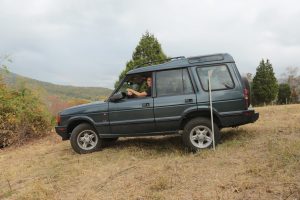 Each section required at least two marshals to monitor progress, keep vehicles spread apart and help score each competitor. Competitors need to thank Scott and Harrison Preston, Nashville, TN, Mike, Nancy and Sarah McCaig, Arvonia, VA, Paula and George Miniotis, Stuart Moore, Bob Steele and David Short. Collectively they gave many hours of volunteer work to help everyone enjoy the event.
Congratulations must be extended to winners Loic Fabro [Defender 90], Logan Michelon [Range Rover Classic] and Michael T. Boggs [Discovery I]. In addition, Rovers North sends its thanks to everyone who competed, and to the Rovers Owners of Virginia for making MAR one of the nation's longest-running events.
Virginia is for Rovers
Along a hillside in rural Virginia, the MAR attendees parked a wonderful array of Land Rover models. Not surprisingly, their owners had some great stories to go along with their Land Rovers. There's never enough pages for Land Rovers stories, but here are a few: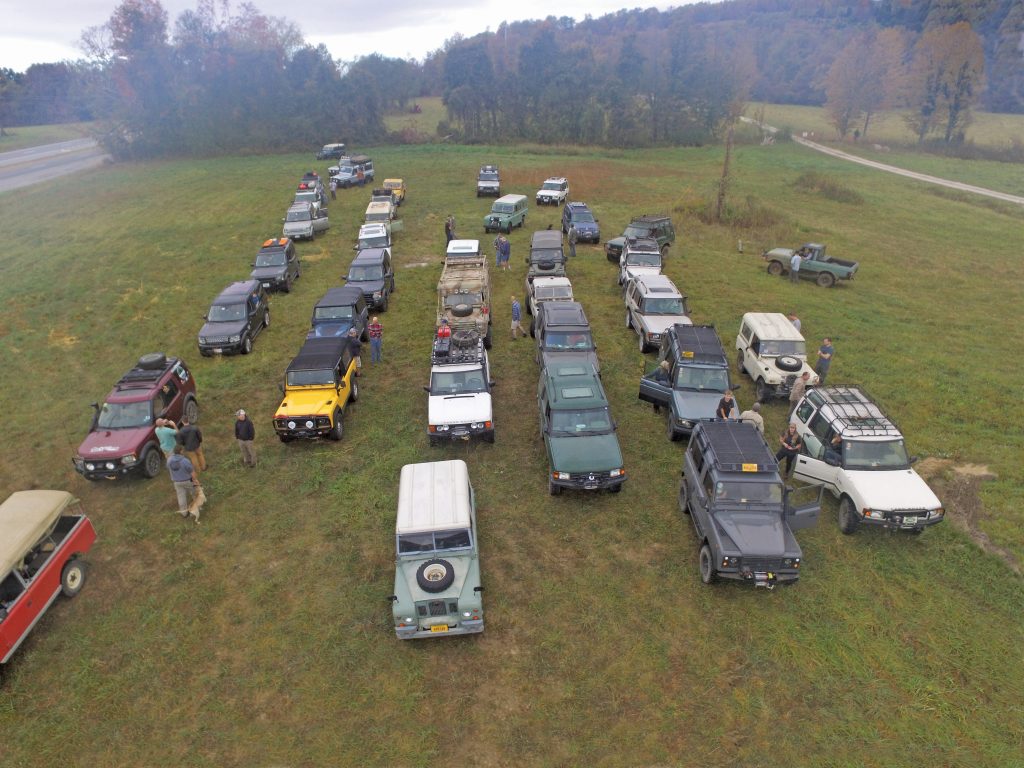 After 16 years in a Range Rover Classic, Jeff Bang, Staunton, VA, took a break from his dentistry practice and brought his '97 NAS Defender 90 for the weekend. "Most of it is a '97, but I have bumpers from a '94 Defender and the third brake light that's actually from a Freelander." You could tell from the enormous air gaps that the soft top is the original Tickford top.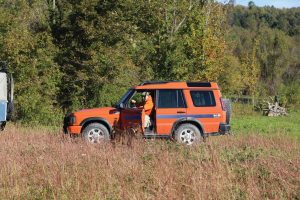 John Burt, Windsor, ON, works as a Vice-President for Primerica and drove his stunning '04 Discovery II G4, one of 200 made that year to commemorate Land Rover's 2003 multi-continent event. Over the years, John has packed the miles on his 15-year-old Land Rover, but through maintenance — and likely, some blood, sweat and tears — he continues to use it year-round. After helping with the Trials Course and off-roading, he planned on taking "the long way home" on his way back to Canada.
John Vallerand, Greene, ME, made the 1,800-mile, round-trip trek in a Series II-A last year; this year he rode in comfort in his '93 Defender 110 Quad Cab with its 200 Tdi. He did not go home alone, but towed a newly-purchase Sankey trailer back with him.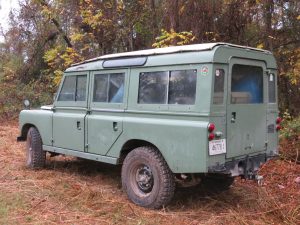 Dale Jackson, Clinton, TN has owned 22 different Land Rovers, among them a '62 II-A pickup, a '65 One Tonne prototype for the Belgian military, a '65 Dormobile, and different Lightweights. This year, he brought his '67 Series II-A 109". "I've been into Land Rovers for over 40 years. I really enjoy then!" he said.
Marc Kazmierski, Lake City, FL, works as a medical helicopter flight nurse and brought his Range Rover Classic to MAR. When it experienced a gentle roll onto its side, Steve Fox, a service tech at Land Rover Cary (NC) hooked it up to his LR4 and with a tug, returned it onto its wheels. A quick fluid check and the Range Rover fired right up.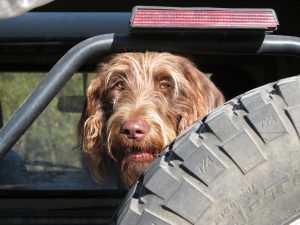 Craig Jones, Southport, NC, is an Aussie ex-pat who pops up at events all around the East Coast. He let me ride with him in his kitted-out Land Rover 110 as he served as a trail leader. Listening to his recent travels just drove home the inertia of my island life. His enthusiasm for Land Rovers is infectious and "Jonesie's" campsite always sounded like everyone was having too good a time.
The most moving story came from Steven Bartley, Arlington, VA. The US Army officer grew up in Fredonia, NY, where his father attempted to patch a '72 Series II-A that wound up sitting for 20 years. Parts like a stainless steel exhaust and a replacement transmission gathered dust, as the II-A's frame rusted away. Instead, his father traded a VW Beetle for a Series III, and that's what he drove for a decade.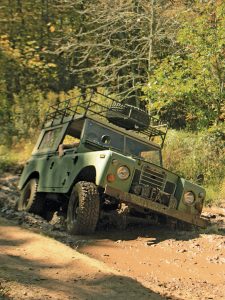 Steve wanted to give his father the gift of a refurbished II-A and enlisted the help of Trevor Griffith's British 4×4 in Elizabethtown, PA. Trevor found a donor '66 II-A, and with the help of Russ Ridgeway and Mark Van Lenten, began transferring as many parts as possible from Steven's father's II-A: a wing, the steering wheel, and that stainless steel exhaust. Steven bought a Turner 2.25 engine and modified the braking system to disc brakes. Steven's father's old transmission and transfer case finally found a home, too.
Trevor noted, "This tugged at my heartstrings as I had lost my father only six months earlier. My Dad brought Lucas to the USA, so I've been around British cars all my life. There was a very strong connection to Steven's effort."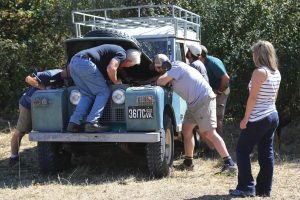 Steven said, "All Land Rovers smell the same and when I drive this one, my childhood comes back to me. I now look back at the same rear window that my father looked through. I threw a few parts and tools into a box just like my father used to do, and drove it the 280 miles from Arlington, VA to MAR. It ran like a top."
"My father wanted to be an organ donor, but his chemotherapy prevented that. His old Land Rover became one, however, and Trevor transplanted the parts into this Land Rover. He even made up a dash plaque from my father's old chassis ID plate, so his Rover is always with me."