The calendar claims that spring has arrived, but a glance outside belies that. We don't think that we should spot snowflakes falling nor ice still covering lakes and ponds in April, but that's what we've been witnessing in New England. And it's not just here, but throughout the country, winter has been pushing back the usual signs of spring. Once again, we thank the large number of enthusiasts who search out Land Rovers used in advertisements, commercials, movies and online sites.
It's always helpful for veteran and novice Sighters alike to review the rules that govern when we award a Coveted Mug:
Rule #1 – All Sightings receive recognition and our appreciation, but not necessarily a mug. We reward only those Sightings that capture the unique qualities of Land Rovers and display them in a distinctive way.
Rule #2 – If your Sighting doesn't really surprise you, it won't surprise us, either — thus we can't award you a mug. We're delighted, but not surprised, that Land Rovers appear in British television programmes, British publications, films with British themes and shows about African safaris. You shouldn't be surprised, either, and should consider looking for other ways to get a coffee mug.
Rule #3 – At an ever-changing date before publication, we close off the Sightings; for this issue it was March 31, 2018. If we've mentioned the Sighting in an earlier issue, we might not mention it again. If you're new to the family of Land Rover enthusiasts, you may not have seen your Sighting in an earlier issue.
Rule #4 – We're not outfitting your kitchen. If you qualify, one mug per Sighting per issue.
Rule #5 – Sightings that are Land Rover references in books go to our Literary Land Rover Editor for mention, but only when space permits.
Rule #6 – Psst… Email submissions — remember we can't send a mug by email. Send us your real name and shipping address, too.
Rule #7 – Grudgingly, very grudgingly, the Editor admits he might have made an error. Let us know if you think you've been jobbed, but all decisions of the Editor are final.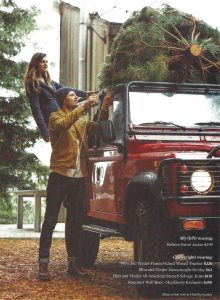 This past winter certainly enticed advertisers' awareness of Land Rovers. Pax Whitfield, Astoria, NY and Lilly Perkins, Buxton, ME, couldn't miss the prominent Discovery 1 on the AAA Northeast promotional magazine. Magazine articles often feature Land Rovers as they're so interesting. William Hutchings, Wilmington, NC, noted an article on "The Legend" — with a Series I in the photo — in Maxim. Daysee Swant, Helena, MT, noted a Series II-A in a 1968 equestrian viewing piece in People. Paul Hai [See Rule #6] spotted a Land Rover in a photograph accompanying a New York Times article on Gaza. Jerry Staar, Burnaby, BC, found a 1983 issue of Vogue at his grandmother's house in the south of France. An article in French Vogue on "Les Voitures des Charmes," noted that one socialite's Series Land Rover station wagon, complete with chains, "lives at her Swiss chalet. In the summer, it crosses through fields."
Television shows know that Land Rovers attract viewers. Ewan Ferguson, Tracy, CA, noted the Defender 90 in an ABC News feature on "Mindful Parenting." Movie producers, too, love Land Rovers. Witness the British-scenes in Peter Rabbit movie trailer, noted Sherry Block, Hadlyme, CT, Thomas Yokubinas, Avon, CT, Jane Barrett, Plainfield, ON, and Scott Just, Berkley, MI. Jonathan Costello, Ridgefield, CT, spotted the Defender in the latest Mission Impossible movie. Tom Sennett [See Rule #6] loved watching BMX Bandits as a kid and noted that a Series Land Rover appears on the opening credits. Matthew Spetz, Forestville, CA, noted a 109" in the debut of A Looming Tower. Mac Daffinee, South Bend, IN, enjoyed the brief glimpse of a Defender 90 on a Surveillance Oz episode on Netflix. Chris Just, Birmingham, MI and John Dillingham [See Rule #6] enjoyed the role of the Series III in the movie Just Imagine.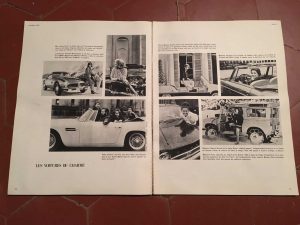 Keith Barrett, Plainfield, ON, wrote that AC/DC is not his usual musical cup of tea, but he enjoyed seeing the Series III in their video of "Cover Me in Oil". Michael Zimmerman, Portland, OR, has a 13-year-old daughter obsessed with Korean K-pop. "While being subjected to yet another video," he noticed the singer Blackpink performing on the bonnet of a Series III. Video game designers love the iconic look of Land Rovers. Jason Sheehy, Mt. Sterling, OH, found it comforting that youth are served the sight of a Defender 90 RHD pickup in a "Round the World" Shawn Mendes music video. Derek Chace, Charlotte, VT, noted that the Rising Storm 2, Vietnam Bush Ranger edition, features military Land Rovers. Rob Lynch, Apex, NC, noted the mobile version of the game Street Fighter 2 features what looks to be a Series III. Eric Owen, Albuquerque, NM, noted a Defender with UK plates on a Facebook page about solar panels.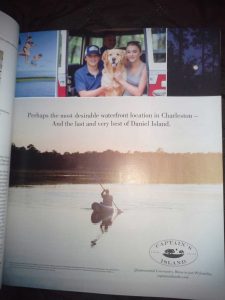 Retailers adore the appeal of Land Rovers in their catalogues and websites. For some reason, Pat Parsons, Honolulu, HI, was looking at the winter wear in the latest Matador catalogue when he spotted a Land Rover 110 in the layouts. Even real estate brokers find Land Rovers appealing; Gary Fletcher, Deep Gap, NC, noted an ad for Captain's Island real estate in Garden and Gun magazine. Sara Neal, Lakewood Village, TX, and Peter Kapuranis, Aurora, CO, spotted the Land Rover in the latest Yeti ad. William Hutchings, Wilmington, NC, found the early Land Rover 90 in a Nikon Watch ad, and a Land Rover in the Roarke catalogue. Charles Joerss, Larchmont, NY, enjoyed seeing the Defender 110 in a winter setting on the Gear Patrol website. Brian Jones [See Rule #6] noted that the Mission Workshop website featured a Defender 90 to help sell a long sleeve shirt. Ron Dade, Washington, DC, noted that AutoWeek used a Defender 110 in Iceland as a come on for a magazine subscription [odd because he already subscribes to it!]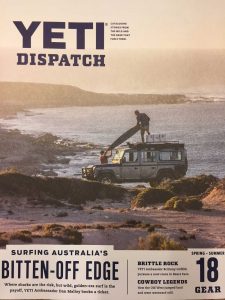 When Joseph Powell, Mt. Olive, AL, sought an auto carrier for the canine member of his family, he spotted a Discovery 1 in the Gunner Kennel catalogue. Nicholle Kvocka, New Port Richey, FL, spotted the Land Rover in a Sig Sauer ad, as well as a Land Rover 6-wheel Kahn body kit on a website. Joe Pacheco, Celebration, FL, loved seeing the rear of a Discovery 2 on the cover of the Pep Boys Flyer. Brandon Bradshaw, Morrison, CO, found a Defender front end on a Mavic drone ad that ran on Spotify. Skyler Neibaur, Flower Mound, TX, spotted the Land Rover 90 in a Reliant Powdercoating ad, "while checking the weather." Bo Prillaman, Vero Beach, FL, noted that a Land Rover had a one-second moment on a Microsoft AI commercial, another one second moment in the premier of the TV show Goblin Works, and an early 110 on the British crime show Death in Paradise.

We've run these before, but we want to thank Sighters for their efforts. Steven Stahali's "teen-aged daughters" found the Defender outline on the Bed Bath and Beyond bags, as did the Dutkewych family [See Rule #6] and Joshua Lombardo, Alpharetta, GA. Justin Alley, the parts manager at Land Rover Scarborough, ME, was shopping at the sole BB&B in Maine and spotted the same labels on their Cranberry soaps. Mark Miller, Charlotte, NC, and Mike Knapp, Alexandria, VA, quite enjoyed seeing the Series II on the cover of the Orvis catalogue. Mike, William Hutchings, Wilmington, NC, Jay Bopp, Greenville, SC and Theodore Casareo, Jersey City, NJ found the Land Rover in the Charles Tyrwhitt ad. Todd Frey, Wilmington, DE, said his wife enjoyed seeing the VW "urban jungle" ad. Brandon Lokits, Wilmington, NC, claimed that Sperry must know this two favorite things, Topsiders and Defenders, when they ran their ad again. Ben Boerum, Washington, DC, enjoyed the same ad on Instagram. Durk Tyson, Grimesville, NC, noted that Kevin's Outdoor Apparel continues to use Land Rovers in their catalogues. Aether Apparels website offers a nice shot of Defenders in snowy scenes, noted Theodore Casareo, Jersey City, NJ.
Winners:
Chris Just Birmingham, MI
Rob Lynch Apex, NC
Lilly Perkins Buxton, ME
Michael Zimmerman Portland, OR
Skyler Neibaur Flower Mound, TX
Pax Whitfield Astoria, NY
Sherry Block Hadlyme, CT
Peter Kapuranis Aurora, CO
Ewan Ferguson Tracy, CA
William Hutchings Wilmington, NC
Sara Neal Lakewood Village, TX
Keith Barrett Plainfield, Ontario
Brandon Bradshaw Morrison, CO
Gary Fletcher Deep Gap, NC
Derek Chace Charlotte, VT
Pat Parsons Honolulu, HI
Joseph Powell Mount Olive, AL
Joe Pacheco Celebration, FL