Thom Moran's stock, daily worker, is a 1971 Series III 109 Military GS. It has finally earned itself a rest after fourteen years together and over 100,000 miles, mostly on the rough dirt roads of New Mexico.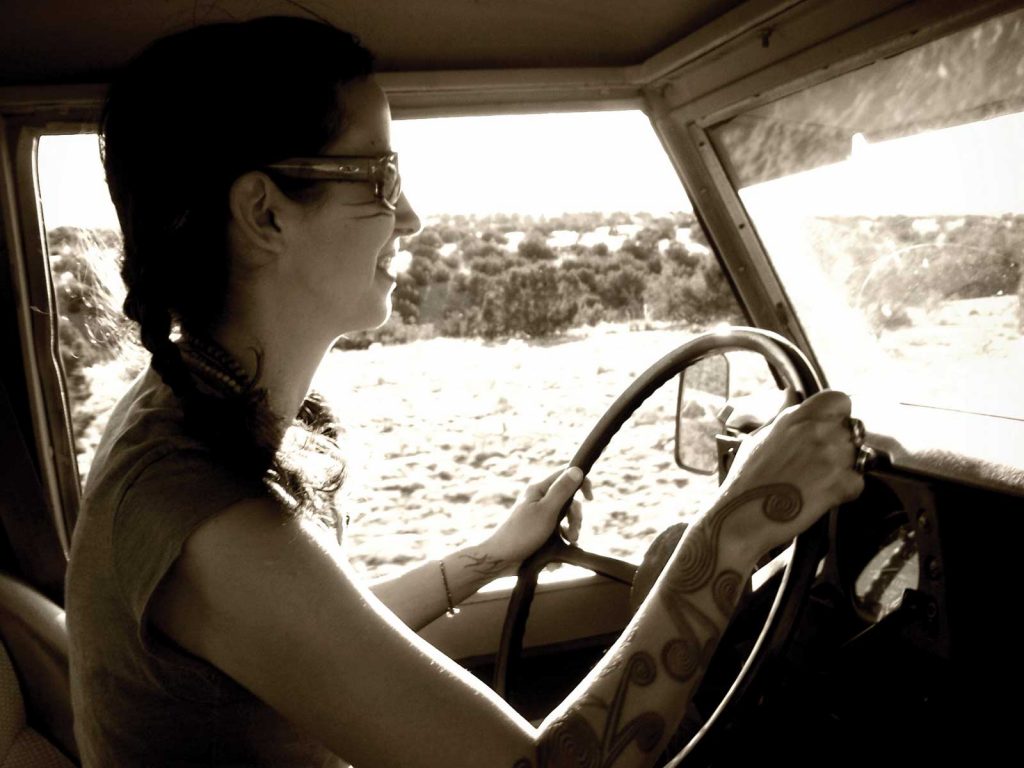 Owning a classic Land Rover is an investment in time and energy and yes, love for a challenge. There is nothing like it. Nothing as rewarding or as inspiring. Those jokes about how if there's no oil under the Series, you're out of oil, sad, and at times true unless you are Thom. He has done nearly everything that could be done on a Rover and he's taught me so much over the last five years of owning my own Series III.
Thom and Elisa live in Madrid, New Mexico and have done so for almost twenty years, coming to the small town of three hundred and fifty from Chicago, Idaho, and briefly living in Colorado. They've owned other Land Rovers, including a 1994 D90, a 1966 SIIa, even a shell of a '63 SIIa. Once settled in NM though, Thom came across an advert for the 1971 Series III 109 in Military GS. It looked good on paper, the price was right, and they bought it in the early 2000s and had it shipped across the country from Georgia. The others have all been sold since then.
This 109 in was LHD built yet made for a British market, the military knowing it would be taken to Europe and North Africa, most likely to work in Germany. It is number 202 of all the Series IIs and had only 20,000 miles on the motor when he bought it. There was no title though and with Elisa's help, they were able to track down the papers to prove it as a European military vehicle that had been imported legally. It took some time and patience but was worth it. The Land Rover had been a plaything in Georgia, loved but rarely used for work or anything too demanding. It was stripped down and Thom has slowly returned it to normal and beyond.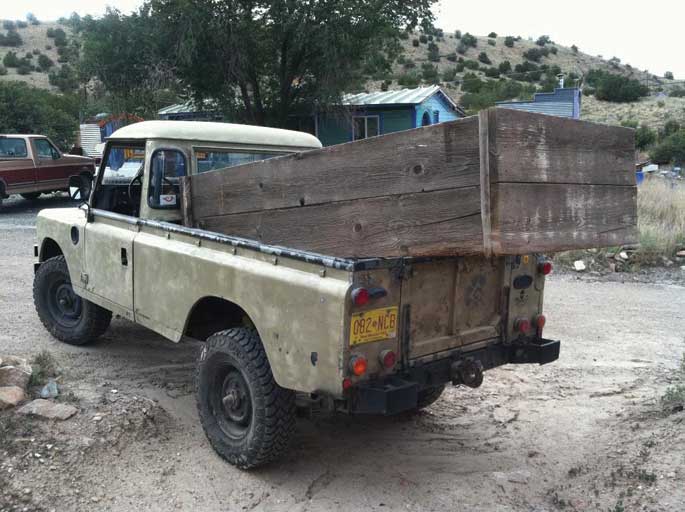 "Keeping it stock is key to longevity," says Thom. "The military take care of everything immaculately. Why mess with that? When I can't do better than they did?"
This is truly a working vehicle, one that Thom as a self-employed master carpenter takes everywhere and given the area, most of the homes he works on are down three or four miles of rough terrain and unmaintained dirt tracks in the mountains. He has installed mud-terrain tires, parabolic springs, and ready for all such off-road challenges.
Ten years ago, Madrid was hit with three feet of snow overnight. I was staying in my school bus with Thom and Elisa in Madrid, a small town of three hundred, when the storm hit us at the New Year. Thom's reaction to the weather? To chain up, fill up the truck with supplies, and drive out to neighbours to help them. Some he brought back out to town, others he supplied with drinking water and food as needed. This forty-year old vehicle was the only one to make it out to many of our neighbours's homes, what with the tracks narrow, dropping off into ravines, and snow hiding the pitfalls and crevices but Thom knew the area better than most of us. He'd driven back there in all weather and knew his vehicle so well that he had no doubt of its ability. Incredible. The two of them did such great work when the rest of us ground to a halt in awe.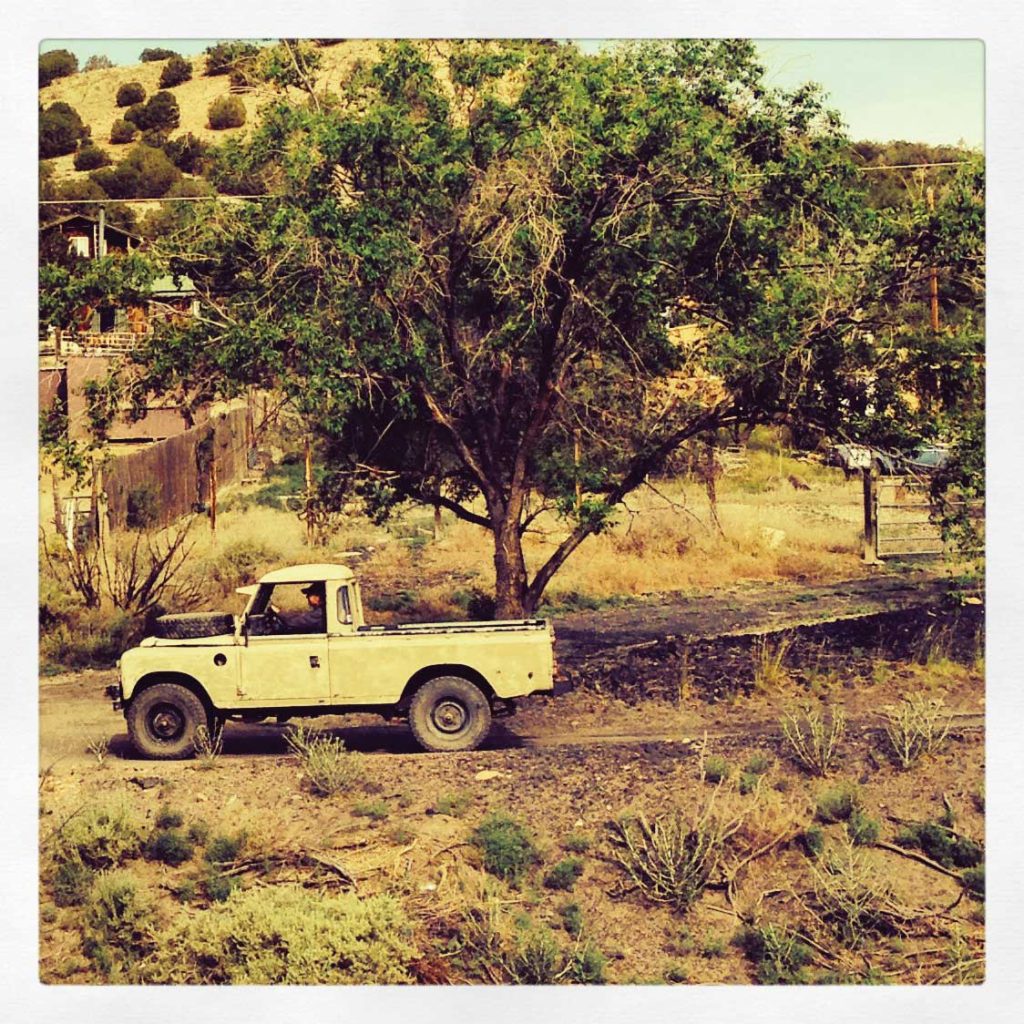 Knowing your vehicle like Thom does makes all the difference. How did he learn though? Being mechanically minded helps but Thom taught himself, reading online forums, buying all the manuals, asking others online and in person. It's this kind of long-lasting relationship that is the magic of owning the Series and Defenders, finding a generous community.
Moving to the higher altitude of 7500 feet from Georgia was the first challenge. "Figuring out the timing was pretty impossible," explained Thom with a grin, "the marks are different on military vehicles but I only had a manual for a civilian Series III and so I had to teach myself to listen, to know it by sound alone."
The next and ongoing challenge has been that it runs great in cloudy wet weather, which is not exactly what you get in New Mexico. Vapor lock is a constant issue for six months per year and Thom taught me to always carry a bandana and bottle of water. He wraps the fuel pump in a damp bandana and moistens it before driving to Santa Fe, half an hour away, same again, he damps it down at the start of the return trip. Or he did, he finally caved and got an inline electric fuel pump. For back-up.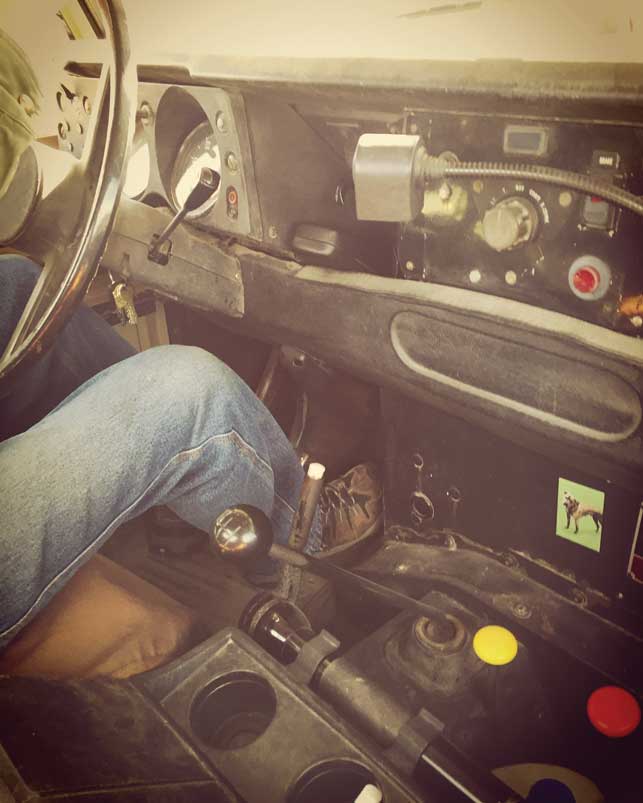 He believes strongly in doing the work himself as much as possible, knowing the ins and outs, what needs work next, all the ongoing projects and improvements not just the maintenance issues. If ever something happens out on those dirt roads, he can most likely fix it. The towing trucks wouldn't make it out anyway and if anything the '71 Series III is more likely to be called to help others, and it has even towed a travel trailer down a sandy dry river bed to help out a friend one summer.
Thom told me how when doing the brake job, he found "the swivel ball gators were so old and worn out that they practically fell apart on me. A friend of mine handmade leather ones for me out of buckskin he'd hunted himself and I love knowing the stories behind these gators now, it adds something, like raising kids, it's in the details and stories and memories we have."
What's next? Well, Thom's done every repair and improvement over the last fourteen years, from switching out tires for winter, adding suspension, replacing clutches and brake systems, constantly changing out the old and replacing parts as needed. Right now, it needs an engine rebuild but, well, as Thom says, "I'm ready for a break, you know?"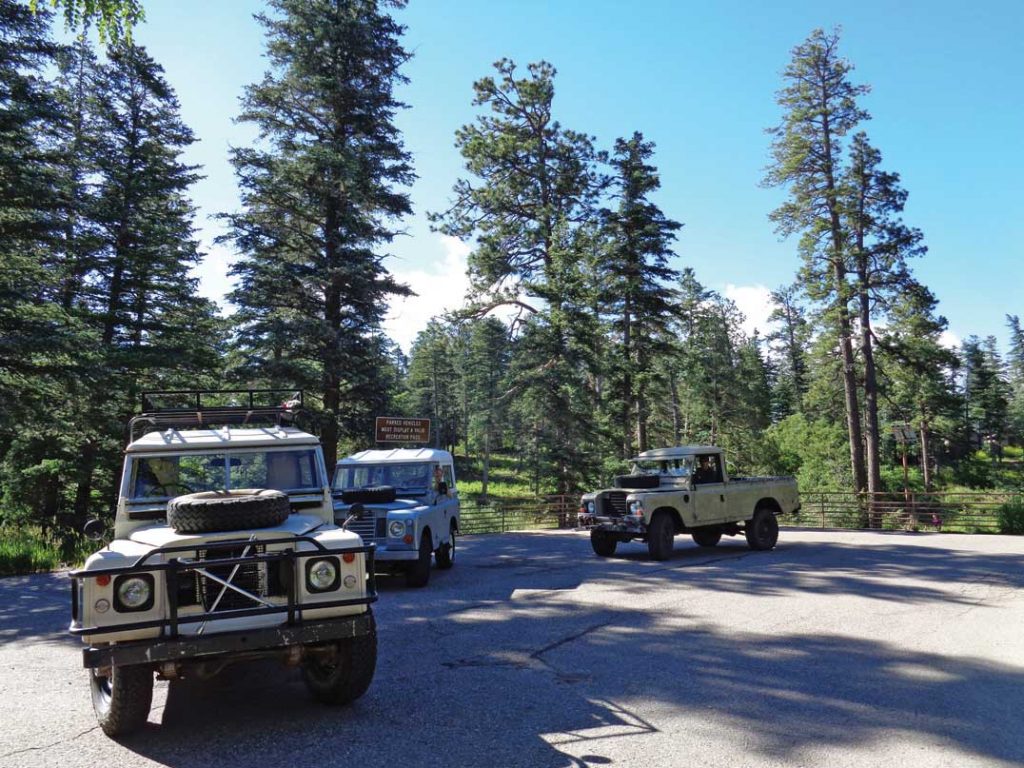 For the next few months then, the Series is sitting off to the side of their home in Madrid, he looks at it, fiddles with it still, but doesn't want to work on it for a while, and so he'll read up about rebuilding the engine, slowly gather parts and when he's ready, you know he'll do the best work possible.
Thom knows his Series III 109 in pick-up so well, and he trusts it. Next snowstorm, Thom will drive deeper into the snow banks through the ditch and back out to help you, or for the fun of it. It's an ongoing learning experience. He's not done yet.