In 1962, while on a hunting trip with a friend in the sagebrush country of Nevada, Bill Charters experienced the capabilities of an 80" Series I. No surprise then that when, a few years later, he found a 107" pickup for sale on the used car lot in their hometown of Fort Bragg, CA, he bought it as an extra workhorse for the family contracting business. Bill and his son, Morris, found the 107" pickup perfect for hauling and logging. By 1965, Morris now owned and used the Series One exclusively.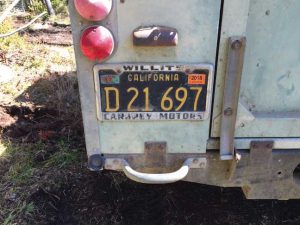 His son, Tom Charter, told me this story in a phone interview about a family's 50 years with Land Rovers.
"We needed four-wheel drive all the time. It was completely rough and tumble back on the ranch. I remember the first one was robin's egg blue, and no, not the original paint job by any measure. Granddad used it for a year or two out there on the ranch, but then Dad started driving the Series for the hunting club as well and began looking for his own. He loved taking it everywhere and we all loved it, too."
When he turned 15, in the winter of 1965, Tom learned to drive in the '57 Series pickup, mostly hauling firewood from Seaside Beach, 10 miles from his home. He lowered the tire pressure for the soft sand as needed. "Another good reason for the Series," he said. "We could truly go anywhere."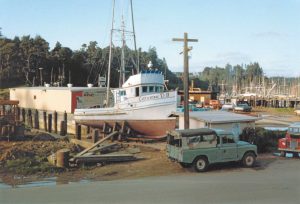 Tom recalled a family trip that following summer along the Big River. His dad, Morris, was driving past all the summer camps in their '57 pickup with Tom and his siblings in the back. They passed a cream-colored, brand-new '66 Series II-A, parked by a swimming hole. Morris pulled over to examine it. They walked around, looking for clues as to who the owners were. The license plate had the dealer's name: Carbrey Motors, in Willits, 35 miles from home.
"Dad contacted them and visited them within a few days. He then bought a new, 1966 Series II-A 109" pickup, with a ¾ canvas back. It cost something like $3,800, if I remember correctly, much more than most four-wheel vehicles at the time, but Dad had to have it. We loved it. Mom too."
"In those days, we all had to know how to drive, and we wanted to. It wasn't like our parents were going to buy us a car, so we had to work and save for ourselves. I worked at a local gas station. The mechanic there tooled on many foreign vehicles and I remember a '56 Series I that I learned to work on. We had to do a bit of everything, like on the ranch; we all knew basic mechanics, agriculture and construction. I worked and I saved."
In 1969, Tom bought his first — a 1961 Series II-A 88" in dark green. He found it again at Carbrey Motors, one of the first Land Rover dealers on the West Coast. When he went to college in Davis, CA, Tom took the II-A with him. Upon graduation, he returned home and used the II-A as his daily driver and work truck, hauling the tools of the trade as a carpenter. "So often, the pickup would be dwarfed by the lumber in back."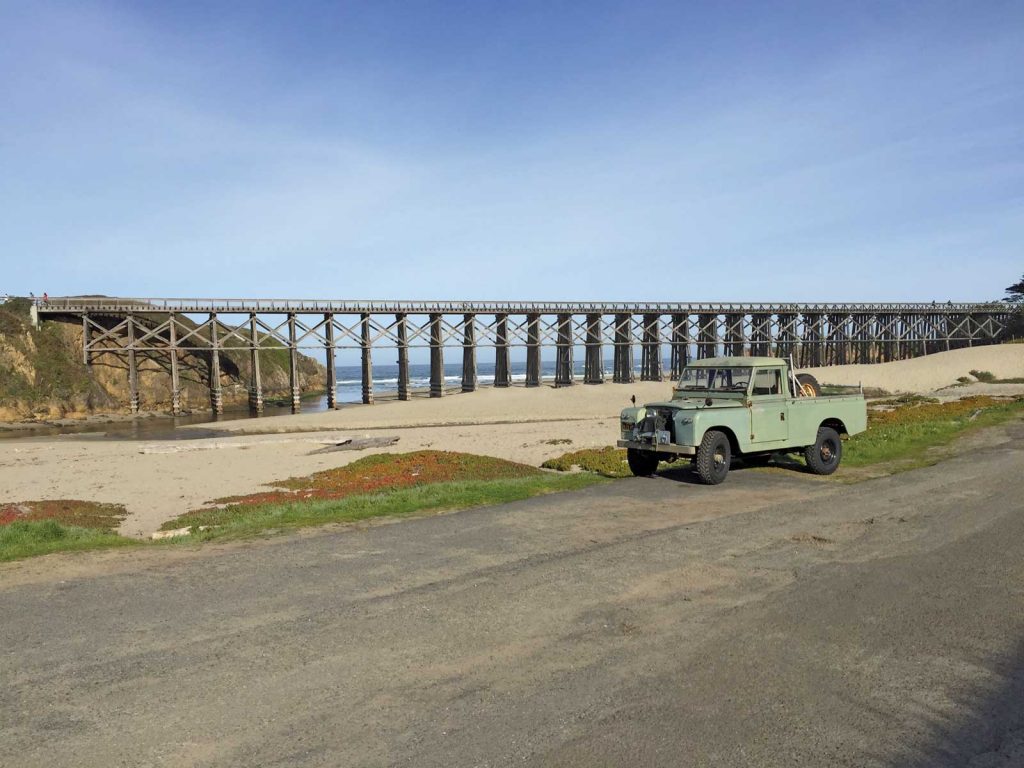 He then saw that the 1966 Series II-A pickup was for sale, the original one that had inspired Morris, his dad, to buy his own. The vehicle had been gently used, and it was in great condition, with 20,000 miles. So, he sold his first Series II-A and bought the pickup. "Its slow speed was just fine for us. The local roads are narrow, winding and leisurely. We'd drive up the coast without the stress of faster newer cars passing us. The climate was gentle on the vehicles too; rust wasn't an issue and we tended to store them under carports and in our garages."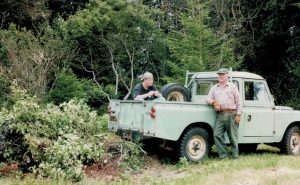 Soon after, Tom married Kathe, and so she knew she had entered a Land Rover family. The '66 Series II-A 109" continued service as a working vehicle. As a carpenter, he hauled his tools and materials to all his jobs, often traveling solely on rough dirt roads. "It helps to be a mechanic," he said. "I'm able to keep things running and know how to make field repairs as needed. We've not had to be rescued in my Rovers."
Kathe inherited a ranch in Humboldt County during the 1970s. With access being such an issue, they needed four-wheel drive up to the 3,500-ft. elevation, and so they based his Dad's '57 Series I. Reaching the far corners of that remote property was never a struggle for Tom's family.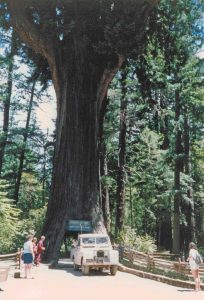 Since building his home and business, Tom has bought and sold several Land Rovers. In the late '80s, he sold his '66 Series II-A to a fellow in Hawaii and was briefly, horribly, Rover-less — although Morris still had his. "He said he'd be buried in it." (He wasn't.) Tom passed on the passion for the marque to his two boys, Jeff and Chris. They even learned to drive in one or other Series up on the ranch. His wife, Kathe, will occasionally roll her eyes and tease them with a laugh, saying, "Boys and their toys."
Tom recollected a '72 Series III 88". It had very stiff steering; the wheel would not center itself. It had three radial tires and one bias ply. Nonetheless, he drove it 150 miles to his home. Once repaired, he sold it and bought a '70 Series II-A with a blown engine. There was a '69 II-A 88", a '72 II-A 88" and a '53 Series I. Tom and his son, Jeff, have worked together on many of these projects such as the '53. "It had been stored for fifteen years and needed some help. It also had three shades of paint, roughly done with spray cans and paint brushes." He laughed at the memory. "We returned it to bronze green and then sold it to a neighbor. I still see it around on the roads."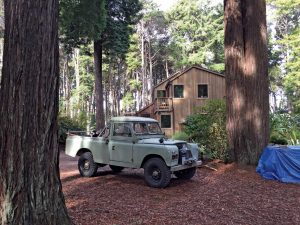 In 2000, Tom and Jeff removed and reinstalled the engine in Morris' 1966 Series II pickup. Yes, it was still in the family when Morris passed in 2007. Tom has since inherited it, and installed parabolic springs and a Warn winch for use at the property in Humboldt County. It's still in use. Morris had used this Series from its purchase by him in 1966, until his retirement in 1987. Tom still uses it, 52 years later.
Tom and Kathe only own two Land Rovers now: the '64 Series II-A 88" up at the Humboldt ranch, and the original '66 Series IIA 109" at home in Fort Braggs. It will need to have the bulkhead and footwells repainted to deal with some minor rust soon. Their long-term Land Rover life has only one interloper — Kathe's tiny '70 Honda 600, with its air-cooled, two-cylinder engine.