Chris Stoyes, Freeport, FL, grew up in near the village of Ilkley, deep within the Yorkshire Dales of England. "It's famous for three things: its moors, its sheep and its Land Rovers. I saw them everywhere." Just before he entered Secondary school (the equivalent of high school), his father, a textile business executive, moved the family to the US and wound up in metro Atlanta.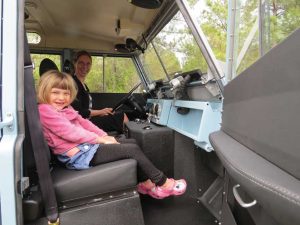 Enrolling at Auburn, Chris graduated with a degree in architecture and began his professional career. He met his life Amy, a St. Louis native, at the YMCA in Montgomery, AL. "On our second date, Amy — a journalist at the time — and I decided to open our own firm, named Archiscapes. She's the boss, the financial manager who stays on top of every project as well as being mum to London, our 5-year-old daughter."
Like many creative people, Chris keeps odd hours in an odd location. He prefers to work at night and well into the morning in his office, located in a tall tower building on their property. "Amy is the one who works more conventional hours," he said.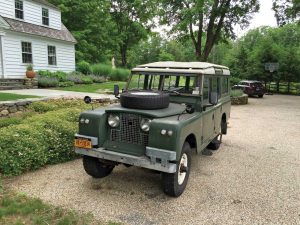 How did they wind up in the Florida Panhandle? Chris explained, "The Yorkshire Dales average 95 sunny days per year; here, that average number climbs to 230." Reason two arose out of his architectural studies. This region became the birthplace of the "New Urbanism" movement: urban design that stresses walkable cities and towns, accessible public spaces, proximity of residences and shops, and an appreciation of representative building styles. Chris works with clients throughout the region who embrace that design and construction philosophy.
He also has the bona fides of a real car guy. He owns a Ferrari, and more importantly, a concours-ready '94 Jaguar XJ-S 12-cylinder convertible. "I bought it off a former CEO of Ford. It needed to be a special order because of the motor, which technically wasn't available that year. Of course, it's British Racing Green with a tan interior."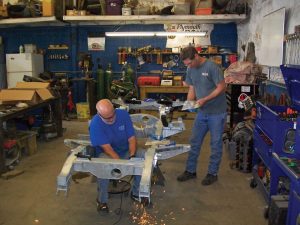 After a Christmastime trip to the UK, Chris noted, "Farmers still have their Series Land Rovers at their homes." He missed a Land Rover in his life and admitted, "I wanted to create memories for London." While walking through the 2017 Sand Rover Rally, he met Henry Carl of Coastal Customs, Freeport, FL, and tasked him with finding a Series II-A 109" Station Wagon with a safari top. It took seven months, but Henry found one in New York state and trucked it to Florida.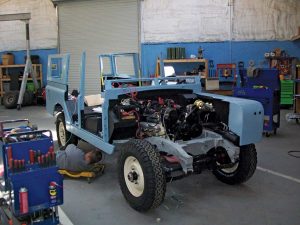 "I drove it around for 4-5 months," Chris recounted. "I was spoiled by the gated shifter in my Ferrari. I didn't know how to double clutch the II-A, discovered that I had a weak steering box, and found the 2.25 4-cylinder motor painfully slow for trips to Orlando and Disney World. I wanted a Series Land Rover for today's driving conditions." He gave Henry the green light to create a '62 Series II-A that would hold highways speeds, stop forcibly, feature some creature comforts and last for a long time. Chris also admitted, "I'm more comfortable with a pencil than a wrench," so he needed a drivetrain that would demand less maintenance.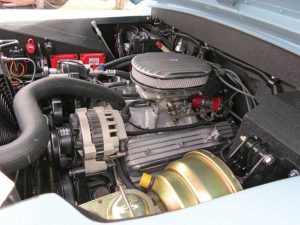 Henry and his team at Coastal Classics chose a Chevrolet 350 CI engine, one familiar to most any mechanic and parts store in the US. To further reduce maintenance, they installed MSD ignition and fuel injections systems; the latter helps give a genuine 350 hp from a 350 CI engine. It's mated to a GM 4L60-E, 4-speed automatic transmission using an MSD electronic controller, and a lightweight GM New Process 241C transfer case. To put the extra power on the ground, the team chose Dynatrac Pro Series 44 axles and differentials, front and rear. To stop a 350 hp 109," the crew chose a 4-wheel disc brake system modeled after those used on Chevrolet trucks.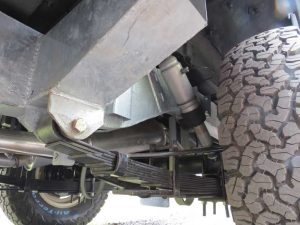 Making life comfortable for Chris and his family meant calling Rovers North for Exmoor's finest seating front, middle and rear. He also wanted the 109" look as original as possible inside, so Chris requested Exmoor door panels as well. Coastal added a special touch in the installation of vintage gauges to further enhance the interior. Making life easier for Chris and his family, Coastal also included a GM power steering system that would have come routinely with a big-engine vehicle. Chris also asked for, and received, a back-up camera system and a full Alpine sound system. Since they live in Florida, an air conditioning system that also appears vintage — but works to contemporary standards — will enhance the work of the tropical roof vents in cooling the interior.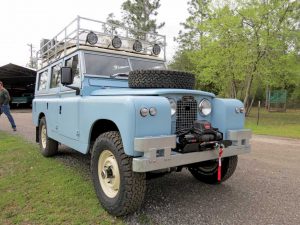 In a phone interview prior to completion, Chris exclaimed, "This would be a one of a kind Land Rover," but at the time of the interview, Chris hadn't seen it. In fact, he has steadfastly refused to view its progress. Since he first approached Henry Carl and his team about creating one for him at the 2017 Sand Rover Rally, Chris decided to wait until the 2018 Sand Rover Rally for his first look and drive of his "new" 1962 109".