Dear Rovers North,
The Welly column in your Winter 2018 issue was spot on! I hope Land Rover will listen to your call for action. It's one that most owners feel is long overdue.
The cover of that issue said it all. If I were sitting in my '66 109" as that parade went by and offered one of those over-engineered, non-Land Rovers, I would say, "No thanks! I want to drive a Land Rover."
J D Moore
Lewistown, MT
---
Dear Rovers North,
I own a '61 Series II 109" Station Wagon and enjoy reading your magazine, as well as seeing what others have done with their Land Rovers.
Kevin Calzia
Maynard, MA
[We hope you enjoy the article on a custom 109" in this issue -ed.]
---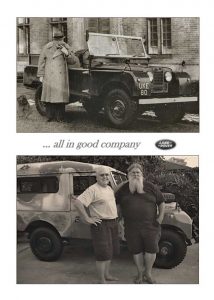 Dear Rovers North,
My '57 Series I 88" resides in my driveway here in Orlando. I like the fact that Sir Winston Churchill owned a Series I also, so I put together this composite photo as a gift to my mechanic. (I'm the one in the sunglasses.)
Sid Hartman
Orlando, FL
[We think you look as resolute with your Land Rover as Sir Winston -ed.]
---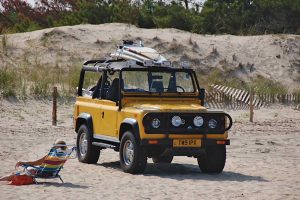 Dear Rovers North,
We love our '94 Defender 90 and our kids have grown up having it as the Surf Rover on the Delaware Coast.
Andy Cherner
[A NAS Defender is at home anywhere. We love the AA Yellow color, too -ed.]
---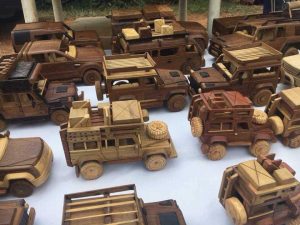 Dear Rovers Magazine,
On a trip to Zimbabwe to visit family, we found these crafts by an artist there.
Richard Betts
Jacksonville, NC
[Those are remarkable! It proves the iconic status of the Defender worldwide -ed.]
---
Dear Rovers North,
Thanks for providing great service to the Land Rover community.
Stephen Sparkes
New York, NY
[Thanks for letting us be a part of your Land Rover experience -ed.]
---
Dear Rovers North,
I pulled up behind this Scion xB in Lake City recently and thought nothing to it. Then I looked carefully at the rear end and I thought, "Wait a minute." Adding Range Rover lettering to the back of your Scion, meh! Adding "HSE," now that's attention to detail. One thing going for it: I'll bet it gets better mileage than any Range Rover HSE on the road!
Jim Karantinos
Lake City, FL
---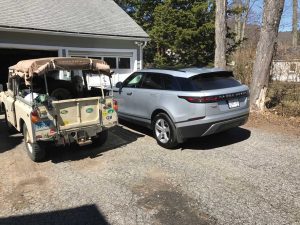 Dear Rovers North,
To accompany "Fergie", our Series III, we have purchased a Range Rover Velar. It does get a lot of admiring comments. As nice as the 4-cylinder engine is, I wish it had a bigger one!
Barry Enis
Kent, CT
[The Velar keeps winning design awards, and of course, your Series III is iconic -ed.]
---
Dear Rovers North,
We want to give a special thanks to Bruce Fowler, the organizer of the Maine Winter Romp, who manages to glue this whole community together with his camaraderie, ability and sense of humor.
Phineas and Mindi Gay
Newburyport, MA
[We owe a big thanks to the organizers of all Land Rover events who volunteer their considerable time and expertise to help us enjoy our Land Rovers -ed.]
---
Dear Rovers North,
I enjoyed reading the Rover Rescue stories in Behind the Steering Wheel [Winter 2018]. It reminds me of the Birmabright Brotherhood that was started on the Land Rover Owners' list in the 1990s. These were people whom you could call upon when traveling great distances to Land Rover events — or just for the joy of driving it.
Regards from the Great White North,
Dixon Kenner
Ottawa, ON
[The LRO list gave solace and comfort to many enthusiasts and its spirit lives on today -ed.]
---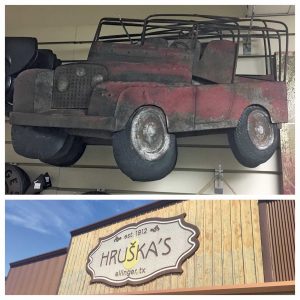 Dear Rovers North,
While driving through between Houston and Austin, I stopped at Hruska's in Ellinger, TX, famous for their Czech desserts. I've seen wall art before in the form of Jeeps and Broncos, but never a Land Rover!
Roben Taglienti
Manor, TX