Fate found me behind the steering wheel of a 2018 Chevrolet dump body truck, towing a 28-ft. long construction boom, 650 miles from this Maine island to the metropolitan Washington DC area. I made the trip at the behest of Daniel Cross, who also hosted me with his family for the weekend.
The following morning, Daniel graciously asked if I cared to visit some DC sites. Instead, I asked if we could attend the Washington Auto Show that had just opened that weekend. I had seen social media posts that some friends who worked as Land Rover driving instructors flew into DC for the week and had a hunch that something might be going on with Land Rover at the show.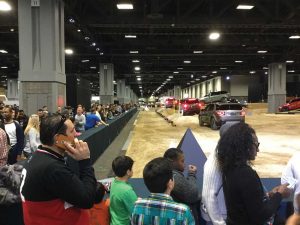 As befits a 30-year Navy career in war zones, Daniel had the courage to drive us into the city and the local knowledge to find a parking spot. We entered the convention center and discovered a glittering array of automobiles on display in a variety of motifs. People stepped in and out of cars to a cacophony of slamming doors, hoods and trunk lids. A helpful guide pointed to a staircase to the Land Rover display on a lower level.
We rounded a corner and spotted a carefully constructed, indoor off-road course with a variety of Land Rovers traversing the inclines, descents and side slopes. Hundreds of spectators stood patiently, gawking at the Land Rovers snaking over and around the man-made obstacles. We noted a queue whose length rivaled the wait for the iPhone X.
Jaguar Land Rover had rented 100,000 square feet of space to provide driving experiences inside the building. On the Jaguar side of the vehicle display, you could jump into a Jaguar E-PACE with a professional race driver, and power your way through a lit obstacle course just like Charlize Theron did in the remake of The Italian Job.
On the Land Rover side, you marveled at the creation of this off-road course. The last time I saw something like this was at the 2012 New York Auto Show, where Land Rover created a similar obstacle course along 10th Avenue, in a parking lot underneath the Chelsea High Line, to the delight of thousands of spectators [see Summer 2012 issue -ed.]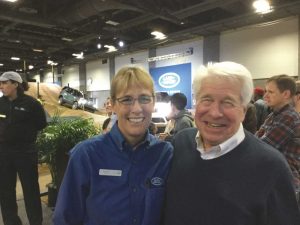 Just like the New York event, this course screamed of the handiwork of Bob Burns, Land Rover's Events Manager. In a phone interview, Bob noted that the creation of the DC course required 2,200 cubic yards of sand and 4 days of work. To handle the 18,000 people — some of whom waited 2 ½ hours for their turn at the wheel — over the 10-day period of the show, Bob had to recruit Land Rover instructors and Camel Trophy competitors from all over the US and Canada. Each drive took about 10 minutes and required the instructor to explain many features while guiding through the simulated trails course —while smiling and displaying enormous patience. Kudos to Daphne Green, Jim West, Jamie Cote, Jean-Benoit Cousin, Warren Blevins, Don Floyd, Tim Hensley, Mike Hussey, Travis Martin, Fred Monsees, Dan Monsees, Dave Rees, Chris Teske, Chris Walker, Jim Goodrum, Chad Lourie, Chrystyna Young, Greg Nicholas and Terry Troutman.
For many of the participants, these drivers gave them their first taste of Land Rover's capabilities. Each maneuver captured one aspect of Land Rover's off-road prowess: steep ascents that had you staring at the ceiling, descents like a black diamond ski trail, and side slopes as if you heeled over on a sailboat.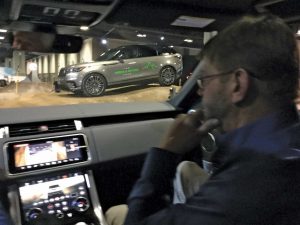 Once the instructors saw me, most fled and jumped into other vehicles. That left Fred Monsees (Camel Trophy 1990) who stuck with me. I took the wheel and Daniel sat behind me, undoubtedly running a check on the status of his life insurance. Fred patiently explained the drivetrain features of the newest Land Rover models. He explained, "What Land Rover has done is to take the off-road techniques that we had to learn as drivers of our Series, Discoverys and Defenders, and imbed them into the drivetrain controls of their vehicles." To use all the features built into the Terrain Response drivetrain systems would take more than the 15-minute test drive allowed, but what was clear is that despite the luxurious interior and its amenities, Land Rover had not ignored its off-road heritage and the demand to retain — and enhance — off-road capabilities.
The course offered a vivid demonstration of what any Land Rover model, from a Discovery Sport to a Range Rover, could do to thousands of newcomers to the marque. From the rear seat, Daniel Cross admitted his amazement at the Land Rover's prowess [not the driver's -ed.] and that he finally understood why his Land Rover-owning friends so adore their Land Rovers.
Keep on eye at the auto shows in your region; you might find a Land Rover demonstration course to entertain you and your friends.
As a Series II-A owner, my '97 Discovery seems complex; the transition from three fuses — one of which is a spare — to 43 fused systems felt like a shock. Twenty-one years later, the Discovery has 176. Is any of this growth in electronics really helpful?
Some of it helps allow Land Rovers into the US market at all. Scrolling through NHTSA regulations, I found one that requires new vehicles to have anti-theft devices. To meet these requirements, Jaguar Land Rover had to produce, "a detailed description and diagram of the identity, design and location of the components of an antitheft design." JLR demonstrated that it met the standard by creating a "passive, transponder-based, electronic engine immobilizer device." The key components include a "power train control module (PCM), instrument cluster, body control module (BCM), remote frequency receiver (RFR), immobilizer antenna unit (IAU), remote frequency actuator (RFA), security horn and vehicle horn, smart key, door zone modules (DZM) for passenger and driver's side, and a security warning LED." These features can be activated by the Smart Key or a phone app. And, "the vehicle's exterior lights will flash if someone attempts to open the doors, hood or luggage compartment."
Living on an island on which no one even removes the keys from their ignition, let alone locks a vehicle, this makes little sense. My II-A's security system rests with its implausibly tiny key and the under-the-dash starter button that's hidden from view. The Discovery requires a key the length of a butter knife and does have an LED light that blinks threateningly even when you don't lock the doors.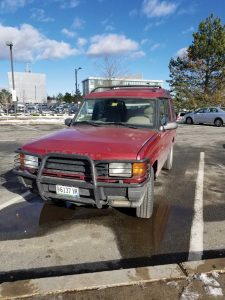 The addition of "Gilroy," the '97 Discovery 1, has freed me from the life in slow lane on highways. It's also introduced new-to-me concepts such as windows that go up and down electronically instead of sliding back and forth, and permanent four-wheel drive. Both reared their heads as "new experiences."
In the midst of winter, I found the driver's door electric window stuck in the "down" position, a common issue with 20-year-old Discoverys. I could hear the motor whirring but to no avail. With snow predicted, a rapid repair seemed prudent. I found the tech article from Rovers Magazine that covered the repair and ordered additional door panel clips in advance from Rovers North. With the panel removed I could see pellets of safety glass, indicating that the window had been shattered in the past. To my surprise, the scissors-jack style window regulator and its nylon wheels looked perfect. I took the opportunity to spray Waxoyl protectant on the door bottoms and lubricated the mechanism with Waxoyl penetrant. Suddenly, the window rose and descended in a posh manner.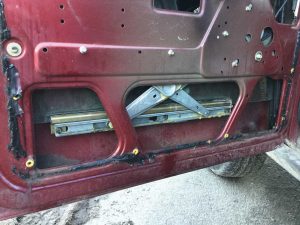 A far-less-common issue arose during a trip from Maine to southern New England last December. The first part of the trip was taken in slushy, icy conditions that slowed traffic considerably and made me happy to be traveling in a Land Rover. Twenty miles into the second part and I started hearing a noise emanating from the passenger side of the transmission tunnel. By the time I reached the first rest area on the highway, I could feel a wheel binding up a slow speed. Hoping for the best, I called for a tow truck and brought it to Land Rover Scarborough.
A quick examination at the dealership found no easy, quick repair, so General Manager Mike O'Rourke loaned me a 2018 Range Rover Evoque for the weekend (vainly, I wanted to believe that my status warranted the loaner, but Mike attributed my good fortune to availability). The peppy, comfortable Evoque proved a perfect steed for the 6-hour highway drive and attracted a lot of attention at a meet-up with Land Rover enthusiasts in Stamford, CT.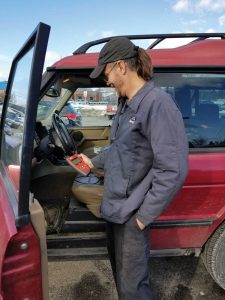 Then came a call from Land Rover technician Steve Allender. "I've never seen anything like this," said the service tech who's worked on Land Rovers for decades — always an ominous start to a conversation. "Do you want the bad news or good news first?" The bad news featured the ruination of the main bearing in my transfer case (memo to self: don't trust a service station to check fluids). The good news was that Steve had a used one at his house and could get me back on the road within a few days — thus adding him to the roster of the Rover Rescue idols.