During my years of living in Hawaii I fell into the habit of saying "Aloha" to everyone, not simply as a greeting, but as a statement about the spirit of the place. Now, I find myself wishing everyone, "La Pura Vida." That's what an adventure in Costa Rica will do to you.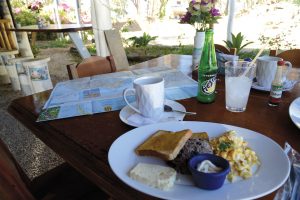 The vida started when we contacted Fabio Perrone and Luis Rojas, owners of Nomad America, an overlanding rental company based in Alajuela, the country's second largest city and home to its main international airport. Nomad America specializes in all-inclusive 4×4 adventures and provides Land Rover Defender 110s (or alternatives like Toyota Hilux trucks or FJ Cruisers), fully-equipped with rooftop tents, camping gear, cookware, cellphone, snorkeling gear, surfboards, and stand up paddleboards.
Once we arrived in the country, another flight took us to the city of Liberia, where we were pleasantly surprised to find our Land Rover in the parking lot. We loaded our rented and personal gear into the Defender and headed out on the narrow road that took us to the Pacific beach town of Tamarindo. There, we treated ourselves to a night at a boutique, waterfront hotel named Cala Luna. Arriving just in time for happy hour, we felt quite trendy and posh.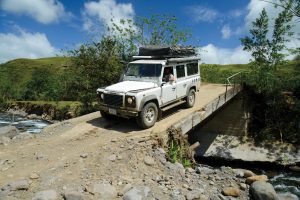 The next morning, we had breakfast at Soda Buen Comer, a local, family-oriented favorite that served delicious gallopinto — rice and beans, egg and local fruit. Then we hit the local beach for paddle-boarding. Over the years, we have paddled everything from surf breaks in Hawaii to high-altitude lakes in Colorado, but had longed to SUP on Laguna de Arenal, Costa Rica's largest lake, located beneath the Arenal Volcano. After a couple of days in Tamarindo, we decided to head for a cooler climate and set our GPS for the big lake where we planned to camp and paddle for the next few days.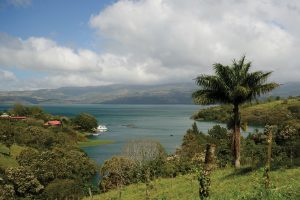 Securing our stand-up paddleboard to the roof rack of the Defender, we left the Playa Tamarindo and headed towards Laguna de Arenal, via the Inter-American Highway. Two hours later we arrived at the turnoff at Canas, eager to drive to the refreshing highlands. We had our WAZE (GPS app) set for Tronadora, a small town on Arenal's southern shore where we hoped to find paddleboard heaven.
In Tronadora, we stopped to get our bearings and then headed east towards the small village of El Castillo. A wrong turn set us back several hours, as we found ourselves lost in the mountains heading toward Monteverde. The Defender easily climbed the steep, rocky and rutted track through a cattle ranch high above Laguna de Arenal, where we found a place to turn around. We retraced our tracks to the village of Rio Chiquito and asked a local for directions. He explained that the road to El Castillo was easily missed and pointed in the direction of what looked like a construction site.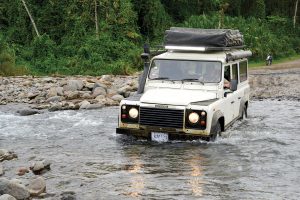 We turned onto the road that he pointed towards and noticed that the bridge had been washed out and was under repair. If we wanted to make it to our camp, we had no other choice but to cross the river. We shifted into 4-low and eased into the raging current. Having driven Land Rovers through some of the most extreme terrain on the planet, our confidence was high. The approach was slow and steady, and we made it to the other side with a sigh of relief.
Back on track, we followed the shoreline to the east and kept our sights set on the picture-perfect conical shape of Volcan Arenal. We stopped for lunch at a beautiful cove and took in the breathtaking scenery. As we enjoyed our snacks, we noticed a few howler monkeys in the nearby trees and wondered if they would join us.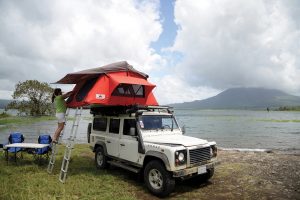 After lunch we continued towards our camp, which we guessed was roughly an hour away. We were surprised to find two more river crossings along the track and noticed that they were flowing heavily. Luckily our Land Rover Td5 was well equipped with 33-inch BFG All Terrain T/A K02 tires and an ARB Safari snorkel.
The final crossing appeared extremely deep and swift and we couldn't clearly see the bottom. We decided that one of us should attempt to wade across using a wooden staff to gauge the depth. The water line appeared just below the bottom of the door, so we determined it was safe to proceed, as long as we took it easy. The Defender handled the river with no problem — without it, we would have had to turn back.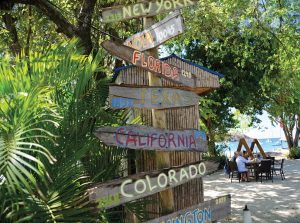 As we continued along the lakeshore, we passed through some of the most beautiful and remote rainforests in Costa Rica. The trees were home to troops of howler monkeys and a beautiful array of bird species. We arrived at a tiny village of El Castillo just before dusk, deployed our GEO Adventure Gear rooftop tent and set up our camp on the edge of the lake. The two of us enjoyed our room with a volcano view. We agreed life was good!
We awoke early that morning to clear skies and calm waters — a gift from the volcano gods. Breakfast had to be put on hold. We wanted to get on the water as soon as possible. Within minutes, we prepared our SUP's and our mutual dreams came true as we were paddled across the glass-like surface of the lake with the volcano looming over us. The weather held out for most of the morning and we paddled to our hearts' content. Afterwards, we devoured a well-deserved brunch, and enjoyed another long paddling session until the rain forced us to quit. We hung out in our rooftop tent for the remainder of the afternoon, fantasizing about our next Land Rover adventure. We marked a date on the calendar and drifted off for a nap, despite the unsettling cries of the howler monkeys.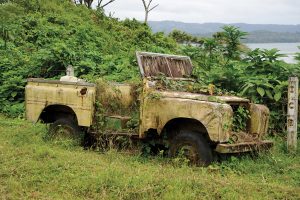 Our adventure in Costa Rica exceeded our expectations. Our Land Rover made it possible to explore remote back roads, traverse rivers and marvel at the amazing scenery. We left with a deeper understanding of what the locals refer to as "Pura Vida."
Laguna de Arenal, Costa Rica
Costa Rica is a relatively small country, roughly the size of West Virginia. Even though it accounts for only 0.03 percent of the earth's surface, it contains nearly 5 percent of the world's biodiversity; more than 500,000 species in all. The varied terrain shifts between forests, valleys, mountains, volcanoes, plains and wetlands, making it one of the best places on the planet for exploration and adventure.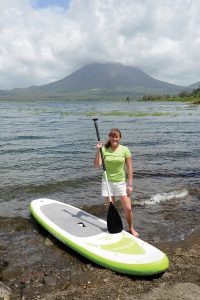 Laguna de Arenal is rated one of the best windsurfing spots in the world, so we knew it would be a stretch to find calm waters for our SUPs. Our research indicated that the southern shore near the volcano would provide the calmest waters for standup paddleboards. What we didn't know then was that the road along the southern route was rugged, not well marked and frequently closed due to treacherous river crossings.