While the United States and Canadian governments engage in a spat, once again we note that Land Rovers play a vital peace-keeping role between these North American neighbors. The intermediary is Spain — or more precisely, two Santanas.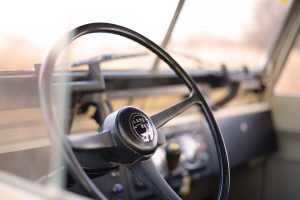 Santana, or more formally, "Metalurgica de Santa Ana, SA," started in 1956, and by 1958, had signed an agreement with Land Rover for CKD [Completely Knocked Down] kits; literally, a shipment of parts from Solihull that when assembled at their Linares factory, avoided steep tariffs. Given their contemporary road conditions and weaker economy, the "Land Rover Santanas" provided the country with a workhorse that could tackle the challenging environment.
As Land Rover wound down Series III production, it chose to end its CKD agreement with Santana in 1983, just prior to the introduction of the 90/110 coil sprung models. Santana continued to manufacture its own version of the Series III with worthwhile enhancements. Santana introduced comfort features, such as better seats and a more stylish fascia, and by the 1980s, had created more contemporary styling than just the plastic grille and "safety dashboard" of the Series III. As Spain attracted more ex-pats and vacationers, Santanas became more lifestyle vehicles, although the Spanish police forces retained them for their use.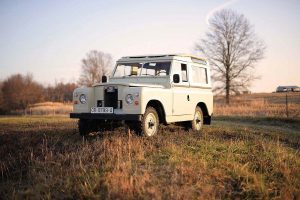 Ed Starr, the owner/operator of Resurrected Rovers, Chocorua, NH, has worked on them and become a fan. "Santana made some needed modifications to the Series Land Rovers to make them even better," Ed noted. "They put an oil cooler on the base models before Land Rover introduced them on the MoD ones. A different sized oil bath filter made it easier to service. And, of course, they went to parabolic springs to improve the ride over the standard leaf spring. They're just as easy to work on as a UK Series Rover."
Much of Spain enjoys a hot, dry summer with mild rainy winters, so like Series Land Rovers from the American southwest, rust does not afflict them as it might in regions requiring salted roads. Their climate, as well as their left-hand drive steering, make them interesting candidates for exportation to North America.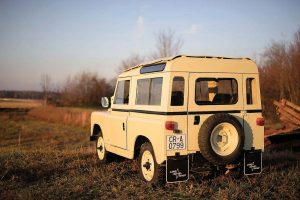 Karen Chouinard, Howell, MI, recently became a Santana owner through her upbringing. "Growing up in Land Rovers connected me with my parents, who are as weird as I am!" In a phone interview she recollected, "Mom had a Marine Blue '71 II-A. It was loud and colorful, with a radio that could play AC/DC at full volume. Mom drove hers year-round for her 30-minute, daily commute to jobs in Ann Arbor."
"Dad bought a Tangerine orange, '71 Series II-A 109", which he named "Mandarina." He was a sheriff and undercover officer who retired at age 50. They moved out to St. George, UT, and then I got to travel with him. Mom was into animal rescue, as was I from age 4. Our family vacations involved adventures through hiking and desert travel. Once we wound up at the Barker Ranch, where Charles Manson ran his cult and was captured. It's up a wash that most four-wheel drives couldn't get up, but Dad did it anyway so we got to see where he hid out."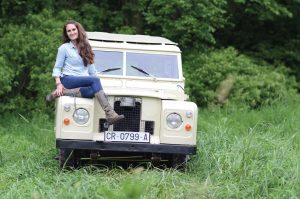 "Exploring in our Land Rovers in the desert wilderness was very special.  It was wonderful to be so far from city life. Sometimes we got caught in flash floods, and I certainly didn't like feeling lost, so Dad and the Land Rover helped me overcome that."
"My most memorable trip was from St. George, UT, where we traveled some 90 miles on private lands to a cave by an old volcano. The cave was filled with amazing petroglyphs. The landscape was filled with table top looking rocks! "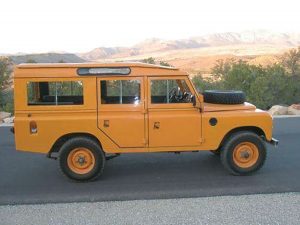 Karen took her Environmental Science and Forestry degree from Adrian College. An early job saw her working for a utility company, overseeing tree limb clearing in Detroit. With the birth of her daughters Lucy [now 10] and Claire [8], she became a "stay at home mom" and as a side job, starting painting furniture. When she didn't like the toxicity of the paints available, she used her chemistry knowledge to create Wise Owl Paints, now manufactured in Michigan and sold by 250 dealers in the US, Canada, the Netherlands and Australia.
She longed to return to her British car roots [her first daily driver was an MG Midget] and find a Land Rover for herself. When Commonwealth Classics [see sidebar on p ___] posted a photo of what appeared to be a '71 Series II-A, she jumped on the opportunity to buy it. Even more special, it turned out to be a Land Rover Santana. With its 2.25 diesel, it could be a slow go, but a Rovers North high ratio transfer case makes it much more usable for today's driving. The Santana is named "Veruca", after both the band and the loud and noisy character from "Charlie and the Chocolate Factory."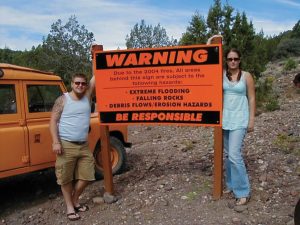 When Karen sought out a Canadian distributor for her company, she met Titia Emrich, Leamington, ON, and immediately found a kindred spirit. Titia is another enthusiast whose done "everything — missionary, chiropractic clinician, veterinary technician, and eventually, restoring and refinishing furniture. That's how I came across Karen's paints. Once we spoke to each other, we realized that we shared so much!"
"My husband, Rolf, is a Mustang enthusiast, but I've always liked 'put-put' cars — Karmann Ghias, VW Things. When Karen bought her Santana, I thought, 'Cool!' I'd been looking for nearly 15 for the right car. When I spoke to Commonwealth Classics, I wondered out loud if Karen might be annoyed if I bought a Santana that looked just like hers. They said, 'No, she'd be thrilled!'"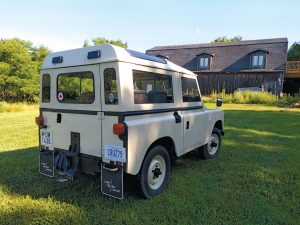 That's how I purchased my '79 Santana Hardtop, also with a 2.5 diesel and with 63,000 km. A farmer in Spain had been the original owner and when he sold it, he handed over everything connected with the Santana. That's how I got the keys to the vehicle, their house and their storage shed. Someday I hope to go to Spain and try and unlock doors!" Titia named it Cruz79.  Her mechanic likes it so much that when she offered to move it from his lot, he looked downcast and said, "You mean I can't keep it?"
Karen and Titia hope to share off-road adventure in their matching Santanas. She claims, "Adventure is currency to Land Rover enthusiasts. Doing something that shakes you up — that's a Land Rover person." Both agree that if their husbands are good, they can come along.