Automotive journalists get to meet enthusiasts from all different marques, but I've learned that Land Rover enthusiasts seem the most intriguing, always exhibit the greatest passion about their vehicles and share the best stories. Some of their Land Rovers have been all over the world and have conquered every type of terrain. Their vehicles serve many purposes, have scars (or beauty marks) from battle, and engender equal amounts of love and dismay.
During the 2018 Northwest Overland Rally, held around in Plain, WA last June, I met many amazing people, each with a unique Land Rover, and each happy to share their story.
Sean and Max DeBruler, Anacortes, WA
(1972 Land Rover Series III):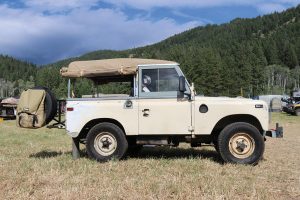 Good fortune smiled when in November 2011, Sean scanned Craigslist and learned of a Series III for sale at an RV dealer in Bend, OR. He told me, "The dealer had no clue as to what he was selling, and I bought it sight unseen." It's a stock short wheelbase that required only fluid changes to get it back on and off-road, but Sean, the owner of Red Sky Marine, has big plans for it.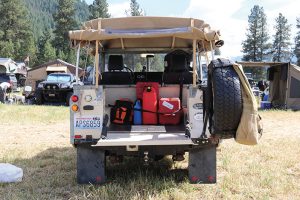 A decade from now, Sean will turn 50 and his sons will be 21 and 18. He contemplates a six to nine-month trip from Washington to the southern tip of Argentina. To ready "Darla" [see Finding Nemo -ed.] for the trip, Sean envisions a frame-off restoration this winter, including frame welding, new electrical, suspension and brake replacement work, essential for a successful adventure. To ensure their sanity and safety, their LR4 will become the other convoy vehicle.
Specs:
2.5 petrol engine swap
Daily driver
John Edelmann, Phoenix, AZ
(1984 Land Rover Defender 110 Dormobile Conversion):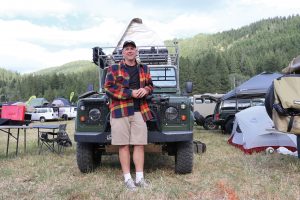 This is not his first Land Rover; it joins a '94 NAS Defender 90, a '97 Discovery I, and a 2014 Range Rover Sport. He loves the iconic standing and history of Land Rover; "It's a unique brand with a huge niche following," he told me, which is why he started Knightsbridge Overland to create accessories for Land Rovers.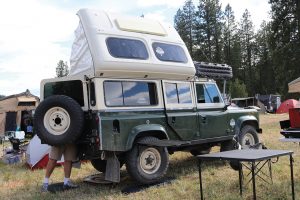 John purchased this Land Rover about five years ago, after waiting a year to finalize paperwork to import it from Germany. "The original owner was someone in France who ordered it with the Safari package and had it for about 20 years. Then it sold to a couple in Germany who did the Dormobile conversion and custom interior, (which included) cabinets, fridge, diesel stove, oven, sink, and outdoor shower," he said.
John's taken it up and down the West Coast and to Alaska (up to Denali via a 30-day trip), putting 25,000 miles on it. He's been in his rig more nights than his home!
Specs:
300Tdi engine swap
New air conditioning
Daily driver
Spencer Whitney, Vancouver, BC
(2000 Land Rover Defender 130):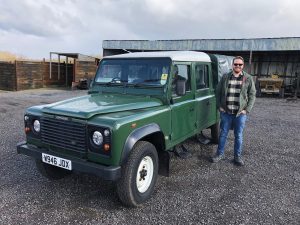 Spencer, who works as a grip in the film industry, seemed happy with his Discovery, accepting its quirks and the required maintenance, but desiring upgrades. The Defender bug bit him hard a couple of years ago and after a month-long search, he traveled to the UK in anticipation of finding a Defender 110; when this beautiful four-door 130 went up for sale, he snagged it. Seeing this vehicle in person made all the difference.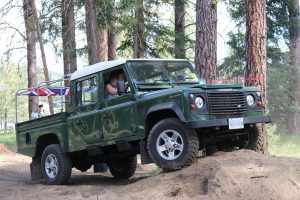 Spencer and his girlfriend put 1,000 miles behind the wheel throughout the UK; he had no problem with right-hand steering and left-hand shifting. When it came time to ship it home, the enterprise became less expensive when a friend bought a Defender 110. Both Land Rovers shared a container during the five-week trip to Vancouver, BC, through the Panama Canal. He plans to fix the long list of minor issues that comes with an 18-year-old commercial vehicle, while enjoying it as a daily driver.
Specs:
2.5L Td5 5-cylinder turbodiesel
Daily driver
Chad Lloyd, Seattle, WA
(1998/99 Land Rover Discovery 1 SE7):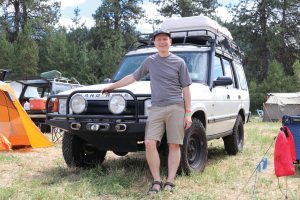 Boeing engineer Chad bought his Discovery bone stock, and then added a parts rig as a donor vehicle. He's traveled 50,000-70,000 miles all over the Pacific Northwest and into Canada. His Discovery's never left him stranded, but it's had all sorts of issues that have made him "think about each for 30-60 minutes." Chad says, "It's been amazing and has taken me everywhere I want to go, but it's required a lot of TLC. It's a relationship."
Specs:
300Tdi engine swap
Safari Gard bumper
WARN winch
Safety Devices roof rack
Daily driver
Glenna Barron, Anmore, BC
(2004 Land Rover Discovery II HSE):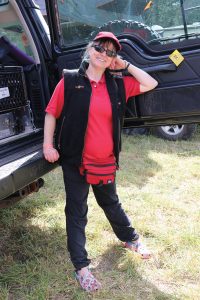 Journalist Glenna and her husband, Dr. Stephen Barron, bought their Discovery II new. Steve comes from a Land Rover family; Glenna always wanted to own a Land Rover because of its "spirit of adventure."
Their Discovery allows them to explore remote areas of British Columbia. They like to tackle difficult terrain, such as Churn Creek, outside Lillooet, BC, and Poison and China Head Mountains (also in Canada). For navigation in the challenging terrain, Glenna uses her Bad Elf GPS, and Gaia Maps on her iPad. In addition to exterior modifications, they built a custom overland-style kitchen, with a repurposed aluminum box from their 1999 TransAmerica trek to Inuvik, Northwest Territories Canada.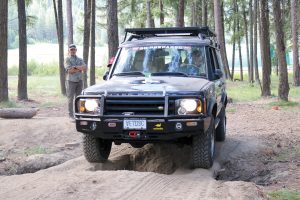 Their next Land Rover? When they finally become available in Canada, they will seek out a Range Rover Sport PHEV.
Specs:
ARB bumper
RTE rock sliders
WARN XD9000 winch
Rear jerry can holder
Hi-Lift Jack adjustable tube mounts
Old Man Emu suspension
Old Man Emu/ARB steering damper
ARB rear locker and ARB compressor
Ashcroft heavy duty rear half shafts
Front Runner roof rack and camp table
Dual battery set-up
Aluminum cabinet with ARB fridge/slide
Factor 55 Flatlink E winch shackle
Ray Hyland, Chilliwack, BC
(1993 Land Rover Defender 110):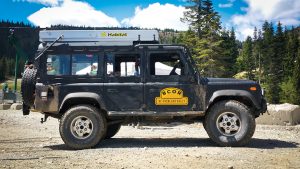 Ray is a well-travelled, well-recognized adventurer within the Land Rover community. Who better than to refurbish a Series I 107" and follow the route of the London-Singapore Expedition?
One of several in the family fleet, Ray bought this '93 Defender 110 in 2007, through a friend who handled military auctions in Singapore, where Ray lived during that time. The Singapore Police had used it as a SWAT team assault vehicle; once they reach 15-years-old, the government sells them on the commercial market. Once purchased, Ray built it up to do races like the Malaysian Rain Forest Challenge. In 2008, he imported it to British Columbia.
This Defender 110 had less than 40,000 km (25,000miles) when Ray bought it, and had barely been driven in the rain. Now, it's his family on and off-road Land Rover. They take it everywhere. They've even run it on tracks for back country tours when they lived in Sunshine Valley, Canada. They still occasionally use the tracks for winter touring.
Specs:
200Tdi diesel engine
Four-wheel vented disc brakes
Protection and Performance FIA spec roll cage
3" Equipe 4×4 custom racing suspension
One-ton suspension components
Fully dislocating suspension with radically cranked trailing arms (more than a meter of wheel travel at each corner)
Gearing changed from 3.54 to 4.72s
KAM hardened military axles
Upgraded half shafts
ARB lockers front and rear
Roamerdrive mechanical overdrive on the PTO (to maintain highway speeds)
Full underbody armor
Tube-style bumper
Rock sliders
Coyote Inflatable beadlocks
Swingaway rear tire and Hi-Lift jack carrier
Milemarker 12,000 lb. hydraulic winch
315/75R16 tires
Dual battery set-up
Air conditioning from a Nissan mini bus
AT Habitat rooftop tent (only Land Rover in the world with one)
11 seats and seatbelts
Trucklite LED headlights
CB and VHF/UHF radios
Chris Walker, Whistler, BC
(1996 Land Rover Defender 90):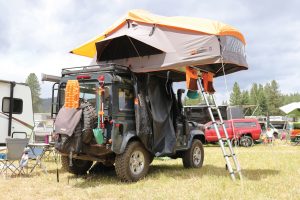 Chris Walker not only owns a superb example of a Defender, but leads a charmed professional life grooming the slopes at Whistler, traveling extensively throughout North America as a Land Rover Experience Senior Driving Instructor, or leading groups through his own company, Overlanding BC.
This Defender 90 was one of 840 rigs built for the Italian Carabinieri to be used as police vehicles. Since Chris purchased stock in 2016, as you can see below, it's undergone extensive renovation.
Specs:
300Tdi engine swap
33" GT Grabber X3 tires
Terrafirma Rock Slider
Terrafirma Pro Taper Bumper
WARN ZEON 8S winch
Factor 55 FlatLink E
ARB CKMA12 Compressor
ARB Air Tank
ARB 24 Spline Rear Locking Differential
ARB OME 2" HD coils and shocks all round
ARB OME Steering damper
ARB Safari Snorkel
On board tire inflation outlet
Series Defender Carling dash switches
Devon 4×4 Dual Battery Tray
2 x PC1500 Odyssey batteries
Blue Sea Aux Fuse Panel and double USB
Terrafirma HD engine hoses
Icom VHF
Custom VHF antenna mount
Swing out tire & hi-lift jack carrier
FrontRunner Slimline 2 roof rack
FrontRunner Steering Guard
Treeline Outdoors Tamarack Constellation RTT
Flat Dog rear ladder
Rear Drawer and storage
ARB 50-quart Fridge
Jim West, Phoenix, AZ
(1998 Land Rover Discovery Series I SE):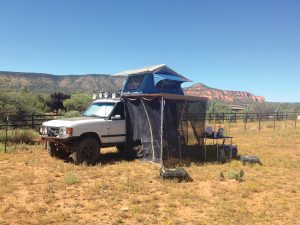 Jim bought his North American-spec Discovery I (4.0L petrol, automatic transmission), but after 7 years and 137,000 miles of ownership, decided on a change. The former Camel Trophy competitor (Guyana, 1992) sought to customize his with a 300Tdi and 5-speed manual engine and transmission swap.
Why would you change it? "I took a car that I loved and made me love it even more," Jim says.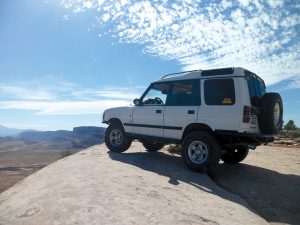 Afterwards, he completed a 6,500-mile road trip from Phoenix to North Carolina for Overland Expo East. On the way back home, he went through Texas and onto Moab to attend a wedding.
Any problems I asked? "Well, the answer is always yes!" stated Jim. "It overheated a bit in New Mexico and the fuel return lines leaked some… could have been much worse with untested miles on that engine."
Jim's Rover had 137,000 miles on before the swap; 126,000 on swapped engine. This Discovery now has 160,000 miles on it and has been all over the US. Jim recently retired as a firefighter/paramedic in Phoenix and now works for JLRNA as a Land Rover Experience Senior Driving Instructor, as well as on his own with MyQuest Adventures.
Specs:
2.5 liter 4-cylinder 300Tdi diesel engine
R380 5-speed transmission
411 gearing
ARB lockers front and rear
3.5" Old Man Emu lift kit
Safety Devices roof rack
Dual battery set-up
Front and rear bumpers
Superwinch 9,000 lb. winch
Time spent with Land Rover folks like these just added to the excitement and entertainment of the Northwest Overland Rally. I'm fortunate to work as an automotive journalist, but very lucky to meet and off-road with Land Rover enthusiasts!