Dear Rovers North,
Hello from the UK! I have recently discovered your magazine and articles and am most impressed.
I have been aware of Rovers North since the early 1990s, and over these years have followed Jim Allen and various others who used to contribute to British Land Rover magazines.
The other reason for contacting you is that I will be visiting a friend in the States and am wondering if there are any Land Rover events in/around the central US during the first two weeks of September.
I have had many Land Rovers since I could first drive and currently use daily a 1986 110 station wagon into which I swapped a 300Tdi.
Neil Watson
[Distances in the USA being greater than in the UK, we would need to know which state[s] you are visiting. You might consider the Solihull Society's National Rally will be held from September 17 – 21 in Moab, UT.]
---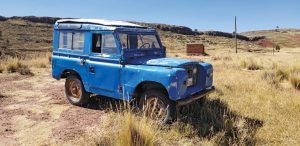 Dear Rovers North,
I saw this Series II lurking in the hills outside the city of Puno, Peru. It still drives, but I could not locate the owner.
Mark A. Rothman
Ewing, NJ
[The door shut lines hint at possible bulkhead and/or frame issues, but we love it! -ed.]
---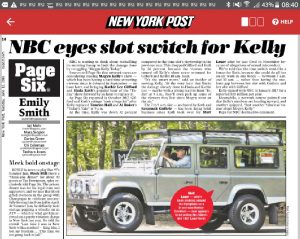 Dear Rovers North,
I saw this photo in today's New York Post. Only in the Hamptons — Matt Lauer selling his Land Rover 110 with a cardboard window "For Sale" sign. Divorce must be expensive…
Pat Harris
Vero Beach, FL
---
Dear Rovers North,
Just got my Spring 2018 Rovers Magazine and my jaw dropped when I saw my Rover on page 45. I am the fellow from Hawaii that bought Tom's 109" in 1988. I still own it and it is still my daily driver.
I've rebuilt and modified it a lot in the last 30 years. It's now powered by a 3.9 V8, backed up with a diesel compound, low 5-speed. ARB lockers on both ends along with 4-wheel disc brakes. Honda S2000 seats and modern Speedhut Gauges. It still has the PTO winch.
It shares garage space with my 101FC, '84 2 door Rangie, my Series hybrid (cut down Range Rover frame with Series body and Chevy V8 power), Discovery I XD Disco and a P38 Range Rover. The 109 and 101 both took part in the Africa episodes of ER, which were filmed on Oahu, and the 109 can be seen in Rovers across America, in the Hawaii segment.
I have been a customer since the 80s, and have to say I really enjoy the magazine. Keep up the good work.
Steve Kitterman
Honolulu, HI
[Steve, we're in awe of your Land Rover fleet. Should you ever need onsite assistance, say during a Vermont winter, please don't hesitate to call us -ed.]
---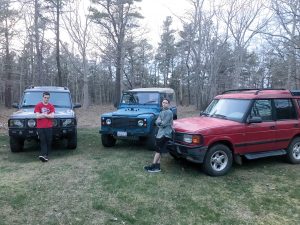 Dear Rovers North,
We could not help but think of you as our son, Liam, bought his first Land Rover, a '98 Discovery. He now joins his older brother, Eli, with his '04 Discovery II. That brings the family total up to three! Got to start them young, you know.
Chris and Carolyn Benway
Forestdale, MA
---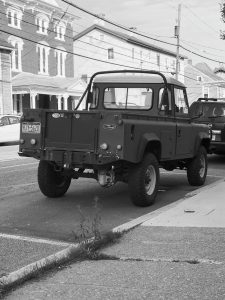 Dear Rovers North,
I wanted to share this photo of my old classic Land Rover taking a break in Macungie, PA.
Gary Herron
Emmaus, PA
[Land Rover pickups may take a tea break, but they will always get back to work -ed.]
---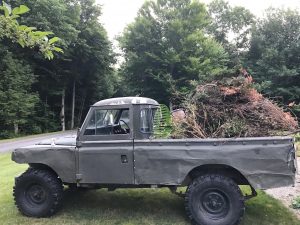 Dear Rovers North,
In case you ever need a cover shot, here's my "Bushmaster" at work!
Lars Sjulander
Hollis, ME
[We've enjoyed seeing your 109" pound the trails at the Maine Winter Romp. Keep on truckin' -ed.]
---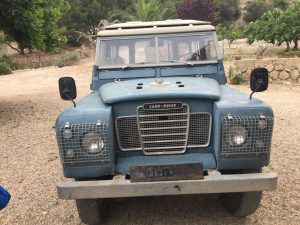 Dear Rovers North,
Knowing of your enthusiasm for Land Rovers, I could not help but share this photo from our recent family trip to Italy.
David Hyde
Pownal, ME
---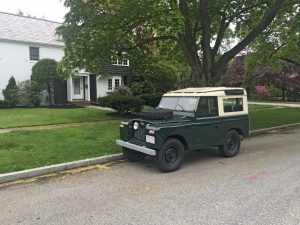 Dear Rovers North,
Here's a good one I spotted near our home.
Dr. Stephen Murphy
Boston, MA
[Just what the doctor ordered, and far better relief than two aspirin! -ed.]