Throughout this "70th Jubilee Year" I've become an even greater fanboy of Land Rover. It might be time for an intervention.
I need only to look down at the Land Rover quilted vest I'm wearing on this first chilly day in September. My pants are held up by my Land Rover logo belt. On different days I sport another Land Rover North America commemorative t-shirt underneath my Land Rover Gear shirt. Or I might wear any of my several Rovers North shirts instead. What time is it? I need only look at the Rovers North Defender clock on the wall or at a Land Rover wristwatch.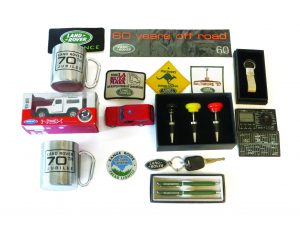 If the weather outside is frightening, I can don a Land Rover sweater and turn to my Land Rover driving jacket, one of my Land Rover Barbour quilted coats or my Land Rover parka. One of 22 Land Rover hats [one even reads "Freelander"] can cover my head.
I scribble notes in my Land Rover logo notebooks using my Range Rover pen set. I carry them in my Land Rover shoulder bag. When traveling, I could bring my Range Rover World Travel Clock, my Defender 90 USB key and adorn my Land Rover Defender duffle or my Range Rover overnighter with Discovery and Range Rover luggage tags.
For additional motivation, I need only stare at the tin plate reproductions of classic Land Rover advertisements that line the walls of my house (a sure sign of a single life). The very clever dealer display that showed the size difference between Discovery, Jeep Cherokee and Ford Explorer lug nuts has a prominent spot in my living room. If I step outside, signs by my door reassure me that my tiny parking area is for "Land Rover Parking Only." Of course, the key rings for the Series IIA and the Discovery I feature Land Rover logos.
Should Santa Claus bring me a bottle of fine whisky or wine, I can put my Land Rover bottle stoppers to use. While sipping by the wood stove I can enjoy reading past issues of Rovers Magazine via my Rovers North thumb drive or the hundreds of copies of Land Rover magazines and books in my library.
Yes, it's nuts, but I should hasten to mention many of the items came as castaways from former employees of Land Rover and their dealers. They've come to see me as a sort of Goodwill or Salvation Army drop off point for now-unneeded clothing or paraphernalia. Interested in knowing the range of Discovery, Defender 90/110/130 or Range Rover accessories in 1995, or optional equipment available for the 1974 Series III? Anthologies of Land Rover road tests from 1948-1984? Histories of the Land Rover company? How to survive in the wild or drive Land Rovers in Africa? Why to choose a Discovery as your '90s SUV? There's a 50th anniversary badge on my IIA, "60 years of Off-Road" and "70th Jubilee" decals, a "Decade of Discovery 1994 – 2004" badge, even a "Range Rover Great Divide Expedition" badge, should I ever get a Range Rover Classic.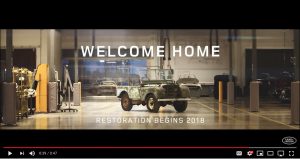 Come Christmas Eve, a Land Rover stocking will be hung on the mantle with care in hopes that St. Nicholas will soon be there — bearing more Land Rover gifts, of course.
As enthusiasts, we take it for granted that Land Rover should celebrate its 70th anniversary in 2018. Fans of Hummers, Pontiacs, Scouts, Saabs, Plymouths, Saturns, Mercurys, Scouts, Broncos, and all too many British sports cars know better.
Land Rover has established an outsized presence in the US since it returned in 1987. Start with the number of dealerships: Ford has about 3,000, Toyota has about 1,500, Land Rover has about 200, with some states being wholly unserved. Last year, Land Rover set a sales record by selling 74,739 vehicles in the US. Ford sold 820,799 trucks alone, Jeep Cherokee and Wrangler sales totaled about 400,000. Ford plans on consolidating 30,000 corporate employees into two campus locations. Jaguar Land Rover North America does have a spiffy new headquarters, but many its 400 employees often work for both marques.
It's well-known that the Wilks brothers worked as executives within the Rover Car Company and they envisioned the Land Rover as a stopgap model. With its legal status as a "light commercial vehicle," it could not be shown on the Rover stand at the 1948 Earl's Court Auto Show in London. That seemed fine to Rover because the combination of fuel rationing, regulations controlling when "non-essential" workers could actually take delivery of a new car, and "export or die" restrictions on access to steel, meant most new cars went overseas anyway. So the first Land Rovers were shown at the Amsterdam Auto Show on April 30, and less than a month later, at the Barcelona International Trade Fair. Orders streamed in and Rover had a hit on its hands.
Success came at a cost, however, due to the strength of the British pound against most world currencies. With an exchange rate from 1948-1970 ranging from $4.03 to $2.40, it meant that Land Rovers would be expensive purchases in a lot of markets, especially the relatively well-off USA. For example, in 1961, a 109" Station Wagon bought in California came in at a whopping $4,095, about the same price as that year's Corvette.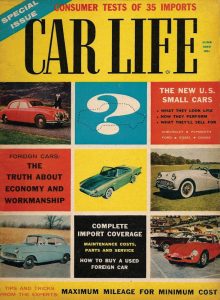 In a 1959 road test, Car Life magazine pondered the role of the Land Rover in the US automotive marketplace. "Although somewhat specialized, it's a long way from being limited in usefulness to cattle ranches and Rocky Mountain goat hunts. As a vehicle for a single-car family, it could be recommended only to a few farm families with a very moderate amount of long-distance driving. However, as a second car for suburban and country families with a need to get through no matter what, the Land Rover would really pay its way… Although the initial cost is fairly high, there is absolutely no style obsolescence problem, and the Land Rover is engineered and built to last for a long, long time." During the decades of the 1950s-1970s, when Land Rover built about 25,000-35,000 vehicles annually, Rover Cars of North America projected sales of only 1,500 a year.
To combat the high price in the US, Rover joined other British and European manufacturers in offering an "Overseas Delivery Plan." Should you find yourself touring the UK or Europe, you could pick up your new 109" Station Wagon at Solihull for a mere $2,905. Add $101.08 for an AM medium-wave radio, $32.05 for your heater/demister and $3.86 for the fly screens in the scuttle vents, and you'd be ready to go. Your purchase would include "a tour of the wonderful Rover factory, after which your car will be turned over to you personally by a qualified Rover technician." If the Birmingham pickup would not work for you, another $25.00 would assure delivery anywhere in England, or $45 for Scotland. Delivery to the European continent countries ranged from $136 (Amsterdam) to $325 (Gibraltar). Rover would arrange shipping after your stay for a mere $210 to an East Coast port, $270 to the West Coast.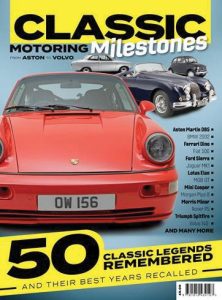 Ironically, the overseas delivery plan in effect now is the steady trickle of Series Land Rovers, Santanas and original, 25-year-old Defenders coming from the UK and Europe to the US. Some specialists here focus on ex-MoD Land Rovers, just in case the conventional Defenders have become too soft for you. All of this just further whets our appetite for the upcoming Defender family of models — now that would be the best holiday gift of all!
The UK magazine Classic Motoring recently published Classic Motoring Milestones, which of course, included the Series Land Rover and the Range Rover Classic. Of the latter, they note that "the appeal of the original Range Rover is as strong as ever." They warn Series owners that "the ride is as rocky as the intended terrain it's designed for, and the mechanical noise is like a war zone… By all means, resonate one as many now do. We trust that this doesn't end up with some concours trailer queen through, because this is something the Land Rover was never intended for. It's still best to put yours to work in the field rather than simply looking pretty in one."
Hoisting one of my Land Rover mugs, I can only say, "Here here!"