Dear Rovers North,
On behalf of the Land Rover Club of San Diego, I want to thank you for your generous donation to our 20th Anniversary Party.
The club seldom gets together in civilization for events, preferring to hit the trails. Most of us have vehicles from the 1990s; our oldest is a 1965 Series IIA, the newest is a 2017 Range Rover. Many of us have more than one Land Rover. Overall, we had over 40 attendees.
Your donations were raffled off with great success. A Series owner (sadly, not me) won the Series door panels. Neill Thornton (who owns four Land Rovers) picked up the High Lift protector. I managed to score the nice polo shirt!
Eddie Mah gave a moving speech in support of our great donors. Again, thanks for the generous donation.
Chris Lilles
Land Rover Club of San Diego
[Should you ever need someone from Rovers North to attend a meeting, say, in the dead of a Vermont winter, don't hesitate to call! –ed.]
---
Dear Rovers North,
I've been enjoying Land Rover articles over the past 20 years and I just finished reading "Harrison Preston's Day Off" in the Summer 2018 issue. Nice read — as usual – except for one thing.
In the article, Arizona Land Rover Owners (AZLRO) is referred to as "Arizona Land Rover Club" twice and once as "AZRO". Neither is correct. The organization was started not as a "club" but as a group of "owners." Therefore, when mentioned in print, the correct usage should be Arizona Land Rover Owners, not using the word "club," as has happened many times in the past.
I founded the Arizona Land Rover Owners in 1995, in Tucson. AZLRO is still growing and kicking today, mainly based in the Phoenix area.
Keep up the good work and keep the oily side down.
Rob Modica
Tucson, AZ
[Given your long history of Land Rover ownership and your commitment to your organization, thanks for correcting the editing errors. Apologies are certainly in order -ed.]
---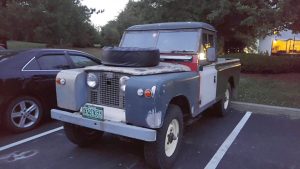 Dear Rovers North,
As the printers for Rovers Magazine, we always enjoy seeing photos of Land Rovers in your magazine. Rick Johnson, a long-time employee of the Lane Press, has just retired, and we will miss seeing his Land Rover in our parking lot.
Jill Garrison
Lane Press Burlington, VT
[Jill, all of us at Rovers North and Rovers Magazine appreciate the terrific work you accomplish for us —and we appreciate Rick as a Land Rover enthusiast -ed.]
---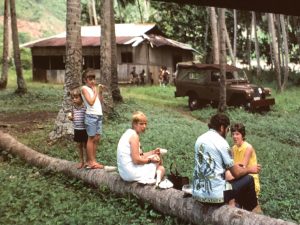 Dear Rovers North,
My father was a missionary bush pilot for Mission Aviation Fellowship in the 1960-1970s, serving in Papua New Guinea and Indonesia. He purchased thirteen Series II and IIA Rovers from the Australian government through an auction for folks in the field. Consequently, I grew up seeing all sides of the old Series Rovers, wishing one day I could get one. I've now had a '67 Series IIA, a '98 and an '04 Discovery, as well as an '05 LR3. By the way, I'm the little boy in the striped shirt standing on the log.
Nate Rogers
Warrenton, VA
[Thank you for sharing these photos and remarkable memories with our readers! -ed.]
---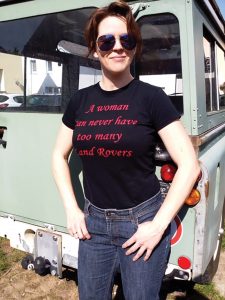 Dear Rovers North,
My husband Oliver and I believe in the sentiment expressed in this shirt he bought for me. It's true — I can never have too many Land Rovers.
Anna Imm
Manhausen, Germany
---
Dear Rovers North,
These three photos were taken around Mt. Umunhum near San Jose, CA. I'm particularly proud of the Rovers North rear bumper.
Serge Barbir
Palo Alto, CA
[We're very pleased to see the bumper on that Land Rover 90! -ed.]
---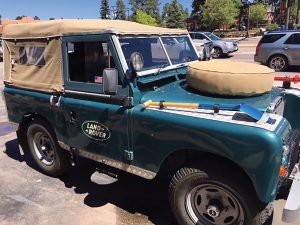 Dear Rovers North,
It's always fun to put my dog in the left-hand seat of my RHD Series III and see the reaction of people passing me!
Thanks for all your technical advice and parts that are correct.
Don Bell
Monument, CO
[Your dog should be offended that people think he can't drive -ed.]