This time the Rovers Rescues are bi-coastal. This first submission comes from Joey Boerner, Forest Grove, OR.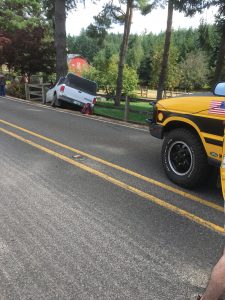 Every year for the past five years, some friends and I have camped together with our sons. With 10 acres to explore, a field to let the Rovers run in, and just the right amount of privacy, my parents' property in Oregon has provided the perfect location to watch our sons grow and find excuses to throw sharp objects. This year was shaping up to be a great one, with the weather forecast showing a hot summer weekend that fortunately happened to line up with everyone's schedule.
With only a few miles to go, my son and I turned a corner and found a Mazda pickup truck off the side of the road. Seeing abandoned cars along the side of the road is not that unusual, so I assumed this one had been there for a while. I slowed down when I saw that the driver was still in it! It became quite clear that this was a recent mishap, so I stopped and asked if she was alright. It was obvious that she was shaken up when she responded, "No, I can't get myself out." I jumped out to check her physical condition and the position of the truck. She was not hurt, but the angle of the truck in the soft gravel was making it difficult for her to get out of the truck, let alone get the truck out of the ditch. It was up against a split-rail fence, but neither the truck nor the fence looked to have too much damage. I opened her door and gave her a hand getting out, making sure there were no hidden injuries along the way.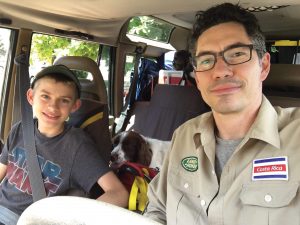 It turned out she was a delivery driver, had missed her intended address, attempted a U-turn on a narrow road, and thus slid into a split rail fence. It obviously didn't go as planned.
Once she was clear of the vehicle, I maneuvered my Discovery XD to start the process of winching her out. My son watched for oncoming traffic and set up the warning signs. We hooked up to the rear hitch of the Mazda, and as I began to pull, it was obvious that it was going to be a bit tricky to get her up and over the angle of the ditch. Fortunately, the owner of a nearby home had come out to assist and he waved down a larger Ford to give us an anchor point. We chained my rear recovery point to his hitch, and with the two of us pulling, the Mazda was quickly freed from its precarious spot. Amazingly, the fence showed no signs of impact, which made the homeowner happy.
Handshakes and thank yous followed, as well as a few questions about my XD being a roadside assistance vehicle [see Rover Rescue, Summer 2018 issue -ed.] Once the delivery driver was able to safely complete her delivery, my son and I got back in the XD and headed to my folks' place, joking the whole time about putting our recovery rates on one of our windows.
Little did we know that later that evening, while our friend was on his way to camp, his Range Rover Classic would blow a radiator hose. As soon as his text came in, another friend and I jumped in the XD to go help. After a failed field repair, we ended up towing his RRC back to my parents' so we could enjoy the evening. We spent Saturday morning repairing his truck, and the rest of the weekend making memories with our sons and our Rovers.
I guess there was a two-for-one special on Rover Rescues that night!
The next Rover Rescue occurred in Portland, ME.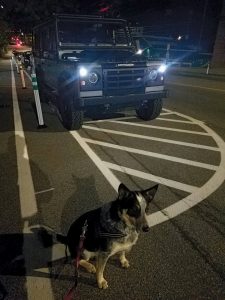 H. G. Mertz, Boulder, CO, has quickly forged quite a life as a photographer. Returning from a photo trip to Alaska, he sought to find a Series or Defender to use on a trip to Maine. Jonathan Cody and Tim Smith of British Overland usually rent their Land Rovers on Nantucket Island, but they had one in Maine and offered it to H. B. to help with his book project (Land Rover Scarborough also offered to help with a contemporary Land Rover). Not surprisingly, H.B's preferred Land Rover was British Overland's '87 Land Rover 110 200 Tdi.
On a Thursday night in late September, a frantic phone call from H.B. hinted at a possible problem. "I'm trying to go up a hill in downtown Portland and the Land Rover is barely moving!" Oh, the engine would rev up fine, but the Land Rover would barely go forward or backwards. Had he inadvertently moved the transfer case lever to neutral? No, or the Land Rover would not move at all. I had him turn off the engine and "bump" the key just to see if the Land Rover would lurch forward. It did, which meant the engine sent power to a driveshaft. Since he'd been driving it successfully for a while, perhaps a leak in the clutch hydraulics were the cause? Unlikely, as the clutch pedal action felt the same as earlier in the day.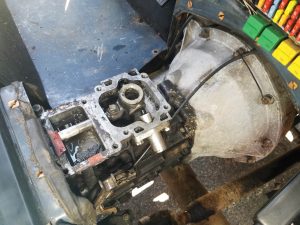 By this time of night, H.B. had already experienced "a terrible, horrible, no good very bad day." A non-functional clutch only added to the misery.
A social media post to Downeast Land Rover Club friends in the Portland area brought Andrew Pratt, Portland, ME, to the rescue. Andrew saw the posts from Tim Smith and myself on Facebook. Andrew check the fluid reservoir and found it full, tested the clutch action and sadly confirmed the slippage. In the spirit of "No Rover Left Behind," Andrew arranged for a night tow to his shop, Expanse Outfitters in South Portland, got H.B a ride to his hotel, and the following morning, began stripping down the inside of the cockpit to expose the transmission. A phone call to Rovers North arranged for the correct parts. British Overland secured him another vehicle so H.B could get on his way.
H. B. Mertz could not believe the generosity of the Land Rover community in coming to his aid. He's determined to make his next photographic adventures in a Land Rover.
[Thanks to H. B. Mertz (www.hbmertz.com), British Overland (www.britishoverland.com), Expanse Outfitters (www.expanseoutfitters.com) and Tim Smith's RoverWhisperer (www.roverwhisperer.com) for this story -ed.]