Starting in the 1990s, Land Rover North America urged its dealers to create "Wheels Events," carefully-crafted off-road experiences that would introduce new Land Rover owners to the off-road capabilities of their Range Rovers, Discoverys and Defenders — and perhaps convert owners into enthusiasts.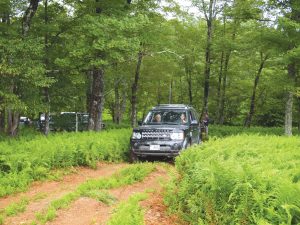 Jenn Rockwell grew up in a Land Rover family in New Jersey, where she remembers riding in the back of her family's Range Rovers and Discoverys during those events. After moving to Maine, she entered the restaurant business in Rockland, opening the Main Street Market and Ada's. Since Maine winters challenge drivers, a Land Rover seemed most appropriate. Her first was a much-loved '06 Range Rover Sport, followed last year by a '13 LR4.
A chance encounter last year at one of her restaurants revealed that she had questions about the LR4's on-road capabilities in winter weather — indeed, she'd never driven her Land Rover off-road. I recommended that she book time at the nearest Land Rover Experience, in Manchester, VT. Work conspired to keep Jenn tied to her businesses until this summer, when she received a Land Rover Owners Day invitation from the Experience Center in Vermont. As part of its 70th Jubilee, Land Rover changed its usual requirements and invited Land Rover enthusiasts to bring their own vehicles on July 21, 2018.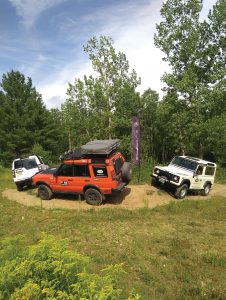 Since the day's off-roading started early Sunday morning, Jenn and her partner, Adam Lachman, Portland, ME, drove me over on Saturday. I'd never been a passenger in an LR4, and I found the 280-mile, 5.5 hour drive enjoyable. I'm very rarely in the back seat of any vehicle, but this one was painless. Unwilling to face the wilds of Vermont off-roading without preparation, I chose to splurge at the Equinox Hotel, the home of the Land Rover Experience. The historic resort's dining room, outdoor bar and bedrooms were appropriately posh, a far cry from the motel rooms that usually house me at events.
Fortified by the generously-provided breakfast, we drove a short distance to the trails maintained by the Land Rover Experience staff. Instructors David Nunn, Gene Schubert [also of Rovers North], Chrystyna Young, Bill Mariano, Jack Williams, Shane Sullivan, Jonathan Jacobs, and Chad Lourie introduced themselves and then dashed out get ahead of the convoy.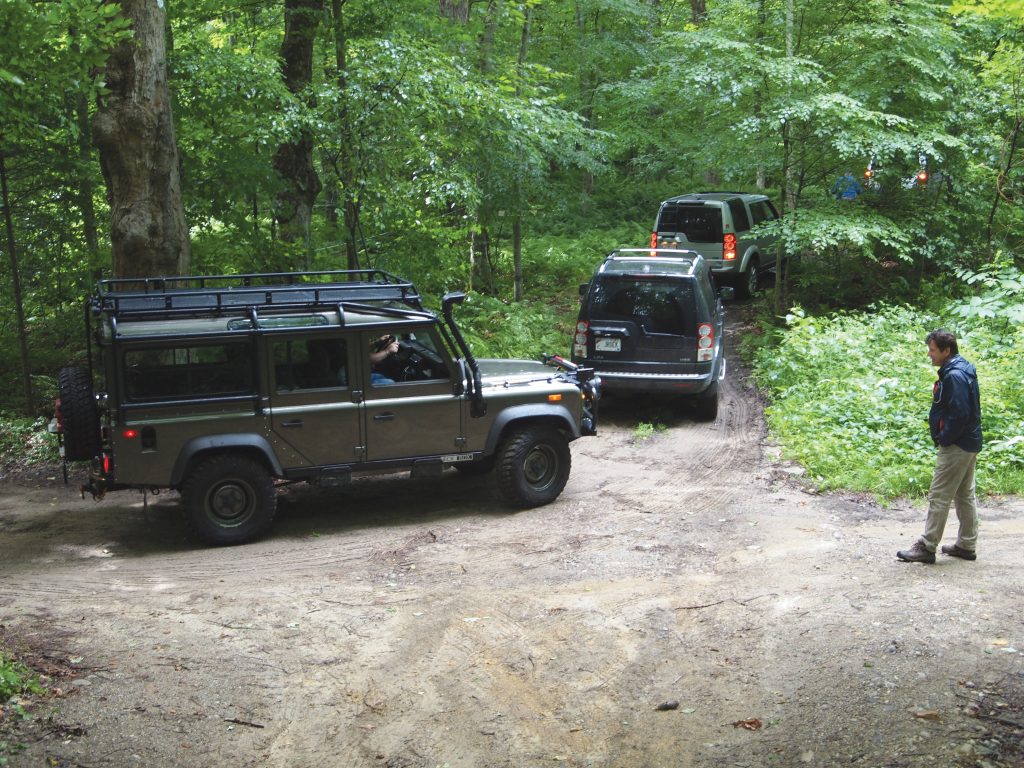 The 30 vehicles present provided a history of the Land Rover, from Glenn Parent's Series I to the latest Range Rovers. As it was promoted as a family day, many Land Rovers came filled with spouses, partners and kids. Usually, Land Rover Experience programs pair an instructor with a student providing a wide range of challenges. This time, the Experience staff spent their days running up and down hills, and back and forth along trails, guiding and the many drivers — an experiential day rather than an instructional day. The staff gave brief instructions to each driver as they approached a steep hill, an off-camber wheel lift moment, or a "no foot on the brake" descent. The participants enjoyed the staring at the sky on the ascents, learned to trust the hill descent control on the downhill sides and marveled at the views on the narrow forest and field trails. The trails were chosen deliberately to demonstrate the vehicle's capabilities and not to cause panic by the owners.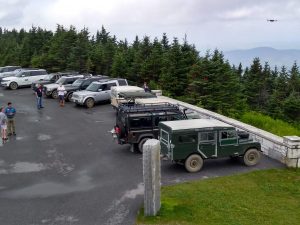 The attendees came from the New England states, New York, New Jersey and Pennsylvania, and many had never driven off-road before. Lori Youngdahl, a Special Education teacher in Rhode Island, and her daughter Jacqui (Jax) Youngdahl, the Special Events Manager for Concord, NH's Palace Theater, took an Experience Range Rover on their drive and found the training "really fun and exciting." While neither own a Land Rover now, it sparked their interest in the marque.
Bob Lofblad, Burlington, MA, rode with his son in their '13 LR4. "My son and I love it. The Experience allowed owners to appreciate their Land Rovers off-road in a fun, safe and exciting way. The trails, staff and facilities were outstanding!"
Tom Valenti, East Rockaway, NY, brought his stunning '93 Coniston Green NAS Defender 110. He told me, "I have a '97 Beluga Black NAS Defender 90, but a family member told me that a neighbor of his in Florida had one that might be for sale. When I found out it was an NAS 110 that had been refurbished by East Coast Rover, I asked him for the badge number (#312 of 500). Once I saw it, I asked him for his bank routing number so I could buy it right away. East Coast Rover's work was impeccable and the Td5 diesel makes it a joy to drive."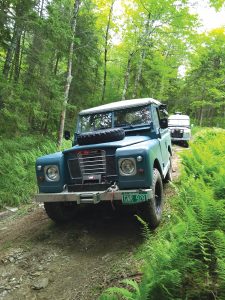 For Jenn Rockwell, the event felt transformative. "Oh my gosh, it gave me a lot of confidence in my vehicle which I didn't have before. I thought I needed to buy really intense, aggressive tires. I felt like I had a street-only car, but it went through mud, up and down steep hills — and all on street tires. Now I will be comfortable as we enter the winter. Now I want to drive the dirt shoulders, not the road! I have friends who talk of getting a Jeep for winter driving. Forget about a Jeep — they need to get a Land Rover.
"I absolutely recommend that every new Land Rover or Range Rover owner should take an Experience course if they've never experienced off-road driving, because they will learn so much about their vehicles."
Jenn also noted, "I don't hear the end of it from Adam; he couldn't believe what the vehicle is capable of!" Adam went on to also laud the handling of the LR4 on Vermont's scenic two lane roads. "It handled like a sports car," he said. (Since the event, he's been searching for a Land Rover of his own.)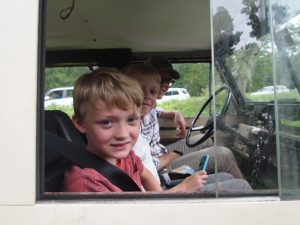 Chrystyna Young of the Land Rover Experience acknowledged that while they worked hard running the trails, the day "was one of most fun Owners' Days that we've had. It added so much to have the Series Land Rovers and Defenders that day! It was great to have them together in this Jubilee Year."
She noted that she likes to say to participants, "When you leave here today you will like this vehicle even more than when you pulled in." Judging from the reaction of the attendees, that was the result of the Owners' Day.