It's the time of year to stuff firewood in the rear of the Land Rover and clean the chimney in anticipation of the beginning of winter (we certainly want it clean for Santa Claus' arrival). As we go to press, we know that some readers are scraping ice and shoveling snow; others are applying sunblock. In between, you've paused to let us know when you've spotted a Land Rover used in the media.
As always, it's useful to novice Sighters and veterans to review the rules of the contest:
Rule # 1 – All Sightings receive recognition and our appreciation, but not necessarily a mug. We reward only those Sightings that capture the unique qualities of Land Rovers and display them in a distinctive way.
Rule #2 – If your Sighting doesn't really surprise you, it won't surprise us, either — thus we can't award you a mug. We're delighted, but not surprised, that Land Rovers appear in British television programmes, British publications, films with British themes and shows about African safaris. You shouldn't be surprised, either, and should consider looking for other ways to get a coffee mug.
Rule #3 – At an ever-changing date before publication, we close off the Sightings; for this issue it was September 30, 2018. If we've mentioned the Sighting in an earlier issue, we might not mention it again. If you're new to the family of Land Rover enthusiasts, you may not have seen your Sighting in an earlier issue.
Rule #4 – We're not outfitting your kitchen. If you qualify, one mug per Sighting per issue.
Rule #5 – Sightings that are Land Rover references in books go to our Literary Land Rover editor for mention, but only when space permits.
Rule #6 – Psst… email submissions — remember we can't send a mug by email. Send us your real name and shipping address, too.
Rule #7 – Grudgingly, very grudgingly, the Editor admits he might have made an error. Let us know if you think you've been jobbed, but all decisions of the Editor are final.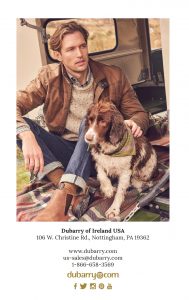 Newspaper and magazine articles that need a refresh often turn to Land Rovers to pull in readers. Brad Berggren, Westport, CT, spotted a Land Rover at work on a British farm in the New York Times International. Brendon Mahoney, Atlanta, GA, noted that a Huckberry post included how to import a Land Rover. Ozair and Zeeshan Faruqui, Beaverton, OR, and Greg Sveska, Monument, CO, noted a Land Rover in a Wall Street Journal article on an African road race. Ozair also enjoyed reading an article in Hagerty featuring a Defender in England. Steve Gransbury, Marblehead, MA, noted the successful locating of a stolen Defender 90 through Redditt in a Leaders Edge magazine. Roben Taglieti, Manor, TX, noted an interesting article in the UK's Daily Mail on a family fleeing Venezuela. Dawn Birmingham, Airville, PA, spotted the front end of a Series I in the bushes in a New Zealand newspaper. Jeff Bang, Staunton, VA, liked seeing a Discovery on the cover of Petersen's 4-Wheel & Off-Road in an article on northeastern off-roading. Annette Simpson, Belle Plaine, KS, loved seeing a model in front of a late Series IIA in a store ad in Splurge! magazine.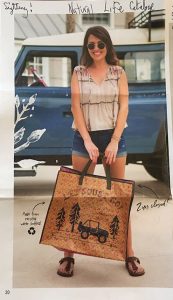 Television and video producers know that Land Rovers attract eyeballs. Sharp-eyed reader Ryan Lowe, Ellington, CT, caught a one second glimpse of a Defender 90 in a CNN video post on a Los Angeles graffiti artist. Karen Sindir, Santa Rosa, CA, noted the European Defenders transformed into Tiny Houses on a YouTube video. Bo Prillaman, Richmond, VA, spotted a Defender in an episode of the PBS series Endeavor. Greg Coffman, Coshocton, OH, spotted the Range Rover Classic in Maroon 5's video for "Wait". Shalome Briggs, Meadow Vista, CA, enjoyed spotting a Defender 110 in an episode of Fixer Upper. Eric de Rochambeau, N. Kingston, RI, noted Defender 110 from the British tv series Death in Paradise on the cover of WGBH's magazine Explore. Bill Johnson, Macomb, IL and Rob Goodall, Henrico, VA, spotted a Land Rover in a Purdue Global commercial. Matt Spetz [see Rule #6] noted a military Defender 110 soft top in an episode of Dark Tourist. Robert Banghart, Douglas, AK, enjoyed watching episodes of the British tv series Danger Man and their Land Rovers. Max Briggs, Seattle, WA, noted the Land Rover's brief appearance in an episode of Jack Ryan. Brent Lane, Saco, ME, enjoyed seeing the Diesel Brothers convert a 110 from LHD to RHD.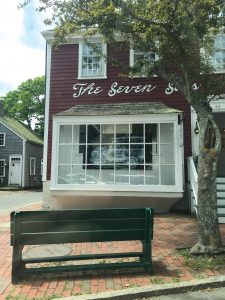 Catalogues and advertisers rely on Land Rovers to attract buyer. Nancy Ciampaglia, Southampton, NY, sent in the cover from Natural Living's catalogue. Bo Prillaman, Richmond, VA noted the cover of Emirates' Dubai magazine featured the cockpit of a Series I. Christopher Holewicki, Flemington, NJ, noted the Land Rover Series in the Dubarry equestrian catalogue. Ben Boerum, Washington, DC, enjoyed a Defender on the cover of a British clothing catalogue. PT Schram, Churubusco, IN, enjoying seeing a Series III in a Dakota Arms catalogue. Lana and Ethan Fabro, Herndon, VA spotted the Defender in a Costco demonstration video and a Schumaker battery charger box.
Movie producers love Land Rovers, too. Keith Barrett, Plainfield, ON, noted the British soldiers riding military Land Rovers in Occupation. Andy Wright [see Rule #6] enjoyed re-watching Smokey and the Bandit and finding a Series III in the movie. Jane Barrett, Plainfield, ON, spotted Defenders at the beginning of the sci-fi series, Titan. Kenneth Jones, Santa Anna, CA, spotted "several nice Defenders" in Crazy Rich Asians.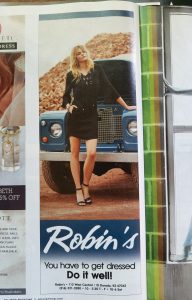 In an unusual Sighting, Ryan Lowe, Ellington, CT, spotted the outline of a Land Rover in the window of the Seven Seas on Nantucket Island, MA. Chaz Manz, Sun Lakes, AZ, found the outline of a Range Rover front-end on a Shell gasoline placard in Green Bay, WI. Thomas Sennett [see Rule #6] spotted the rear of a Defender 110 in a garage while driving in Jersey City, NJ. Rob Wollschlager, Omaha, NE, noted the Range Rover Classic in a Turo app.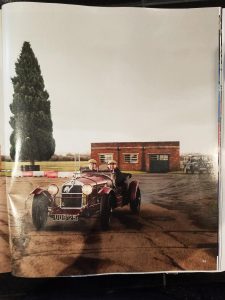 We've mentioned these before, but we commend Sighters for their efforts. Keith Barrett, Plainfield, ON, and Kenneth Jones, Santa Anna, CA, noted the many Land Rovers in the latest Mission Impossible movie. Greg Coffman, Coshocton, OH, noted the Defender on the Valero gas pump while driving to New York. Adam Setliff, Flower Mound, TX, spotted the Defender in the Pelican case on their website. Rob Modica, Tucson, AZ, noted the Defender 90 in television coverage of the Tour de France and the 110 in the Prana catalogue. Steve Varga, Tigard, OR, Jay Williams, Kamas, UT and William Stewart, McMinnville, OR, also enjoyed seeing Land Rovers in the Prana catalogue. Bill Hutchings [see Rule #6] "doesn't want a mug," but he loved the cover of the Huckberry catalogue with a Series Land Rover. Tom Richardson, Dallas, TX, noted the fine article on mowing Siberian tigers in the back of a Land Rover. Aubrey Taylor, Raleigh, NC, and David Russell, Snellville, GA, noted that Orvis continues to use Land Rovers in their catalogues.
Winners:
Lana Fabro Herndon, VA
Ethan Fabro Herndon, VA
Annette Simpson Belle Plaine, KS
PT Schram Churubusco, IN
Rob Wollschlager Omaha, NE
KC Jones Santa Ana, CA
Bo Prillaman Richmond, VA
Chad Manz Sun Lakes, AZ
Nancy Ciampaglia Southampton, NY
Shalome Briggs Meadow Vista, CA
Greg Coffman Coshocton, OH
Steve Gransbury Marblehead, MA
Karen Sindir Santa Rosa, CA
Ryan Lowe Ellington, CT