RJ Searle Ltd of Sunbury (later Carawagon International) began life as a boat-building company, and the provenance is evident in its ingenious space-saving solutions.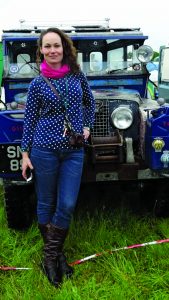 It is a compact and bijou 88" of, if not luxurious, then comfortable camping space. A tropical roof provides ventilation, there is a rear-mounted gas bottle and flip-down, two-burner stove on the back door, a cupboard for stowage, and with the seat cushions rearranged, a three-quarter width, full-length bed, perfect for a few nights away far from the madding crowd.
The smell of decaying plastic and oil, the prevalence of fresh air in the drafty cabin and often the soporific sound of British rain on the tin roof lulls me to a contented sleep far better than any memory foam at home.
I have owned this '69 Series IIA Carawagon for nearly three years, the maiden journey taking in 200 miles of the English countryside from Sussex to Lincolnshire. As purchased it was mechanically sound, but the tired interior needed some TLC. Now It has new seats and the bed lies flat, the cupboard opens and closes, the rubber mats are not perished, the cabin lights work, the vents in the roof open and close and the hob [cooktop -ed.] is rust free.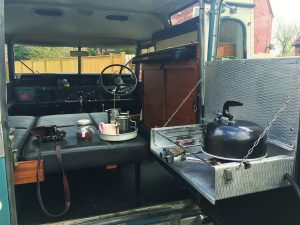 In doing the work, I have become ever more fond of this Marine Blue classic. It symbolises everything that Land Rover ownership is all about — self-sufficiency, freedom and the open road. Used regularly, it remains packed up with bedding and essential provisions so that I can set of on adventure with only a minute's notice. There is something deeply satisfying in pulling to a stop and being 'camp' ready with the kettle on before the engine has cooled. A word of caution though: don't rest a cafetiere of fresh hot coffee on the rear step and then attempt to climb over it — that way lies third degree burns and a trip to A&E [Emergency Room -ed.] Still, it hasn't put me off heading out for many more adventures.
[Vicky Turner is a Lincolnshire, UK-based correspondent and an avid Land Rover enthusiast -ed.]