When Ray Carney, North Franklin, CT, shared his plans online to buy a '75 Series III SWB Carawagon in Texas and drive it home to Connecticut, the response quickly became, "Do you know what you're getting into?" His son, Sean, knew, as he planned to make the trip with him.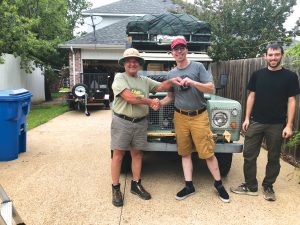 Ray, who works in cybersecurity with RSA, decided to become a Land Rover family because, "it's hard to stuff four kids" into his '66 Mini Deluxe. When son Sean bought an '82 Series III for his college commute, they came across another '82 County SWB. By 2016, his wife, Buffy, had purchased a '16 LR4. Last summer, the family added an '89 Range Rover Classic once owned by the president of Superwinch. More recently, son Aidan now has his own '01 Range Rover P-38.
Ray continued to search out another Series Land Rover and in late August, found the "right one" in Rowlett, TX. The '75 Series III 88" LHD featured a Carawagon conversion, owned by Bruce and Elise Thompson-Bowers, both genuine enthusiasts.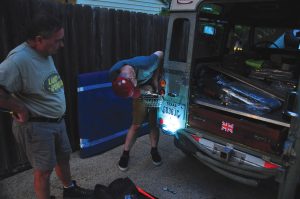 To make the purchase an adventure, Ray and Sean decided they would fly to Dallas and then drive the Series III back to Connecticut within four days. "This purchase is as much about the community of Land Rover enthusiasts as it is about the vehicle," Ray said. "We want to meet up with other enthusiasts and share our experiences with them."
"You can't think of the trek as a 75-mph interstate journey. These vehicles were built to traverse great distances with or without roads, and long before highways." Chef Sean confirmed, "I've amassed a collection of cast iron skillets and trail cookware for our trip."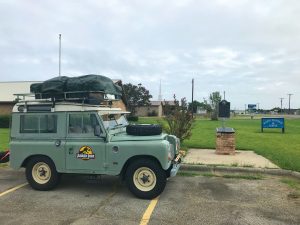 Ray also noted, "I wanted this experience to be a father and son tradition. With Sean's current Series III, it would have been easy for me to just buy a gearbox and replace the existing one, but we took the opportunity to build the truck together. I've been able to watch Sean grow as a mechanic. I was born with an innate ability to take things apart and put it back together. Sean may need more time, but he can sort it our himself." Sean said, "I grew up next door to my grandparents. He was a Model T and Model A mechanic and restorer. The field repairability of those early Fords is awesome." Ray feels the same about Series Land Rovers; "You can get on the road with a tool roll and a box of spares and fix most anything."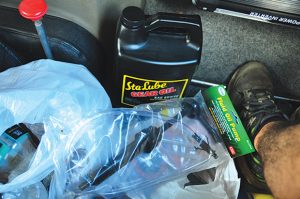 With the actual purchase of the truck on August 29, they knew they had a tight window given Sean's work schedule. The Carawagon needed new tires, mounted just prior to the Carney's early morning flight to Dallas on Sunday, September 9. Bruce and Elise met us at the airport and an hour later, we're staring at our "new" Land Rover and a treasure trove of spare parts, body panels and manuals that Bruce has insisted we take with us. That required a run to a nearby Harbor Freight for moving blankets, basic tools, tarps, ratchet straps and a hitch-mounted cargo carrier.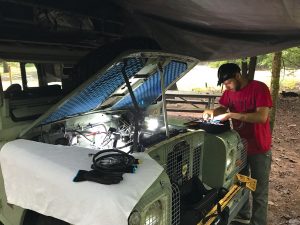 After packing up the Land Rover, the Carneys scramble to get back on schedule for their first night's stay in Texarkana. Just before heading out, Ray determines that they should really complete a light check, only to find they had no brake lights and one functioning tail light. Sean, Bruce and Ray dug into the packed parts boxes to find a brake light switch and a multimeter confirmed the new one worked properly. However, the bulb sockets seemed inoperative and unrepairable. It's quite late and the Carneys have been up for 22 hours straight.
Ray recounted that Bruce rummaged through additional parts boxes at his home.
Bruce: "Hey, can we make these work?"
Me: "Do they have three wires?"
Bruce: "Yep."
Me: "If they've got three wires, we can make 'em work."
The "them" turn out to be Harley Davidson LED tail lights, which now adorned the rear of their Carawagon.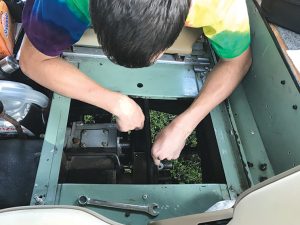 However, they lost a day's planned travel, so they rose early again and departed at 5:45 am on Monday. While driving on two-lane roads towards Paris, TX, they learned that the Texas sun has fossilized the wiper blades and that decades of wear have exhausted the turn signal wand. To the sounds of the High Kings "As I Roved Out" through their Pandora channel, their noses picked up the familiar odor of gear oil. As the nearest auto parts store with the preferred Sta-lube 85w90 GL4 gear oil lay 210 miles away, they relied on the adage, "if it's still dripping, it's not empty" and stopped to check levels often.
Near Benton, AR, they pulled into a truck stop for fuel and took advantage of the truck scale to check the weight of the Land Rover. The Carawagon topped out at 4,840 pounds [against the Series III's rating of 4,453 pounds.] Given that payload, the average gas mileage of 15-16 mpg seemed right. Camp near the Tennessee line that night was a welcome sight, and for the first time, they used the Carawagon for its intended purpose.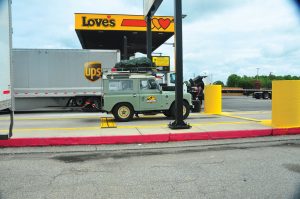 The next two days of driving started to eat up the 1,700 miles to home as they dove their way among aggressive 18-wheelers on the Interstates and state routes in Arkansas, towards Tennessee and Kentucky. A Day 3 repair to the turn signal wand was the only new repair and they finally crossed the mighty Mississippi River at 1:06 CST. The weather remained variable, at times sunny and hot, and times, foggy, rainy and chilly. The routine of many hours driving, setting up camp in the dark, and sleeping soundly settled in nicely. Hanging over them was Sean's deadline when he absolutely, positively had to show up for work.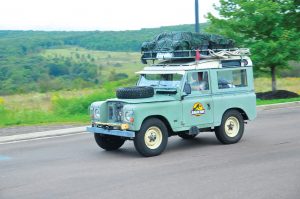 The next major discomfort occurred about 50 miles west of Grayson, KY, on I-64, when the Carawagon experienced a significant power loss. In the parking lot of an O'Reilly's, we replaced the spark plugs and adjusted the carburetor and swapped out a fuel filter. This helped somewhat, but they still confronted poor acceleration and a power loss when climbing hills.
By Elkview, WV, Ray recounted that the Carawagon was "way down on power and forcing us to creep up hills in first gear." That night, they arrived at camp in pitch black fog and mist with the engine threatening to stall and seemingly ineffective brakes. "Hills are impossible," said Ray. "Ever been on dirt trails in the dark, foggy rain, with no cell service, carrying 2.5 tons of truck, in a 43-year-old, poorly running truck? We have. It was 2:30 am, we were nearly alone with no cell service, cold and wet. Rest was welcomed."
Ray and Sean would make more stops attempting to address the loss of power. They installed new points and gapped them correctly. At a later stop they found that the distributor had turned, which altered the timing. Adjusting it on its axis helped somewhat, but what really brought back the power was reconnecting the vacuum line from the distributor to the carb and plumbing in a new brake booster hose. By now, they had reached PA and only several hours drive to their home.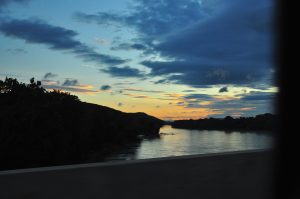 At 3:55 am on Day 5 of the trek, Ray and Sean arrive home. By then, the Carawagon's springs have cried "No Mas" and the Land Rover rode on its bump straps. They accomplished the remarkable feat of driving a 43-year-old, overloaded Land Rover from the Lone Star to the Nutmeg state. Ray has big plans for this Land Rover, including an engine swap of to a 200 Tdi and a trip down the Pan American Highway.
Sean returned to his post as chef at Café Nantic in Willamantic, CT, as scheduled that very night of their arrival. He reflected, "It's fairly miraculous to take this trip in a vehicle of this vintage, one bought sight unseen, without calling on our AAA towing plan! We listened to the machine and respected it. We've found that a personality comes with every Land Rover. If you respect them, they will serve you well." With his own Series III's gearbox repaired, it's ready to serve.
The Reluctant Previous Owner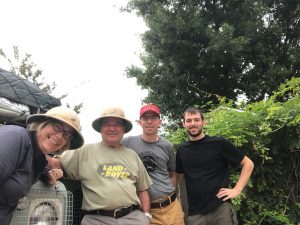 Bruce Thompson-Bowers, Rowlett, TX, served 23 years in the Marine Corps, where he became "interested and well-versed in off-road vehicles." A British car enthusiast of Triumphs and Jaguars, his military service taught him, "Nothing beats a Series Land Rover. They can be fixed anywhere — just a set of points and a carburetor."
In 2004, he searched for a Series Rover and came across a rare one, an 88" Carawagon. Enthusiasts familiar with the Dormobile camper conversion, with its tilted awning roof, might never have seen the vertically elevated roof of a 109" Carawagon, or the unique interior of the SWB "Safari" model. Bruce and his wife Elise flew to Pennsylvania, purchased it, and drove it home to Ft. Myers, FL. "Once I started to work on maintenance and repairs, I became quite familiar with Rovers North's parts inventory and expertise."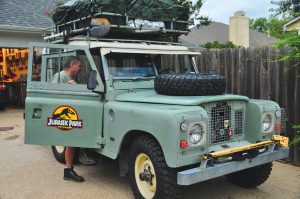 It made trips between Washington, DC and Key West, FL. It traversed Virginia's Blue Ridge Parkway. "It served me well on all these trips. It drove down roads, over trees downed by Hurricane Charley, and enabled me to help recover stranded vehicles."
There were round trips to the Mid Atlantic Rally in VA and eventually, to Texas, when Bruce and Elise moved to the Dallas area. "In 2017 and 2018, it took First Place at the All British & European Car Show against Defenders and Range Rovers entered!"
Bruce put the Carawagon up for sale because he could not use it enough; "It was more important to me to find the right enthusiast to sell it to over just selling it." Looks like he found the right one.